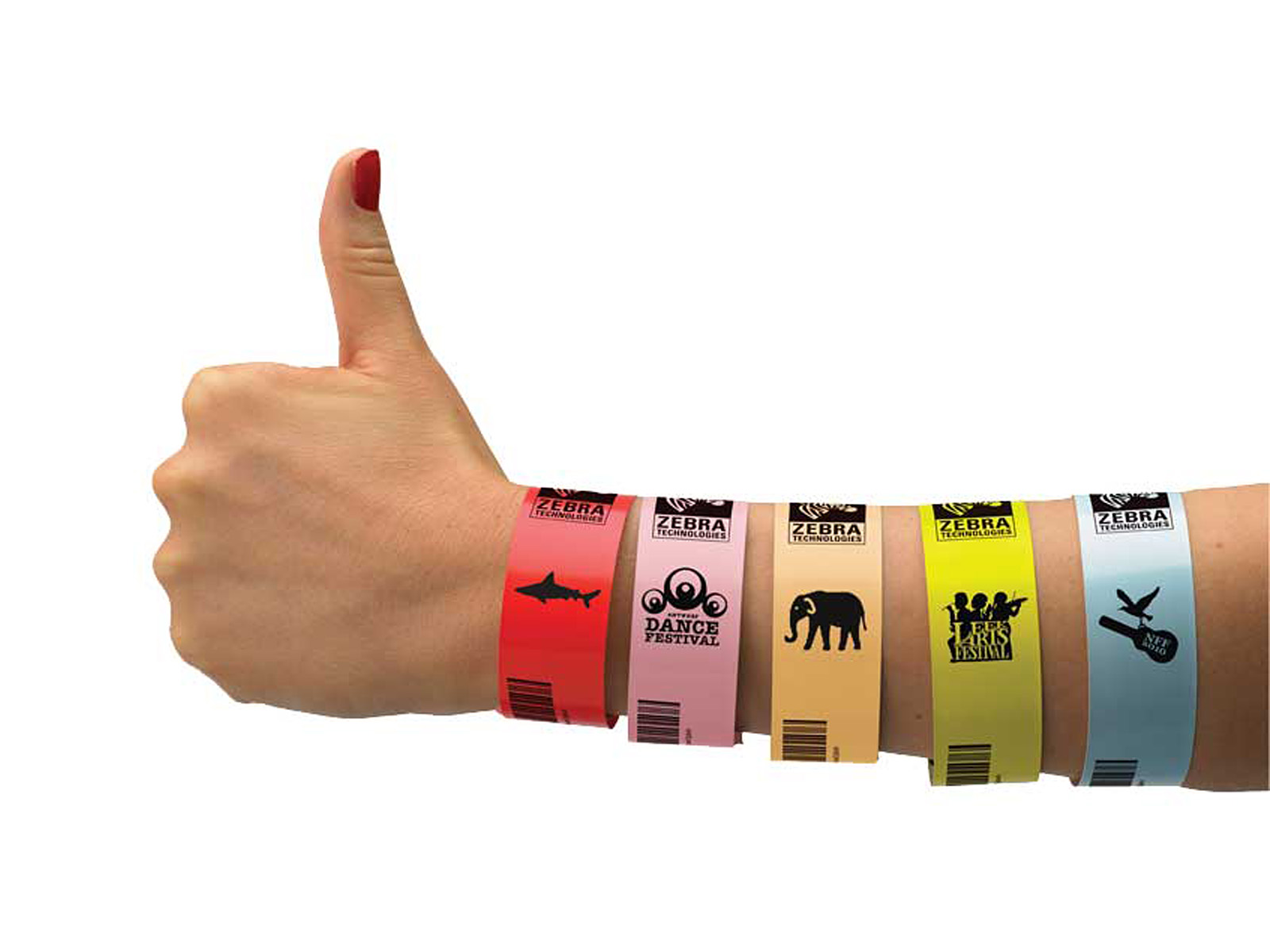 Organizing events or festivals can get hectic. Event wristbands can work as great security tools and make functions run smoother and safer. Security bands work as a personal ticket that is difficult to transfer. These wristbands can be used to control access to events, venues and other restricted areas. They can also be used to track attendance, control the crowd, collect payments and many more.
It is important to ensure that only patrons or clients can access the event. Security wristbands can also help control VIP admission. Custom wristbands can be ordered in various colors to identify who belongs to which area. They can be an effective means of identification and access control on events that are held for several days. These event wristbands can prevent unauthorized entries and ensure that guests access the areas for which they are authorized.
Some of the key features to consider while choosing security wrist bands are wristband types like plastic wristbands or silicone wristbands, customization options, security features,  durability and comfort.
This article aims to explore the key factors that event organizers should consider when selecting security wristbands, covering topics such as wristband types, customization options, security features, durability, cost-effectiveness, and integration with event management systems.
Durability and Comfort
Security wristbands must be durable enough to withstand the demands of an event. At the same time, they must be comfortable enough so that the guests have no issues wearing them for a long time. Consider the following factors related to durability and comfort:
a) Material Quality:
The primary factor to lookout while choosing material is whether or not it is comfortable to wear for long periods of time. Security wristband material should be strong, tear-resistant, and capable of withstanding various environmental conditions. The most popular material among customized event wristbands are paper like material like Tyvek, that can withstand short term events.
b) Waterproof and Sweatproof: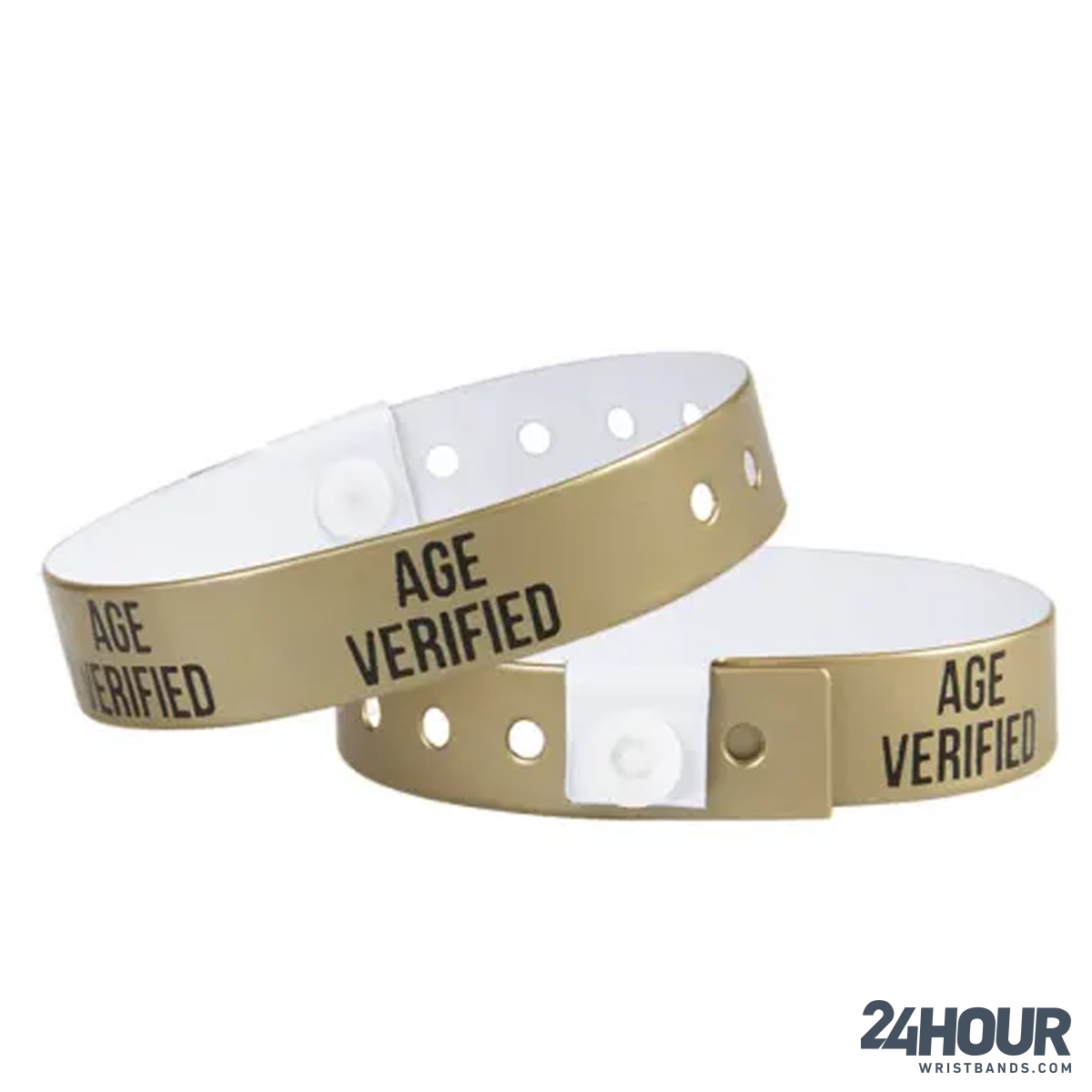 Event wristbands need to endure all activities during events; including water based activities, profuse sweat or heavy downpour. Waterproof and sweatproof materials like Tyvek and vinyl must be chosen for security wristbands so they  remain intact and readable throughout the event.
c) Adjustable Size: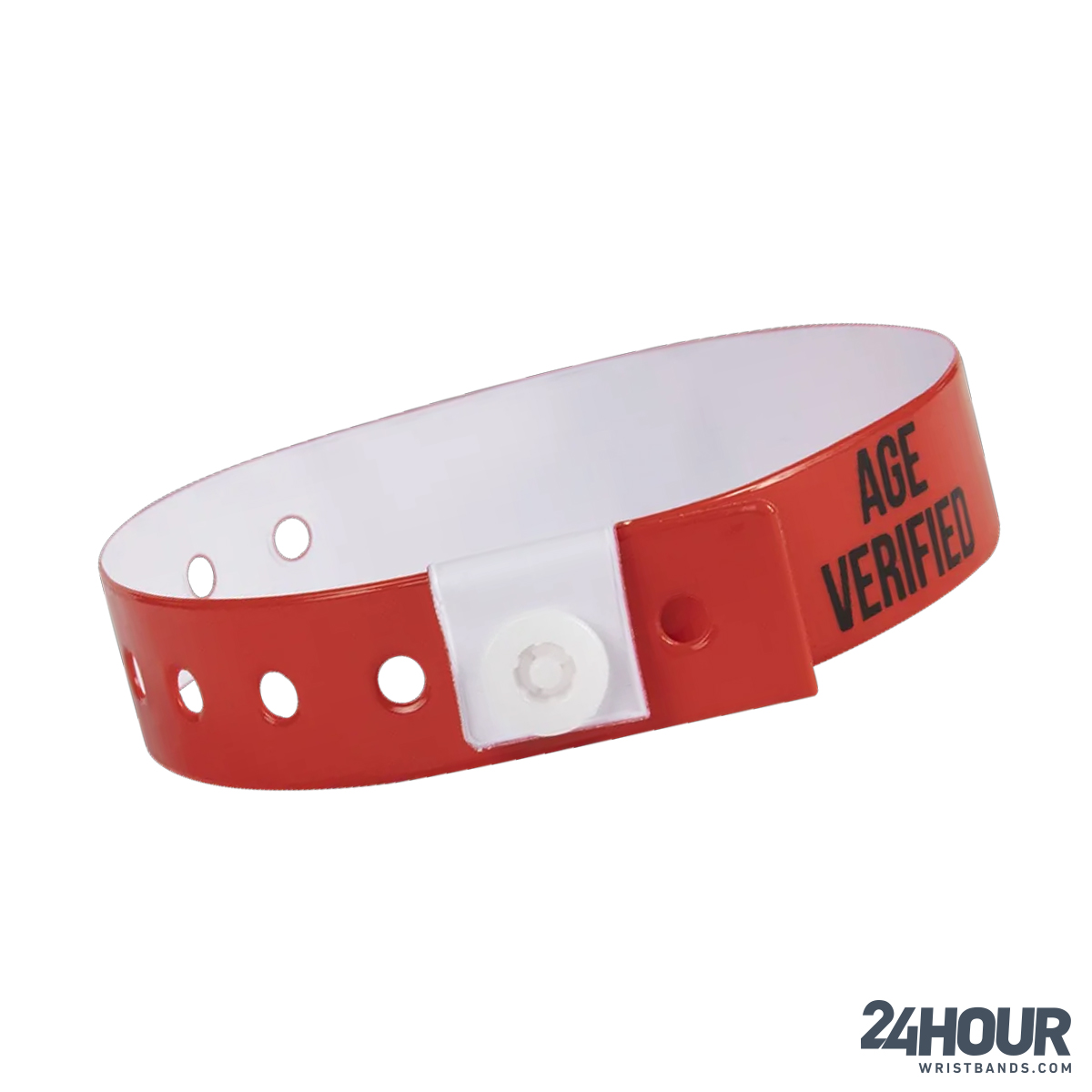 Wristbands should be adjustable to accommodate different wrist sizes comfortably. This feature prevents wristband removal or discomfort due to overly tight or loose fits.
d) Soft Edges: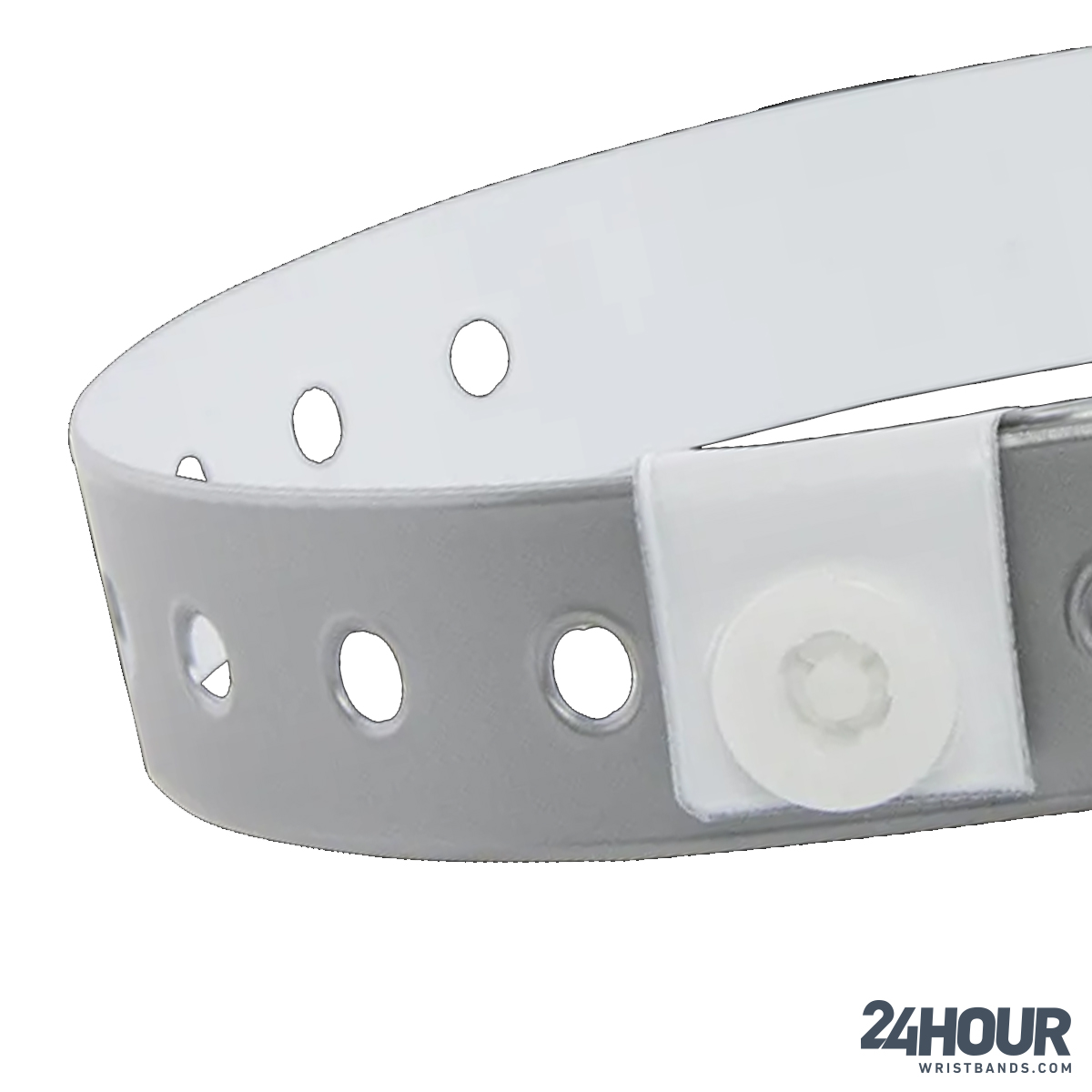 Wristbands with soft edges and smooth textures reduce the risk of irritation or discomfort for attendees. This feature becomes particularly important during extended periods of wear.
e) Allergen-Free Materials: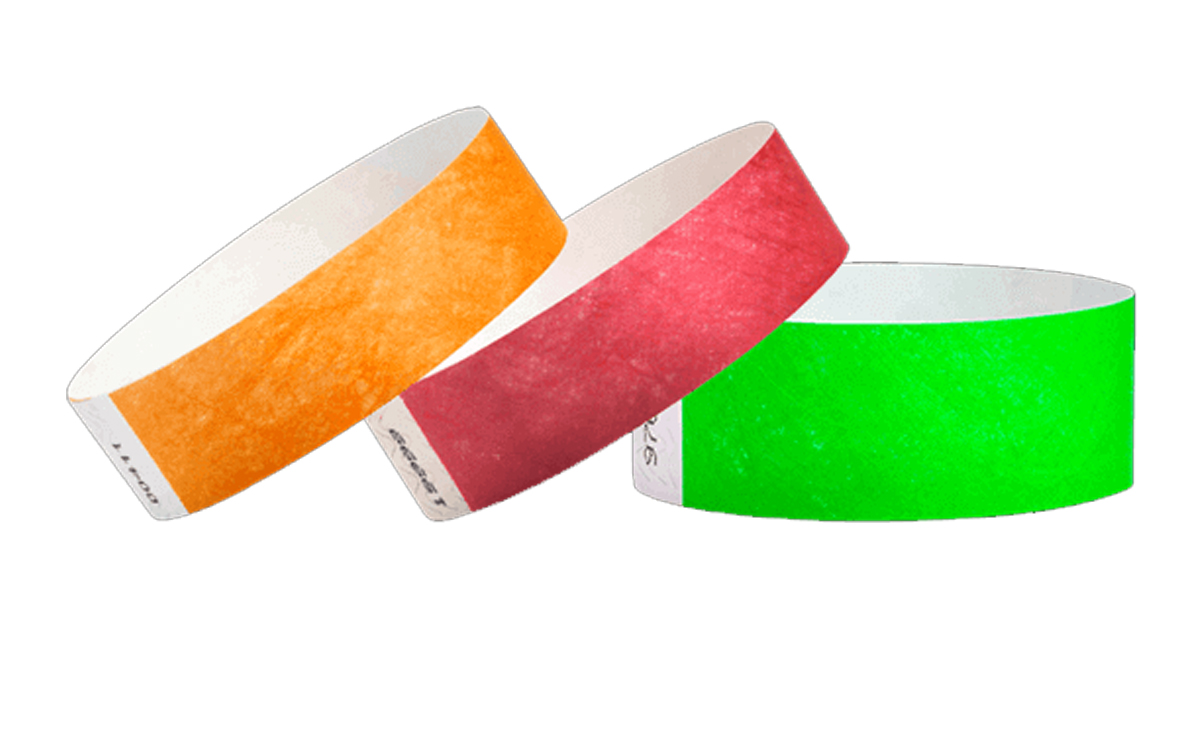 It is essential to choose wristbands made from hypoallergenic materials to minimize the risk of allergic reactions or skin irritations. Tyvek bands are a good option for people who are allergic to latex or other materials.
Wristband Types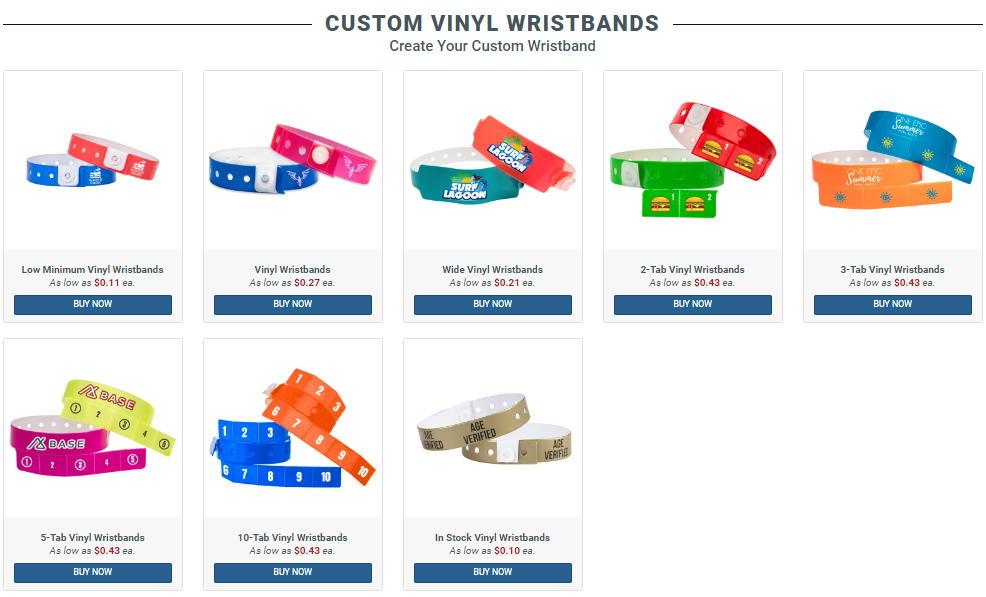 When choosing security wristbands, event organizers must first consider the type of wristband that best suits their event's needs. Different types of security event wristbands are available, including:
a) Tyvek Wristbands: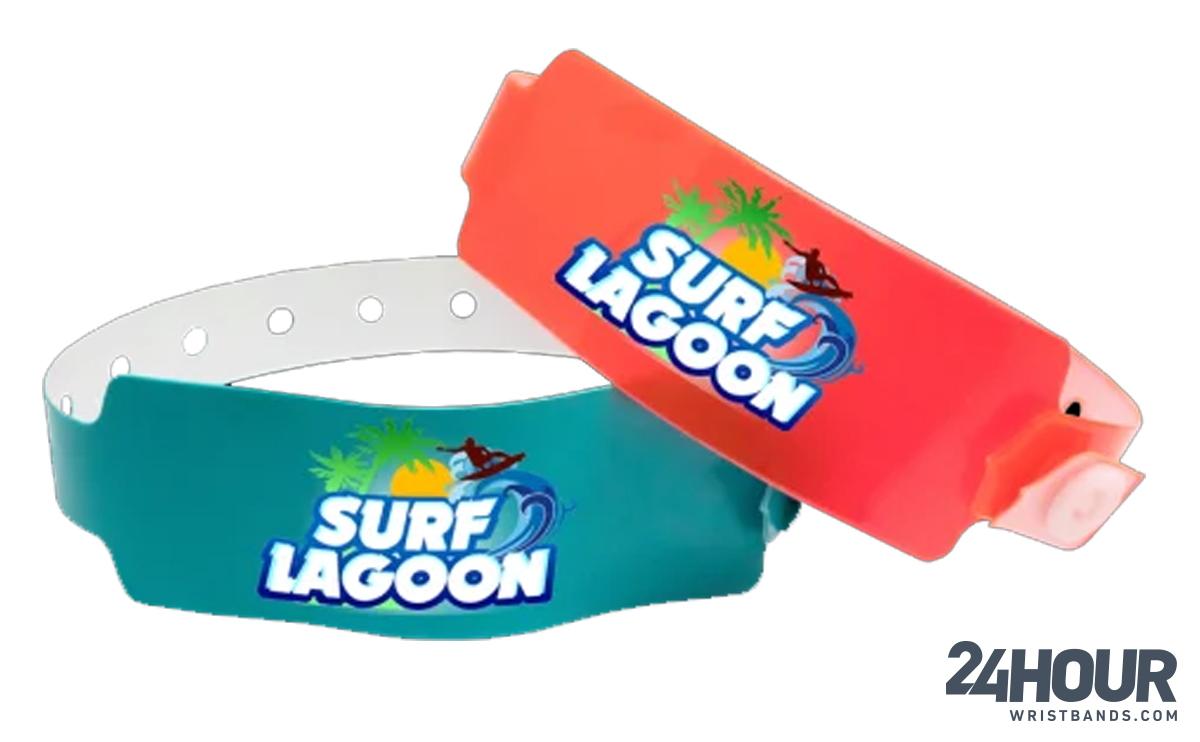 Tyvek wristbands are cost-effective, disposable wristbands commonly used for short-duration events. Therefore they are the most popular event wristbands. These custom wristbands are tamper-evident, tear-resistant, and can be easily customized with logos, text, and sequential numbering. However, they may not be suitable for events lasting multiple days or requiring higher security.
Tyvek wristbands available at 24hourwristbands.com can be ordered in vibrant prints and colors. These paper wristbands cannot be tampered, reused, or distributed which saves from verifying visitors repeatedly. Tyvek event wristbands for events can also be scanned for identifying visitors in a secured way preventing gate crashers.
Get your personalized Tyvek wristbands here: https://24hourwristbands.com/shop/products/tyvek-wristbands
b) Vinyl Wristbands: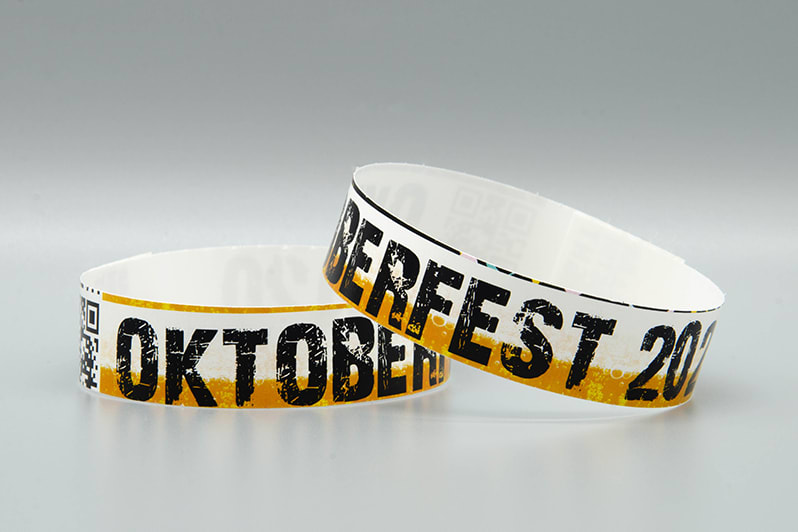 Vinyl wristbands are durable, waterproof, and suitable for longer events. They are often secured with a snap or reusable closure, making them difficult to transfer. Vinyl wristbands can also be personalized with vibrant colors and designs, enhancing their visual appeal. However, they are relatively more expensive than Tyvek wristbands.
At 24hourwristbands.com, we offer solid vinyl wristbands that can prevent event crashers with their single use options. Our vinyl wristbands can be ordered in wide or regular size. Your company logo, advertisements, taglines, and contact details can be advertised to potential customers by custom printing on our bands. The bright colors of these wristbands make them easy for identification, while the pre-cut holes comfortably fit different wrist sizes. Their wide range of color selections makes them the perfect option for different level access at parties.
Get yours here: https://24hourwristbands.com/shop/products/vinyl-wristbands
c) Fabric Wristbands: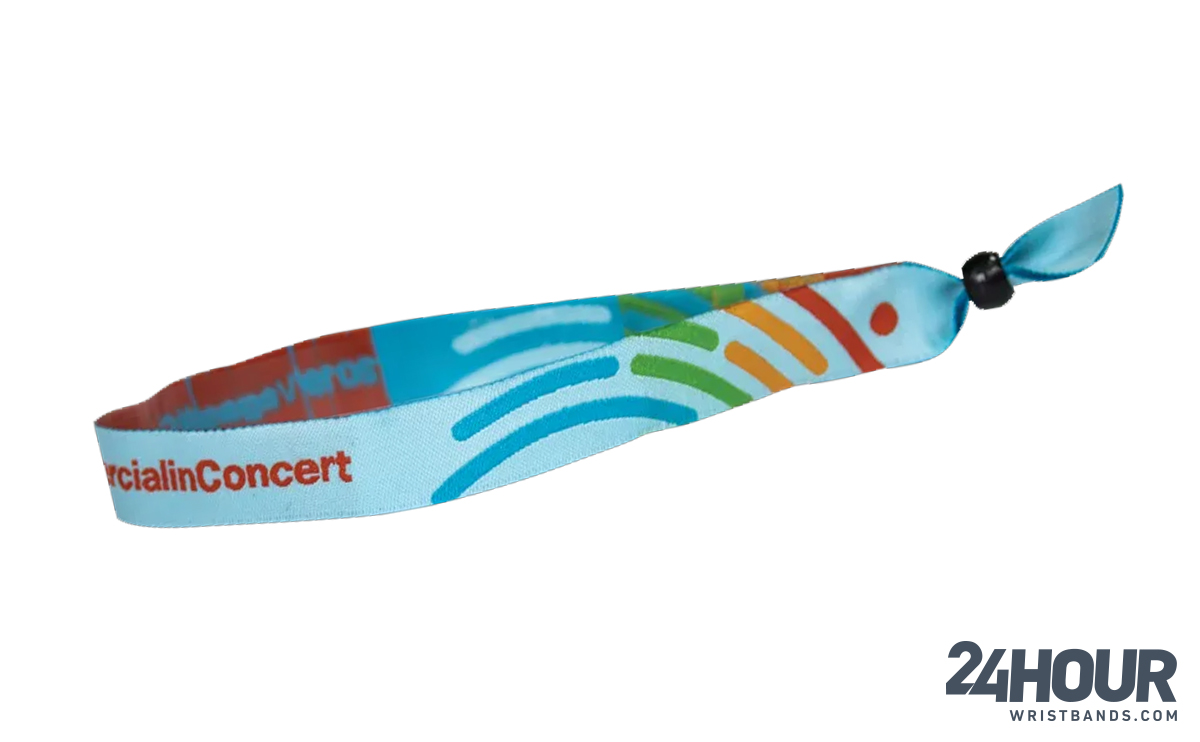 Fabric wristbands are made from polyester or nylon materials, offering a high level of durability and security. They are typically secured with a sliding lock or plastic closure, ensuring non-transferability. Fabric wristbands can be custom-printed with intricate designs and are ideal for multi-day events or events with VIP sections. However, they are pricier than both Tyvek and vinyl wristbands.
Custom woven cloth wristbands offered by 24hourwristbands.com can be worn by children and adults for multiple days during events. Hotels, resorts, amusement parks, and tourist destinations can use them to identify clients from outsiders easily. These  wristbands will provide guests enhanced experience of receiving special facilities. As the perfect mementos for scrapbooks, custom woven wristbands will remind recipients of your event throughout the years.
Order from our assortment of closure locks such as adjustable round spring, barrel one way secure, bead non locking adjustable, bead one way secure, flat one way secure, and split one-way secure locking that best fit your audience. Get yours here: https://24hourwristbands.com/shop/products/custom-woven-cloth-wristbands
d) RFID Wristbands: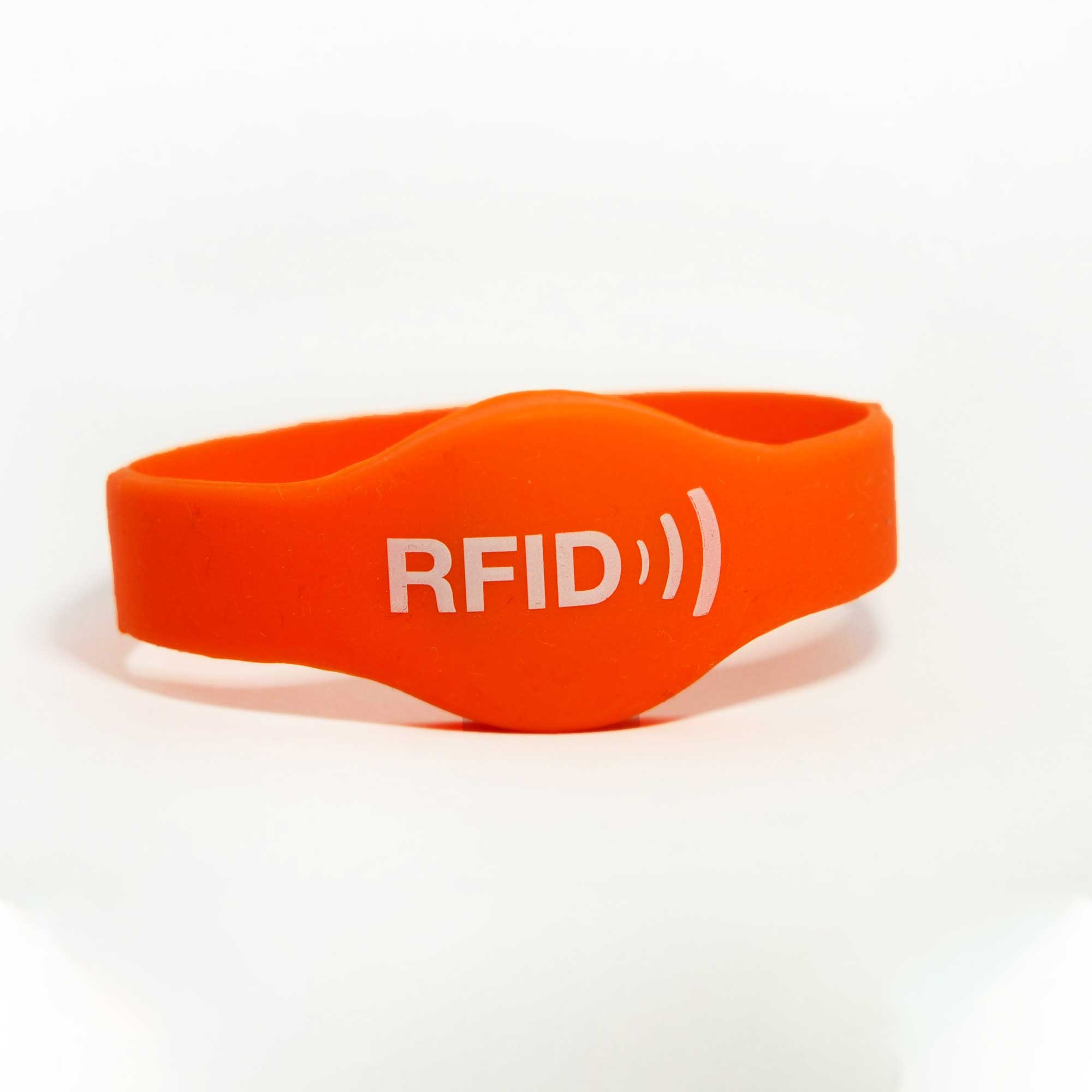 RFID (Radio-Frequency Identification) wristbands contain embedded chips that allow for seamless identification and access control. They offer advanced security features, such as real-time tracking, enhanced authentication, and the ability to link with event management systems. RFID wristbands are suitable for large-scale events, festivals, and conferences but come at a higher cost.
Customization Options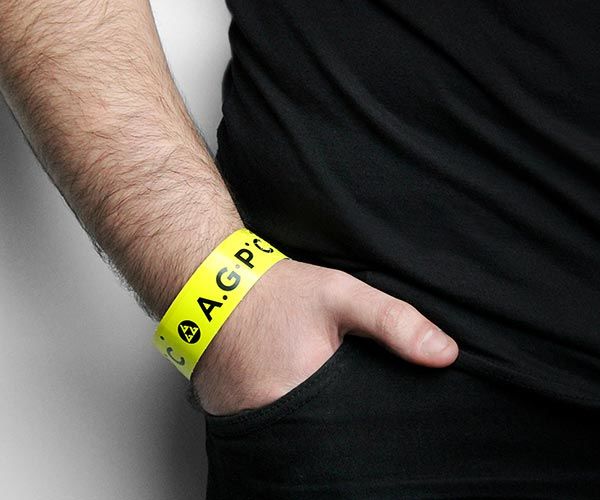 Customization plays a significant role in enhancing security wristbands' effectiveness and branding opportunities for events. Consider the following customization options:
a) Logo and Text: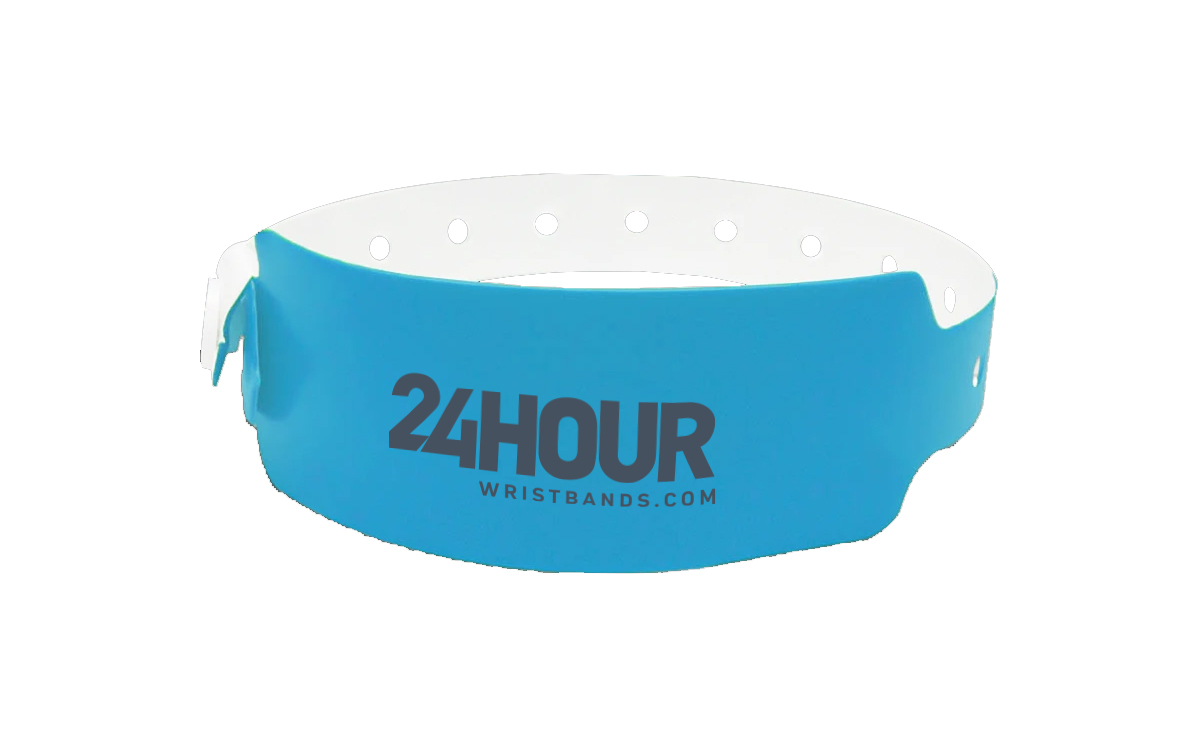 Adding the event logo and text on security wristbands helps in quick visual identification. It also serves as a branding opportunity and can discourage counterfeit wristbands.
b) Sequential Numbering: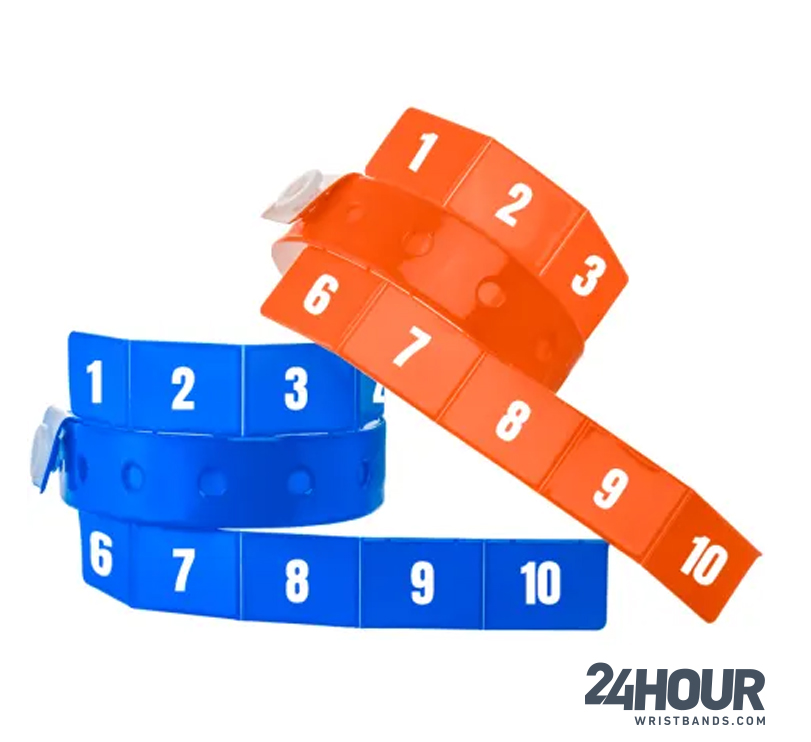 Sequential numbering allows organizers to track attendance, manage entry flow, and prevent unauthorized access. Each wristband can be assigned a unique number, aiding in security and guest management.
c) Variable Data Printing: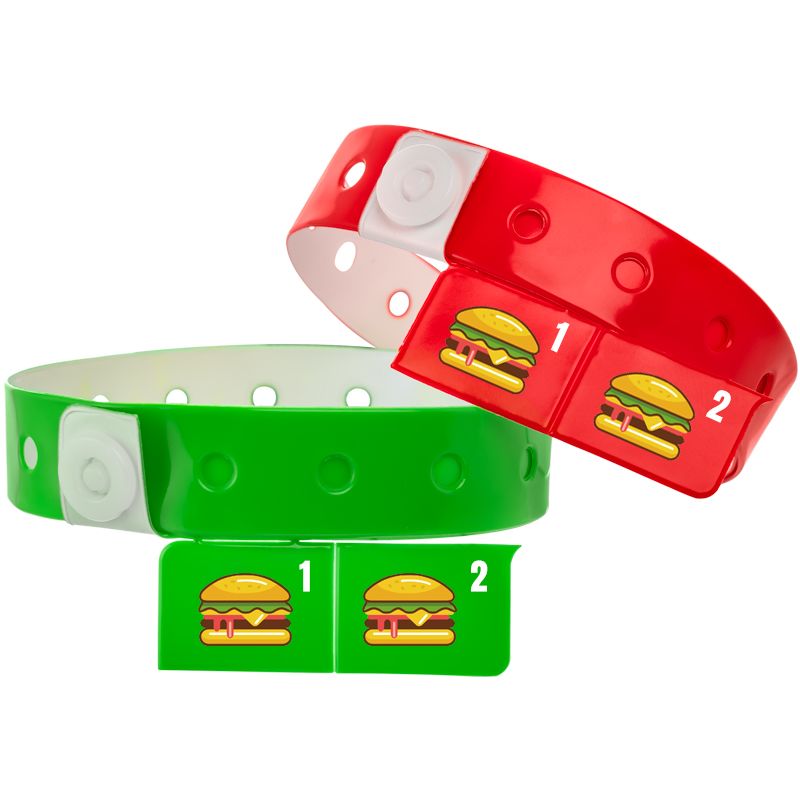 Variable data printing enables the inclusion of individual attendee information on the wristbands, such as names, ticket types, or QR codes. This feature enhances personalized identification and streamlines event operations.
d) Color and Design: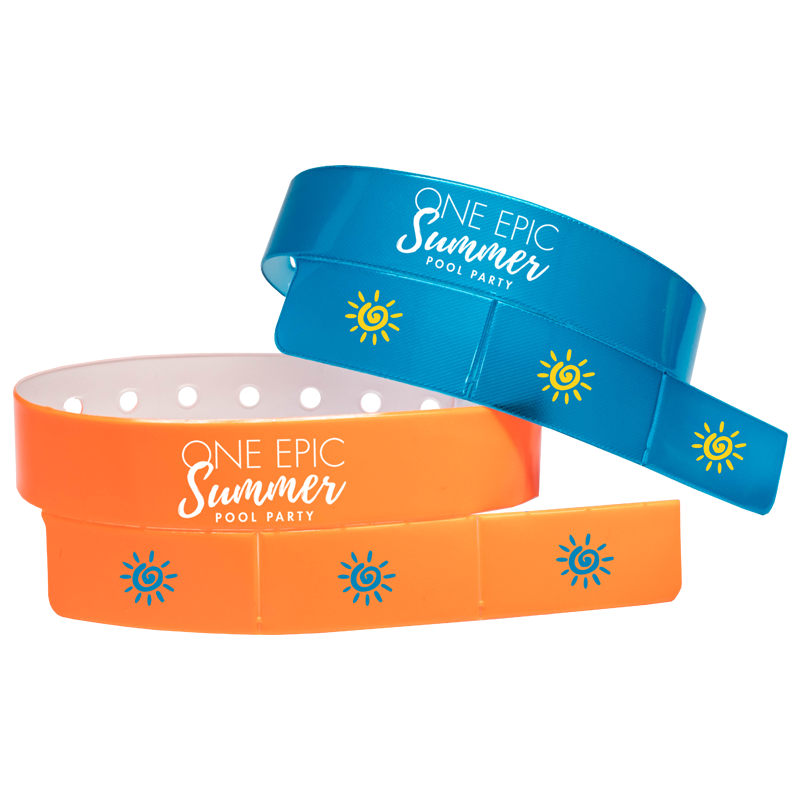 Customizing wristbands with different colors or designs for various access levels or attendee types simplifies security management. It helps staff easily identify authorized personnel, VIP guests, or participants with specific privileges.
Security Features
Ensuring the security of an event requires incorporating specific features into the wristbands. Consider the following security features:
a) Tamper-Evident Closure:
Wristbands should have a tamper-evident closure that prevents reapplication or transfer once attached. This feature deters unauthorized removal and helps identify any attempts at tampering admission or event a
b) RFID Technology:

RFID wristbands enable secure access control, allowing for efficient entry management, reducing queues, and enhancing overall security. They provide real-time tracking, attendance monitoring, and compatibility with event management systems.
c) Barcodes or QR Codes: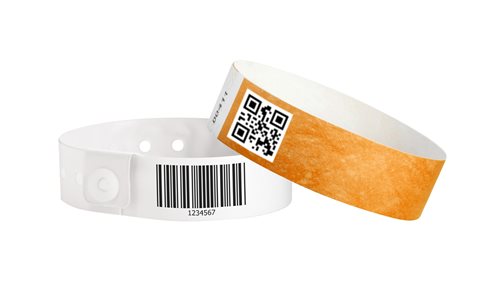 Barcodes or QR codes on wristbands facilitate quick and accurate scanning, ensuring seamless entry and validation. These codes can be linked to attendee information or tickets, providing an additional layer of security.
e) One-Time Use Closure: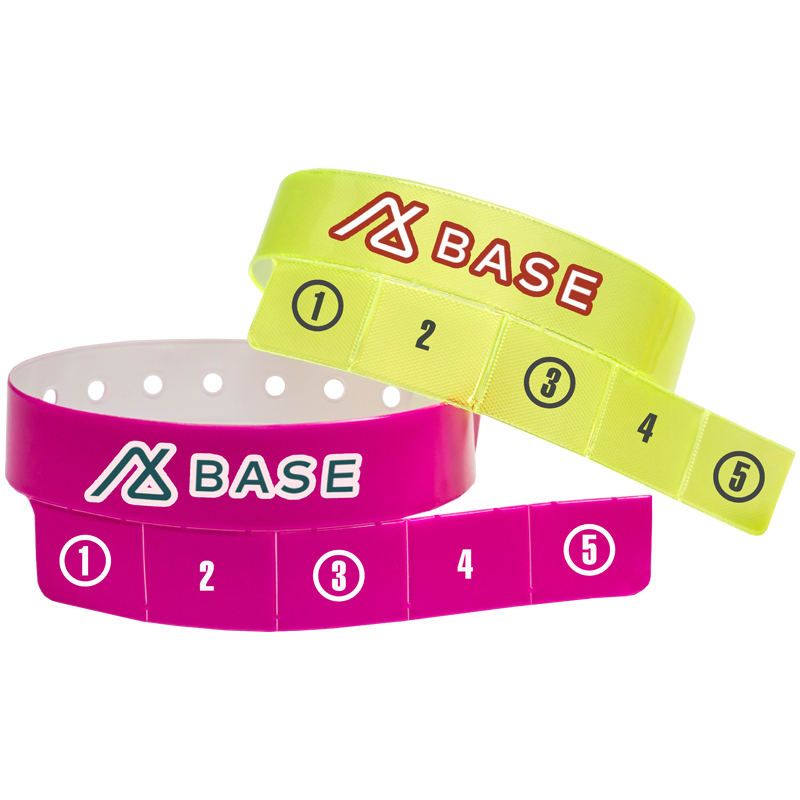 Wristbands with one-time use closures, such as a plastic lock or adhesive closure, provide enhanced security by preventing reapplication. They are particularly effective for single-day events or situations where wristband removal could compromise security.
End Note
Security is a crucial aspect of any event, and organizers must implement effective measures to ensure the safety and well-being of attendees. One popular and efficient security solution is the use of security wristbands. These wristbands serve multiple purposes, such as identifying authorized personnel, controlling admission to restricted areas, and enhancing overall event security. However, choosing the right security wristbands requires careful consideration to meet specific event requirements and ensure a smooth and secure experience for all participants.