Admission custom wristbands for your next event are the ideal, most straightforward way to keep an eye on the crowd at an event. Our entry and admission bands have tamper-proof closures, which makes them perfect for any event where attendees must be counted or where attendees must pay an admission fee. We ensure that we have the proper size and style of event admission wristbands to match your needs, regardless of your audience's venue or demographic diversity. Our waterproof wristbands and strain-resistant bracelets are perfect for your approaching events.
Your life will be so much simpler if you use custom bracelets to gain entry to events instead of regular admission tickets. In addition to making entrance easier, customizable wristbands have other advantages that will make your event more successful.
Additionally, there are a variety of benefits accessible to event planners that provide them to their visitors. For instance, guest management Organizing a crowd of guests during a party can be challenging. Who has entry to the backstage area? Who is permitted to consume alcohol? What distinguishes individuals with weekend passes from those with day passes? The most effective technique is to provide various personalized bracelets to your guests.
Discover how these small things may make a big difference by reading on. Your audience and mental health will both appreciate it.
Admission Wristbands: A Time- and Cost-Effective Solution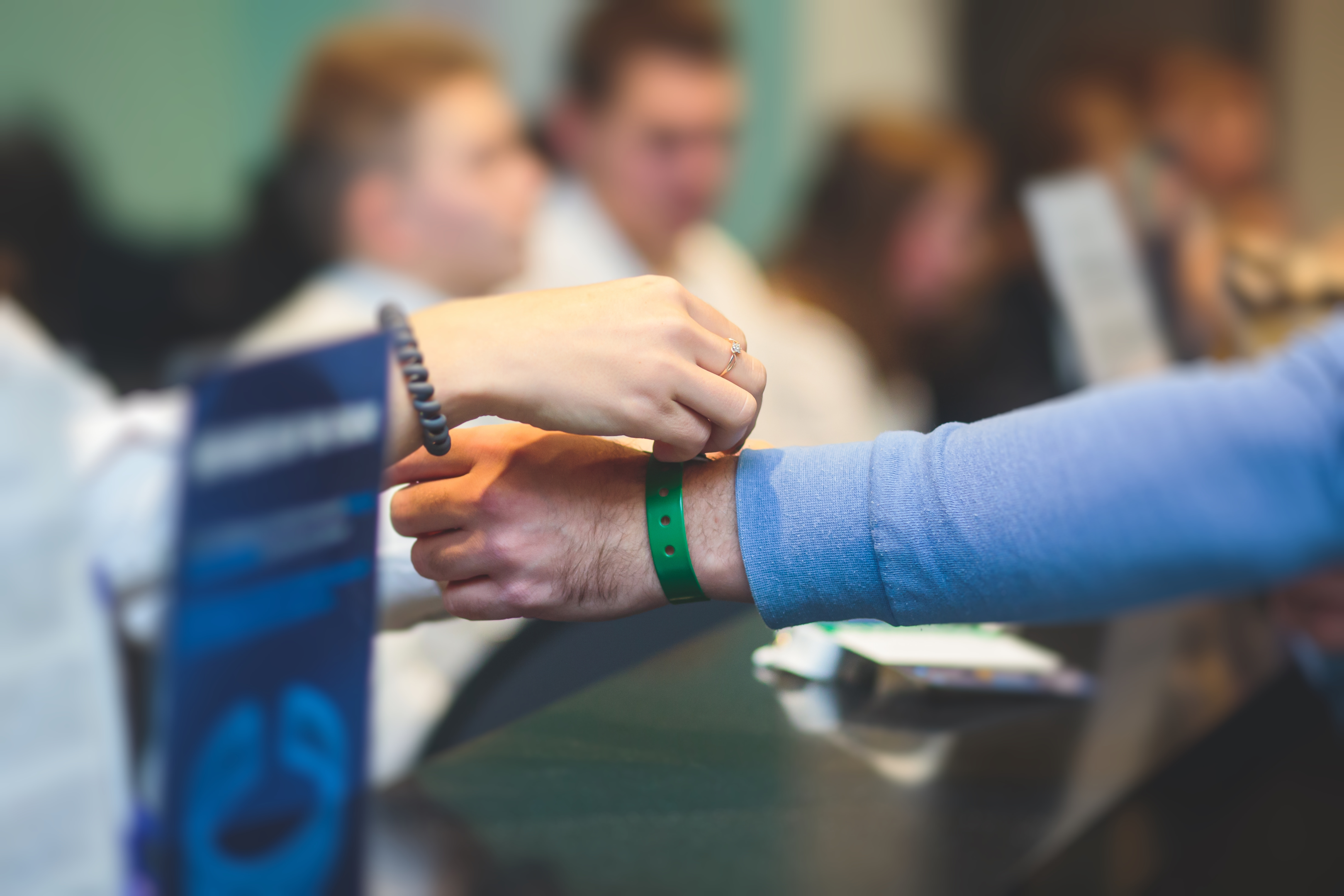 Bracelets for admission are an effective and affordable way to control attendance at your event. They offer convenience and security while making it simple to quickly identify paid attendance.
By plainly identifying those who have bought admission, customizable wristbands deter gate crashing and trespassing and allowed backstage access. Bracelets provide an affordable and simple way for pricey electronic systems since they have security cuts that prevent removal or reuse.
Bracelets facilitate the entire event admission more quickly. Longer lines for entry are decreased since event organizers can rapidly scan the bracelets of arriving visitors to confirm their access. This practical system also reduces participants' uncertainty about where they must go or what they must present to enter.
Bracelets of different colors might indicate different degrees of entry for specific ticket types or locations. You might, for instance, issue bracelets in the colors red for VIP restricted areas access, yellow for general admission, and green for entry to particular locations or exhibits. Staff can quickly identify who should be permitted there thanks to the color coding.
Bracelets are a superior entrance option in terms of effectiveness and cost compared to paper tickets. They speed up entry, offer security, and give you flexibility in controlling admission. Even though bracelets are simple, they work wonders for promoting your party. In the end, to utilize wristbands is just more sensible.
How Wristbands Facilitate and Manage Access
Any event planner will find that wristbands are a game-changer. They give you control and accountability while facilitating participants' taking control of your exhibition. Every visitor has a legitimate pass, thanks to wristbands with numbers or barcodes. Gate-crashers and fraud are less likely because staff can identify illegitimate wristbands immediately. Real-time attendance tracking is made simple as a result of this.
The simplest method for doing this is with wristbands even simpler than checking a driver's license. In fact, you may pre-verify the age of your attendees and issue specific wristbands depending on whether they are age 21 or older instead of having to check an ID before every purchase. What about many occasions where extra benefits and experiences can be purchased? If that's the case, we advise using VIP wristbands to identify attendees who have paid for the event package with additional bonuses.
All of this technology offers insightful data on attendee flow, busiest entry times, and other topics. For your subsequent event, you'll understand how to enhance operations of guest management.
Custom wristbands demand an initial investment, but they are worth it because of the improved security, affordable, and extremely durable they provide. Improve guest experience while maintaining control of backstage access. Wristbands should be at the top of your list when it comes to controlling safety entry at your next conference, festival, awareness or fundraising event.
The Various Admission Wristband Types Available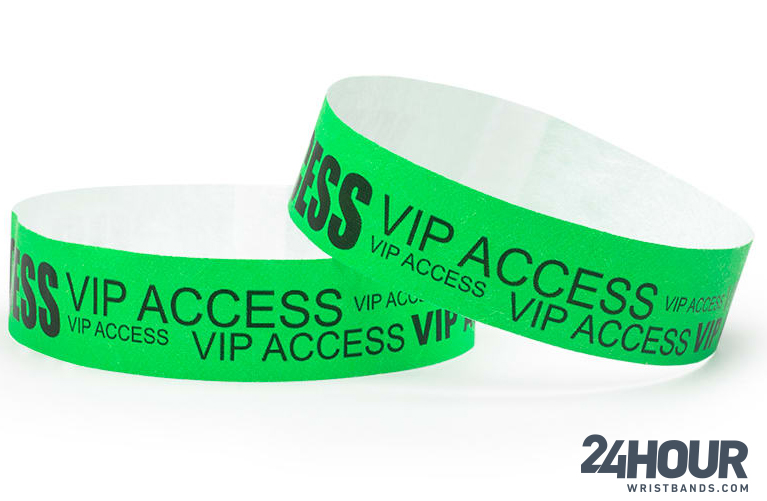 Depending on your requirements, you have a few options when selecting entry wristbands for your event as tickets. Tyvek and vinyl wristbands are the two most widely used varieties.
Consider our Tyvek or vinyl-style wristbands if you need to distribute an admission wristband for the event that will last a few days. These are built of incredibly durable and unyielding materials that can withstand use for a long time (up to two weeks sometimes). By selecting our broad vinyl or plastic, you can create a unique round bracelet with additional space on the bands for a logo or design. These bands are excellent for settings like theme parks and water parks where repeated wear is frequently required.
Tyvek Wristband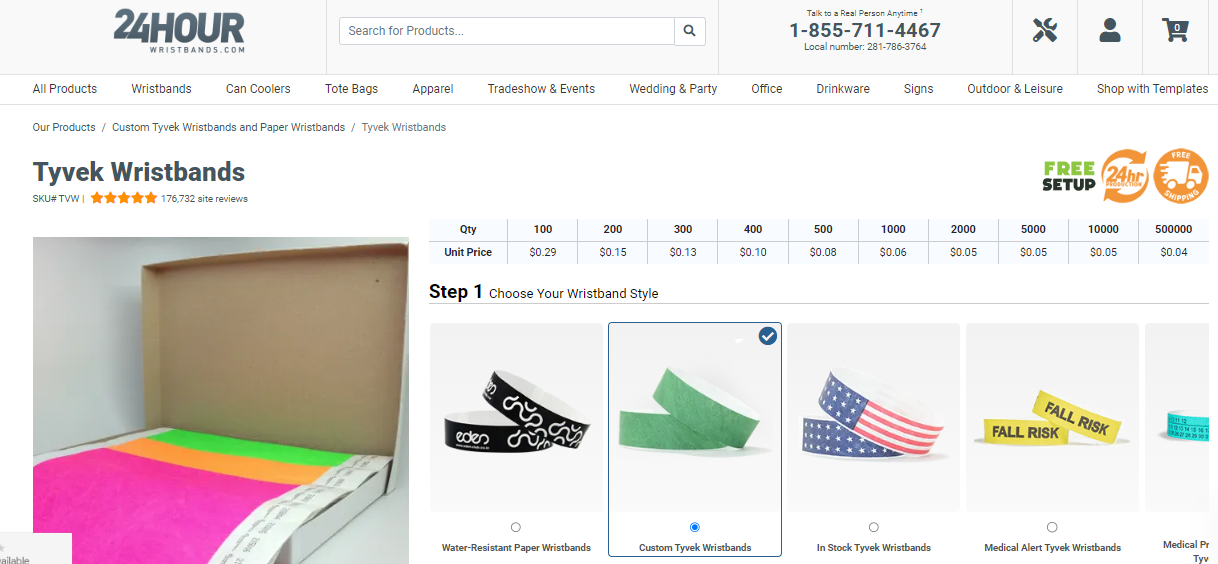 The paper used to make Tyvek wristbands are strong, tear-proof, and water-resistant. For one-day or short-term activities, they offer a convenient, lightweight solution that is also reasonably priced. Your event's name, logo, and date can be printed on the Tyvek wristband. There are different types of
vibrant colors available for them. For athletic events, concerts, festivals, and brand awareness events, these bracelets are perfect.
Consider our Tyvek bracelets for recording attendance. We provide with colour options red, blue, yellow, and green to make it easy yet still in control. These are frequently used for zoos, aquariums, class trips, and athletic events tickets and are ideal for 1-2 day activities. Create personalized children's bracelets tickets for your event to add excitement, and since our Tyvek bands are totally adjustable, you won't have to worry about ordering the right sizes for everyone. They are excellent for guests, customers or employee screening as well.
Silicone Wristbands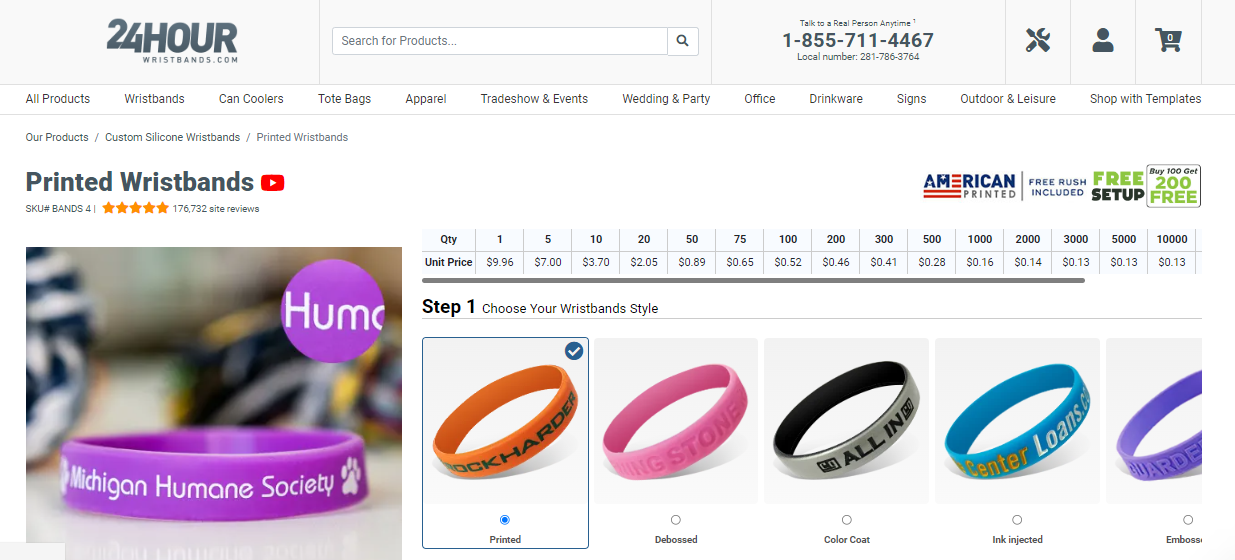 Rubber bracelets, commonly referred to as silicone wristbands, have developed into a perfect addition to brand awareness campaigns, fundraisers, and admission ticket. They are an affordable fashion accent that may also be used for a variety of other things. These vibrant wristbands can improve guests' satisfaction while assisting in ensuring safety.
Traditional paper tickets are no longer in style. Digital passes or Custom Silicone Wristbands For Exhibitions are used in their stead. These rubber bracelets double as check-in tickets and stylish keepsakes for the guests and make more sense than traditional paper ticket.
These bracelets are simple to customize at affordable costs. At 24hourwristbands.com, we offer wristband customization services based on user requirements. When designing bracelets, one can include a logo or clip art in addition to color, size, and type to make them look more appealing.
Plastic or Vinyl Wristband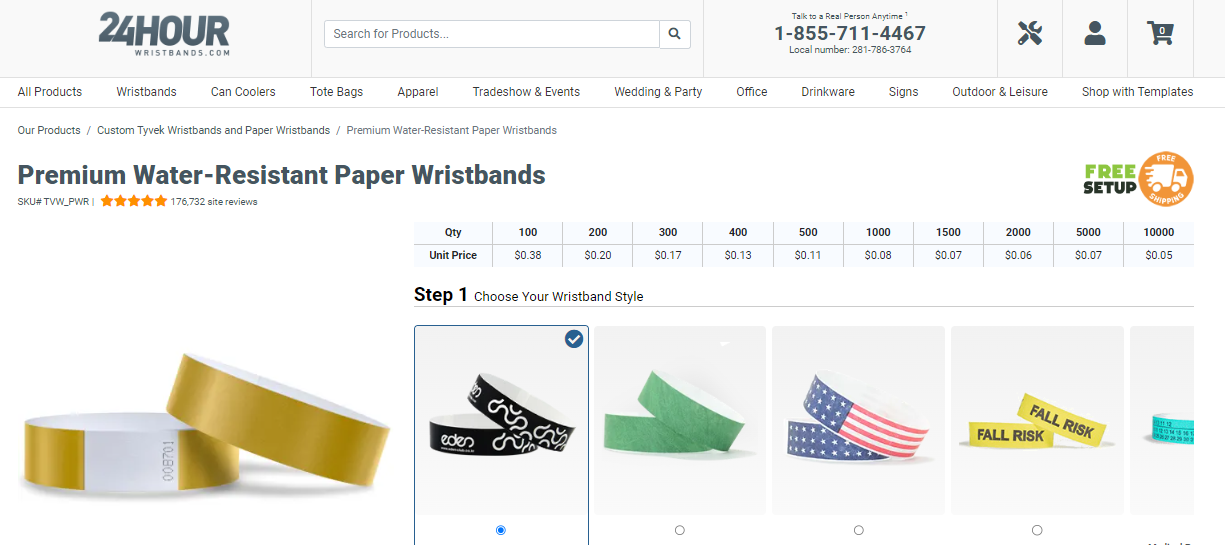 A Wristband made of plastic or vinyl offers a reusable solution that can last for several days. They are more durable than paper bracelets and are constructed of a flexible vinyl material that is entirely waterproof. Plastic bands are available in a variety of colors and can be printed with special designs. These are fantastic options for resorts, multi-day events, cruise ships, and theme parks. Although they typically cost a little more, vinyl wristbands are more durable.
Other factors to think about when using entrance plastic or vinyl bracelets
Security: Bracelets assist ensure that only attendees who have paid to attend your event enter. VIPs can tap in and out of restricted areas throughout the site with ease, there is no need to wait in line or have their wristband scrutinized. They make it simple for personnel to identify uninvited individuals and are challenging to duplicate.
 Customization: The majority of wristband suppliers provide complete customization options for your occasion, including the addition of your logo, name, date, and color preferences. This gives your occasions a professional appearance and atmosphere.
Barcodes: In order to efficiently measure attendance on big occasions and connect it to customer information, barcoded bracelets were used. For quicker entry, barcodes can be scanned at the gate.
Tamper-Resistant: A lot of bracelets have characteristics that make them difficult to tamper with, including serialized bracelets, holographic overlays, and bracelets that can't be taken off and put back on. As a result, bracelets are not repurposed or sold without authorization.
Creating Custom Admission Wristbands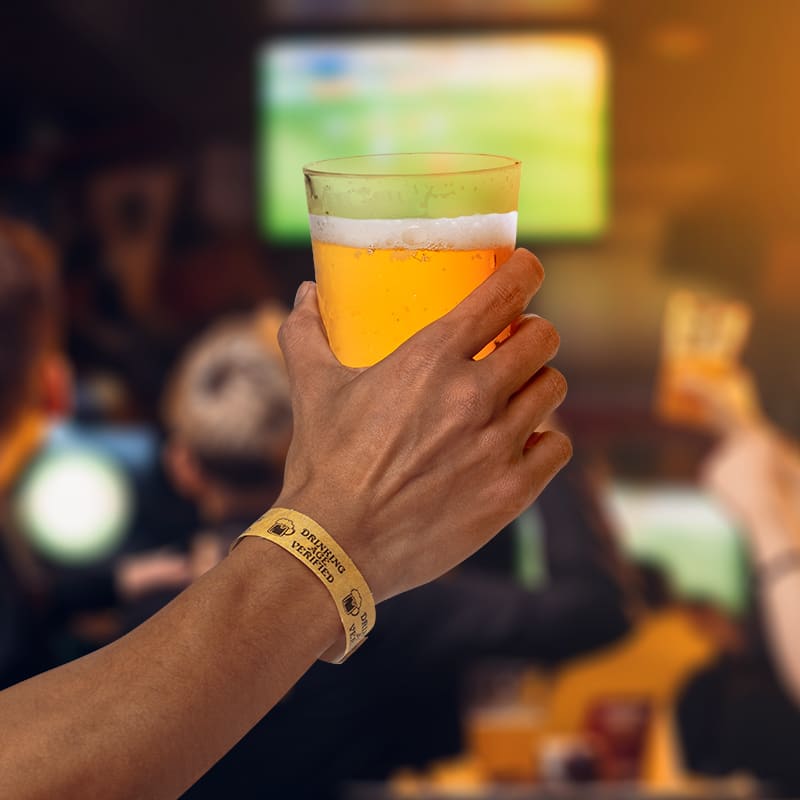 Admission bracelets offer a simple and economical approach to controlling attendance, enhancing security, generating enthusiasm, and giving the occasion a more polished image. You may choose bracelets that are ideal for the particular requirements of your accosions thanks to the wide range of types and customization choices available.
Depending on your requirements and price range, you can choose any material for your entry bracelets. Bracelets made of Tyvek are affordable, tear-resistant, and waterproof. Although plastic wristbands are not waterproof, they are also strong and inexpensive. Cloth or Silicone wristbands are comfy and reusable and cost-effective.
A multi-day outdoor festival is best attended with waterproof Tyvek or plastic bracelets. Anything will do for a conference that lasts just one day. Cloth and silicone wristbands with a complementary color or pattern have the ability to improve your event's coherence if it has a theme. Consider the atmosphere of your event and what best represents your brand.
Conclusion
Here are several strong arguments in favor of using bracelets on an upcoming occasion. They improve security service and organization and are reasonably priced and configurable. Your guests will have a first-rate experience when they arrive thanks to bracelets. When applied effectively, they produce a smooth admission process that allows visitors to start having fun right away. The advantages to you as the organizer are enormous as well. Knowing that you have full control and that resources are being spent appropriately will give you peace of mind. Why not try wearing bracelets? You'll at the very least be perplexed as to why you didn't use them earlier. Let's hope that everything is a success!
Contact Us Today
Don't undervalue the benefits of employing bracelets at your celebration. Change your tickets for wristbands right now, or sell them as a collectible together with an excursion pass. You'll soon start to experience benefits you never imagined were possible. For your exhibition, we at 24hourwristbands.com are the greatest manufacturer service, and distributor of reasonably priced, incredibly strong wristbands. Call us NOW or leave a message below.