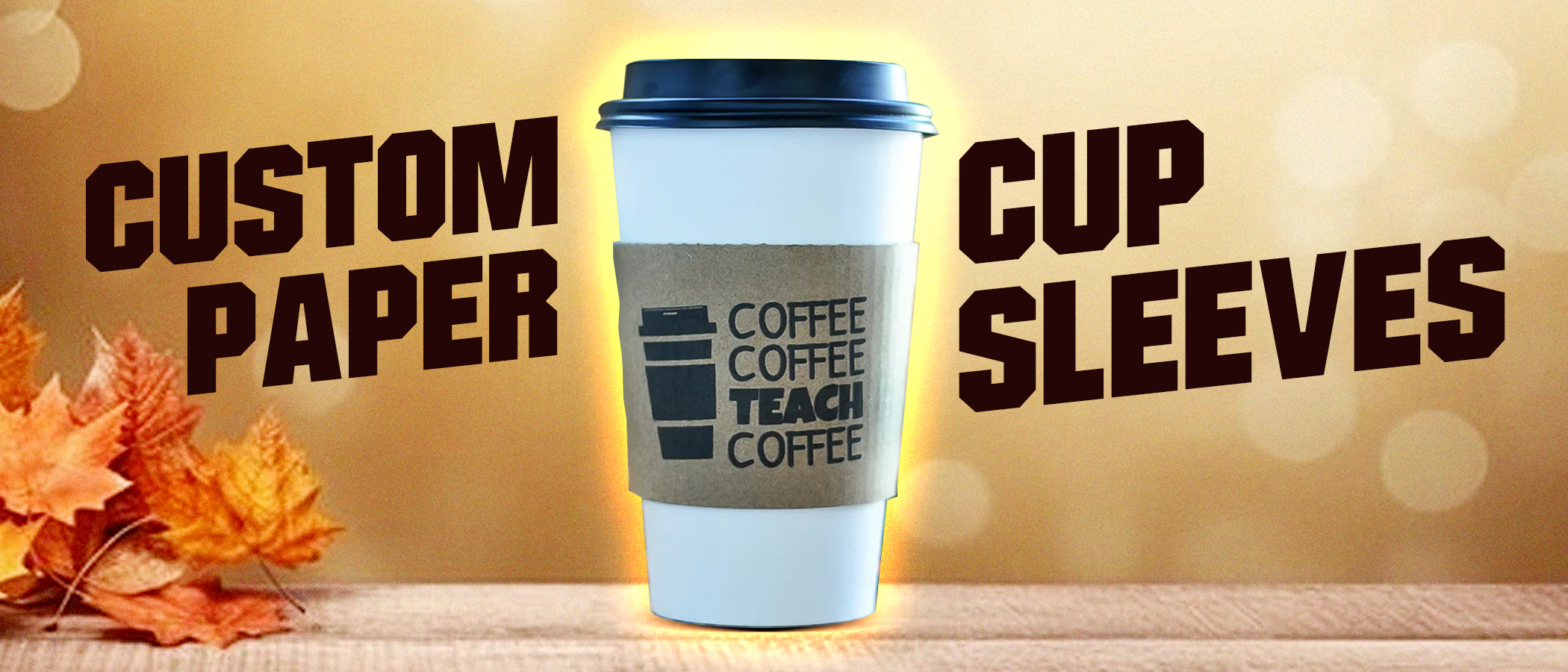 Introduction
Thanksgiving is a time for family get-togethers and giving thanks this holiday season. Still, it's also a fantastic chance and practical for businesses to increase guests' and customers' engagement and satisfaction. Impressing your consumers with personalized sleeves on paper cups is one way to achieve this. These coffee cup sleeves give your company a more personalized touch and a platform to showcase your brand and give your clients an unforgettable purchase experience.
Are you searching for a unique and significant approach to add to and improve your company this Thanksgiving? Look nowhere else! A great way to amaze your customers and make a lasting impression is with customized paper cup sleeves. Whatever type of establishment you run—coffee shops, restaurants, or other—personalized cup sleeves can help you elevate your brand.
In this post, we'll examine the advantages, tips, and potency of employing personalized paper cup sleeves throughout the Thanksgiving holiday to help your business get the boost it needs.
Benefits of Using Custom Paper Cup Sleeves on Thanksgiving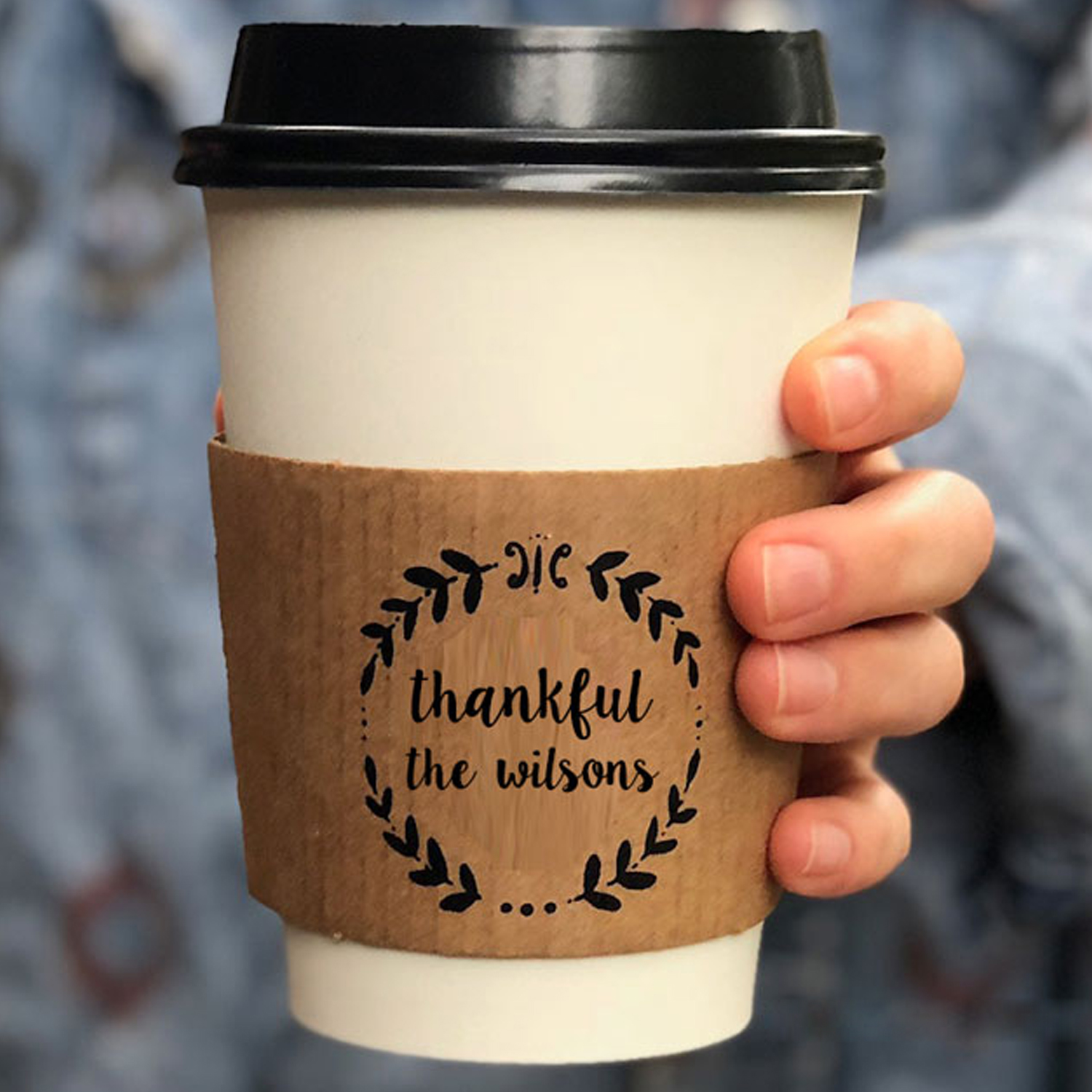 During the Thanksgiving season, businesses search for distinctive approaches to stand out and engage with their customers. Using customized paper cup sleeves is one powerful strategy that can help raise your brand during this holiday season. This tea or coffee cup sleeve not only offers useful advantages but also a chance to show off your business's identity and give customers a special experience. We will discuss the many advantages of employing custom paper cup sleeves for your company during the November Thanksgiving season in this post.
The Experience of Customization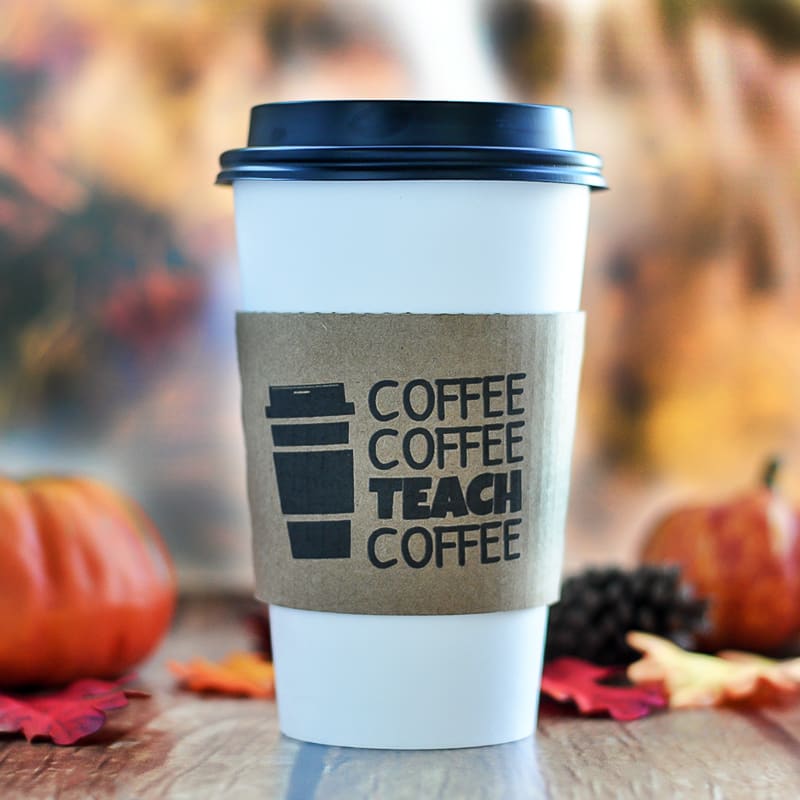 Customized paper cup sleeves give companies the chance to highlight their distinctive brand identity and establish a more personal connection with their customers and guests this November. You may create a customized experience that will make a lasting impression by adding your designed logo, slogan, or even a heartfelt message. Customers feel loved and appreciated when their name or a personal message is written on paper cup sleeves. This improves their experience with the business as a whole.
Keep Your Hands Cool
Custom coffee cup sleeves have several advantages, one of which is that they keep your hands cool while holding hot beverages. Nobody likes having their fingers burned by a hot cup of tea or coffee. These coffee cup sleeves serve as a shield between your hands and the hot cup, allowing you to comfortably and easily enjoy your beverage even at higher temperatures.
Custom paper cup sleeves assist in retaining the temperature of your beverage while also keeping your hands cool. These sleeves offer insulation to make sure that your beverage maintains the proper temperature for extended lengths of time, whether cold beverages or hot beverages. So farewell to warming or quickly cooling your drink, and enjoy it at your own pace.
Expertise in Branding
During the Thanksgiving season, you may showcase your mastery of branding by using the customized tea or coffee cup sleeve. You may create a unified and expert design that reflects your company's values and identity by utilizing your brand's color patterns, fonts, or artwork. Customers will identify your business with the holiday season as a result of this regularity, which will develop and boost your reputation.
Building Brand Awareness
Custom paper cup sleeves are an effective marketing tool as well. The success of a business in the current competitive market depends on its ability to build its brand. Wherever your beverages go, unique paper cup sleeves serve as mobile billboards, showing your brand to potential customers. Your customers inadvertently become brand or product ambassadors as they carry their cup sleeves around, effortlessly promoting your company.
You can subtly but significantly raise brand recognition by prominently displaying your logo and brand color on the coffee sleeve. This increased visibility may result in greater awareness among customers, which may ultimately improve traffic to your business. Compared to conventional advertising techniques, this marketing strategy is not only effective but also affordable.
Competence in Sustainability
Customers today place a high value on sustainable practices. Making use of a personalized paper cup sleeve made of recyclable materials shows your authority and dedication to sustainability. Customers who care about the environment will be pleased with your decision because it demonstrates your concern for the environment and the effects of the organization's activities. During the Thanksgiving season, you may increase customers' trust and loyalty by associating your business with eco-friendly efforts.
Creating a Memorable Experience
Thanksgiving is a time for families to gather together, have a wonderful meal, and celebrate gratitude. It offers businesses a special chance to engage with clients and make an impact that will last. To foster positive word-of-mouth and increase customer loyalty, it is imperative to provide an unforgettable experience.
Using personalized paper cup sleeves for your company during the Thanksgiving season is one method to accomplish this. This post will examine how these sleeves can improve client satisfaction and make your company stand out.
Personalized paper cup sleeves are a fantastic way to present the business and make an impression. Adding your colors, logo, and other design elements will help you stand out from the competition. This is your opportunity to interact with your clients visually and make a lasting impact. A person holding a cup with your personalized sleeve becomes a walking billboard for your company right away. It's an effective marketing tactic that can help people remember your brand.
Showcasing Special Offers
Customers search for sales and discounts over the Thanksgiving season. Personalized coffee cup sleeves are a great way to highlight deals and promotions. Create your coffee sleeves with special holiday deals in mind, or add a QR code that takes readers to your website or social network pages to learn more about current promotions and other details. You may create an enduring impression that entices clients to interact with your business further by fusing beauty and functionality.
Enhancing Comfort and Safety
Personalized cup sleeves are useful in addition to providing marketing opportunities. A coffee cup sleeve with lids serves as a barrier in the winter to protect customers' hands from burning while they enjoy a warm beverage. The extra insulation ensures that your customers are comfortable by keeping the heat in and the cold out. You may show them that you care about their well-being by taking into account their comfort and safety, and they are more likely to remember and value that extra care.
Designing Custom Paper Cup Sleeves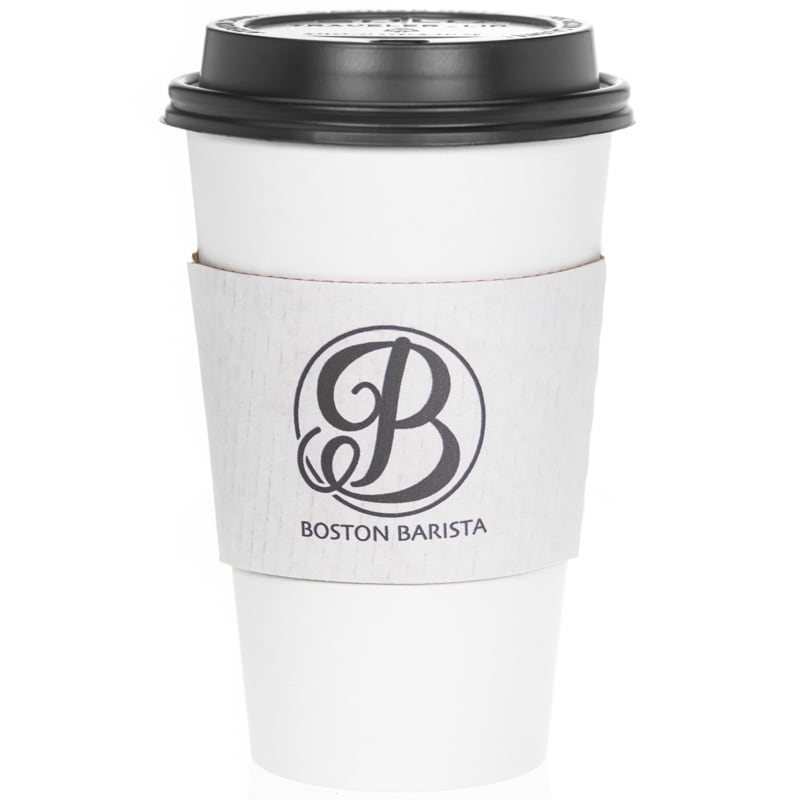 Thanksgiving is a time to meet for friends and family get-togethers, good food, and warmth and appreciation. Businesses can also share and use this as an opportunity to thank and engage with their customers. Creating personalized coffee paper cup sleeves for your company is an innovative and practical method to do this. These sleeves perform a distinctive branding opportunity in addition to their functional benefits. We will discuss the experience, knowledge, credibility, and trust that comes with creating custom paper cup sleeves for your company for the Thanksgiving holiday in this post.
How to Design Eye-Catching Custom Paper Cup Sleeves?
 Understand Your Brand Image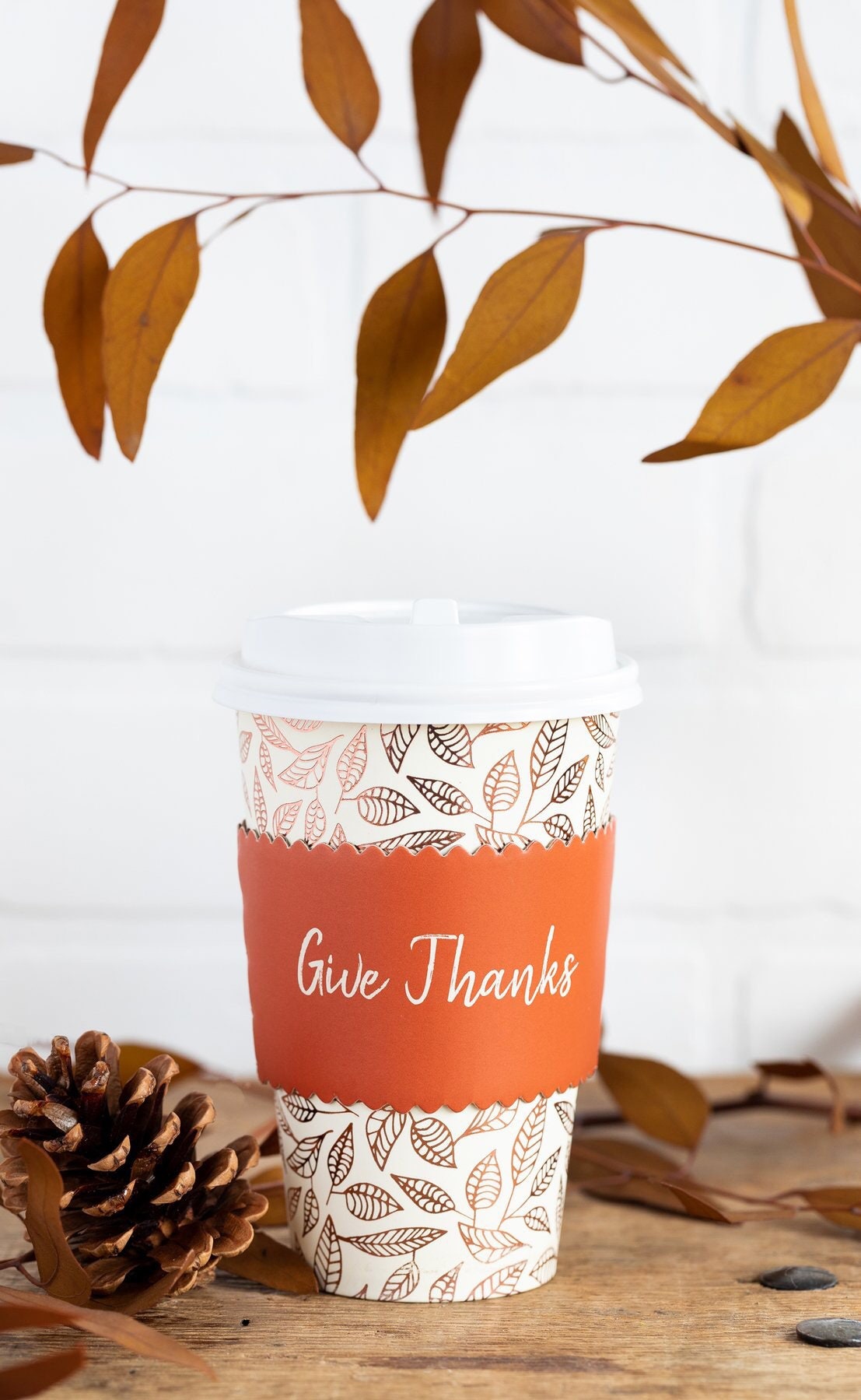 Comprehending your brand image and the message you wish to deliver is essential before you start producing custom coffee paper cup sleeves. Are you a modern shop, a trendy establishment, or a conventional, family-run business? Determining the personality of your brand will help steer the design process and guarantee that it is consistent and reliable with your entire marketing plan.
Incorporate Thanksgiving Elements
Autumn colors, warmth, and gratitude abound on Thanksgiving. Use Thanksgiving-themed design elements to set your personalized coffee cup sleeves apart during this joyous time of year. Consider utilizing pictures of fall foliage, cornucopias, pumpkins, or even the recognizable turkey. These components will arouse sentimentality among clients and friends and establish an emotional connection.
Focus on Branding
While adding Thanksgiving-themed features is crucial, don't forget to give your branding priority. Make sure the coffee cup sleeves have a clear display of your company name, logo, and contact details. Customers are more likely to purchase, trust, and recognize your business when your branding is consistent throughout all marketing collateral.
Use High-Quality Printing
To make sure that your custom cup sleeves seem attractive and professional, choose high-quality printing. The writing should be readable, the images should be crisp, and the color should pop. Consumers value attention to detail, and a professionally designed cup sleeve enhances the reputation of your coffee shop.
How to Order Custom Paper Cup Sleeves
Do you want to leave a lasting impact on your customers this Thanksgiving season as a business owner? Custom paper cup sleeves for your coffee cups are one method to do this. Not only can personalized paper cup sleeves shield and preserve hot drinks, but they are also an effective way to promote your company. Customized paper cup sleeve ordering on 24hourwristbands.com will be made easy for you with our step-by-step instructions in this content, which will also guarantee superb results.
Why Choose 24hourwristbands.com?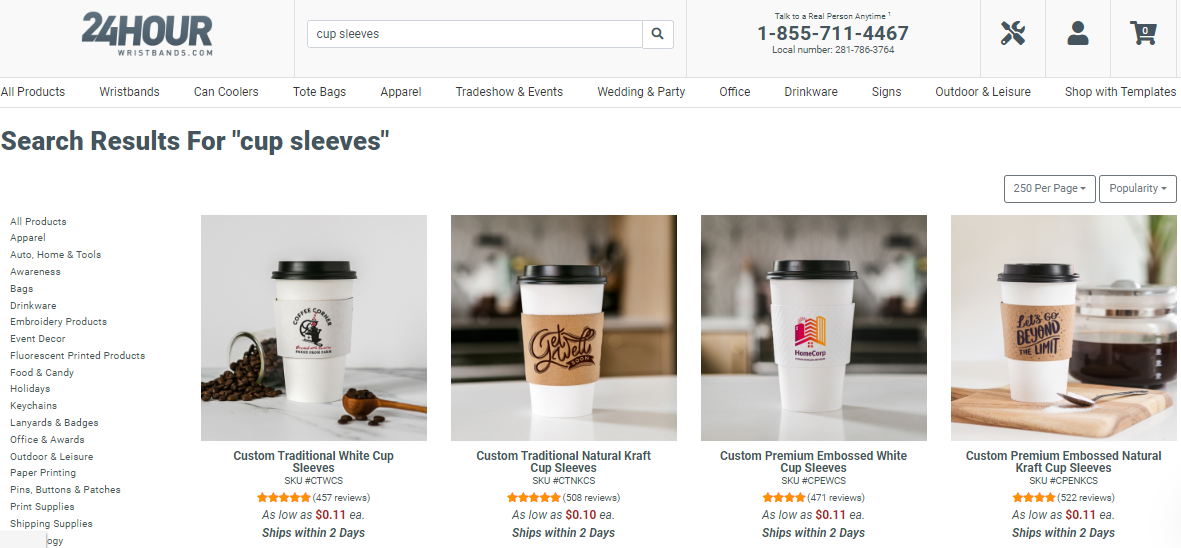 Before we get started, let's clarify why 24hourwristbands.com is the best place to get custom paper cup sleeves. We have established a reputation for offering premium customized products because of our years of experience and industry expertise. We are a dependable option for businesses of all sizes because of our dedication to client satisfaction, quick turnaround times, and affordable prices. Our team's main goal is to provide excellent products and services. Our product development team is capable of creating any kind of unique packaging to suit your company's needs.
Step 1: Visit 24hourwristbands.com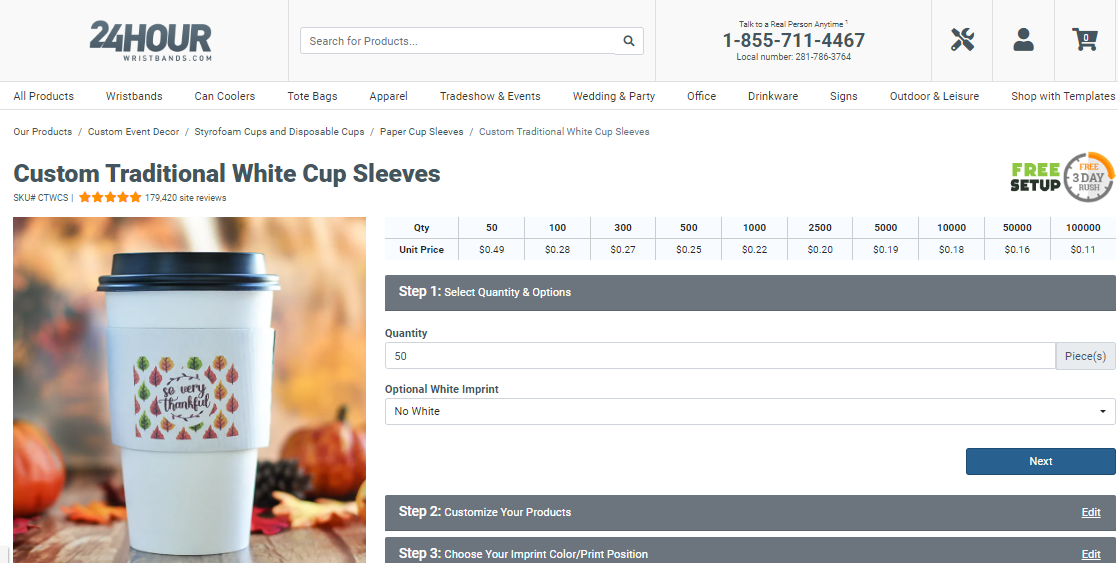 Launch your browser and go to www.24hourwristbands.com to get started. Find the search bar there, then type "custom paper cup sleeves" into it. To continue the search, press Enter or click the search symbol.
Step 2: Explore the Options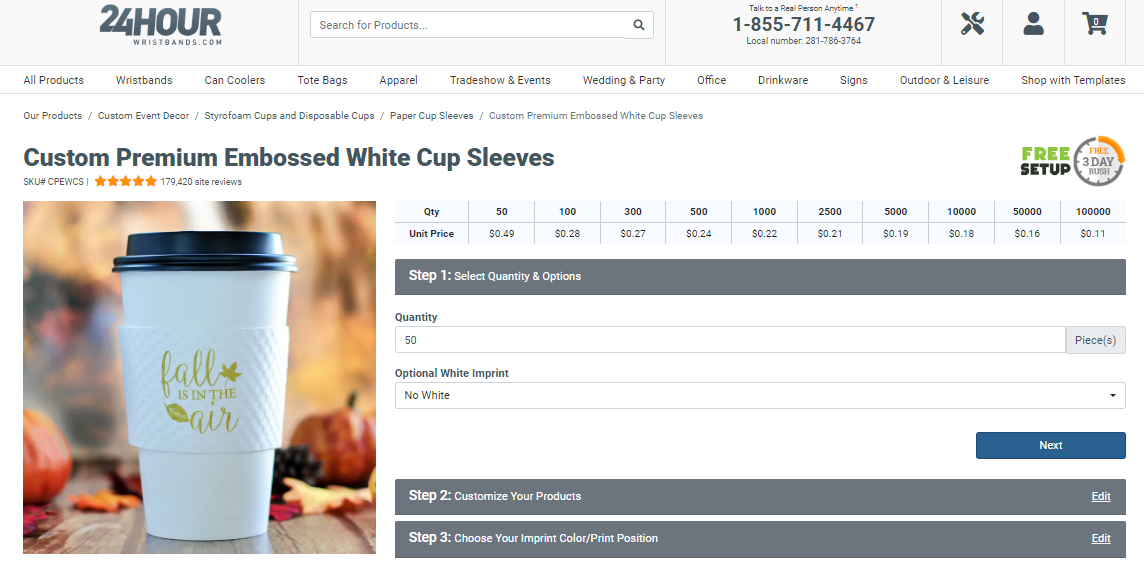 There are several alternatives available to you for customized paper cup sleeves. Examine the different styles, sizes, and materials on offer at your leisure. Think about your target market, brand, and the message you want to get over with your cup sleeve. Move on to the next steps once you've selected the ideal design.
Step 3: Customize Your Cup Sleeves

To view the customization choices, click on the desired cup sleeve design. You can submit your logo here, as well as add any more text or images that fit with your brand and select your favorite color patterns. Utilize 24hourwristbands.com's easy-to-use design tools to produce a visually beautiful and well-thought-out cup sleeve design.
Step 4: Specify Quantity and Delivery Date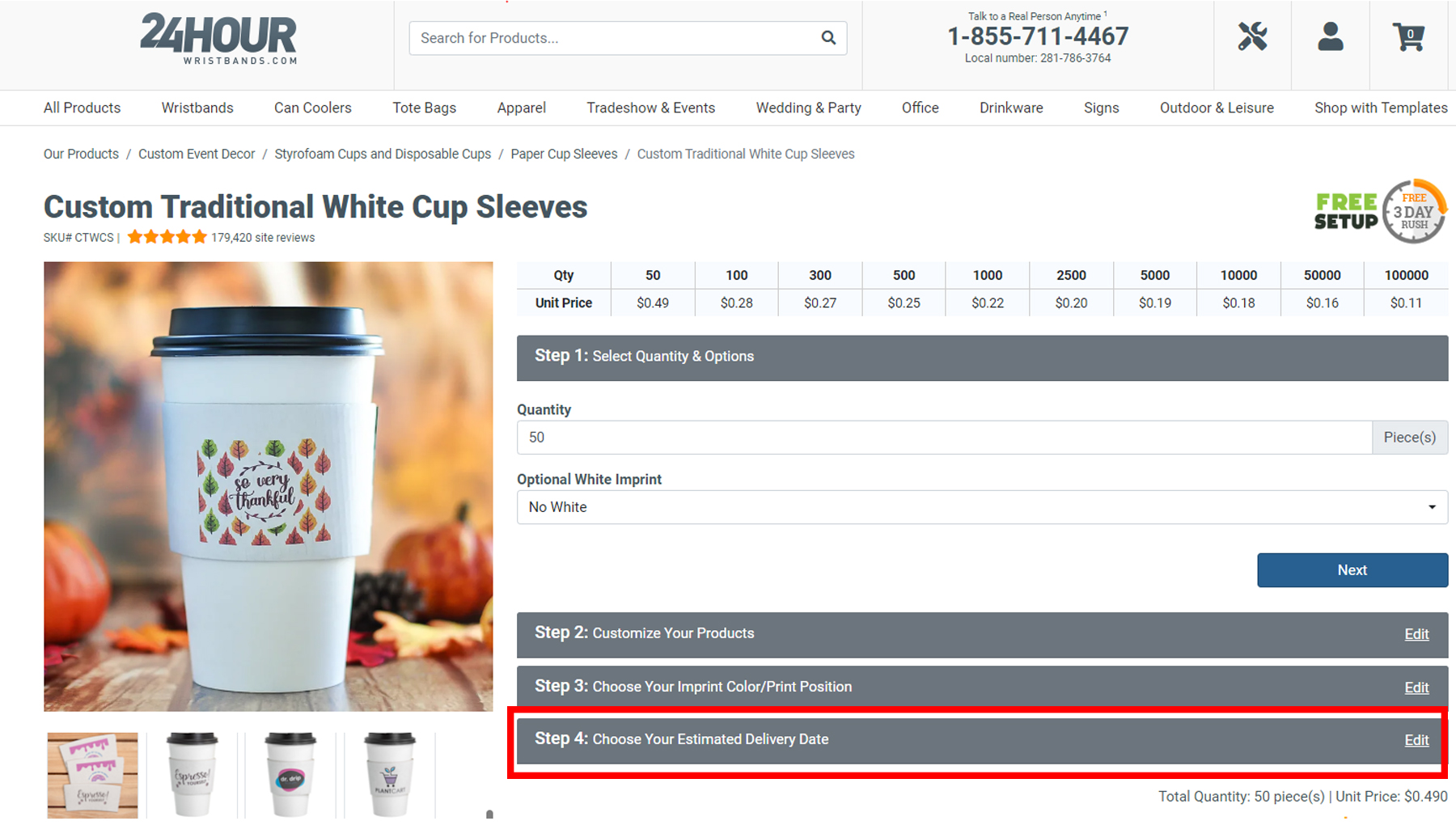 Now that your design is complete, you need to decide the quantity (qty) of cup sleeves you'll need. Think about things like your anticipated sales volume, impending sales events or promotions, and storage capacity. Order/shop a little bit more, than you anticipate using will always be a good idea to prevent running out during busy times.
To guarantee that your cup sleeves arrive in time for your Thanksgiving season promotion, you should also choose the preferred delivery date. Consider your alternatives for shipping from 24hourwristbands.com and select the one that best fits your schedule and price range.
Step 5: Review and Place Your Order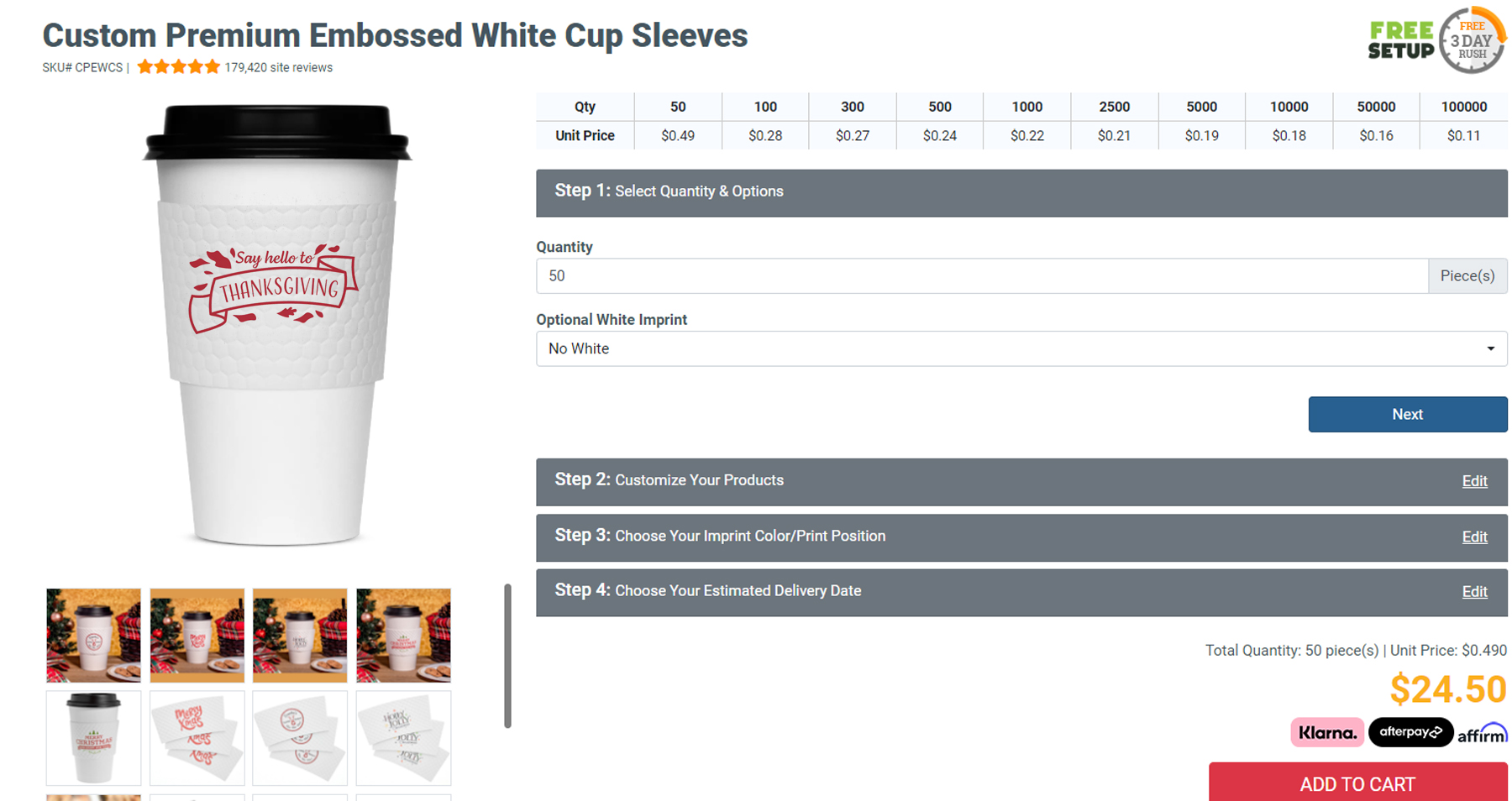 Check all the details of your order carefully before you continue to the checkout process. To ensure accuracy, double-check the design, quantity, and delivery date. Once content, select "Place Order" by clicking the button.
Step 6: Provide Shipping and Payment Information

You must provide your delivery address and payment details to finish your order. With the assurance of safe payment processing provided by 24hourwristbands.com, you may shop with confidence. Make sure you accurately fill out every required form and double-check your work for mistakes or errors.
Step 7: Sit Back and Await Delivery
Congratulations!  The customized paper cup sleeves that you ordered from 24hourwristbands.com have been successfully placed. Waiting for your cup sleeve to show up at the property is the only thing left to do now. You must follow the progress of your item by utilizing the tracking number that was provided.
Implementing Custom Paper Cup Sleeves in Thanksgiving Promotions
Around Thanksgiving, businesses all over the country devise creative strategies to advertise their product and services. Using customized paper cup sleeves is one smart way to set your business apart during this joyous time of year. These sleeves give your cups a unique touch while simultaneously being a great medium for advertising. This post will discuss the advantages of utilizing customized paper cup sleeves for your Thanksgiving marketing and how they may position you as an authority in your field.
Why Choose Custom Paper Cup Sleeves for Thanksgiving Promotions?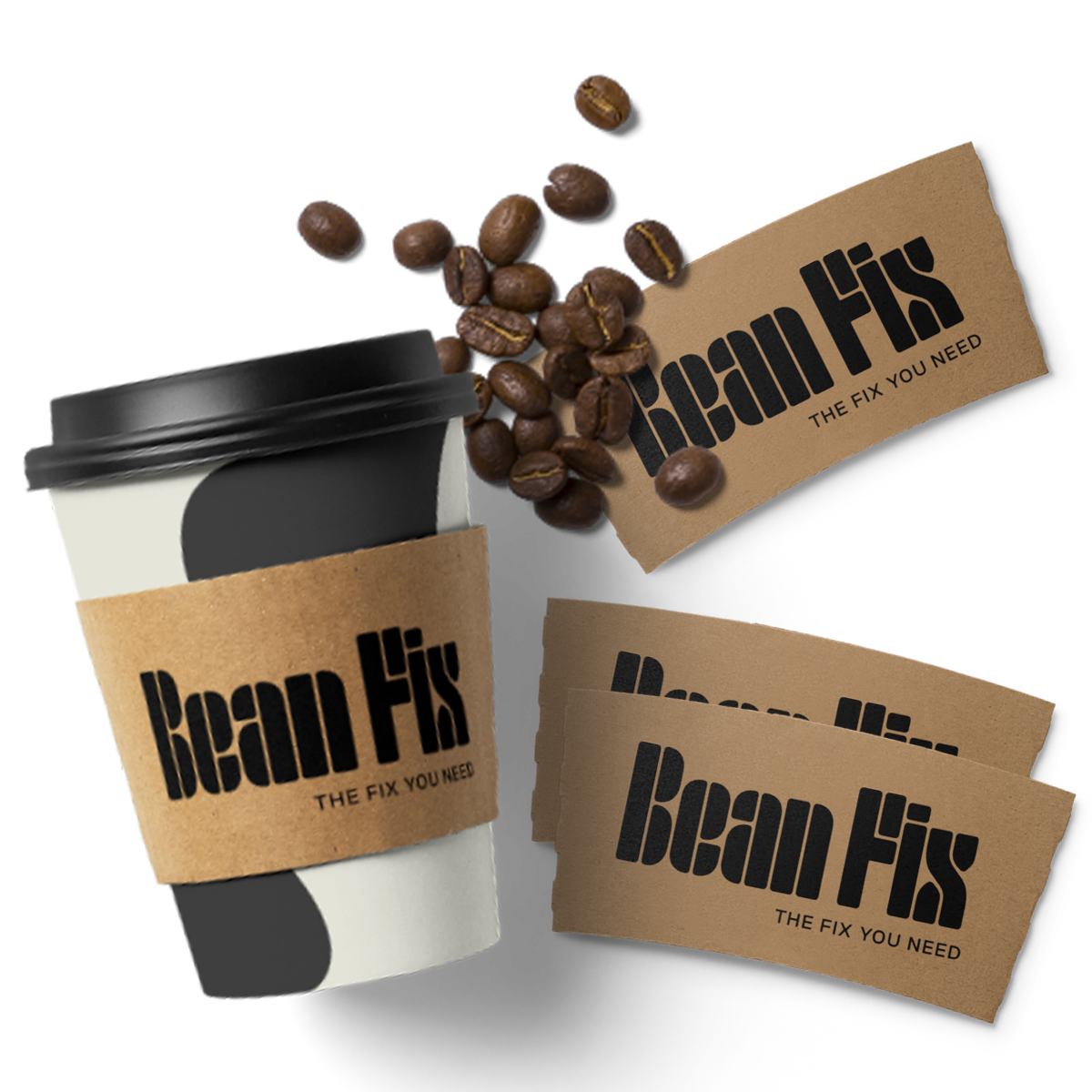 During the Thanksgiving season, individuals gather to commemorate and convey their appreciation. Through the use of personalized paper cup sleeves, you can take advantage of this joyous occasion and provide your clients with an unforgettable experience. The following are some reasons to think about using personalized cup sleeves for your Thanksgiving marketing:
Stand Out from the Competition
During the holidays, businesses are vying for customers' attention, so it's critical to come up with original strategies to set themselves apart. You have the chance to distinguish out from the competition and leave a lasting impression on prospective clients with unique cup sleeves. Due to personalized graphics that capture the spirit of Thanksgiving, your brand will be visible.
Show Appreciation to Customers
It's Thanksgiving, a time to give thanks, and what better way to thank your clients than by sending them a nice gift? Personalized cup sleeves not only improve their drinking experience but also let them know you appreciate what they've done for you. This small act of kindness can have a big impact on developing a positive business image and increasing client loyalty.
Create Buzz and Social Media Engagement
Cup sleeves that are distinctive and visually appealing have the power to spark conversation and participation on social media. Consumers will probably post images of their Thanksgiving-themed cups on Facebook or Instagram. This free user-generated material can help your business draw in more clients and raise brand awareness.
Eco-Friendly Alternative
Customers' awareness of their environmental impact is growing. Choosing customized paper cup sleeves is a great way to demonstrate your support for sustainability. Opt for recycled-content sleeves or use the sleeves to advertise eco-friendly campaigns. This eco-friendly strategy might appeal to your target market and improve the perception of your business.
Conclusion
Finally, Thanksgiving is the ideal chance to impress clients and grow your business. Personalized paper cup sleeves are a fun and useful way to interact with customers and promote your organization. You may improve consumer engagement, brand awareness, and the creation of a memorable holiday experience by investing in personalized cup sleeves. This Thanksgiving, make a lasting impression on your clients by going above and beyond with personalized paper cup sleeves.
Contact Us Today
Thanksgiving is a time to spend with family and friends, exchange gratitude, and savor a mouthwatering meal. Businesses should think about how they may leave a lasting impact on their clients as they get ready for the holidays. Using personalized paper cup sleeves for Thanksgiving is one efficient method to accomplish this. These sleeves are an excellent marketing tool and protect your clients' hands from hot beverages. Send us a request or get in touch with us right now to order your personalized Thanksgiving paper cup sleeves if you want to increase brand awareness and give your consumers an unforgettable experience.
How We Can Help
Our specialty at 24hourwristbands.com is making premium personalized Thanksgiving paper cup sleeves that are customized to meet your specific requirements. Here's how we can assist you:
Design Assistance
In close collaboration with you, our skilled design team will produce a unique cup sleeve that embodies the essence of Thanksgiving and represents your company's identity. We can assist you with idea generation or with having a specific vision.
Premium Materials
We are aware of how crucial it is to use sturdy materials and packaging to guarantee the dependability and longevity of your cup sleeves. Our sleeves protect your clients' hands from hot beverages and offer superior insulation because they are constructed of high-quality materials.
Quick Turnaround Time
Time is of the utmost importance, as we all know, particularly during the hectic holiday season. For this reason, we work hard to deliver your personalized cup sleeves on time, so you can start promoting your business right away.