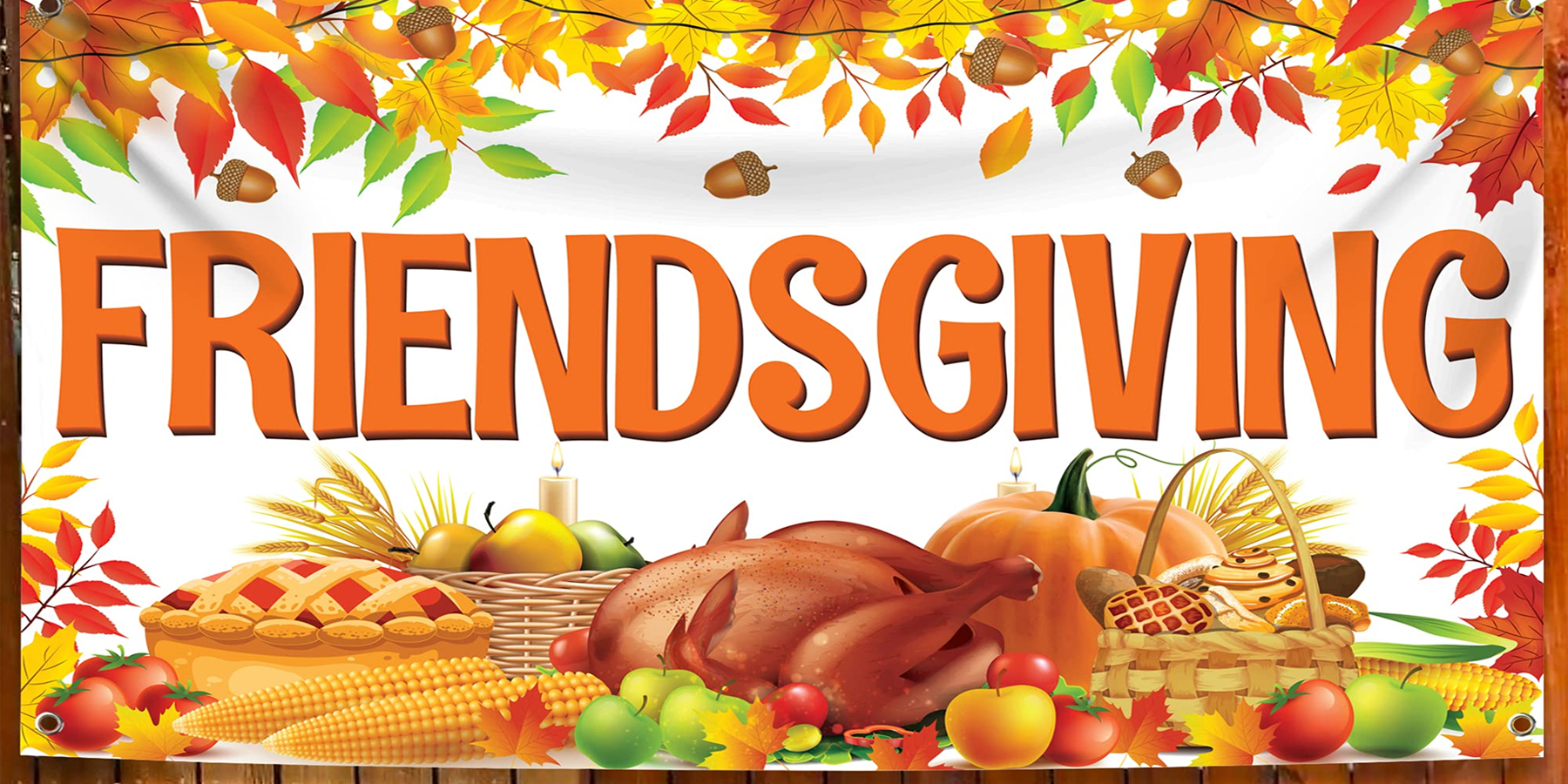 The start of autumn brings along gorgeous fall foliage, different fall events, and favorite comfort foods for many. Fall also announces the arrival of the holiday season. Usually, families start planning the holidays together. For those who cannot make it to their families for holidays for various reasons, there is a new celebration that is slowly becoming popular: Friendsgiving. 
Friendsgiving, a delightful fusion of "friends" and "Thanksgiving," has grown in popularity in recent years. This gathering allows us to celebrate the spirit of Thanksgiving with our chosen family—our friends. While Thanksgiving traditionally involves spending time with family members, Friendsgiving offers a unique opportunity to express gratitude, foster meaningful connections, and create lasting memories with our closest companions. 
Even though the idea of Friendsgiving has stemmed from Thanksgiving, it is a little less formal and doesn't have to be celebrated on the same weekend or holiday. You can choose any time to celebrate with your chosen loved ones when it is feasible for everyone involved. 
While food and good times are often at the forefront of these gatherings, there's one aspect that should not be overlooked: Friendsgiving gift ideas.
In this article, we'll explore the significance of giving gifts during this special occasion and some gift ideas that your friends will appreciate. 
Importance of Friendsgiving Gifts:
Strengthening Bonds Through Thoughtful Gestures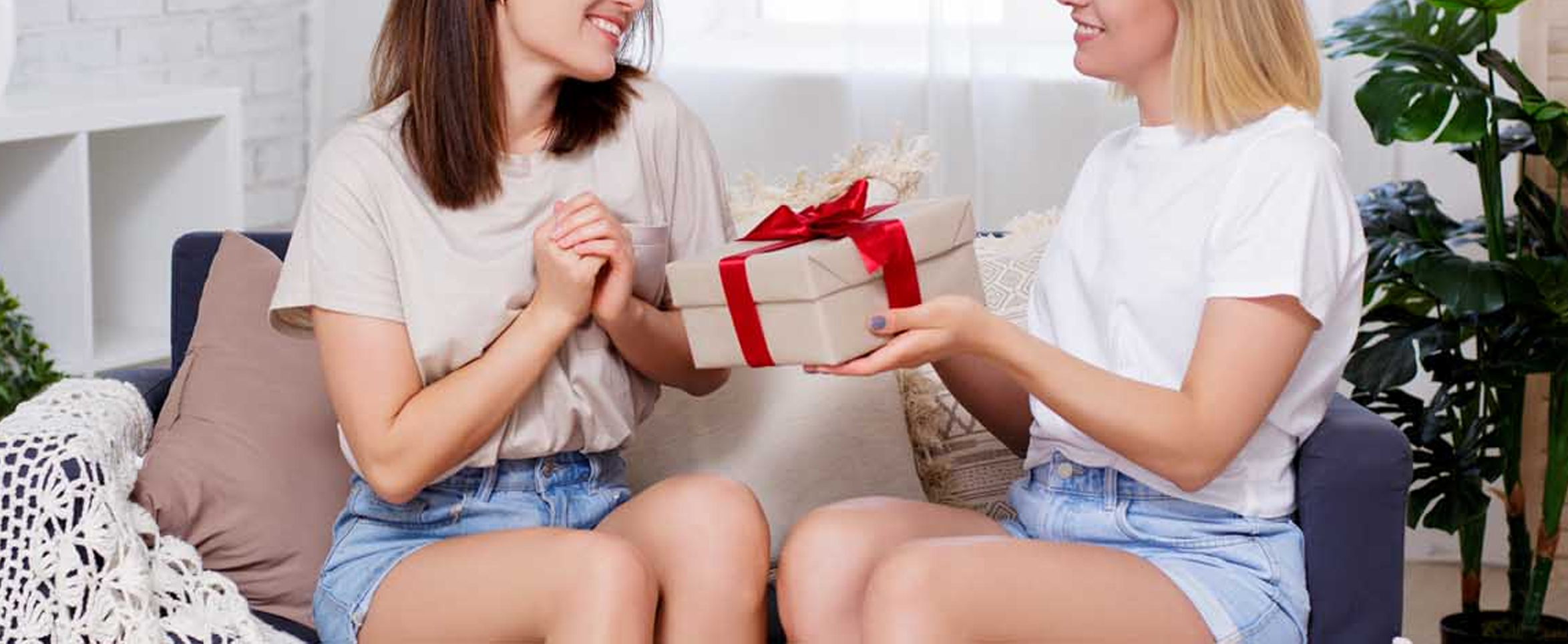 Giving gifts during Friendsgiving is a wonderful way to express gratitude and strengthen the bonds of friendship. It goes beyond mere words and shows your friends that you value their presence in your life. Thoughtful Friendsgiving gift ideas can create a positive atmosphere and foster a sense of closeness.
Celebrating the Unique Qualities of Your Friends
Each gift basket you give is an opportunity to celebrate the unique qualities of your friends. Whether it's a personalized item or something that aligns with their interests and hobbies, a well-chosen gift allows you to acknowledge and appreciate what makes them special.
Adding Excitement and Surprise
Gift-giving during Friendsgiving adds an element of excitement and surprise to the gathering. It brings smiles to the whole crew and generates a buzz of anticipation as gifts are exchanged. The joy of both giving and receiving gifts creates a memorable experience that will be cherished for years to come.
Symbolizing Gratitude and Love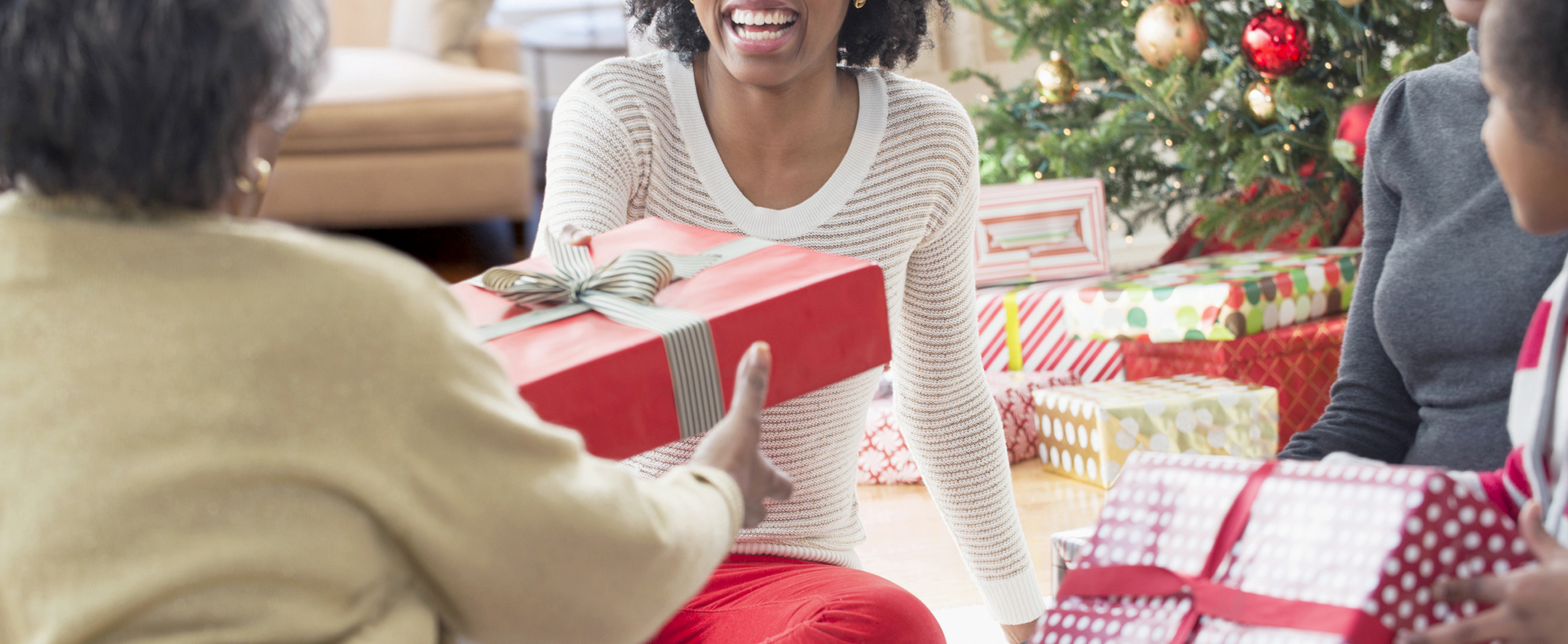 A gift is more than just a material item; it symbolizes gratitude and love. When you give a gift, you're conveying a message of appreciation and care. This simple act can have a profound impact on the recipient, making them feel valued and cherished.
Cultivating an Atmosphere of Giving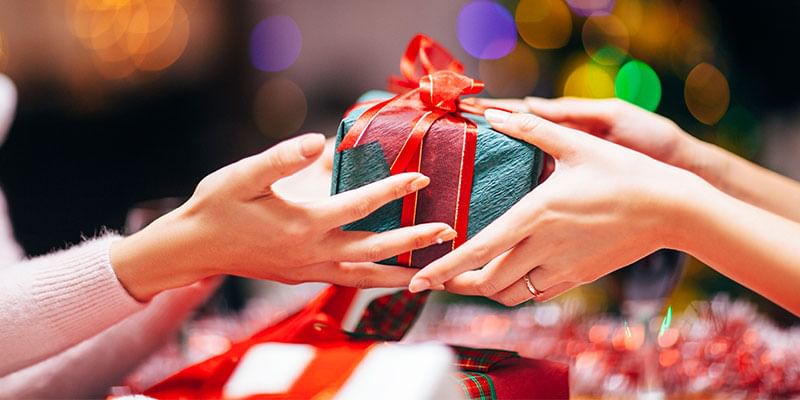 Friendsgiving hostess gift can help cultivate an atmosphere of giving and generosity among friends. By establishing this tradition, you create an environment where everyone is encouraged to think of others and show their appreciation through thoughtful gifts and party favors. This tradition can inspire others to adopt a similar mindset and extend their generosity beyond Friendsgiving.
Strengthening the Bonds of Friendship Over Time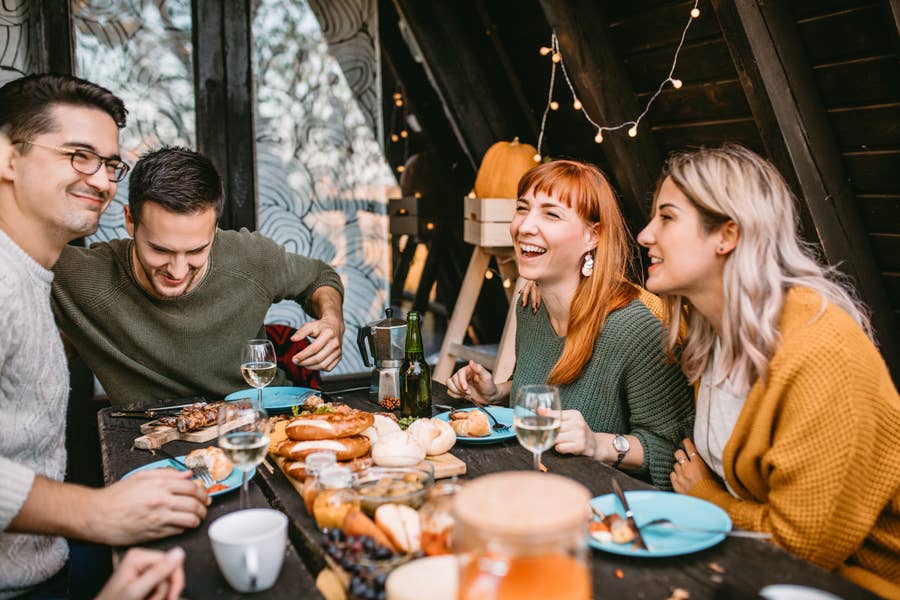 As Friendsgiving becomes an annual tradition, the act of gift-giving strengthens the bonds of friendship over time. It's a tangible reminder of the close connections you've formed and serves as a testament to the lasting nature of your relationships. The anticipation of exchanging gifts each year adds to the excitement and reinforces the tradition of celebrating friendship.
Thoughtful Friendsgiving Gift Ideas: 
Personalized Friendsgiving Mug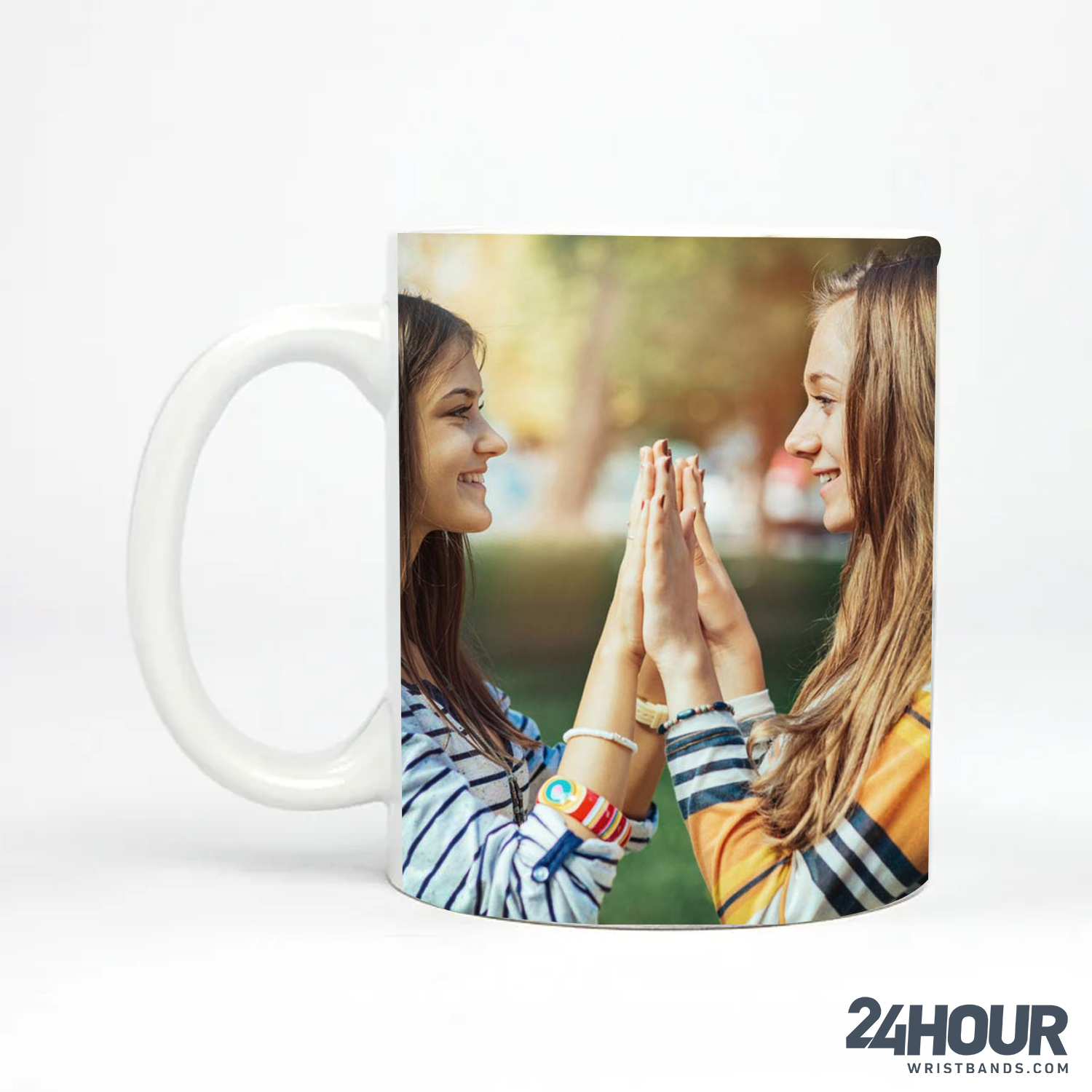 A personalized Friendsgiving mug is a great way to add a special touch to your Friendsgiving celebration.  It's a thoughtful way to commemorate your bond and the spirit of togetherness. You can create a custom mug with a design or message that reflects the spirit of friendship and gratitude that Friendsgiving represents. 
Personalized Friendsgiving mugs are a fun and meaningful way to celebrate your unique group of friends and show your appreciation for the love and support they provide. They also make great keepsakes that you can cherish for years to come.
Decide on a design or theme for your Friendsgiving mug. It could include autumn leaves, pumpkin, turkeys, or any other symbols associated with Thanksgiving and friendship. Alternatively, you can opt for a more personalized design, such as a group photo of your friends or a custom illustration like cinnamon, nuts, cheeses, delicious baked desserts etc.
Make your coffee mug even more special by adding a personal message, a quote, or the date of your Friendsgiving celebration. This can be a heartfelt note of appreciation for your friends or a funny inside joke that only your group understands. 
Be sure to order your mugs well in advance of your Friendsgiving celebration to ensure they arrive on time.
Get yours here: https://24hourwristbands.com/shop/products/full-color-photo-mugs-11oz 
Matching Friendsgiving Hoodies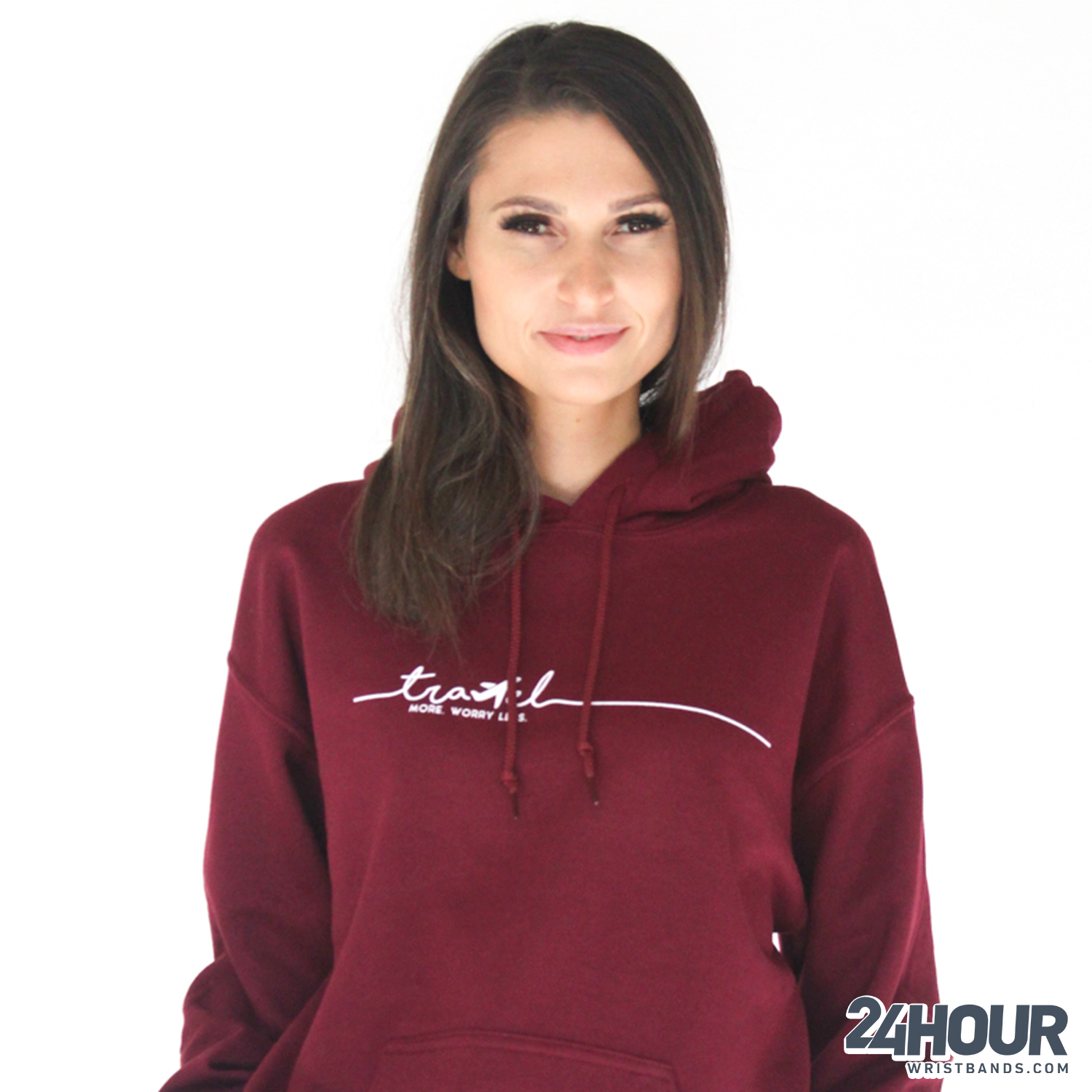 Matching Friendsgiving hoodies are a fun and festive way to celebrate Thanksgiving with your friends. They can help create a sense of unity and camaraderie among your group during the holiday season. Hoodies can be given as a stand alone gift or as a part of a gift box or gift basket.
When ordering your matching Friendsgiving hoodies, make sure to choose a comfortable and durable fabric to ensure everyone's satisfaction. Don't forget to plan a fun photoshoot with your Friendsgiving hoodies to capture the memories and share them with your friends and on social media.
Get hoodies with cute turkey designs or turkey-themed graphics. You can also choose delicious, cute graphics of pumpkin pie, toasted pecans, serving cheese, mashed potatoes, You can choose from a variety of colors, and each hoodie can have a unique twist to reflect the personality of each friend.
Design custom hoodies that include elements such as your group's inside jokes, memorable quotes, or references to your unique Friendsgiving traditions. Custom hoodies can be a great way to express your individuality and bond as a group on this year's Friendsgiving.
Another option is to select a specific hoodie color and then have your friends wear them in that color. This way, you can easily spot your Friendsgiving crew in a crowd.
Have hoodies made with the text "Friendsgiving Squad" on them, and personalize each one with the name or nickname of your friend. This creates a strong sense of togetherness and a shared identity.
Opt for hoodies with the popular Thanksgiving phrase "Gobble 'Til You Wobble." You can add your own creative twist with graphics and designs to make a small gift just the thing that connects the group for years.
Get yours here: https://24hourwristbands.com/shop/products/tie-dye-ladies-cropped-hooded-sweatshirt 
Personalized Friendsgiving Tote Bags
Custom tote bags can be a great hostess gift to add a personal touch to your Friendsgiving celebration and provide your friends with a memorable keepsake. 
Its is one of the Friendsgiving gift ideas that can create a unique and memorable experience for your guests while promoting eco-friendly practices through reusable bags. These bags can also act as a gift basket or gift box and can be filled with dinner recipe cards, coffee, cheese, pumpkin spice, a side dish, cutting board, platter, apple, chocolate, nuts and dessert.
Since tote bags are reusable, you can encourage your friends to use them beyond Friendsgiving. They can be used for grocery shopping, carrying books, or as an everyday bag, serving as a reminder of your special gathering.
There are various types of tote bags to choose from, such as canvas tote bags, reusable shopping bags, or eco-friendly jute bags. Select a style that fits your budget and the aesthetic you want for your Friendsgiving celebration. 
You can include elements like turkeys, pumpkin pie, autumn leaves, dark chocolate and warm milk or any other symbols associated with the holiday. Alternatively, you can create a design that reflects the spirit and theme of your Friendsgiving gathering.
Consider including a handwritten note or small token of appreciation inside each tote bag. This can make the gesture of a gift basket even more special.
Get yours here: https://24hourwristbands.com/shop/products/custom-everyday-cotton-tote-bags 
Custom Friendsgiving LED light stands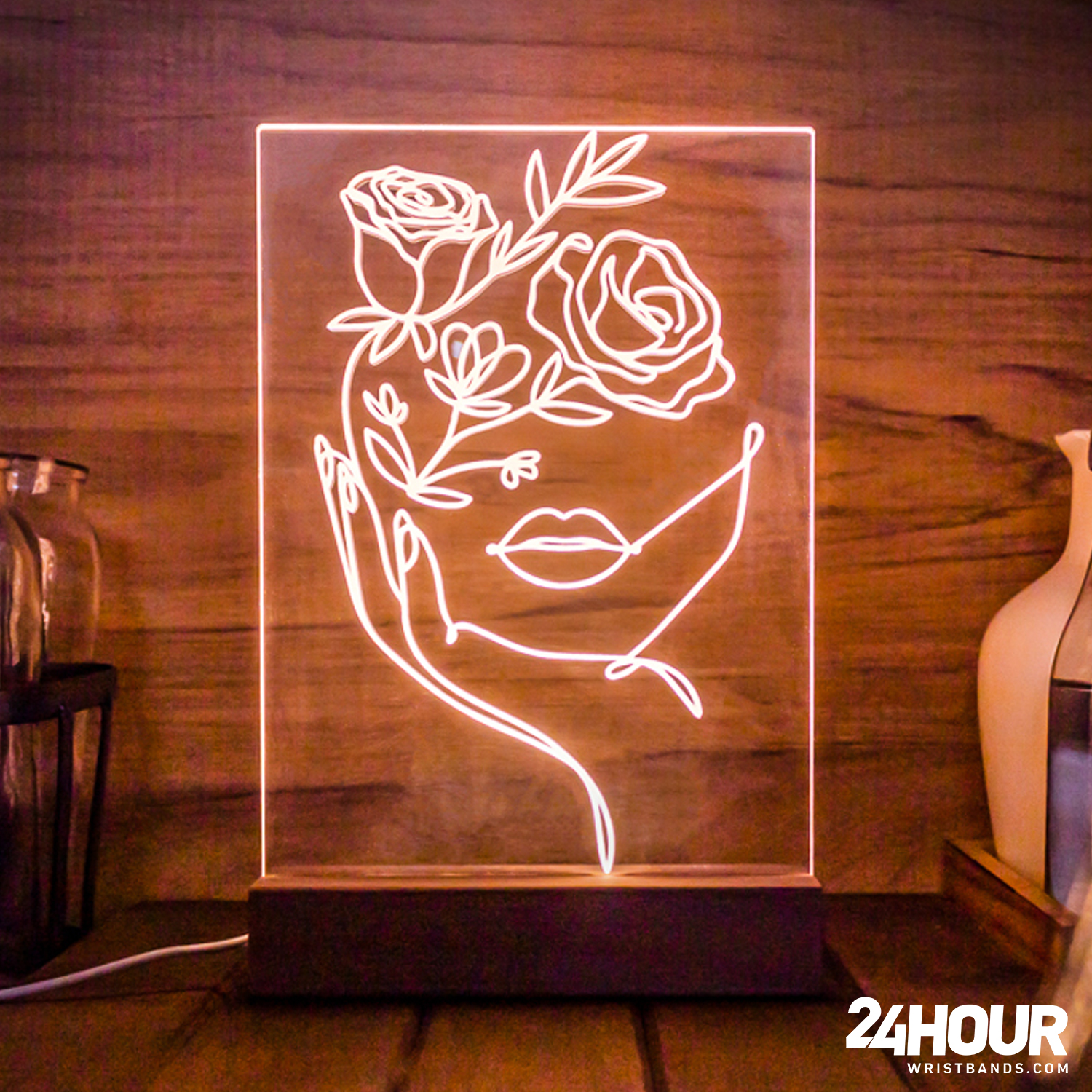 Creating customized LED light stands is one of the most unique Friendsgiving gift ideas to add a festive touch to your gathering. LED light stands can create a warm and inviting atmosphere for the occasion. 
Fall is often associated with warmth and togetherness. The soft glow of these light stands can symbolize the warmth of your relationship and the togetherness of you and your friends. This Friendsgiving gift can also work as a center piece at the dinner table.
Customized LED light stands can be a beautiful addition to your Friendsgiving celebration, creating a warm and welcoming ambiance for your loved ones. Be sure to take into account the color scheme and theme of your event when designing and decorating your LED light stands.
You can choose designs, colors, or engravings that align with the fall theme, such as autumn leaves, pumpkins, or other seasonal elements.  You can also design light stands with personal quotes of each friend. Even some quirky personality traits or inside jokes. Incorporating graphics catered to each friend can be just the thing that makes this year's Friendsgiving occasion sweet, filled with memories that will remind everyone about the party for years to come.
Your friends can use these light stands as decor in their homes. They're versatile enough to fit into various settings, whether it's on a mantelpiece, dining table, or bedroom.These lamps are also great for the fall social media aesthetics. 
When customizing LED light stands for Friendsgiving, be sure to plan ahead and order or commission your customization well in advance to ensure they are ready for your event. This will give you enough time to make any necessary adjustments to achieve the desired look for your Friendsgiving celebration.
Get yours here: https://24hourwristbands.com/shop/products/custom-led-acrylic-light-stands 
Personalized Friendsgiving Wine Glass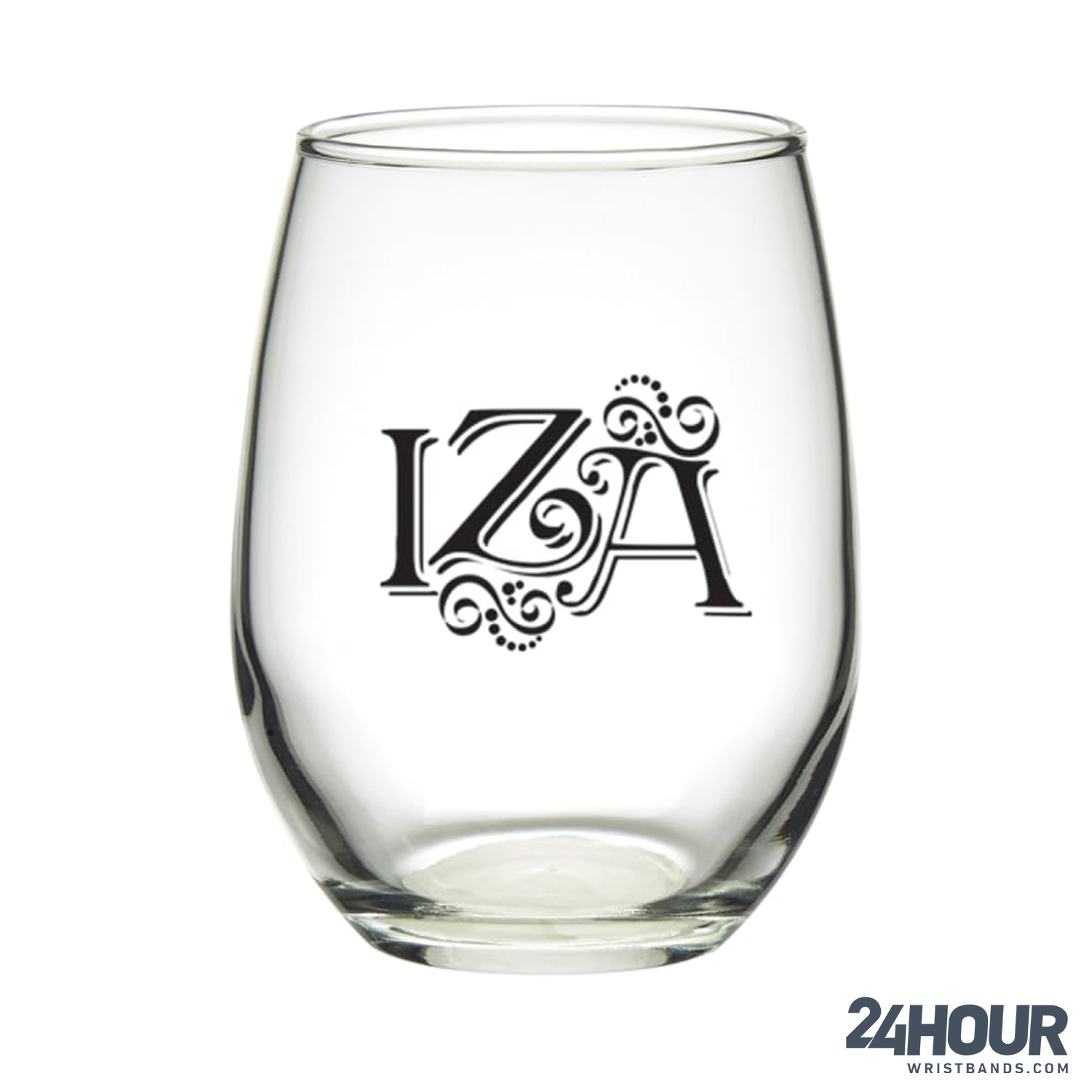 A customized wine glass is one of many thoughtful and unique Friendsgiving gift ideas.
There are various shapes and sizes available, including stemless wine glasses or traditional stemmed glasses. Choose the one that suits your friends' style as well as the party ambience. 
Decide on a design or style for the personalized wine glasses. You can opt for classic and elegant designs or get creative with a Friendsgiving theme. Consider elements like colors, fonts, and graphics that reflect the spirit of the occasion.
Think about what you want to have personalized on the wine glasses. Common options include the guest's name, the date of the Friendsgiving, a special message, a portion of side dish recipes, favorite drink flavor of the receiver or a simple message of gratitude. 
Be aware of the delivery timeline and make sure you receive the glasses well in advance of your Friendsgiving event. Once they arrive, store them safely to prevent any damage.
Get yours here: https://24hourwristbands.com/shop/products/10-oz-libbey-napa-country-wine-glasses-full-color 
Matching Friendsgiving aprons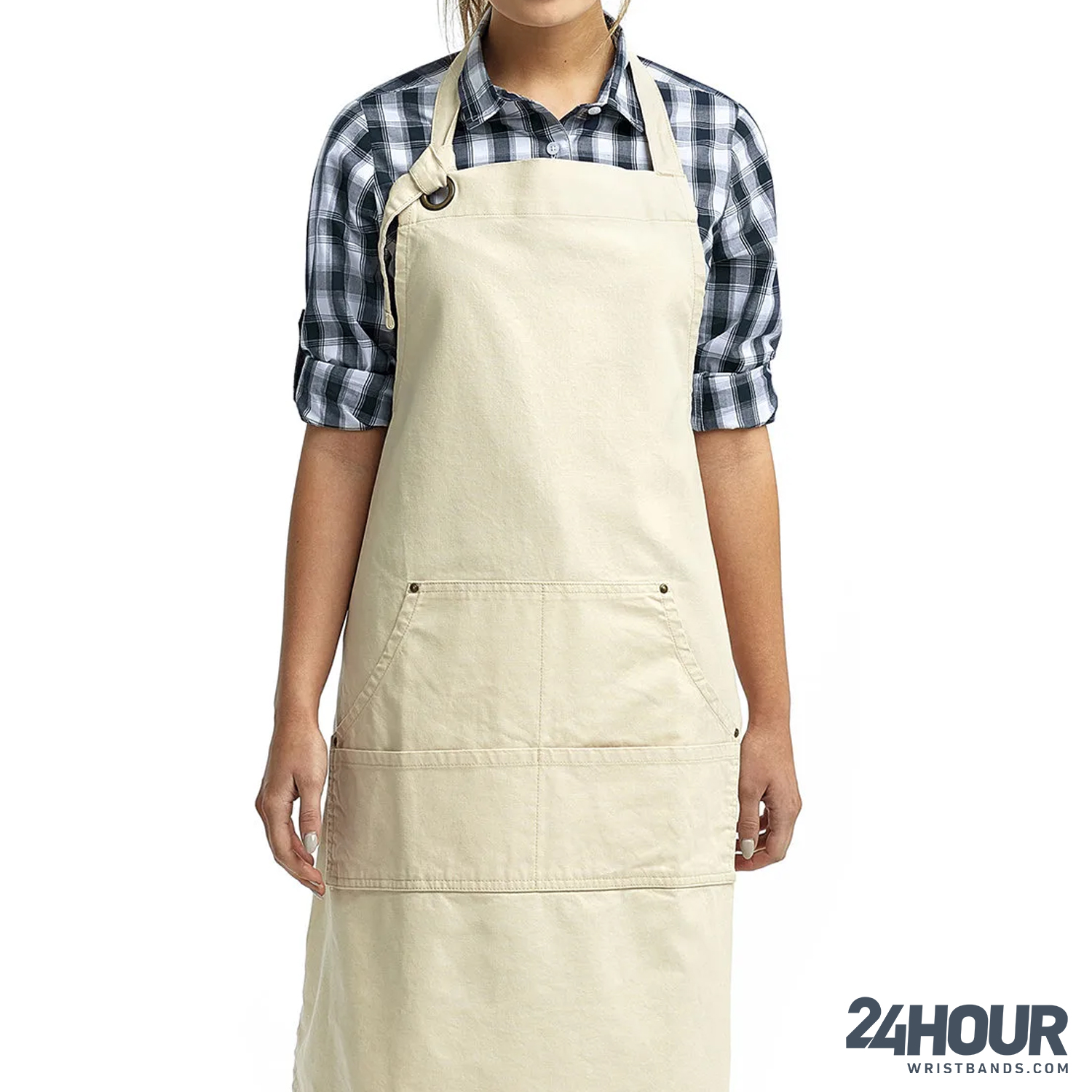 Matching Friendsgiving aprons can be fun and festive Friendsgiving gift ideas among many other options.
When selecting matching Friendsgiving gift as aprons, consider the size, style, and comfort of the aprons to ensure they are suitable for cooking and enjoying the holiday feast. Personalize them to your liking, and don't forget to take group photos in your coordinating aprons to capture the special moments of your celebration.
Even if you don't want identical designs, you can opt for aprons in matching colors. For example, choose aprons in deep red, orange, or chocolate brown to create a cohesive look.
Customize aprons with the names or nicknames of your friends to make them unique and personal. This adds a special touch to your holiday gathering.
Opt for aprons with turkey and pumpkin cinnamon, pumpkin spice coffee, chocolate, oven Thanksgiving table designs. You can find aprons with these motifs in various colors, such as orange, brown, and green, to match the autumnal season.
Consider aprons with funny or punny Thanksgiving quotes or phrases. This can add humor to your Friendsgiving celebration and make your aprons memorable.
Get yours here: https://24hourwristbands.com/shop/products/100-cotton-canvas-apron 
Festive Friendsgiving food containers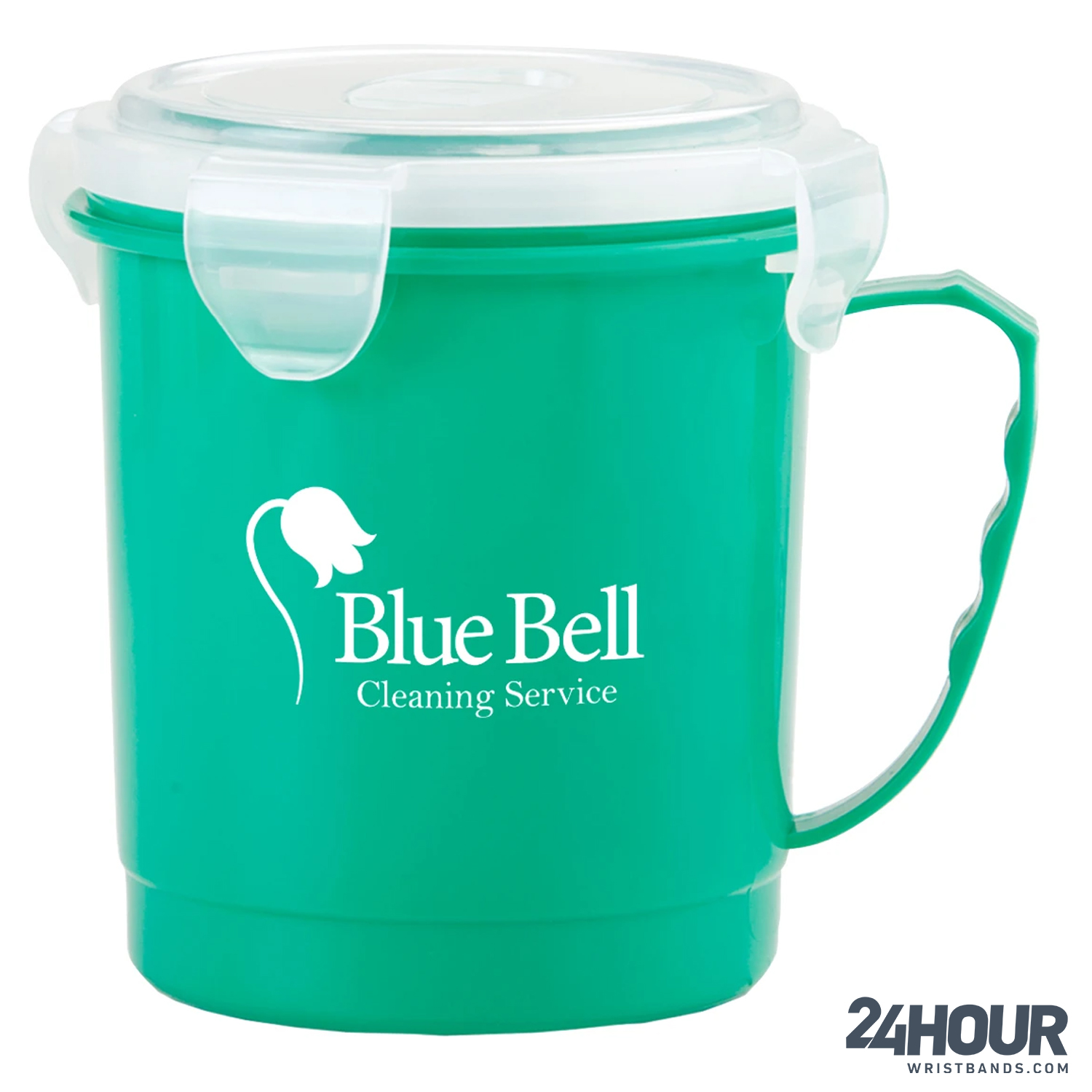 Giving festive Friendsgiving food containers as a gift is a thoughtful and practical idea, especially if you're celebrating the holiday with friends or family who love to cook and share dishes. 
Food containers as a hostess gift can help your loved ones store and transport leftovers or distribute homemade treats during Friendsgiving. 
High-quality glass containers with airtight lids are excellent for storing meals cooked for the party. They are durable, easy to clean, and can be used in the microwave and oven. Look for containers in various sizes to accommodate different dishes; for example serving cheese.
Look for festive containers with Thanksgiving or autumn-themed designs. These can add a touch of holiday spirit to your gift. You can also fill these containers with fresh cheese, appetizer, chocolate, apple, mashed potatoes, a favorite family recipe and turn it into a Friendsgiving gift box. This can help the hostess to make one less appetizer for the dinner table.
You can also add a personal touch by including custom labels or stickers that say "Friendsgiving 2023" or the recipient's name or even a quote on friendship. You can also engrave an inside joke or graphics that depicts your relationship with the receiver. 
Remember to consider the preferences and needs of the people you're gifting to when choosing the type of food containers. Whether they prefer eco-friendly options or are looking for practical storage solutions, there are plenty of choices to suit their individual tastes and needs.
Get yours here: https://24hourwristbands.com/shop/products/26-oz-glass-container-with-bamboo-lid 
Personalized Friendsgiving Coupon Holder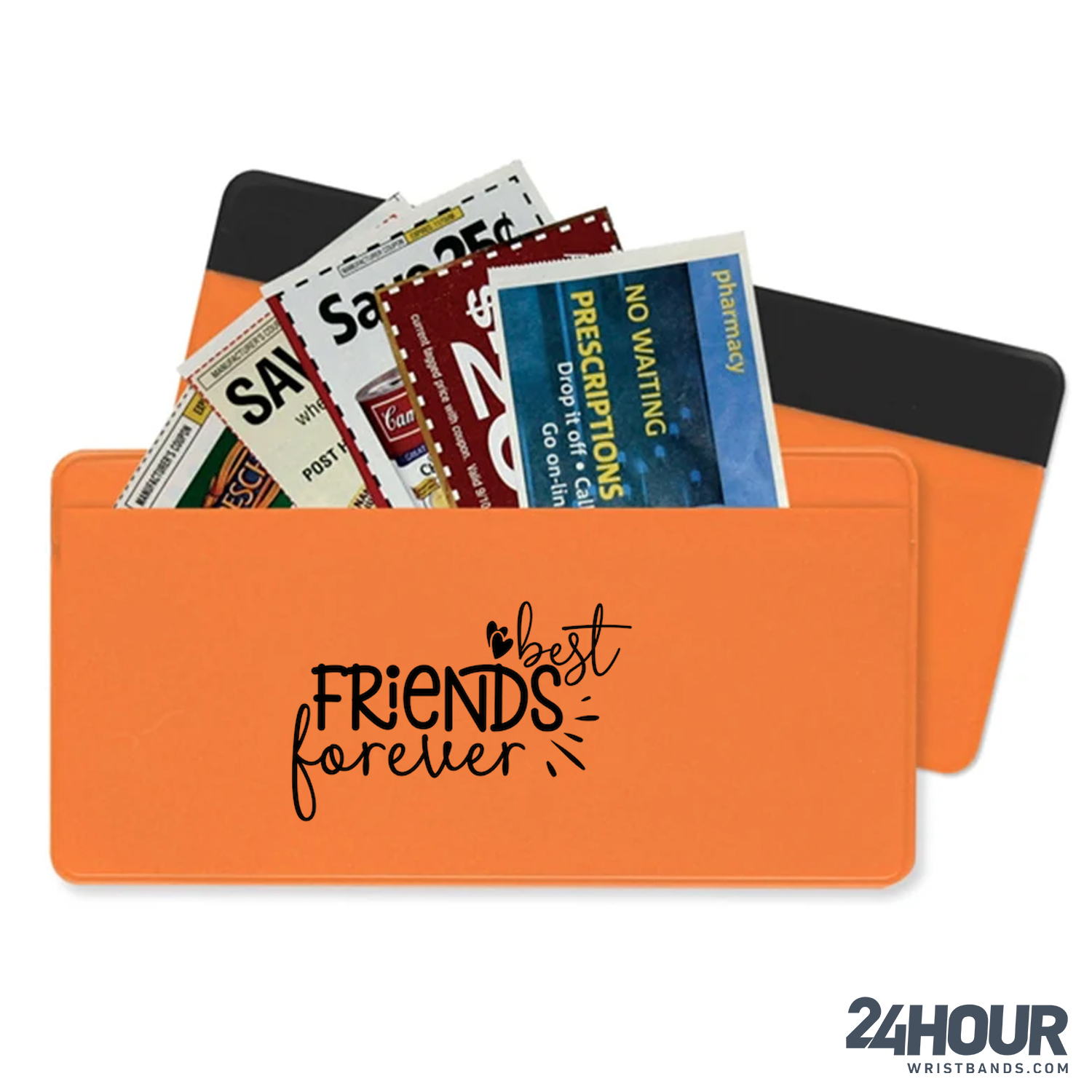 Most consumers love using coupons for a discount. However, if you cannot find coupons within the mentioned time or when you're ordering, you cannot avail the discount or freebies. So, personalized Friendsgiving coupon holder can be a unique Friendsgiving gift that meets everyday needs but is often overlooked. 
 Coupon holders can help your friends keep their coupons organized and easily accessible for when they want to use them.
Plan your design according to your relationship with your friends or incorporate autumnal themes, hues and graphics. You can print your photos, an aesthetic photo they took, a sentimental quote or any text that shows your gratitude or your relationship with the receiver. 
Place your Friendsgiving-themed coupons or gift cards inside the holder. These coupons can include offers to cook a meal, do a chore, or any other helpful and thoughtful gestures for Friendsgiving. You can also include gift cards or coupons from different retail stores. 
When ordering personalized Friendsgiving coupon bags, make sure to plan ahead, as it may take some time for the printing and delivery process. Be clear about your design and coupon details to ensure you get the holders you desire.
Get yours here: https://24hourwristbands.com/shop/products/magnetic-coupon-holder 
Matching Friendsgiving socks 
Matching socks can be a fun and festive way to celebrate the holiday with your friends. 
Socks are a practical and comfortable gift that everyone can use. Whether it's for keeping warm in the winter or for everyday wear, a cozy pair of socks can be a welcome addition to anyone's wardrobe.
Custom designed socks can be a unique and thoughtful gift. You can add someone's name, a special message, or even a favorite pet or hobby to make the gift more personal.
Design socks that feature turkeys, pumpkins, autumn leaves, or other symbols associated with the fall holiday. You may also find socks with playful and humorous messages related to the holiday.
When giving matching socks, you can either hand them out individually as part of a gift exchange or display them creatively as part of your dinner decor. Whether they're worn during the celebration or saved for later, matching socks can be a memorable and practical gift idea for your friends to cherish.
Get yours here: https://24hourwristbands.com/shop/products/custom-best-girl-friend-socks 
Matching Friendsgiving Beanies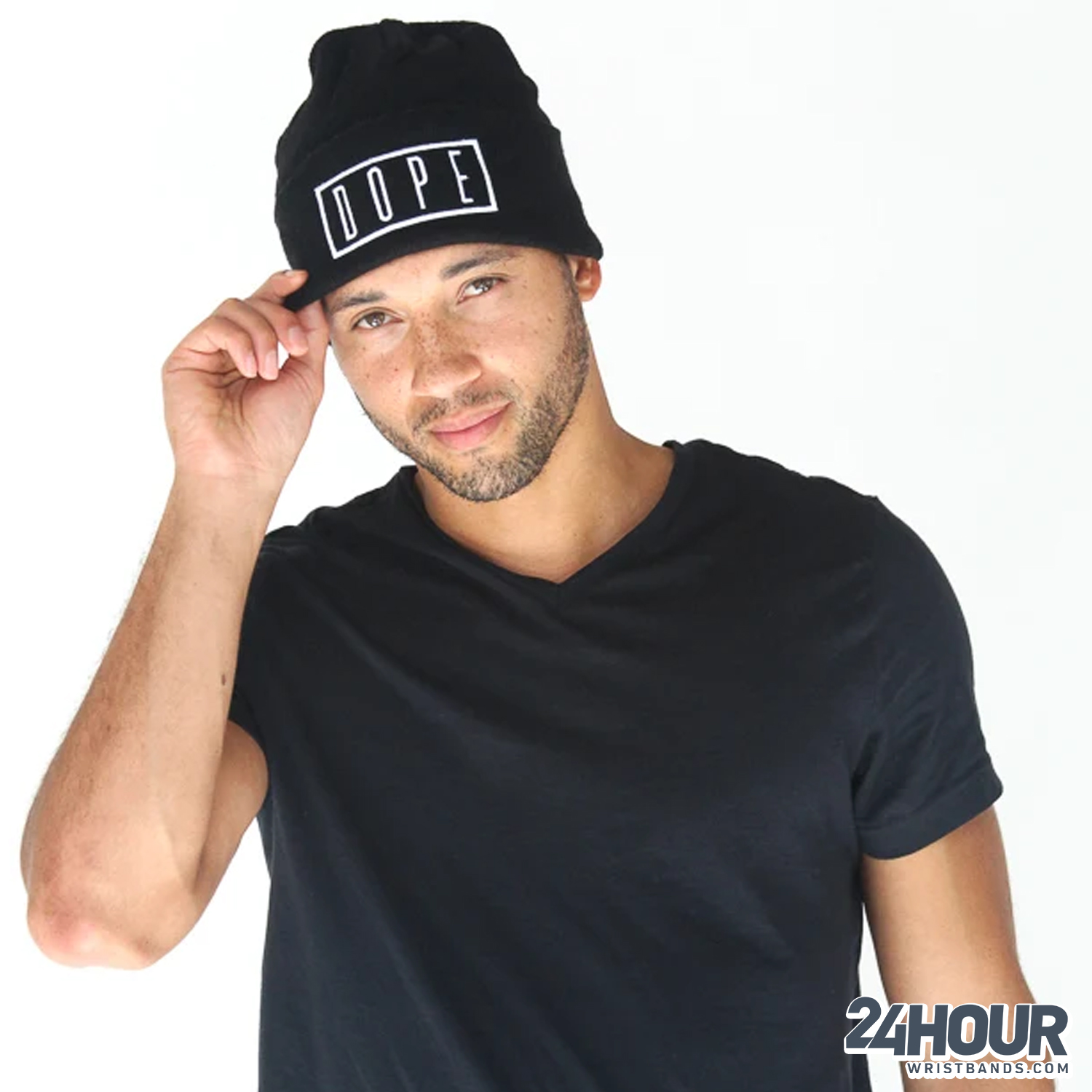 Matching beanie hats can be a fun and festive way to celebrate the occasion and create a sense of unity among your friends. 
Choose beanie hats in solid colors that reflect the fall or Friendsgiving theme. Earthy tones like brown, orange, mustard yellow, or deep red can work well.
Look for beanie hats with classic fall patterns, such as plaid, houndstooth, or seasonal symbols like pumpkins, leaves, or turkeys.
Opt for beanie hats with Friendsgiving-themed messages or phrases like "Friendsgiving 2023," "Thankful for Friends," or "Gobble 'Til You Wobble."
Consider getting custom embroidered beanie hats with the names or initials of your friends to make them personalized and unique.
Pair the beanie hats with matching scarves, mittens, or socks to complete the Friendsgiving ensemble.
Remember to take into consideration the size and fit of the beanie hats to ensure that they are comfortable for all your friends to wear. Matching beanie hats can be a great way to add a touch of fun and togetherness to your Friendsgiving celebration.
Get yours here: https://24hourwristbands.com/shop/products/leeman-knit-beanie-with-fur-pom-pom 
Custom Friendsgiving Lip Balms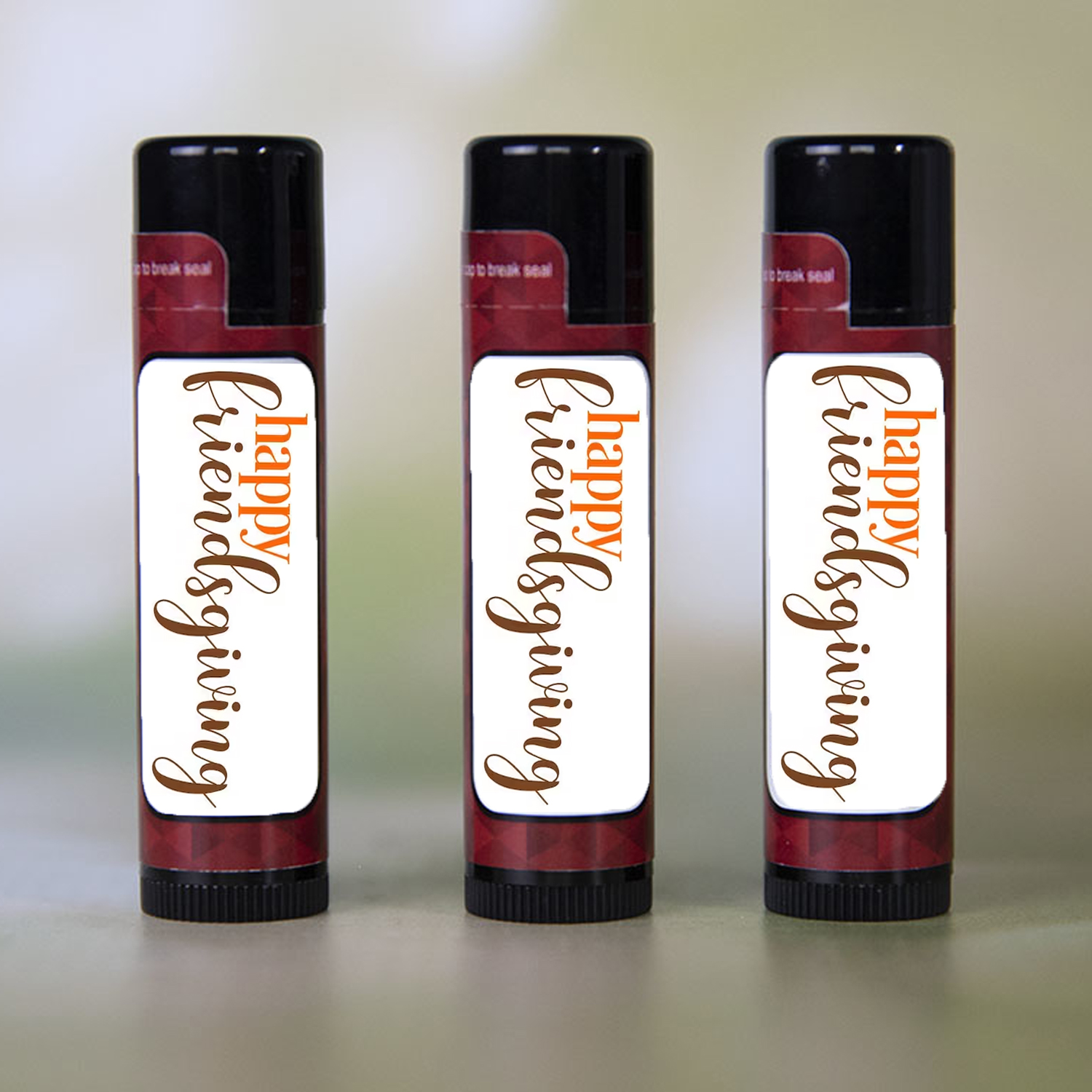 Custom lip balm can be a lovely Friendsgiving gift, especially when selected with care and consideration for your friends' preferences, especially if you know your friends appreciate skincare or if the weather is cold and dry during the holiday season.
It's a practical item that shows you care about their well-being during the season and can be a great addition to their skincare routine.
Opt for high-quality lip balms that are known for their moisturizing and nourishing properties. Look for brands that use natural ingredients and have a good reputation for effectiveness.
You can find lip balms with various flavors, scents, and designs, or you can even have custom labels made to add a personal touch.
Create or purchase labels with Friendsgiving designs or messages. You can further personalize the lip balms by adding the names of your Friendsgiving guests to the labels or by including a special message.
Be mindful of any allergies or specific preferences your friends may have when choosing lip balms. Some people may have sensitivities to certain ingredients, so it's a good idea to choose hypoallergenic options.
Get yours here: https://24hourwristbands.com/shop/products/natural-beeswax-lip-balm-full-color
End Note: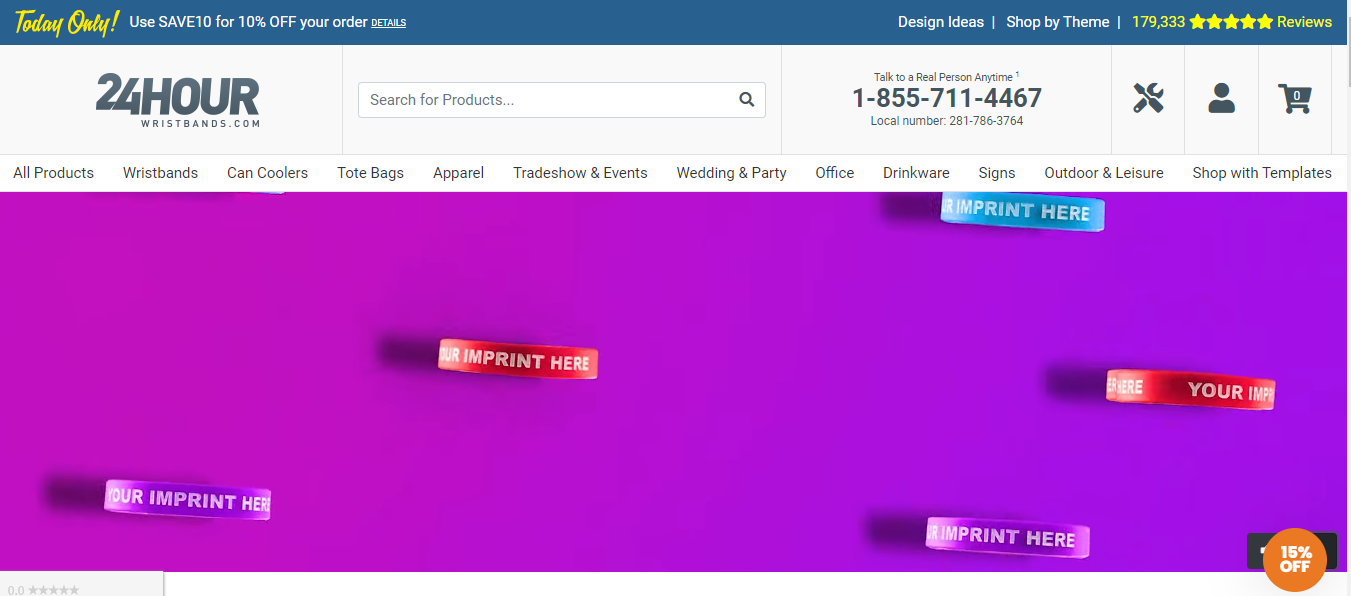 Giving Friendsgiving gifts is more than just another item on the to-do list. It's a meaningful way to express gratitude, foster friendship, and create lasting memories. By embracing this tradition, you add an extra layer of appreciation and joy to your celebrations.
So, this year's Friendsgiving, let your friends know how much they mean to you by exchanging thoughtful gifts that celebrate their uniqueness and strengthen the bonds you share.