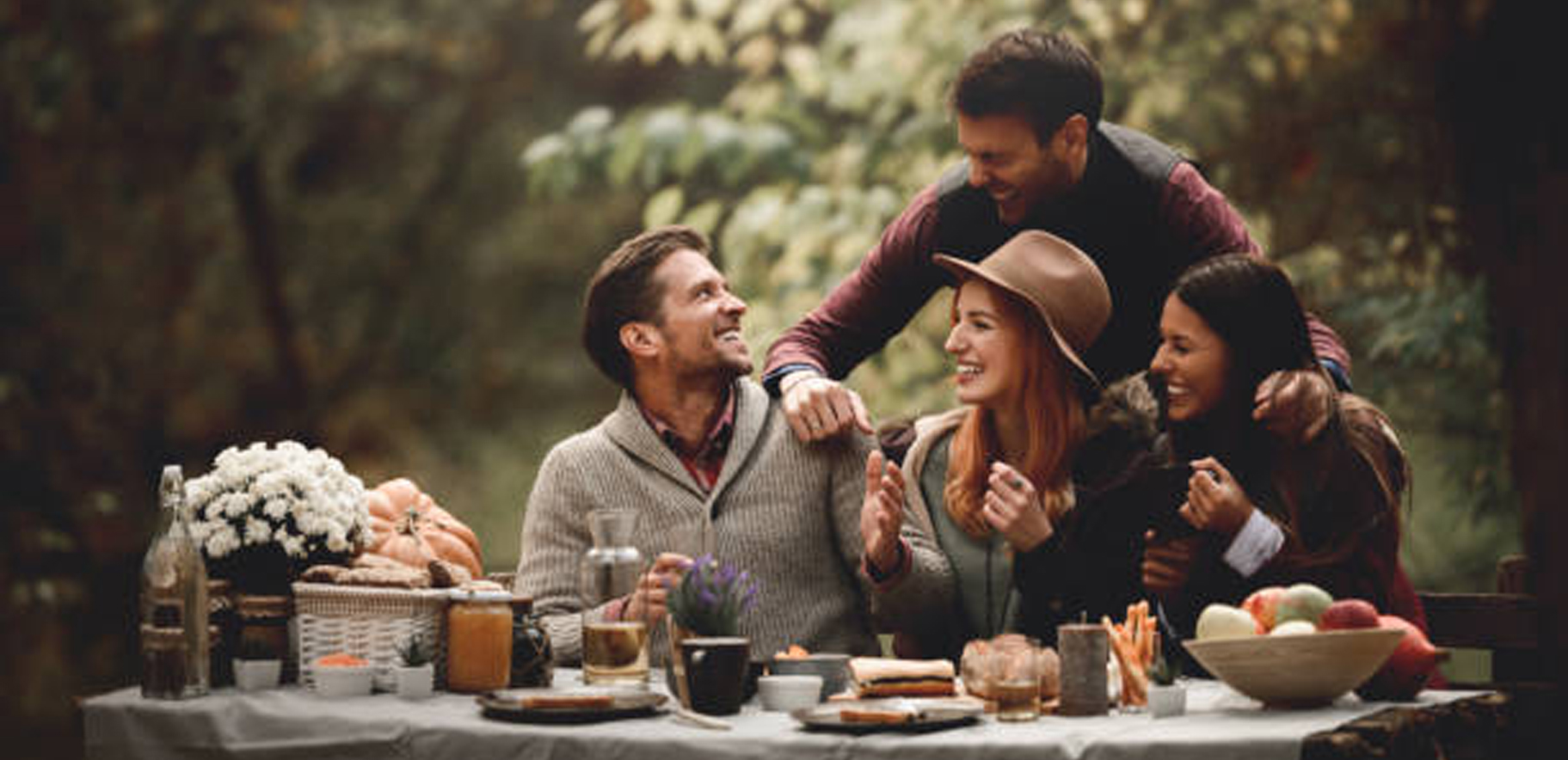 Friendsgiving table setting is more than the arrangement of utensils, it is a form of art that conveys your hospitality, personally, even your cultural heritage. 
Friendsgiving dinner is a wonderful opportunity to gather with your closest friends and enjoy a memorable and heartwarming celebration.
One of the key elements to create an unforgettable Friendsgiving experience is to set a gorgeous, stunning table that will impress your friends and elevate the ambiance of the gathering. 
Your attention to detail towards the table setting décor can transform an ordinary, informal gathering of friends into a memorable occasion during Thanksgiving celebrations.
A meticulously curated Friendsgiving table setting can elevate everyday dishes like mashed potatoes that you make year round. It can remind your friends of Thanksgiving table, elevate the party experience, show your respect for them and increase the overall ambiance of the gathering. 
Here are some creative and inspiring Friendsgiving ideas for your dining room to help you craft a captivating Friendsgiving table setting that will leave a lasting impression on your friends this holiday season.
Embrace the Warmth of Autumn Colors
One of the primary Friendsgiving ideas is incorporating the rich and vibrant colors of autumn into your Friendsgiving table setting. Consider using a color palette that includes deep oranges, rustic reds, golden yellows, and earthy browns to infuse warmth and coziness into the setting.
 You can achieve this by incorporating autumn leaves, seasonal flowers, and gourds as part of your centerpiece and table accents for Friendsgiving dinner.
The warm hues will evoke the spirit of the season and create a visually stunning tableau for your Friendsgiving feast.
Custom Friendsgiving Balloons: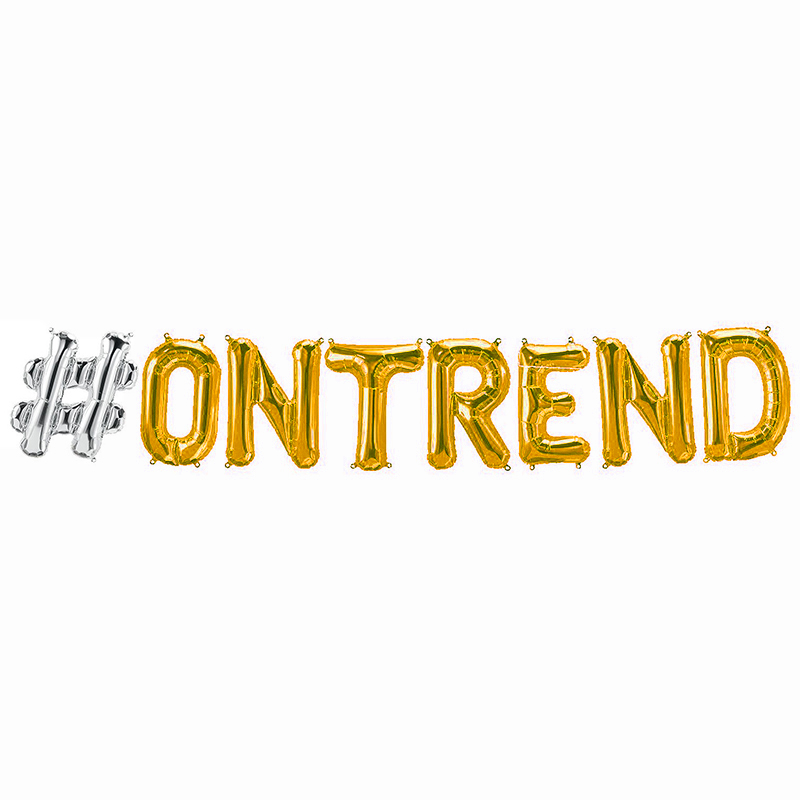 Custom balloons can add a personalized and festive touch to your Friendsgiving table settings, making the occasion even more special.
Get creative and have fun designing your custom balloons to suit your unique Friendsgiving party idea.
Place your custom balloons on the Friendsgiving table. You can arrange them as centerpieces, scatter them around the table, or tie them to the backs of chairs. Be creative with your placement to create a festive and entertaining atmosphere.
Get personalized foiled letter, number or symbol balloons in fall colors. You can even draw or put stickers in autumnal designs like leaves, pumpkin, or turkey on them. You can mix and match letter, symbols, star, foiled and latex balloons to achieve a more cohesive and aesthetic Thanksgiving table texture.
Tie a velvet ribbon or string to the end of each balloon. This will make it easier to secure the balloons to the table or chairs. You can choose ribbon colors that complement the overall color scheme.
Don't forget to capture the beautiful Friendsgiving table settings with your custom balloons. They will make for great memories and social media-worthy pictures.
Get yours here: https://24hourwristbands.com/shop/products/16-letter-number-and-symbol-shaped-microfoil-balloons 
Custom Colored Stadium Cups: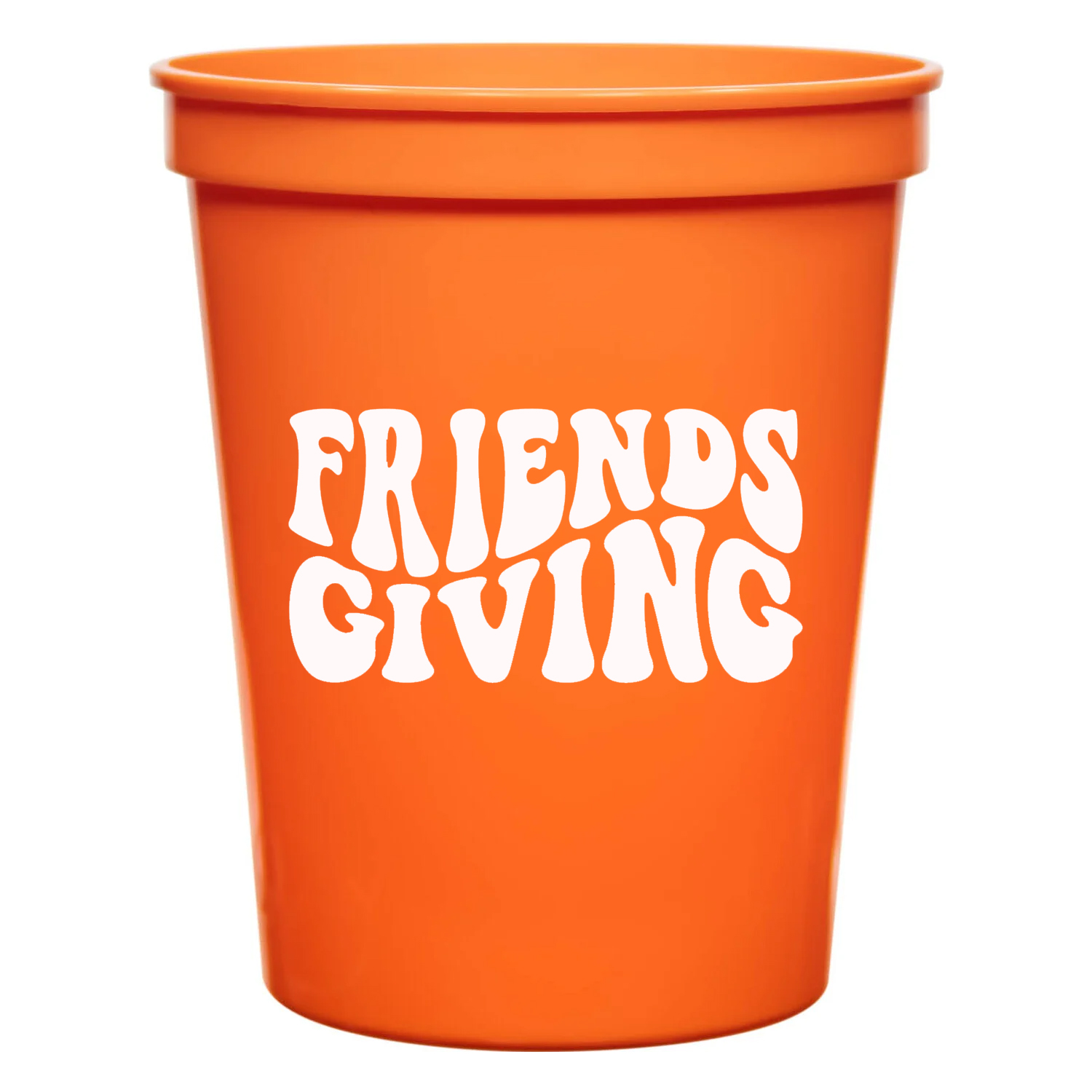 Custom stadium cups can be a fun and practical addition to your Friendsgiving table setting. They can serve both as a unique party favor and a functional drinkware option for your Friends. 
Consider incorporating Friendsgiving-themed graphics, such as turkeys, autumn leaves, or pumpkins. You can also include the date and location of your event, or personalized messages for your friends.
 Personalize each cup with the name of the guest. This adds a thoughtful touch and can also serve as place cards. 
Choose the size and color of the cups that match your Friendsgiving theme. Stadium cups come in various sizes, but the 16-ounce and 22-ounce options are popular choices. Consider colors that complement your table decor.
 They can be used for cold drinks like soda or iced tea, or you can get creative and serve a signature cocktail or mocktail in them. Ensure you have enough straws, lids, and ice if needed.
Arrange the cups on the table settings. You can place them at each guest's spot, stack them neatly at a central beverage station, or use them as part of a place setting with cutlery and napkins.
Stadium cups are often made of durable, reusable plastic. Encourage your friends to take them home as a keepsake from your Friendsgiving dinner.
Get yours here: https://24hourwristbands.com/shop/products/16oz-stadium-cups 
Personalized Place Settings
Add a personal touch to your Friendsgiving table by creating individualized place settings for each of your guests.
Consider crafting custom name cards or small handwritten notes to place at each setting, adding a thoughtful and personalized element to the decor.
You can also incorporate small, meaningful party favors or tokens that reflect the personality of each guest, further enhancing the sense of camaraderie and appreciation among friends.
Personalized Friendsgiving Wine Glasses: 
Custom wine glasses can be a beautiful and memorable addition to your Friendsgiving table decor. They also make wonderful keepsakes that your friends can take home to remember the special occasion.
If you're creating place settings, be sure to add the names of your guests or any personal touches to make each glass unique. This not only adds a special touch but also helps everyone identify their glasses.
 Consider the overall theme and color scheme of your Friendsgiving table. You can go for a traditional Thanksgiving motif, like leaves, pumpkins, or acorns, or opt for a more personalized design, such as names or a short message for each guest.
Arrange the custom wine glasses at each place setting. You can pair them with matching tableware, napkins, and other decorations that fit the Friendsgiving theme.
Get yours here: https://24hourwristbands.com/shop/products/18-oz-florence-stemless-wine-glass 
Personalized Chocolate Clipped Friendsgiving Place Settings: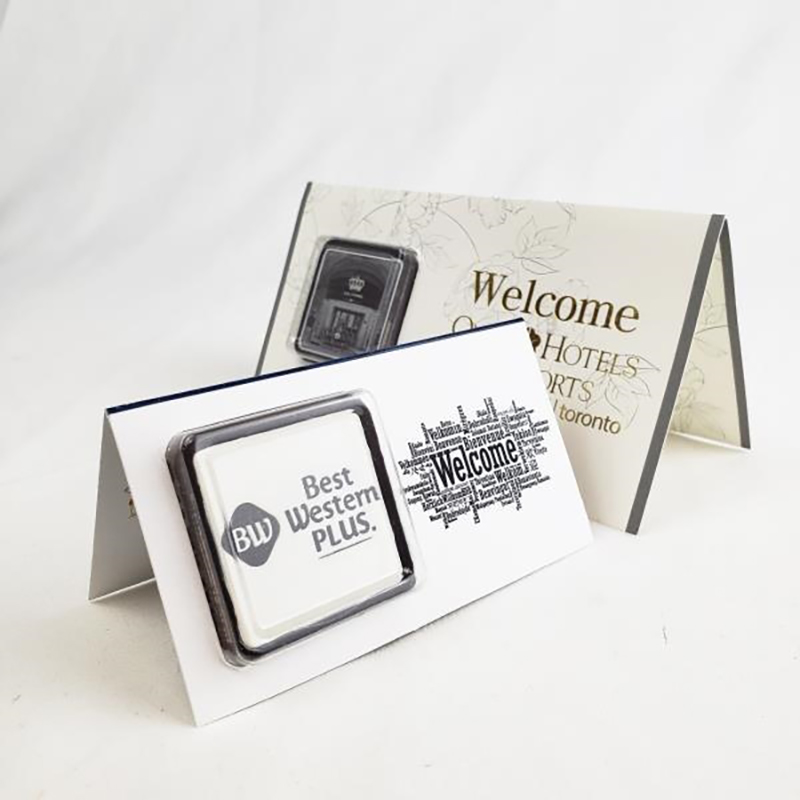 Custom chocolate-clipped place settings not only serve as a unique and delicious decor item but also make for a sweet treat for your guests to enjoy after the meal. Your Friendsgiving table will look fantastic, and your friends will surely appreciate the effort and creativity you put into the decorations.
Place each custom chocolate-clipped place setting at your Friendsgiving table. Tie a ribbon or twine around the handle of the plastic or wooden spoon, securing it in place. Or order place settings that can be folded like a tent. It will give the table setting a three dimensional effect. 
Decorate the place cards with additional drawings or designs that match your Friendsgiving theme. Write the names of your friends in a stylish font or use calligraphy pens for an elegant touch. 
You can use autumnal colors, leaves, or even mini pumpkins as the base. Write each guest's name in beautiful calligraphy font for a polished look.
Remember to keep the cards in line with your overall Friendsgiving theme and the preferences of your friends. Creating custom chocolate lined place settings adds a personal and heartfelt touch to the celebration, making your friends feel valued and appreciated.
Get yours here: https://24hourwristbands.com/shop/products/custom-chocolate-clipped-greeting-cards 
Personalized Friendsgiving Matchboxes: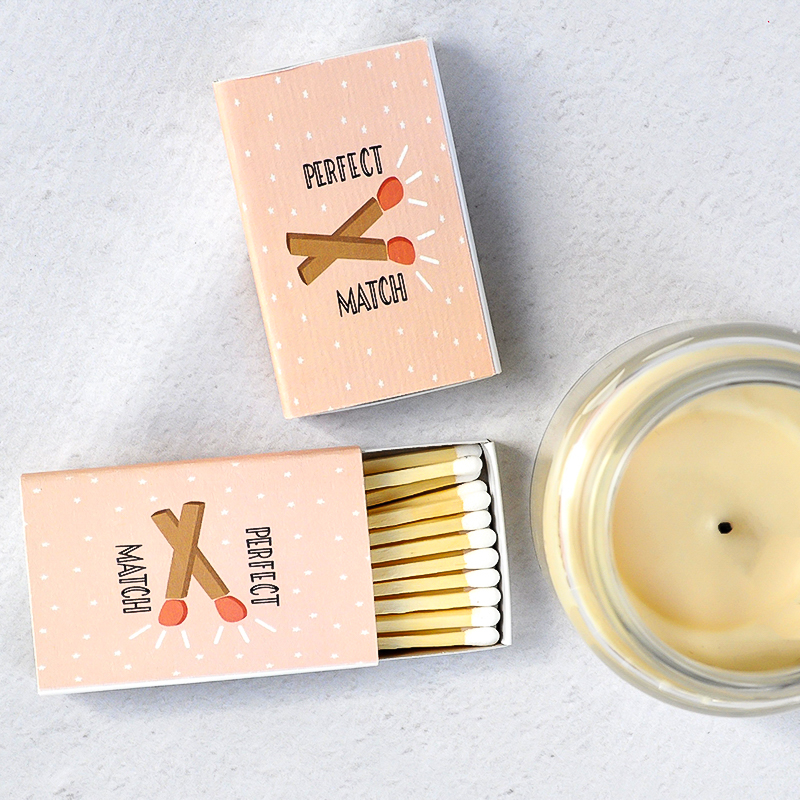 Using matchboxes as place settings for your Friendsgiving dinner table adds a fun and personalized element to your celebration.
Your friends will appreciate the effort you put into creating unique and thoughtful place settings, and it will make your Friendsgiving dinner even more special.
ou can include a thoughtful note or message inside each matchbox. It can be a brief message of gratitude or a personalized message for each friend. Just make sure the matchbox can still be easily opened to access the matches.
If you want to take your place settings to the next level, you can add small decorative items. For example, you can tie a piece of twine around the matchbox or attach a fake fall leaf or a mini pumpkin to each box. This will give your place settings an extra touch of charm.
Arrange the matchbox place settings at each guest's designated seat on the dining table. You can place them directly on the dinner plate or position them just above the plate for an elegant look.
Get yours here: https://24hourwristbands.com/shop/products/custom-classic-matchbox
Wow Factor Centerpiece
Make a bold statement with a visually captivating centerpiece that serves as the focal point of your Friendsgiving table.
Consider using a combination of seasonal elements such as pumpkins, candles, fall foliage, and elegant tableware to create a stunning and eye-catching arrangement.
The centerpiece can act as a conversation starter and set the tone for the entire table, creating an inviting and festive atmosphere for your friends to enjoy.
Custom Acrylic Light Stand Friendsgiving Centerpiece: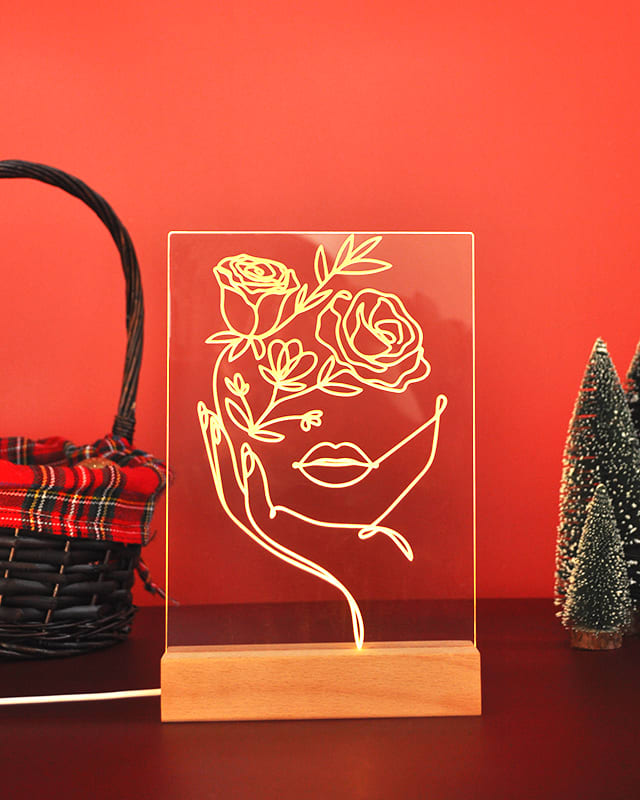 Creating an acrylic LED lamp as a Friendsgiving table centerpiece can be a creative and unique way to add some festive and warm ambiance to your celebration. 
Place your acrylic LED lamp in the center of the Friendsgiving table. Turn on the LEDs to create a warm and inviting ambiance.
Add Friendsgiving-themed decorations to the wooden base for extra flair. You can use items like faux leaves, mini pumpkin, or other fall decorations.
You could etch or engrave designs related to the holiday, like leaves, pumpkins, or a message of gratitude for the holiday. 
These light stands make a versatile home decor. They can fit into various settings, whether it's on a mantelpiece, dining table, or bedroom. So once you're done with the party, you can easily reuse the light stand. 
Remember to prioritize safety when working with electronics and power sources. Ensure that all wiring is secure and well-insulated to avoid any accidents. 
Get yours here: https://24hourwristbands.com/shop/products/custom-led-acrylic-light-stands 
Custom Friendsgiving Charcuterie Board as a Centerpiece: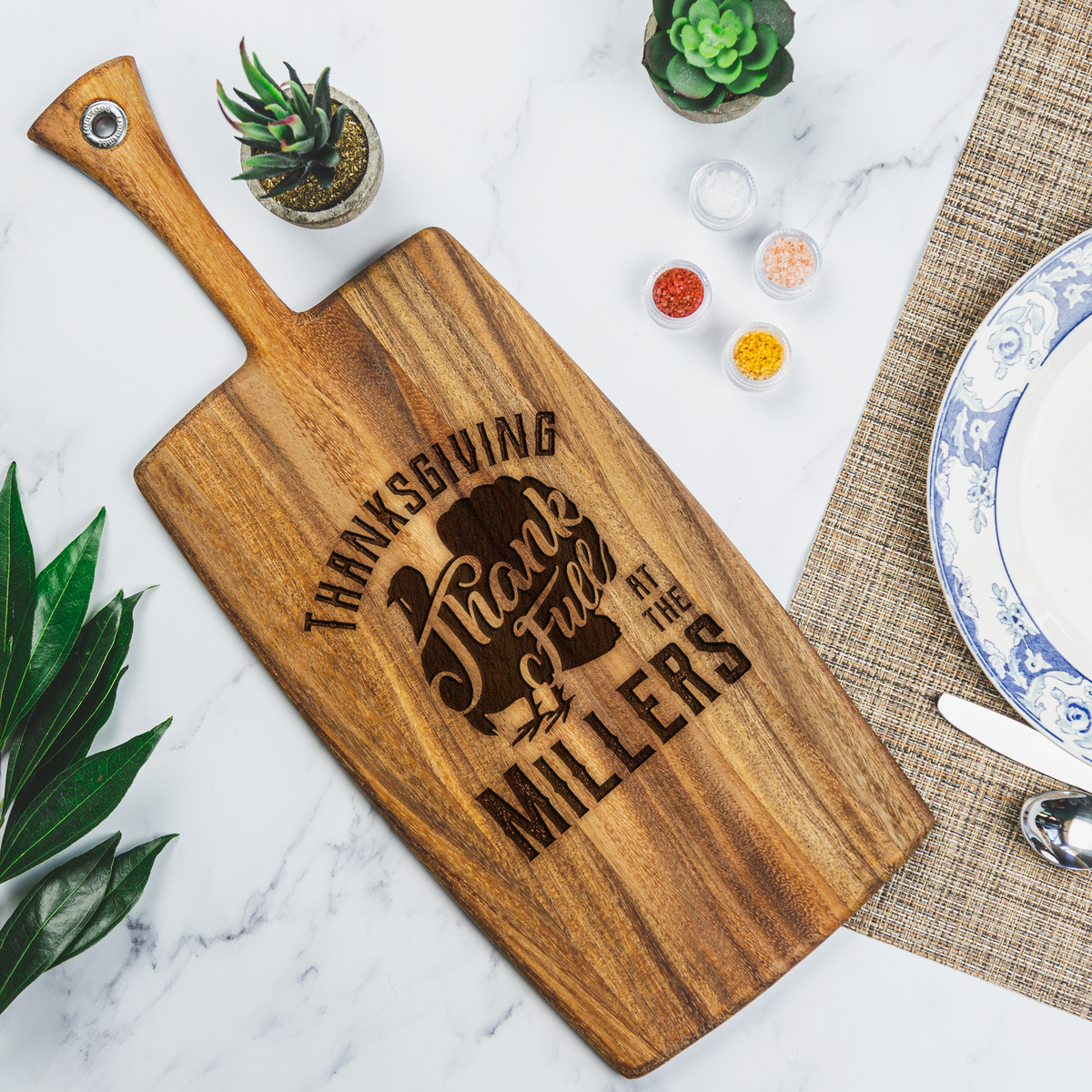 Charcuterie Boards are very trendy right now. They meet the fall rustic aesthetics and are extremely Instagram worthy.
Creating a custom charcuterie board as a centerpiece for your Friendsgiving celebration is a fantastic idea. It not only serves as a beautiful and delicious focal point but also encourages social interaction among your guests. 
You can take inspiration from pottery barn ideas of thanksgiving board that includes napkin rings and brass candlesticks a mix of gold and wood.
Create an attractive and balanced layout that showcases the colors and textures of the ingredients. Place your cheeses and meats in different areas, forming piles or folding slices. Fill in the spaces with fruits, vegetables, and accompaniments. Be creative and use the space efficiently.
To enhance the visual appeal of your charcuterie board, consider a mix of garnishes. Fresh herbs like rosemary or thyme can be used to fill gaps and add a pop of green. Edible flowers and small fall-themed decorations like mini pumpkins or gourds can also make it more festive.
Provide various utensils and serving tools for your guests, such as small cheese knives, spreaders, and toothpicks. Ensure there are enough small plates and napkins nearby for guests to assemble their own charcuterie bites.
Create small labels or signs for each ingredient, especially if there are different types of cheeses, meats. This adds a personal touch and helps guests navigate the board easily.
A well-arranged charcuterie board can be both a feast for the eyes and the taste buds, making it a memorable centerpiece for your Friendsgiving gathering.
Get yours here: https://24hourwristbands.com/shop/products/shelf-stable-party-starter 
Layered Textures and Patterns
Add depth and visual interest to your Friendsgiving table decor by incorporating a variety of textures and patterns into the table setting.
Consider layering different fabrics, such as linen, velvet, or burlap, to create a rich and tactile experience for your guests. 
Pair these textiles with patterned napkin rings, table runners, or coasters to introduce an element of dynamic visual contrast that adds sophistication and charm to the overall table decor.
Custom Friendsgiving Napkins: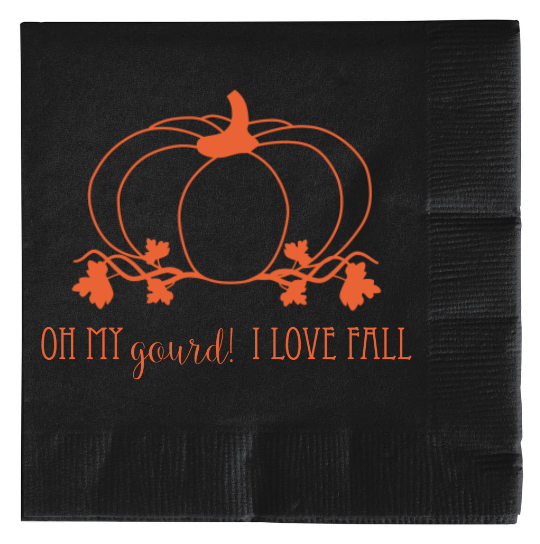 Custom napkins are a creative way to express your appreciation for your friends and add a unique touch to your Friendsgiving celebration. Whether you go for elegant or playful designs, these personalized napkins will make your table settings truly special.
Choose from cocktail napkins, luncheon napkins, or dinner napkins based on your table setting and the type of meal you're serving. Purchase Napkins in a color that compliments your table decor. 
Determine the design, colors, and any text or graphics you want on the napkins. You may want to include a Friendsgiving-themed design or a personalized message.
Some ideas for Friendsgiving napkin designs include: A simple Friendsgiving celebration message, autumn leaves or pumpkins, personalized names for each guest, Thanksgiving dinner quotes or expressions of gratitude etc. 
Make sure to place your order well in advance to ensure you receive your custom napkins in time for your event.
Get yours here: https://24hourwristbands.com/shop/products/foil-stamped-dinner-napkins 
Custom Friendsgiving Coasters: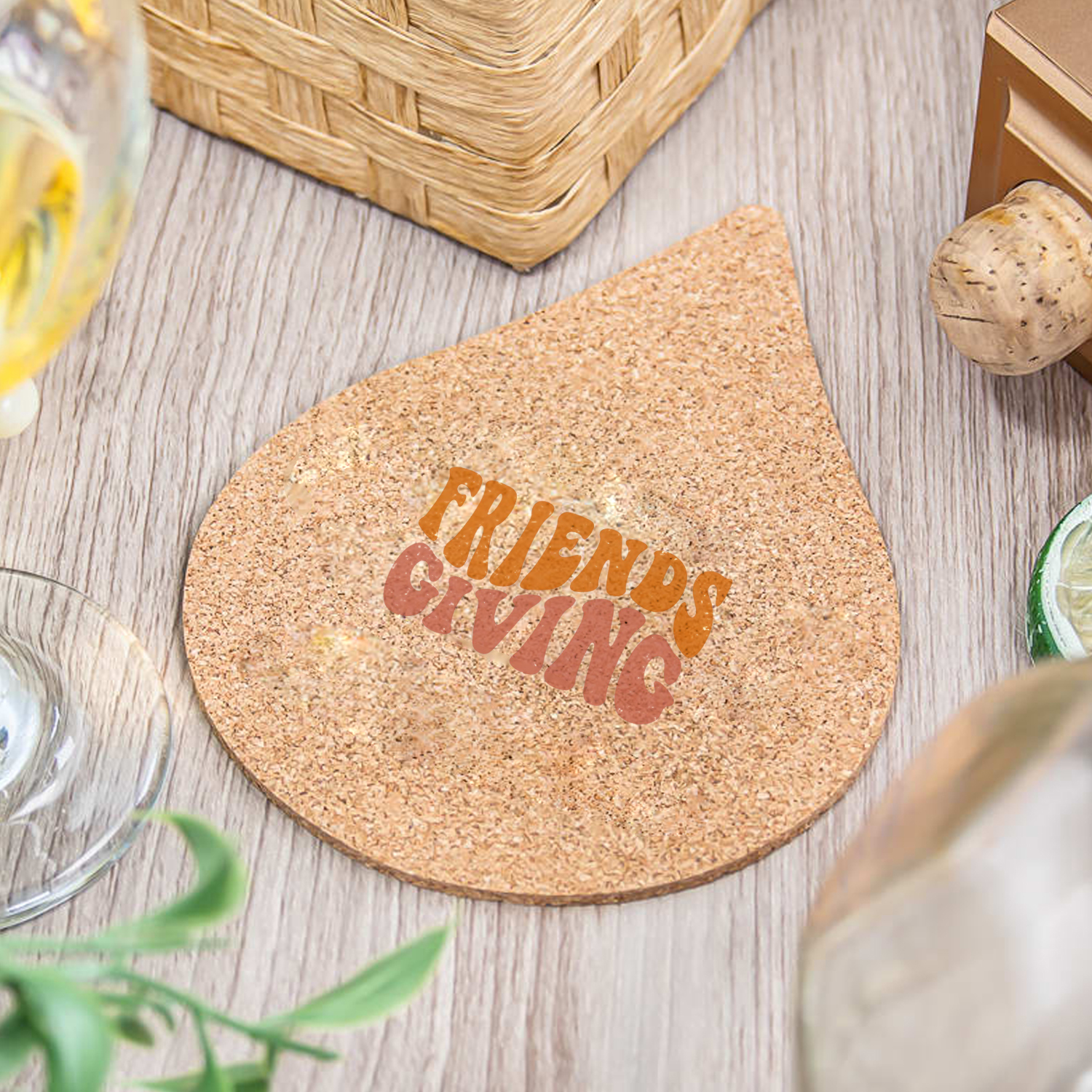 Custom coasters are a fantastic way to add a personal and creative touch to your Friendsgiving table settings. Your friends will appreciate the effort you put into making their dining experience unique and special.
Arranging the custom coasters strategically around your party space adds texture to the Friendsgiving  decor. You can place them on tables, the bar area, or even use them as part of your table settings.
Choose the material you want for your coasters, for example paper, cardboard, cork, or something more durable like ceramic.
Coasters come in various shapes, including square, round, and custom shapes. Consider selecting a shape that complements your Friendsgiving dinner party.
Decide on the theme and style of your coasters. Consider the color scheme and any specific Friendsgiving elements you want to include, like pumpkins, leaves, or thankful messages.
Provide the design or artwork you want to be printed on the coasters. This could include the Friendsgiving theme, names, dates, or other relevant graphics.
These coasters can serve as functional items during the event and cherished keepsakes afterward.
Get yours here: https://24hourwristbands.com/shop/products/4-inch-full-color-round-ceramic-coasters 
End Note: 
With these creative and inspiring Friendsgiving tips, you can elevate your celebration with stunning table decor that is sure to impress your friends.
By embracing the warmth of autumn colors, personalizing place settings, creating a wow factor centerpiece, incorporating layered textures and patterns, and adding candlelit ambiance with brass candlesticks, you can craft a Friendsgiving table that sets the stage for a memorable and heartfelt gathering with your closest friends.
Embrace the opportunity to create a captivating and inviting atmosphere that reflects the spirit of gratitude and togetherness that defines Friendsgiving.