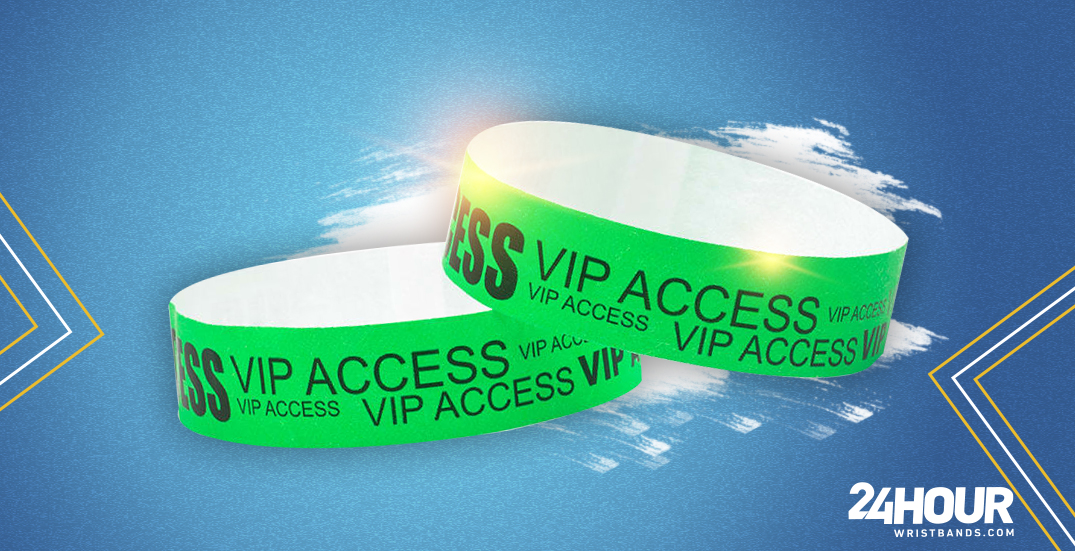 Almost all the events that are organized have different access levels for different ticketing prices. Self-adhesive wristband can be a great, inexpensive tool to utilize VIP access in different events. These bands can also be used at hotels or resorts for identifying different patrons and guests.
Tyvek self-adhesive wristbands manufactured at 24hourwristbands.com can be personalized to meet the exact needs of your organization or event.  Our event wristbands are of the highest quality and can be customized for each business day event. Tyvek wristbands are simple to put on and take off, both event organizers and guests can expect a hassle-free experience.
Our talented artists and expert sales team proudly offer to create your custom wristbands in any number of sizes and volumes. Even better, you may create a wristband that is ideal for your occasion using the hassle-free custom wristband online creation tool on our website.
Self adhesive plastic wristbands can be used to swiftly identify someone and either give or limit access. VIPs can have a different design. In a crowd, staff may quickly strike up a conversation and identify the design. Wristbands are excellent for events that last for several days since they are durable and tamper resistant. There is no need to print out additional copies of the tickets. They are water resistant and can be difficult to remove.
VIP event wristbands offer a simple approach to manage crowds at events and ensure safe admission management. At concerts, festivals, and other high-profile events, VIP guests typically get access to exclusive areas and facilities. This implies that VIP clients can expect a unique, opulent experience with access to services and facilities that a regular ticket can not.
Here is some ways that self-adhesive VIP wristbands can provide a enhanced experience for both guests and organizers alike:
Easy Application: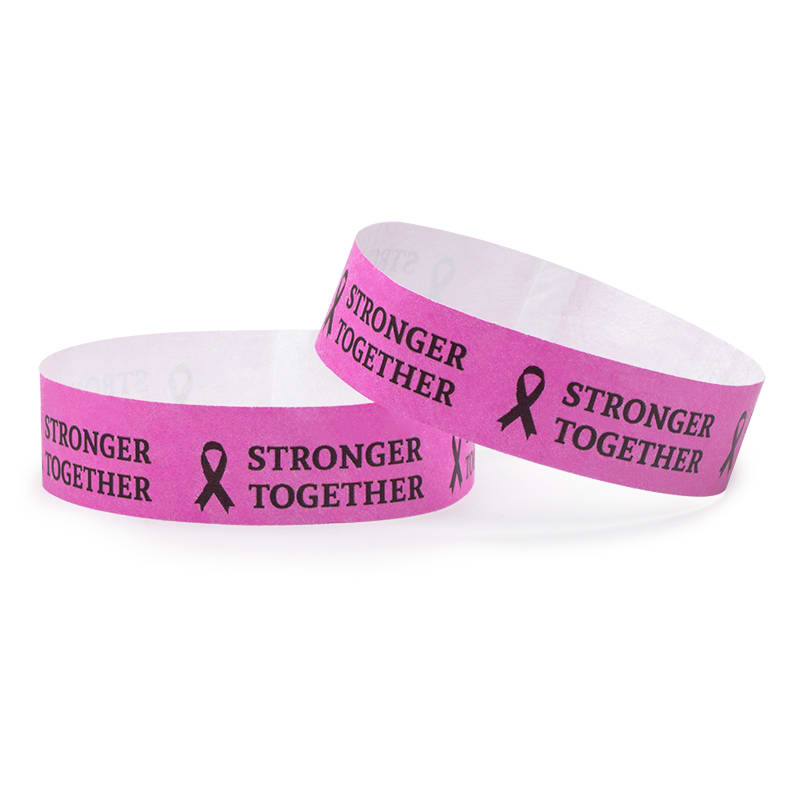 Self-adhesive event wristbands are typically made of durable materials like Tyvek and feature an adhesive strip on one end. This allows users to quickly wrap the wristband around their wrist and secure it in place without the need for additional tools or fasteners. The process is straightforward and can be done in seconds.
Identifying legal drinkers: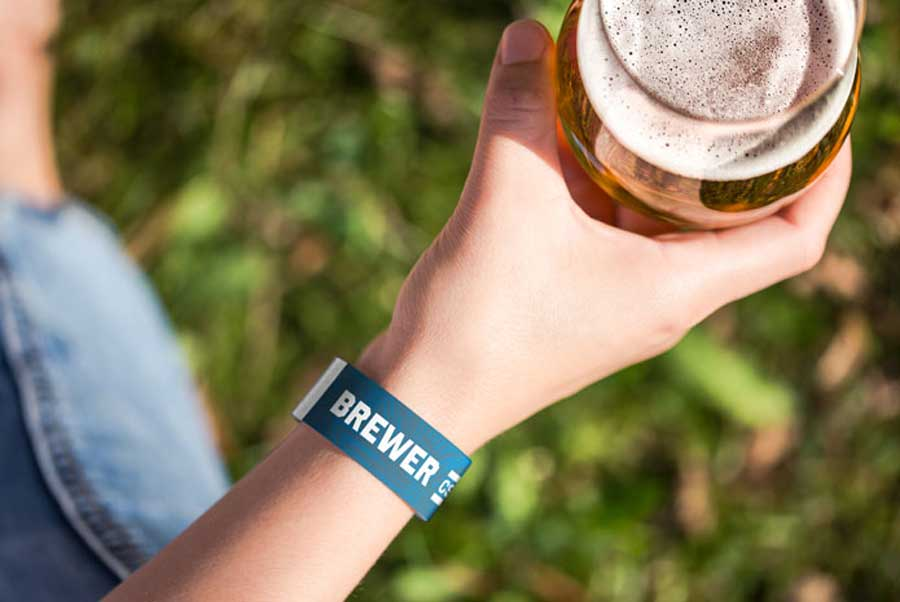 When serving alcohol at events, wristbands can aid in age verification. For guests over 21, non-transferable self-adhesive Tyvek wristbands or customized colored wristbands can be provided so that staff members can serve them alcohol. These wristbands increase security, shorten concession line wait times, and boost visitor spending by eliminating the need for personnel to double-check IDs.
Duplicate number wristbands can be distributed in pairs—one for the parent or guardian, the other for the child. Organizers can to make sure that the number on the child's band matches that of the adult they are with.
Secure and Tamper-Proof: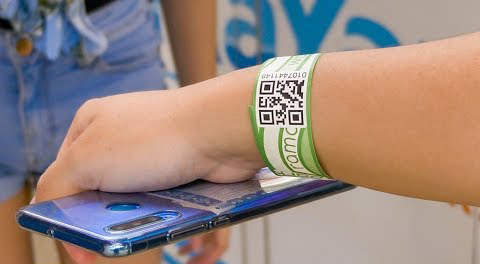 Once applied, self-adhesive Tyvek wristbands provide a secure and tamper-proof method of identification. These bands are ideal choices because they are durable, high-security, waterproof, and last multiple days.
Self-adhesive plastic wristbands are generally designed for one-time use only. Once removed, they cannot be reapplied, preventing unauthorized re-entry. This feature is useful during sporting events as it ensures better control over access rights and reduces the risk of counterfeiting or unauthorized sharing of wristbands. Sequentially numbered Tyvek wristbands can ensure that wristbands are not being shared or duplicated in any way.
The adhesive strip is designed to be strong and difficult to remove without damaging the wristband. This feature helps prevent unauthorized admission and ensures that only those with valid wristbands can enter designated VIP areas.
Customization Options: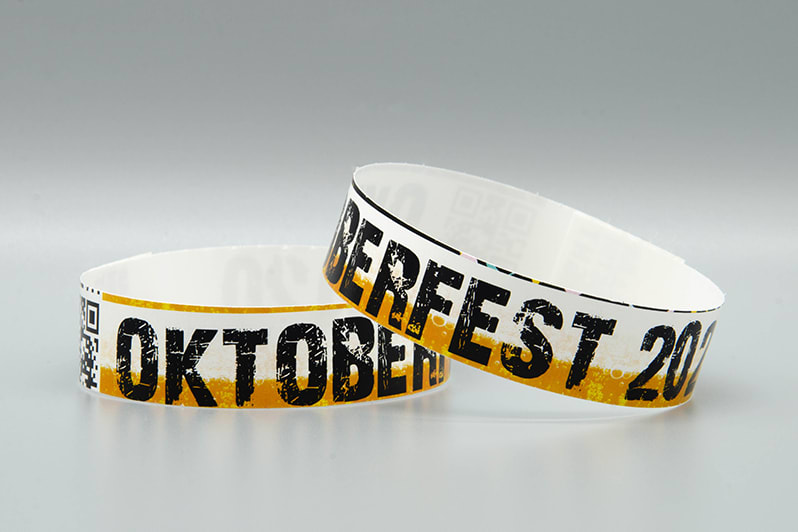 Self-adhesive wristbands can be customized to match the event or venue branding, making them visually appealing. They can be printed with logos, text, or graphics, allowing organizers to incorporate their unique design elements and create a cohesive look for their VIP access solution.
Self-adhesive vinyl wristbands can be used to organize special events like weddings, conventions, and corporate getaways. The organization may issue various styles and colors of vinyl wristbands to distinguish between various groups of audience members at multiple activities that take place simultaneously.
Differentiating VIP Access Levels:
Wristbands can come in various colors or patterns, allowing organizers to differentiate between different levels of VIP access. For example, different colors can represent VIP guests, staff, or special privileges. This differentiation makes it easier for event staff to identify and grant appropriate access to different individuals.
Pools, exercise centers, waterslides, and other amenities are frequently available at all-inclusive resorts. Wristbands from hotels and resorts are useful for restricting entry to certain visitors, such as VIPs or kids. If, for instance, only children over the age of ten are permitted in a certain pool or waterslide, they can be distinguished from younger children and given a higher level of safety by being given a blue colored plastic wristband or a fun, pre-printed plastic design. Duplicate number wristbands will be very useful to manage younger guests.
Comfort and Convenience: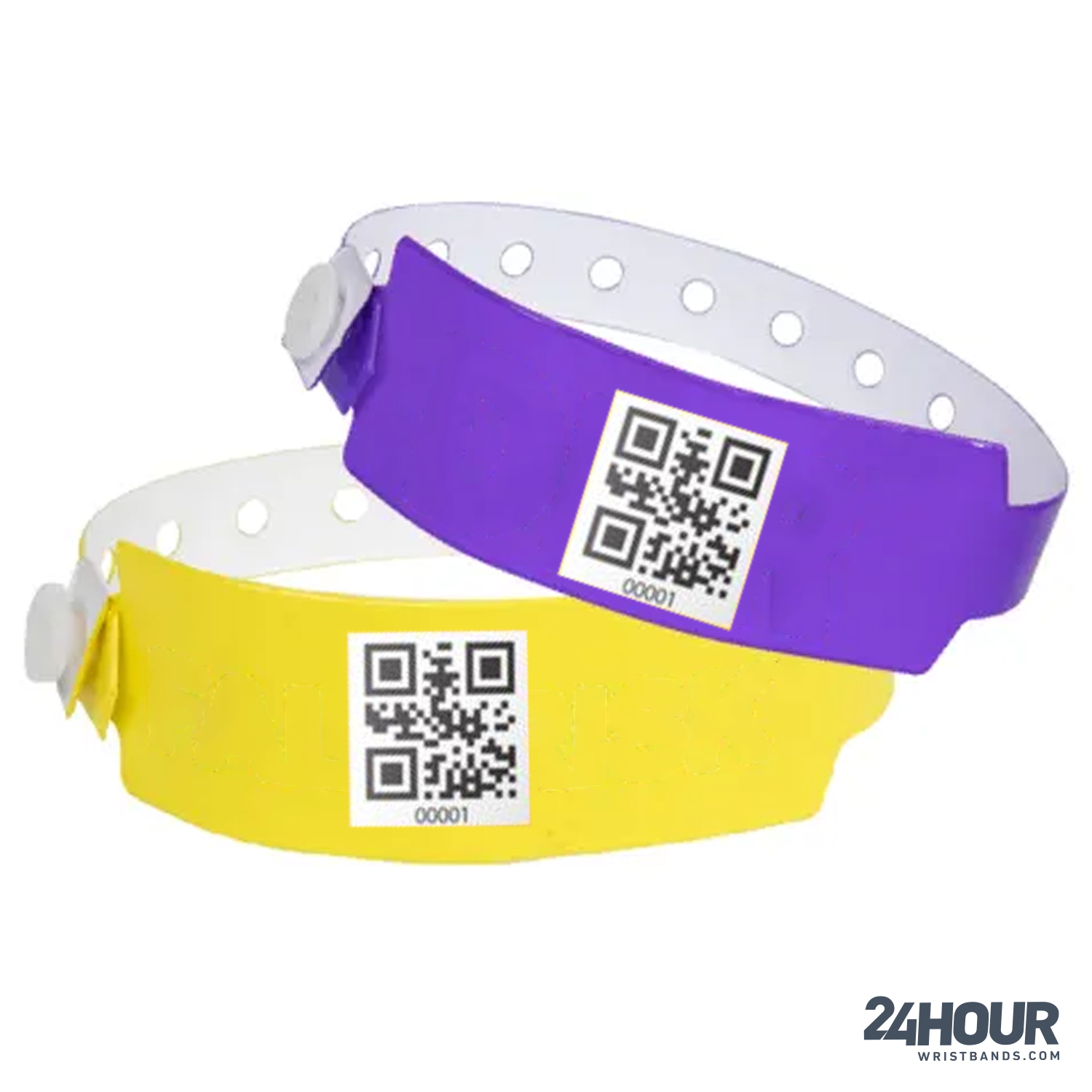 Self-adhesive wristbands are designed to be comfortable to wear for extended periods. They are typically adjustable, allowing attendees to find the right fit for their wrist. The lightweight and flexible nature of these wristbands ensure that they don't cause discomfort or restrict movement when worn during the event.
Cost-Effective Solution:
Self-adhesive wristbands are generally cost-effective compared to other VIP access options like RFID or NFC wristbands. They are suitable for shorter-term events or situations where a temporary identification solution is needed. These wristbands are often available in bulk quantities at a reasonable price, making them a budget-friendly choice.
Easy Removal: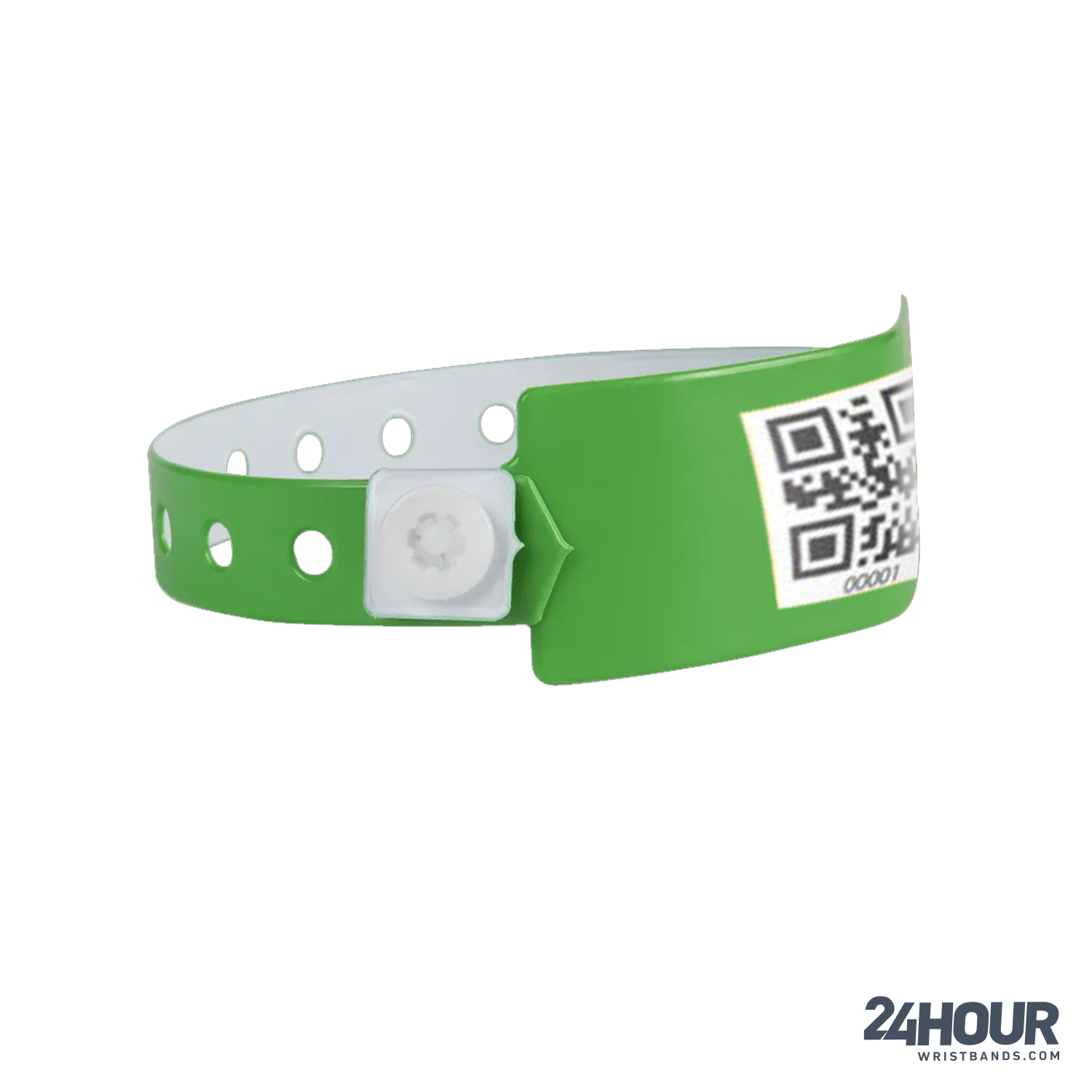 At the end of the program or when VIP access is no longer required, self-adhesive event wristbands can be easily removed without leaving residue on the wrist or causing discomfort. Users can simply peel off the wristband, and it comes off cleanly.
Great promotional tool: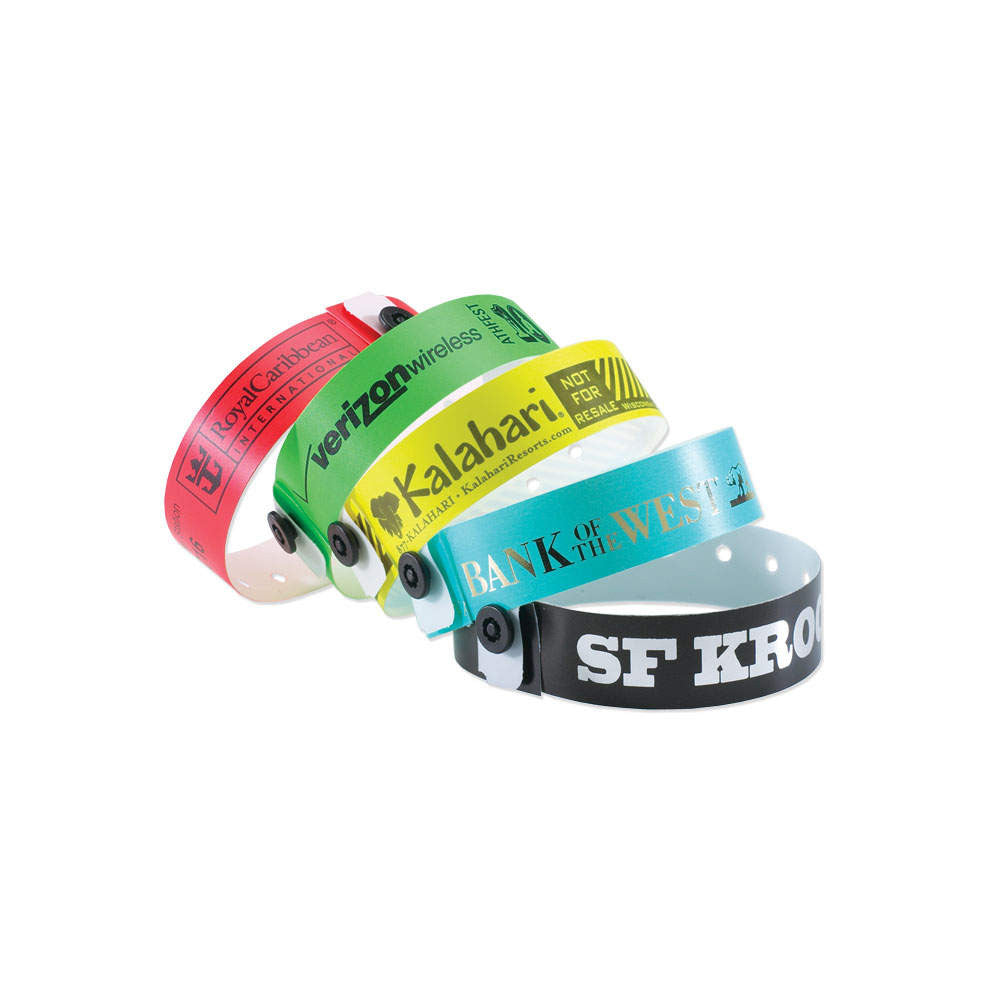 Custom wristbands serve as "mini billboards" that guests wear, enhancing the brand's  identity. With their vivid, photo-quality printing, self-adhesive Tyvek wristbands elevate  personalized wristband to the next level and make any design stand out. The customized wristbands that guests wear while participating in activities in different location other than the event venue, will draw attention to them, spark conversations, and provide first-hand reviews of the brand .
Customizable Security Features: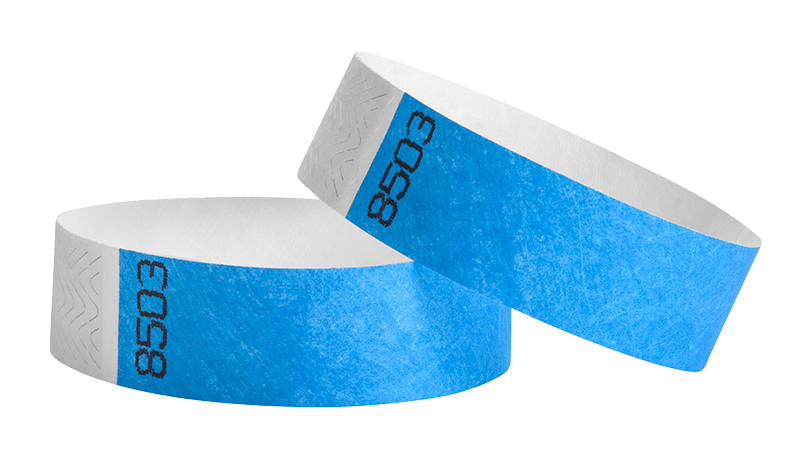 Advanced self-adhesive event wristbands may incorporate additional security features such as holograms, QR codes, or serial numbering. These features can help prevent counterfeit wristbands and enable further verification measures for enhanced security.
Available options of self adhesive wristbands: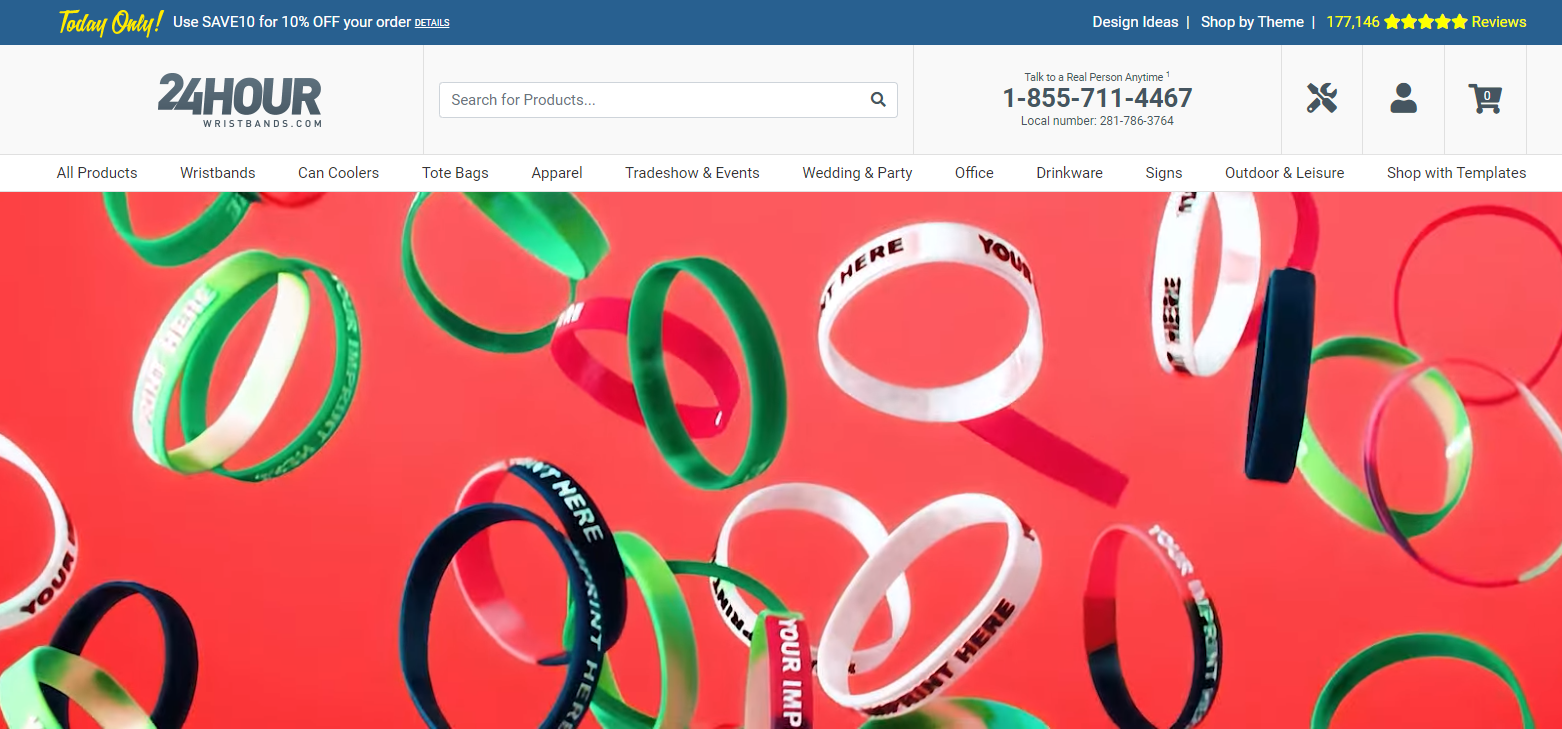 Each wristband at 24hourwristbands.com can be personalized to meet the exact needs of your organization. Whether they are made of vinyl, cloth, or Tyvek, the wristbands tickets we make at 24hourwristbands.com are of the highest quality and customized for your event. With the help of our talented artists and expert sales team, we can help you create your concert bands in any number of sizes and volumes. Even better, you may create a wristband that is ideal for your occasion using our hassle-free custom wristband online creation tool.
Browse the selection of personalized wristband goods that are offered:
Silicone Wristbands:

These bracelets can be customized using silk screen printing, embossed or debossed engraving, or both. The key distinction between personalized silicone wristbands and other types is that they are strong, long-lasting, waterproof, and reusable. This kind of wristband is perfect to be retained as a souvenir.  They can be ordered in multiple sizes, according to wrist size.
Buy wristbands here: https://24hourwristbands.com/custom-wristbands
Tyvek Wristbands:

Tyvek wristbands are excellent for crowd management and security-related events. They are stretch resistant, light weight and come in full color designs. A security diecut is incorporated into each bracelet to deter tampering and multiple uses. This means that customers won't be able to remove their wristbands without damaging the glue or cutting them. This aids businesses in minimizing gate crashers and unpaid entries. Tyvek bracelets are most used at different amusement parks all around the world.
Get your Tyvek wristbands here: https://24hourwristbands.com/tyvek-wristbands
Fabric Wristbands:

Woven fabric wristbands are ideal for high-end events that are brand conscious and not overly concerned with saving expenses. Cloth colored wristbands with sublimation printing process, which are often more expensive than most other band types but have a number of benefits, are the most popular choice for major events. Cloth wristbands with extra layer would be a great substitute for a festival on the beach or an event that may go on for several days. Despite being made of polyester, however printed bracelets have a satin finish.
Order wristbands here: https://24hourwristbands.com/shop/products/cloth-wristbands
End Note:
When considering self-adhesive wristbands for VIP access and hospitality events, it's crucial to select a reliable supplier that offers quality products. Event organizers should also consider the specific needs and requirements of their event to ensure the wristbands align with their overall goals and brand image.
Before placing wristband orders for your next event, it is important to consider how the calendar business day is calculated. For example, at 24hourwristbands.com all of our production dates and shipping dates are based on calendar business days between Monday and Friday. If you select 1 day for production and 5 days for shipping your order will arrive after 6 business days.
Placing order for in stock wristbands is as simple as a couple of clicks. If you are looking to place an order for any in stock bracelets, please login into the website using your username and password. Here are some in stock Tyvek bands to get you started: https://24hourwristbands.com/shop/products/in-stock-tyvek-wristbands
Because they are strong, affordable, and long-lasting, businesses are using self adhesive wristbands in ever-creative ways.  You can upload your artwork, catchphrases, quotations, or even the business logo. We'll make your concepts a reality. If you have any special demands, do get in touch with us or leave a remark below. Buy Now!