Around ten years ago, woven cloth wristbands started to become popular in physical training and sports. Athletes are starting to use motivational chants and slogans, and they want to physically wear that message while they practice. Most people find tattoos to be a little too permanent. Also, if the phrase has personal significance, wearing it on a t-shirt or other piece of apparel can be a bit over the top. On the other hand, a motivational cloth wristband is ideal since the message may be written on the cloth wristband and seen by the person wearing it as the fabric wristbands wrap around the wrist.
A motivational fabric wristband is a wearable item that, when the wearer looks at the writing, inspires the rest of the day. They are perfect for teams of individuals who are cooperating or encouraging one another to accomplish a shared objective. People who are trying to be in shape or who may be preparing for a race like a marathon are two examples.
Uses for Motivational Fabric Wristbands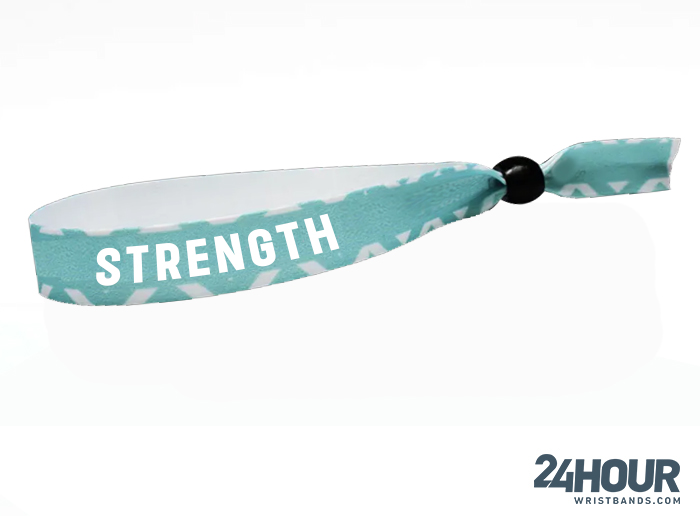 The uses of motivating fabric wristbands are countless. Some sportsmen merely utilize these cloth bracelets as a source of motivation. Basketball players frequently wear these "baller bands" to boost their motivation and keep sweat off their hands, which makes handling the ball easier. However, motivational cloth wristbands are not just for competitors. It serves as a means of showing support for a cause for some.
For instance, a custom pink woven cloth wristband with the words "strength" or "courage" printed on it can encourage someone to beat breast cancer or show support for someone doing so. It is also important to note that they make wonderful fundraising goods and gifts for a variety of events.
Anyone trying to improve their lifestyle for the better will find these motivational custom color cloth wristbands very popular. Although the improvement does not have to be significant, wearing the fabric wristband will boost their morale when they notice it and encourage them to work harder to achieve their goals.
There isn't a predetermined printing design that fulfills the definition of what ought to be printed on the cloth wristbands, but it's common to include motivational or inspirational quotations that serve to remind the wearer of their goal.
Given that they may be worn for months and are a higher-end product, fabric wristbands are more popular in all events. They resemble an article of clothing to the touch and are the kind that is frequently seen at music festivals.
Custom Messages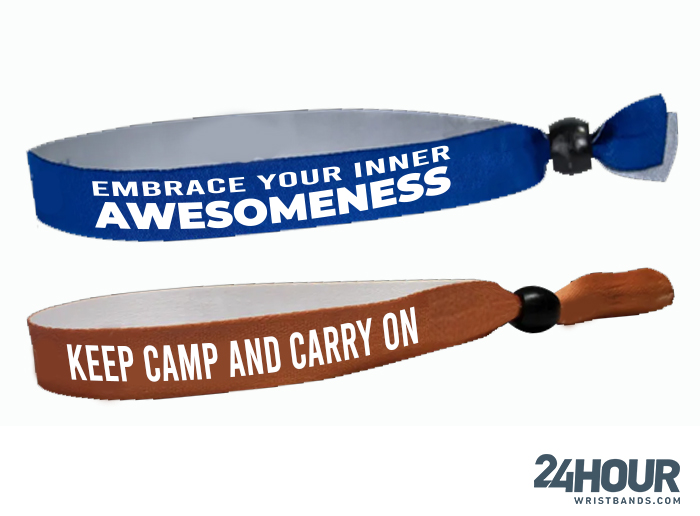 To continue working hard, people occasionally want a little more inspiration. Individuals, families, and organizations may stay motivated with the help of custom design wristbands.
The use of motivational cloth wristbands with a positive message can greatly motivate others. A quick peek at a statement on your wrist could make a bad day better or serve as a motivational reminder to work hard and end well.
When it comes to the challenges we face in life, a motivational message can make all the difference. Why not cloth wristbands with the same designs we see online and on t-shirts daily yourself? It's the perfect spot to keep a note to yourself to stay upbeat, put in the effort, and respect others.
Individual Themes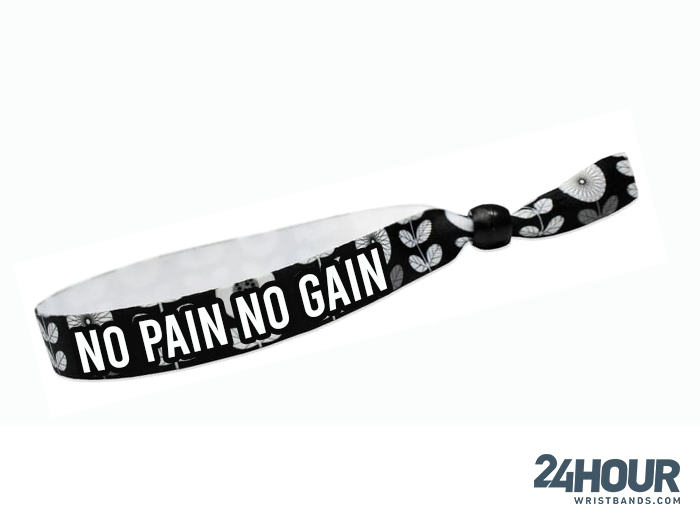 Everyone who competes seems to have a slogan that serves as both an inspiration and a source of motivation for them to keep working hard to improve. This explains why motivational cloth wristbands are well-liked by members of this demographic.
Motivational wristbands fabric with writing that read, among other things, "No Pain, No Gain" or "Anything Is Possible" is frequently ordered by customers. We provide both competitors and non-competitors with the resources they need to design cloth wristbands that motivate them.
For your fabric wristband, 24hourwristbands.com offers many different customizing possibilities. You, therefore, have complete freedom to create a design that perfectly represents your personality. These are durable and comfortable to wear if you're attending events, conferences, and festivals With our online designer tool at 24hourwristbands.com, you have an option and can quickly create your own unique fabric wristbands.

Being Optimistic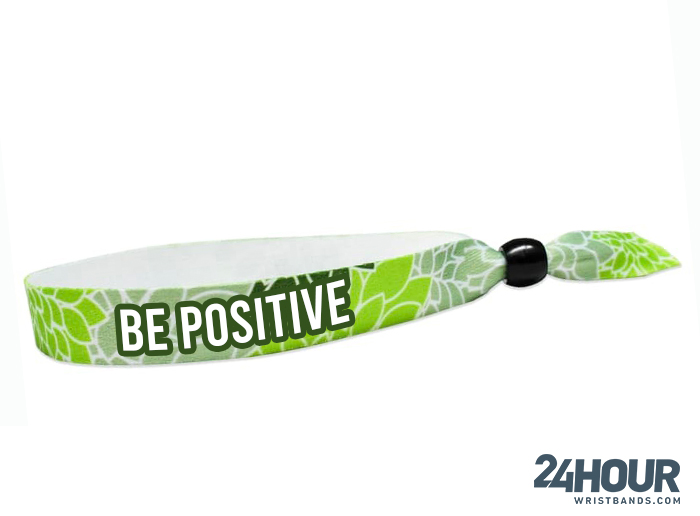 Some people lack a personal mantra or sacred book that serves as their source of inspiration. In actuality, some people are just driven by optimism in general. Some people can be motivated by a message of hope, such as "I Am Enough or Believe In Yourself".
The majority of people have goals connected to their health. We all want to improve ourselves, but it can be challenging to stay motivated when your efforts aren't yielding quick results. A unique motivational bracelet can help you stay on track with your goals, whether they are to reduce stress, increase exercise, eat healthier, get more sleep, or pursue other objectives.
Woven cotton wristbands are the greatest if you're looking for the best self-motivation wristband. This typically has a lockable attachment, which makes it very secure and durable. The wristband is fastened using the wristband lock attachment, making it difficult to remove. It is the most widely utilized kind of motivating wristband as a result of this function.
Religious Belief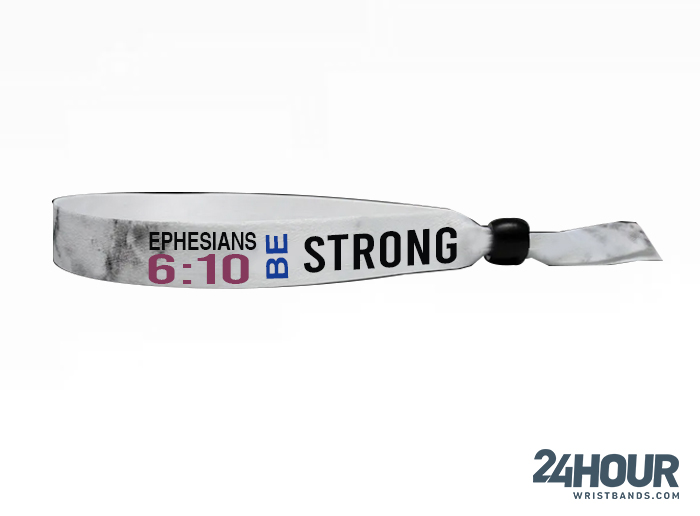 The inspiration of many religious persons comes from their convictions. This is why custom cloth wristbands with printed Bible passages are some of the most well-liked motivational items. Religious organizations or anyone experiencing trauma frequently wear motivational cloth wristbands, which help them get through difficult times or crises.
Our customers can select any verse or proverb that motivates them and wear it around their wrists at all times. They have the option to select color cloth bracelets with simple bold graphics and this enables the wearer to spread their ideals to others while also keeping themselves motivated.
Wearing wristbands made of cloth at the event is comfortable. They are waterproof and do not stretch. The engravings on cloth bracelets typically contain short to long messages engraved on them. Everyone can benefit from using a religious bracelet. The selections presented are suitable keepsakes to give to your loved ones. Friends may be given woven fabric bracelets imprinted with religious sayings as a symbol of their bond. Cloth wristbands just naturally fit wonderfully, whether they are worn by children or adults. Your guests are urged to keep them because of their durability and unique designed long after the event has ended.
Make Your Own Inspirational Fabric Wristbands Right Now!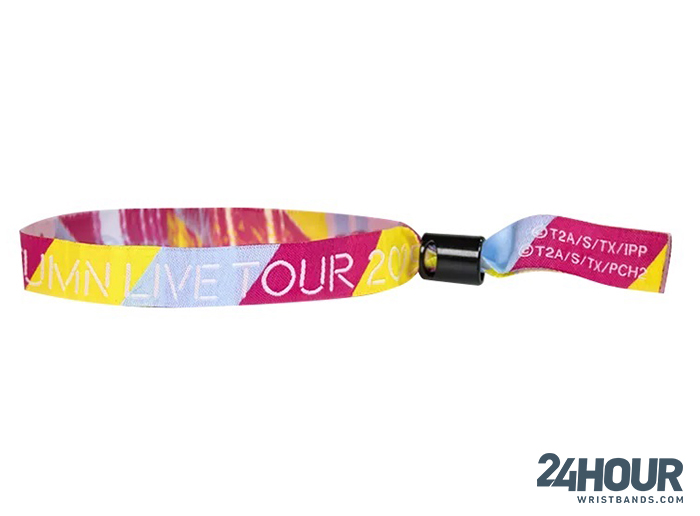 You most likely already have a general idea of the style you want to incorporate into your motivational bracelet. The enjoyable part—designing it—is now up for grabs. This is a cost-effective choice for simple bold graphics because your custom design is woven right into the band. Your text or logo is woven into the fabric of the bracelet for a woven cloth wristband. Making the ideal motivational wristbands is a piece of cake with 24hourwristbands.com. We offer a large stock of our custom-designed woven cloth wristbands for your event.
Stage 1: Size and Color of cloth wristbands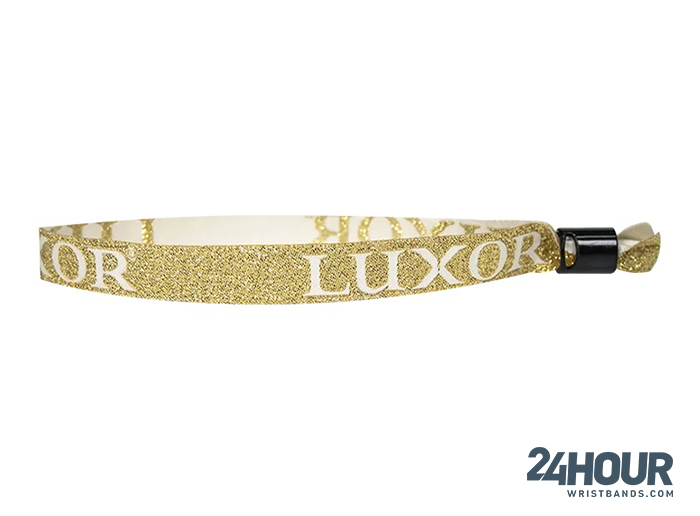 Our fully customizable 1/2-inch woven cloth wristbands are the most popular size and are regarded as the standard. However, if a different size suits your taste, you are more than welcome to choose that instead. Select a color or colors next. Select See All Colors to see a complete list of all of our possibilities. Choose how many bands in each color you want.
Stage 2: Make Your Own Designs

We advise you to experiment with various designs in this step. Most likely, you already know what you want your band to convey. If so, excellent! Now that you have a variety of font and imprint color options (for ink-injected, color-coated, and printed bands), you can experiment. Your text's size can also be changed. If your message is a bit more lengthy, this might be useful. You may also include up to four graphics, so keep that in mind.
Stage 3: Completion

Now that you have the ideal layout, verify everything—including the spelling—again. Only what is given to our machines can they produce? After approving your style, choose your production and shipping times and add the item to your shopping basket.
Styles of Motivational Bracelets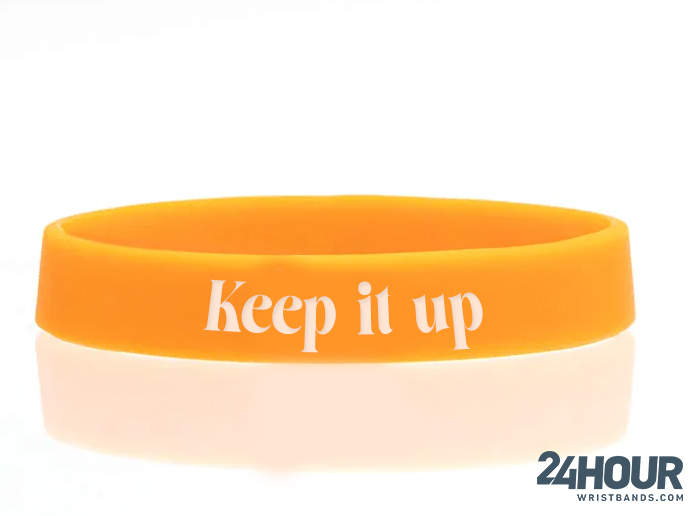 The use of motivating bands can be done in a variety of ways. These bands can be used to motivate your team to perform better, to encourage and support charitable organizations, to inspire those around you to support various causes, to motivate your children to do better in their studies, sports, and multi-day events, to teach them good lessons, etc. There are plenty of occasions for which you may utilize a motivational wristband, all you need to do is determine the best timing and application strategy.
These motivational wristbands have a wide range of applications, so you should personalize them for the specific purpose you intend to use them for. Although the phrase "Keep it up" is inspirational, it wouldn't be a good idea to use it to encourage those engaged in an event. Instead, you should create motivational bracelets with the main objective in mind.
We will give you access to a design tool for creating unique motivational wristbands at 24hourwristbands.com. Use this tool as often as necessary until you are happy with the finished product.
Despite the fact that each website offers a different design tool, they all have the same key elements. It is also much simpler to use the tool. You may easily create your own motivational bracelets by following the steps we've shown in this article.
Printed
We use silk screening to create our printed silicone bracelets. The process is straightforward. You personalize the bracelet to your preferences, then we print it over the band's top layer, leaving a slick, smooth touch.
Ink-Injected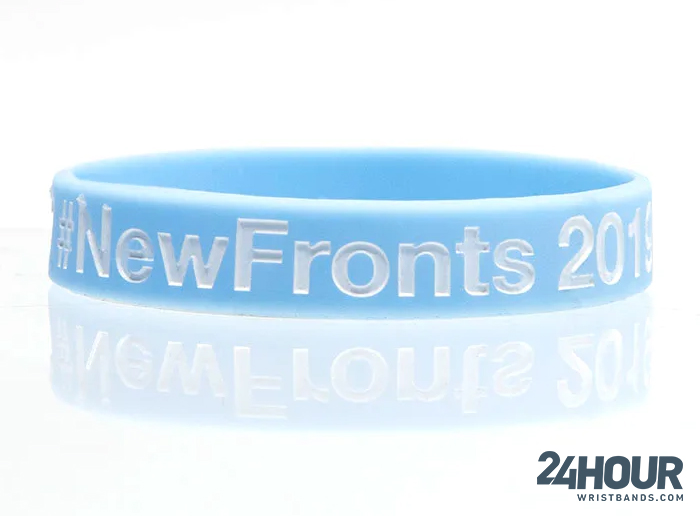 Debossing and printing are used in ink-injected bracelets to produce an excellent wristband. Before adding long-lasting ink, we first engrave your personalized logo or design onto the bracelet. This ensures that your logo design will be guarded against deterioration over time.
Debossed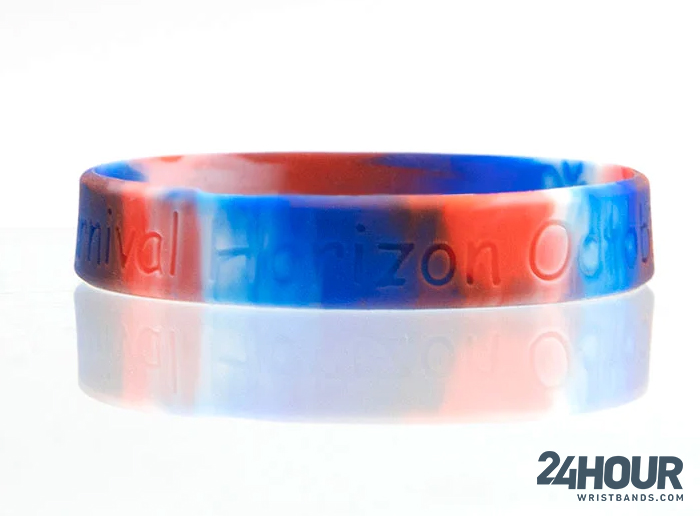 The use of a laser engraver or mold is used to create debossed silicone wristbands. You can feel your design because it is recessed into the silicone band's surface. Contrarily, the design on embossed wristbands is lifted above the band's surface. You may customize your wristbands using our personalization tool by selecting your typeface, text size, and up to four graphics.
Color Coated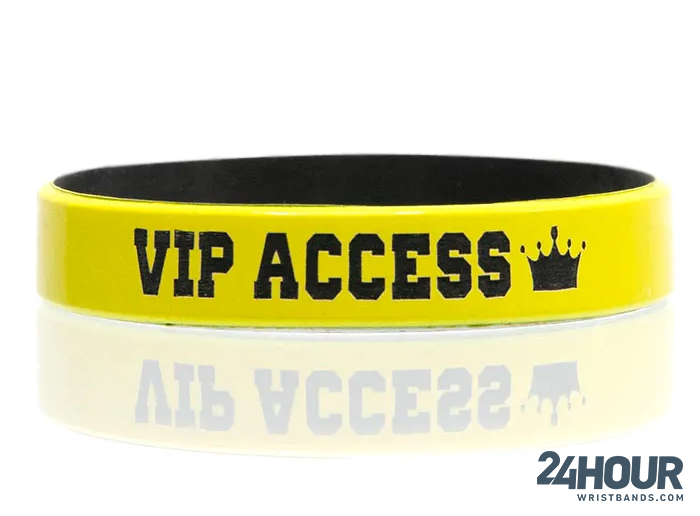 Wristbands with a full-color coating can be entirely customized and come in two colors. Before being filled with ink that matches the band's inside color, the personalization is first etched onto the band's outer layer. With this layout, the content is shown more dynamically and artistically. Using dye sublimation, a full-color printed wristband may be produced with full-color high-quality printing that includes gradients and edge-to-edge printing.
Great Motivational Wristbands
Some people enquire which style of motivational wristband on 24hourwristbands.com is the greatest. The answer does rely on the type of group or school you are a part of and how you anticipate the product will be used. However, the majority of the time, silicone wristbands are the greatest kind of motivational wristbands.
The silicone wristband, also referred to as rubber wristbands or charity wristbands, is the most popular style of motivational wristband. The item, which is composed of rubber material, is ideal for long-term use and can be used for weeks, months, or even years! Silicone bands can be worn in the shower or when swimming because they are waterproof (and sweatproof). They are the cheapest price among other wristbands.
Many athletes who utilize their popularity to support worthy causes or their brand of encouragement wear it. Lance Armstrong's usage of a silicone band to raise awareness for his chosen cause is the most well-known of these instances, and they were immensely popular for many years.
Consider the age range that should be addressed when ordering a wristband because they come in various sizes for adults, teenagers, and kids. All silicone wristbands are handcrafted in a custom mold from the ground up, making any color combination possible and allowing for customization to an organization's color scheme. This is perfect for groups who want the wristbands to match other items they have, such as t-shirts.
Silicone motivational wristbands can be fully customized with a print that covers the entire surface. We advise using only a few short words so that it pops out and doesn't need to be shrunk to fit an entire phrase.
End Note
Visit our website if you are a company or non-profit organization looking to get bracelets with inspirational words. We are a top provider, of custom bracelets, and provide embossed, ink-injected, print, color-coated, and other types of bands. We also have in stock bracelets ready for shipping. Our shipment will be via ground unless you request other method during checkout. Contact us today or leave a message below for more details.