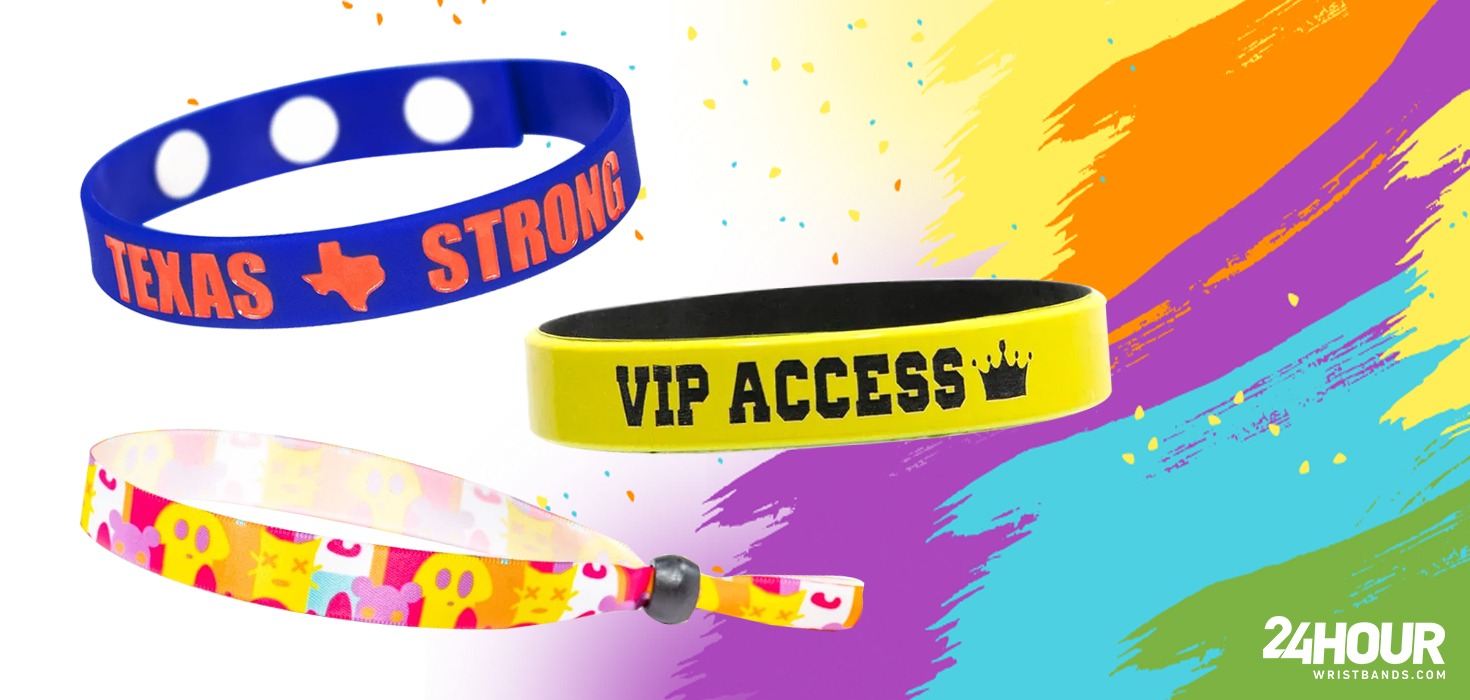 Wearing an awareness wristband can be a show of support for particular causes, ideologies, or medical concerns. However, the wristband color meanings can be a little hazy, particularly when a single color is associated with many conditions and ideologies. This is frequently confusing for others who don't understand what they mean.
Awareness wristbands frequently promote a cause or organization and are designed to reflect that organization and its goals by utilizing its recognized awareness colors.
You may identify supporters of many causes all over the world by looking at our list of wristband awareness colors and the causes they stand for.
The Origins of Awareness Wristbands and Ribbons
Silicone wristbands have come to be associated with money donation, raising awareness, and expressing support for a cause. In 2004, a competitive cyclist and cancer patient, Lance Armstrong, wore a yellow silicone wristband that said "LIVESTRONG."
What Does The Yellow Wristband Stand For?
Yellow wristbands are used to symbolize cancer awareness. The yellow bracelet gained enormous popularity, and as a result, millions of dollars were raised. Amazing results were achieved all around the world thanks to the clear messaging, reasonable price, and opportunity to support a good cause.
The Tour de France race leaders' jersey, which is yellow, is chosen to represent that color. With the proceeds from the $1 silicone bracelets, money was raised to enhance the quality of life for cancer patients. Throughout the Tour de France, celebrities, as well as cyclists, wore the band.
Before silicone wristbands, colored ribbons were a well-liked support symbol. As a symbol of their love for a spouse or other loved one serving in the U.S. Cavalry, certain women in the 19th century would wear a yellow ribbon in their hair.
During the 1990s Gulf War, yellow ribbons experienced a resurgence in popularity as a symbol of support for the armed forces. Lapel ribbon pins were used during this period to express support for a cause as awareness ribbons.
The eye-catching ribbon caught the attention public and media attention its popularity quickly increased. Numerous other awareness ribbon colors were introduced as a result of the iconic red ribbon's success.
How Today's Awareness Wristbands Are Used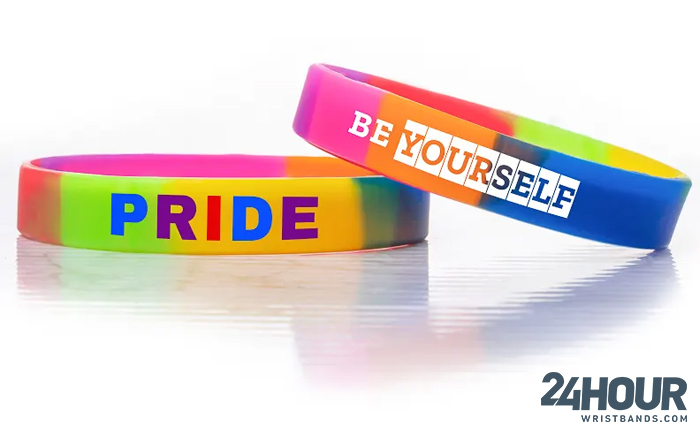 When it comes to the best awareness wristbands product, people have moved on from ribbons on trees to personalized military remembrance bracelets and silver cancer armbands, which you may wear every day for years to show your support.
You can make your customized wristbands, like a rainbow wristband for Pride Month. We have all the colors and designs you could ever want, whether you require customized army bracelets or awareness bracelets for a cause. Don't be scared to get inventive because you can use a different color for each cause.
Wristbands with messages can help for-profit businesses leverage their brand, market their services, advertise, and more by employing them as low-cost fundraising ideas. Due to the wristband's affordable cost, businesses can purchase them in bulk and give them free to staff members and customers during events, tradeshows, and other occasions.
Businesses can design their wristbands specifically for their needs, selecting the colors, fonts, messages, images, logo design, sizes, and styles. People frequently keep their wristbands on long after an event has ended, so if the design and cause are appealing, it may be an effective, low-cost marketing tactic that maximizes brand recognition.
For a multitude of reasons, silicone wristbands are the most popular option to raise awareness. They are ideal for long-term use because they are both lightweight and strong. Our silicone bracelets are also one of the best low-cost promotional goods one can use to promote unity and raise money or support because they can be completely customized.
Wearing a bracelet with the responsible color or design of a particular group or cause further distinguishes the user as a supporter or partner of that group. These customized silicone wristbands for a cause can help people who share the same values, connect and act as a unifier to bring about change.
Start reading about color theory if you want to learn how to choose the ideal colors for your designs.
Colors and Meanings of Awareness Wristbands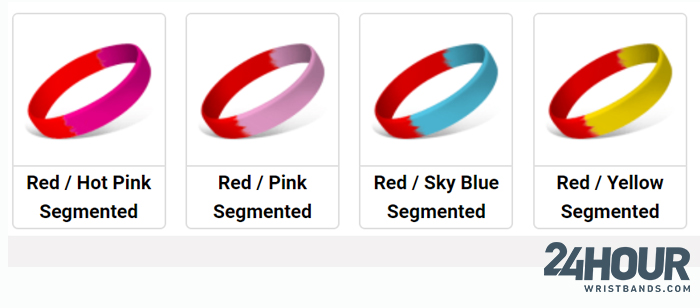 The following guide will assist you in selecting the different colored wristbands to demonstrate your support for your mission or cause because every single color in the rainbow stands for a different cause. In addition to being worn daily, these silicone bracelets, often known as rubber bracelets, are utilized as cancer awareness wristbands.
Below we'll discuss the color meanings of every wristband.
Pink Wristbands & Peach Bracelets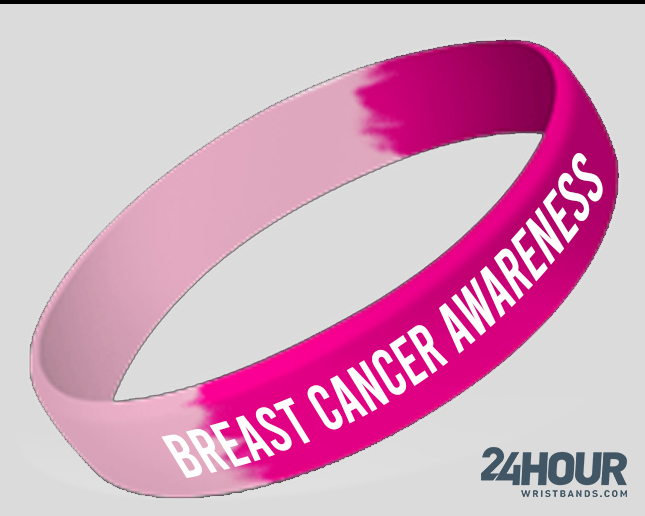 The color pink, which is well-known for being utilized by organizations like the National Breast Cancer Foundation to raise awareness of breast cancer, is most certainly the most well-known on the list.
Although hot pink is also a common option, light pink is typically used to signify support for breast cancer patients. On the other hand, pink bracelet denotes breast reconstruction awareness and nursing mothers are other uses.
Purchase one of our personalized breast cancer awareness wristbands, wearing them every day provides a support network that goes beyond the donation itself. More than ever, those dealing with breast cancer need to feel upbeat. Their mindset may change drastically if they are aware that someone is fighting for them from behind by simply wearing this pink bracelet.
Yellow Wristbands & Gold Silicone Bracelets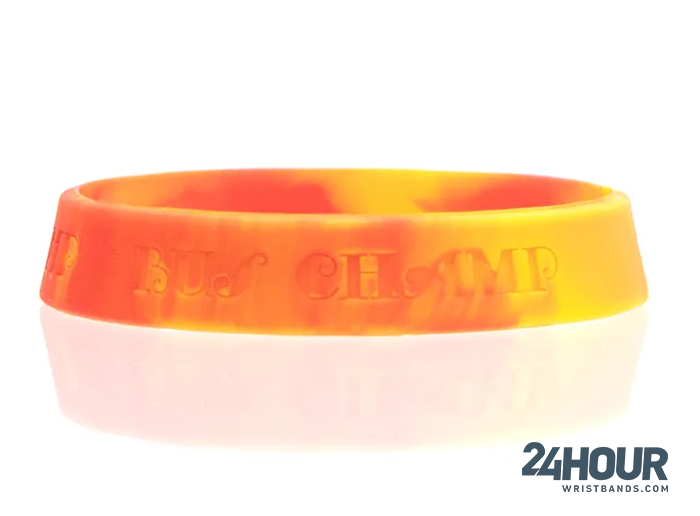 Lance Armstrong was the first to wear yellow wristbands to spread the word and generate money for the study of testicular cancer. Since they support other causes like returning Americans from war-torn nations and fighting other cancers like bladder, liver, and bone cancer. Gold wristbands are linked to several serious diseases, including osteosarcoma, neuroblastoma, and pediatric cancer, among others.
According to the American Cancer Society, one-third of women and half of all men are expected to develop cancer in their lifetime. In the United States, cancer is the second most common cause of death, accounting for one in four fatalities.
We have the cancer bracelet you need to reach your fundraising targets. Our exquisite cancer awareness wristbands are handcrafted from the finest materials and stunning cat's eye to reflect the various types of cancer. Brighter colors, like yellow, stand for warmth in both temperature and human emotion.
White or Clear Wristbands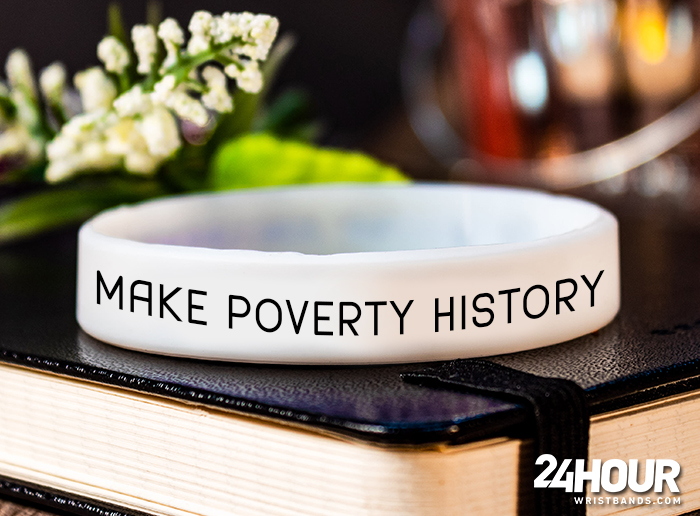 White silicone bracelets, made popular by the "Make Poverty History" campaign, frequently stand for social causes. A white wristband is used to indicate lung cancer. In addition, they stand for religious convictions and peace, but they are also connected to blindness and bone cancer. Since invisible illnesses were previously represented by clear wristbands, conditions related to those have adopted clear and white wristbands to advance their respective causes.
White is supposedly the absence of color. However, it becomes obvious that white can be just as attractive and neutral color as any other color when it is used on a custom wristband. White creates a very strong statement when coupled with another text color or visual impact.
You can make white wristbands at 24hourwristbands.com with lettering in any color, a section of color, or swirled colors along with white. These are unique in that the base's outer layer is painted with a secondary color using an oil spray method. White color bands are completely personalizable and simple to customize with our online constructor.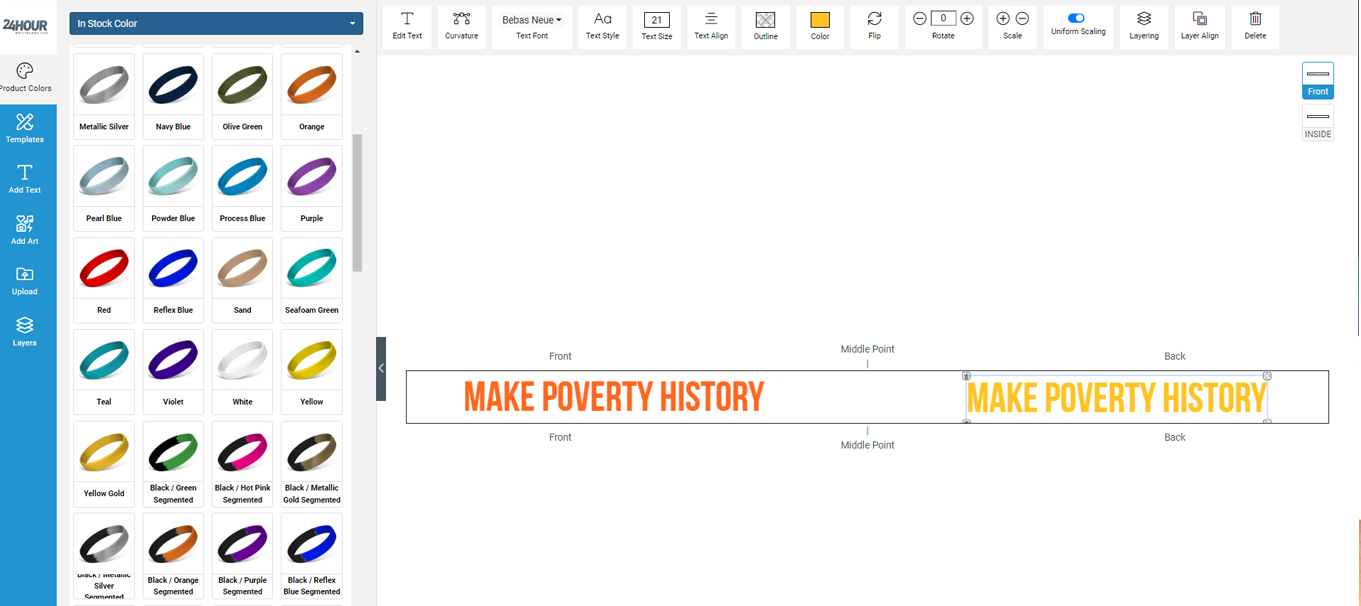 Blue Wristbands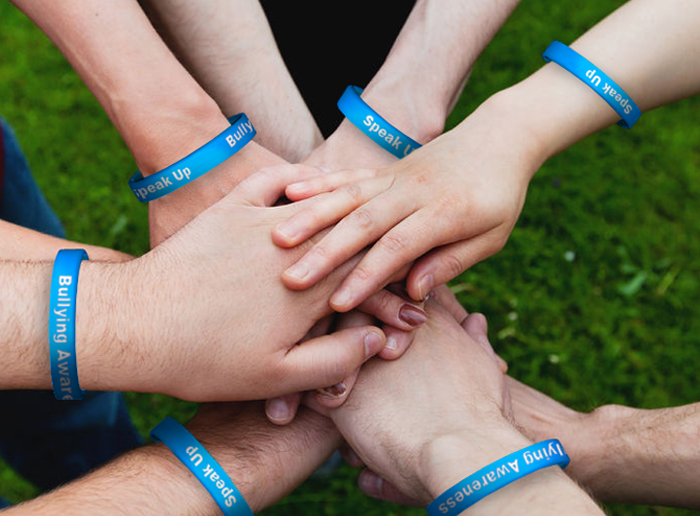 One of the most common cool colors used by organizations for their charity and awareness bracelets is the color blue wristband. Their connotations range from illnesses like colorectal, colon cancer, esophageal, and stomach cancer to social problems like overdose awareness, domestic violence, and animal abuse.
There are further illnesses that are associated with a particular shade of blue. Examples include the color light blue, which raises awareness for men's health and prostate cancer while also signifying rare diseases like Edwards Syndrome. The official Beat Bullying wristband color is navy blue, which is also used to symbolize alopecia and chronic fatigue syndrome. Royal blue is also used to denote opposition against child abuse. Combining dark and light blue symbolizes the awareness of hydrocephalus. Light blue is the popular choice due to its cool color.
Our adult blue silicone wristbands are a stylish way for you and your friends to express your support. These silicone wristbands for both sexes are made to be slick, fashionable Blue wristbands for any event. With our silicone wristbands, you can proudly display your comradery and support for the cancer community.
Red Wristbands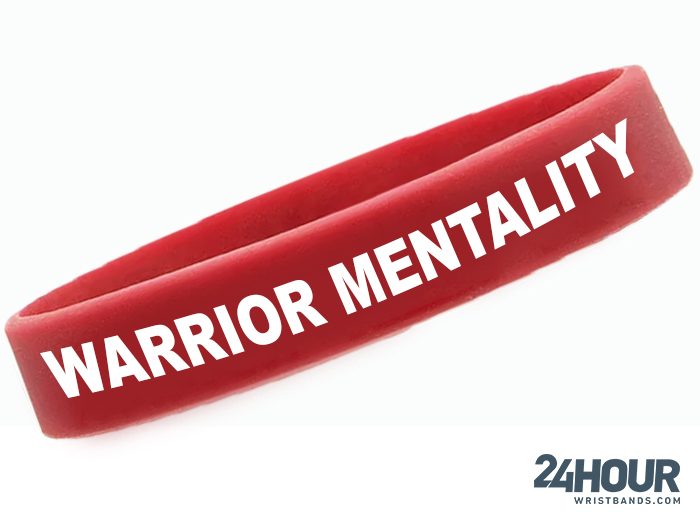 What does a red wristband stand for? In 1991, the color red was initially applied to a cause-related charity ribbon to represent the fight against HIV and AIDS awareness. A red wristband also indicates support for heart disease, stroke, DARE/substance abuse, and MADD. The American Heart Foundation frequently uses the red wristband color connotation to refer to heart disease and congenital heart problems.
According to psychology, the color red is linked to vitality, wrath, passion, courage, and strength. However, this warm color has very different connotations across cultures. It can be difficult to choose a red awareness wristband because of the long history of red awareness campaigns and the fact that the red awareness color has different connotations around the world. Having said that, you can have significant success with your awareness if your message is in line with one of these cultural ideas or heritage campaigns.
Grab our red wristbands to express your support for the cause with your friends. Our silicone wristband is designed to fit snugly without impeding blood flow. Each red awareness wristband is created from 100% non-toxic, eco-friendly silicone of the highest quality. These rubber wristbands will be excellent giveaways at events or as promotional goods. By displaying your support, our red rubber wristbands will be a success at any party or event! Give out these hip rubber wristbands at your next event or use them as fantastic keepsake gifts for men and women.
Burgundy Wristbands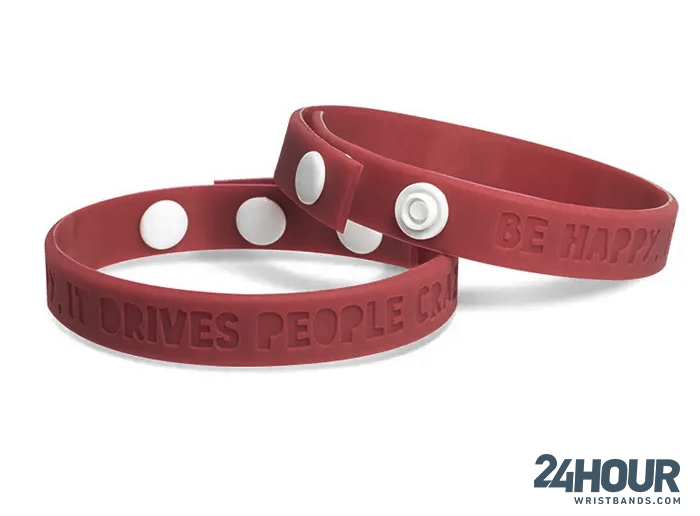 Wristbands of this color are frequently used, and the colors represent to show support for those who are disabled as adults and for people who have chronic health concerns. Sickle-cell anemia, migraines, meningitis, and Williams Syndrome are among the specific diseases with burgundy as their primary color.
An alternate name for red is burgundy. Burgundy is a deep, purple color that is less vivacious than genuine red but also more affluent and serious. The significance of burgundy wristbands is varied. Burgundy is a striking and eye-catching color, much like red. As a result of its ability to arouse strong emotions, it is a potent color for raising awareness and encouraging a sense of unity.
You may promote cancer prevention, disease awareness, and social causes that are important to you by wearing our burgundy silicone awareness wristband. These affordable, strong rubber bracelets provide support to others and serve as a means of raising awareness. These burgundy awareness color wristbands are ideal for a variety of occasions, including fundraising efforts, awareness campaigns, promotional items, corporate charity events, medical office, cancer races, marathons, team outings, and fun runs.
Purple Wristbands
Wearing a purple wristband is a way to support and educate others about pancreatic cancer. Pancreatic cancer, one of the deadliest types of cancer, arises in the pancreas, a glandular organ deep within the abdomen that makes digestive enzymes to help with digestion and control blood sugar levels.
In addition, the color purple represents awareness of Alzheimer's disease and cruelty to animals. A purple wristband honors a woman's love for her mother while supporting awareness of pancreatic cancer. The awareness of overdose is another reason why individuals also wear purple ribbons.
These superb purple wristbands are suitable for charity events, student ID or incentive wristbands, school activities, and more. These purple wristbands are firm silicone that is comfortable to wear all day and simple to put on and take off. Purple is a fantastic awareness color that you can mix and blend to make your own designs, including powerful statements, and business with company logo design. Additionally, our purple rubber wristbands are very durable and affordable. Order your purple wristbands now or obtain them for your school, home, company, or club to demonstrate your sense of unity.
Black Wristbands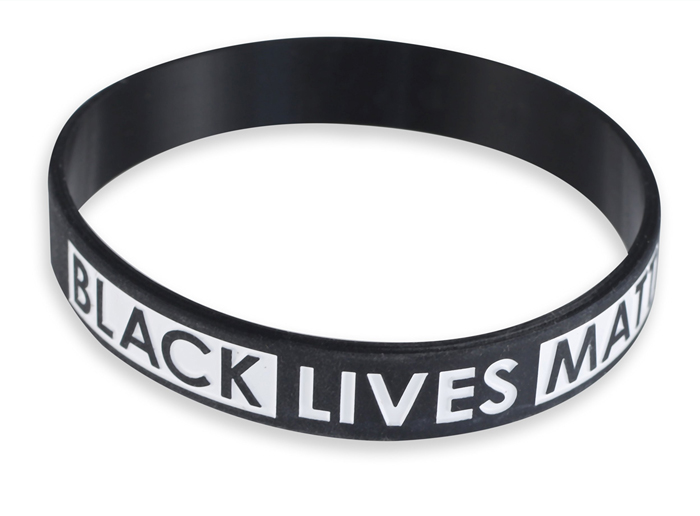 Black wristbands are a symbol of sadness and support for sleep disorders. The most recent campaign for Black Lives Matter, 2020, shared its important message by wearing the traditional wristband design of black awareness with white writings. In addition to gang prevention, skin cancer research, and counterculture movements, black bracelets can also stand for prisoners of war.
Black wristbands are a popular way for organizations that support black rights to raise money. Black wristbands are worn by people of color both inside and outside the black community to demonstrate their support for the group and to promote equal rights and treatment.
Trying to find black wristbands? You've come to the correct spot. The most affordable black wristbands may be found on 24hourwristbands.com. Our black wristbands are a straightforward and well-liked admissions option for your upcoming event, whether it is a weekly club night or a fundraising event. When personalized with your logo design and styles, they give your event an air of professionalism and legitimacy, adding a little bit of extra branding power.

Orange Wristbands
A variety of diseases are supported with orange bracelets. Examples include cultural diversity, Agent Orange, a toxic herbicide, and malnutrition. Leukemia, kidney cancer, autoinflammatory awareness, and multiple sclerosis are all represented by orange bracelets. It also serves to support awareness of self-harm awareness. An orange ribbon is used to symbolize renal cell carcinoma (kidney cancer). This is a result of it being the most prevalent kind of kidney cancer.
When you select orange awareness wristbands, the color will instantly convey happiness, health, warmth, and enthusiasm. In general, the color orange represents vigor and enthusiasm. When it comes to marketing initiatives, firms like Orange Telecom, Amazon, and Penguin Books have all used the color orange with great success. When it comes to charities and public service announcements, orange has been used to raise self-harm awareness, leukemia, and global famine.
Our orange wristbands are the ideal tool for spreading warmth, vitality, and happiness. To boost your particular messaging and logo design you can order them in quantity as wholesale custom-printed wristbands. These bracelets will be the best ornament if you are a team event supporter and activist seeking for a mark that fits.
Green Wristbands
Although color green wristbands are well-known for being associated with environmental concerns, there are other, less well-known implications for different band colors. This color stands for a variety of physical and mental health conditions, including Tourette's syndrome, bipolar disorder, gallbladder cancer, and support for organ and tissue donation.
Multiple colors of green stand for different conditions or objectives. For instance, lime green is associated with several spinal injuries and muscular-related disorders, whereas sea green is the wristband color for stuttering awareness. The color light green represents STDs and other prevalent illnesses like celiac disease. Numerous genetic illnesses, as well as public awareness of genetic problems, are defined by mint green.
The typical green color is used to support more than 40 various causes and medical condition awareness campaigns, such as those for cerebral palsy, liver illness, and spinal cord injuries. Get these 100% silicone bands in green color. Green is a fantastic color choice for your band since it is associated with growth and balance. Green silicone bands are 100% waterproof, latex-free, and kid-safe.
Teal Wristbands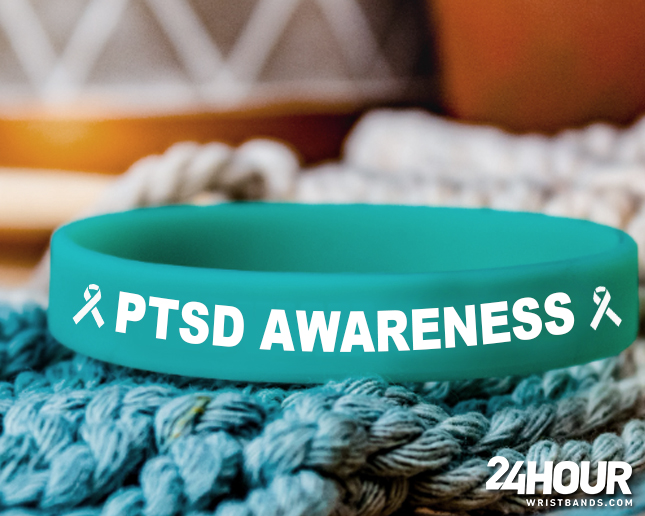 The use of teal wristbands with a semicolon to spread awareness of suicide prevention has grown significantly. However, some organizations used different suicide awareness colors to support suicide prevention. Cervical, uterine, and ovarian cancer are all represented by teal bracelets as well. Food allergies and PTSD (post-traumatic stress disorder) can both be indicated by teal wristbands.
Everyone frets about many things. However, a person may have an anxiety disorder if their worry interferes with their daily activities and seems to be almost constant. Like many other mental illnesses, anxiety disorders are poorly understood, and in some cases, a person's relatives and friends will misdiagnose, underdiagnose, or fail to accept a person's condition as real. Many organizations host anxiety awareness events to help the general public better understand the signs and treatments of anxiety disorders and to help raise awareness of anxiety disorders. Wristbands that promote anxiety can be useful.
May is a busy month for events promoting anxiety awareness, and teal is the accepted color. Using our online wristband maker at 24hourwristbands.com, you can make personalized anxiety awareness wristbands. Choose your message, visuals, and any additional effects like glitter or color schemes.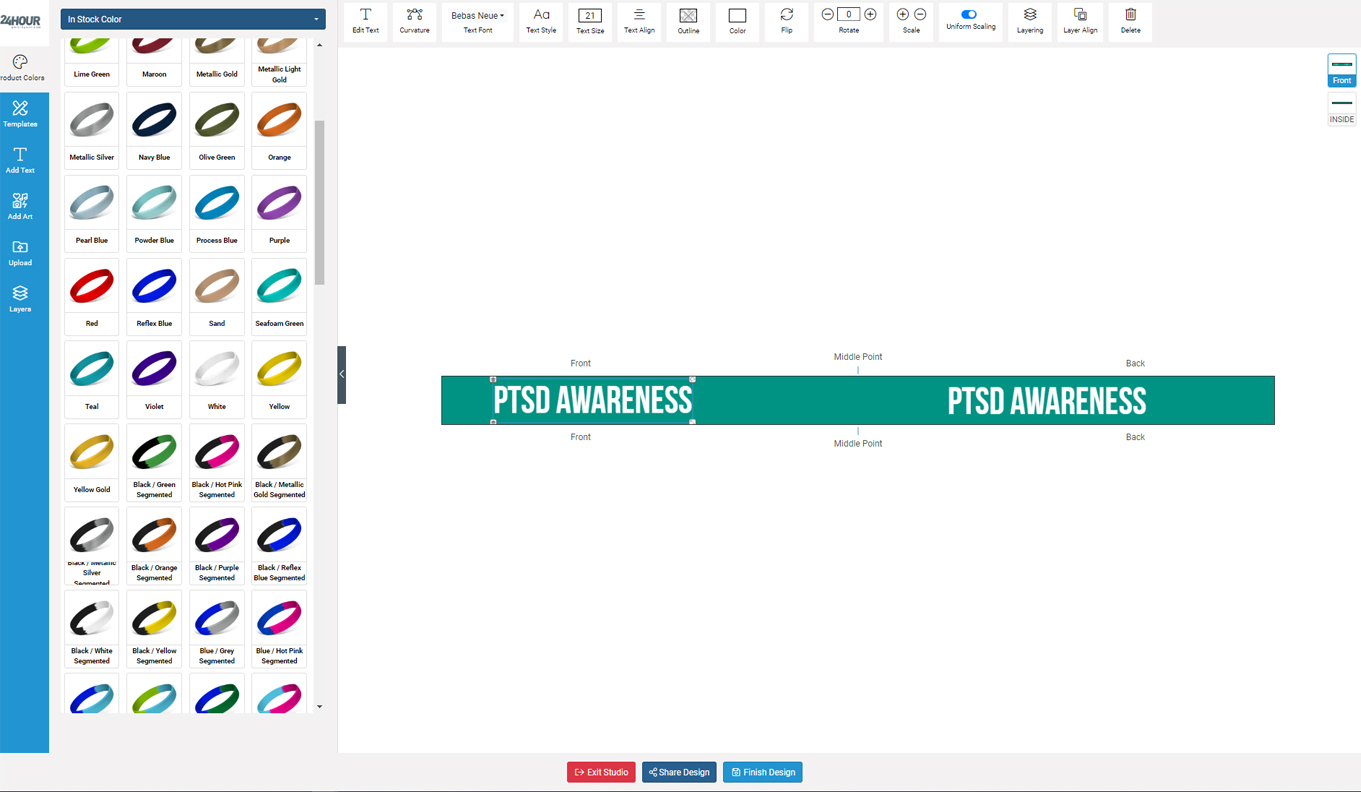 Multi Colored Wristband Meaning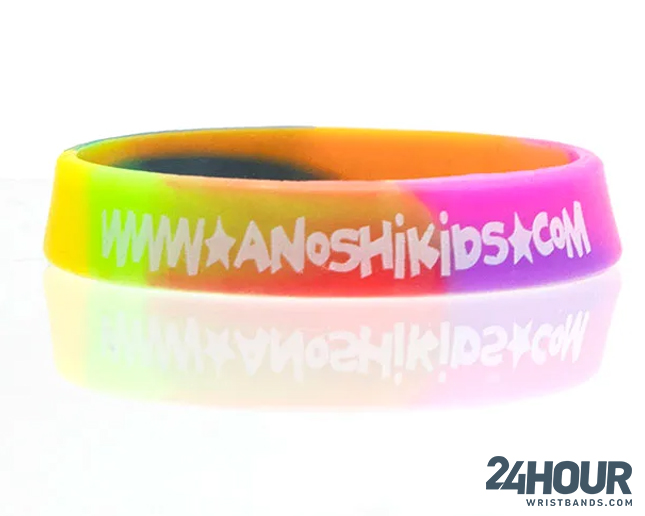 Multi-colored wristbands can stand for a wide range of conditions and reasons, depending on the color. Gay pride, multiculturalism, and autism awareness are well-known social movements.
We can make custom wristbands using our wristband designer if you're interested in using them for your upcoming charity event or fundraising. Please get in touch with us for additional details about our wristband options.
Why Do Campaigns Make Use Of Wristbands?

You can see from the preceding instances how effective employing various colored wristbands for awareness campaigns has been and continues to be. It is an effortless approach to convey a powerful statement quickly.
Additionally, personalized wristbands are a great way to promote campaigns to raise funds and awareness for occasions like Prostate Cancer Awareness Month, Brain Cancer Awareness Month, Ovarian Cancer, Lung Cancer, Colon Cancer, Bone Cancer, and Heart Disease Awareness Month. Calendar and designated color for your upcoming campaign can be found in the image below.
What Functions Do Hospital Wristbands Serve?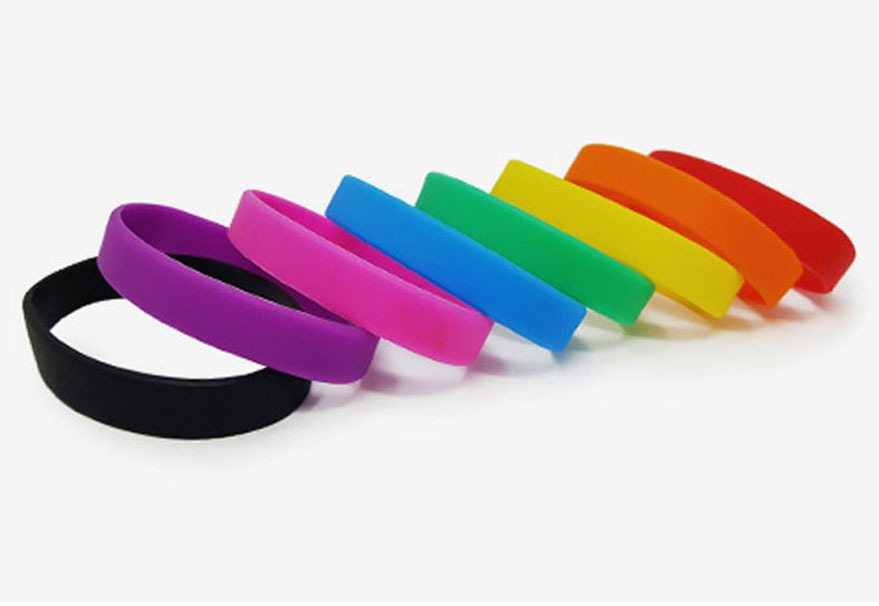 Hospitals use colors to denote a patient's state and certain hospital operations. Consider the color codes (codes pink, blue, red, etc.). Many people have questioned whether certain hospital sock colors also have meanings. You can read the blog in full here, however other than wearing yellow socks to reduce fall hazards, the answer is typically no.
Hospital wristbands are one more instance we've found in our research where colors are used as useful tool indicators.
What Do the Various Hospital Wristband Colors Stand For?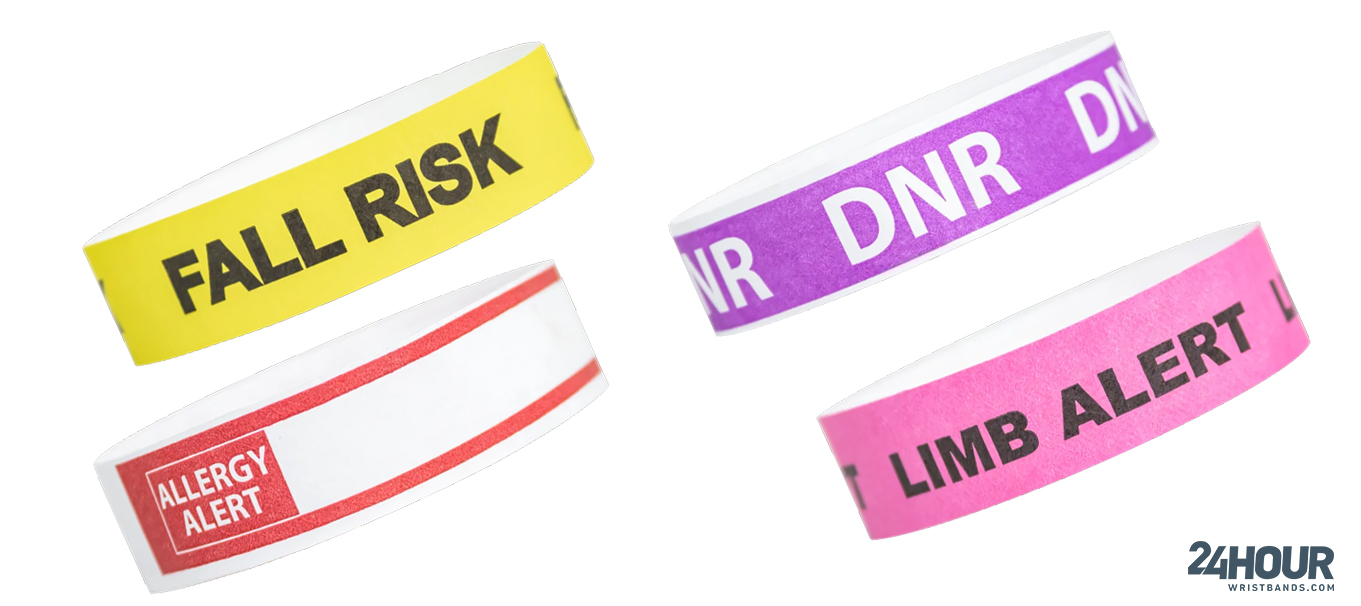 When staff members evaluate a patient's injuries or sickness after they arrive at the hospital, they frequently give them a wristband during triage. Although not universally accepted by hospitals, the following definitions for hospital wristbands are those that we have observed hospitals attempting to implement most frequently via web research, as was previously noted.
Yellow Hospital Wristbands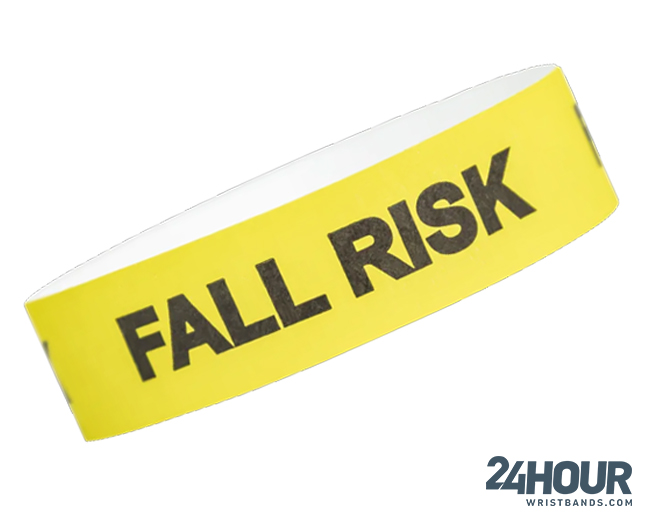 A patient who is yellow is at risk of falling. Patients who are dizzy, elderly, and unsteady on their feet, or who have received a lot of narcotics are most likely to receive wristbands.
Red Hospital Wristbands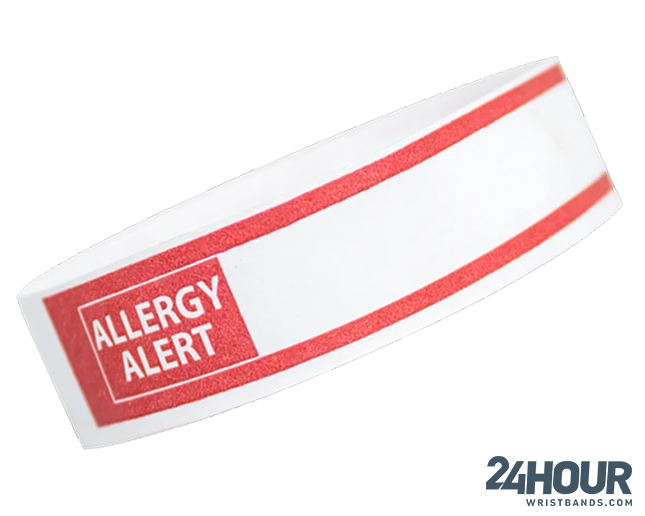 Today, many hospitals use red to indicate allergies. Red also denotes a need for great caution, so medical personnel are advised to pause and confirm whether the patient has any allergies to the food or medication being administered.
Pink Hospital Wristbands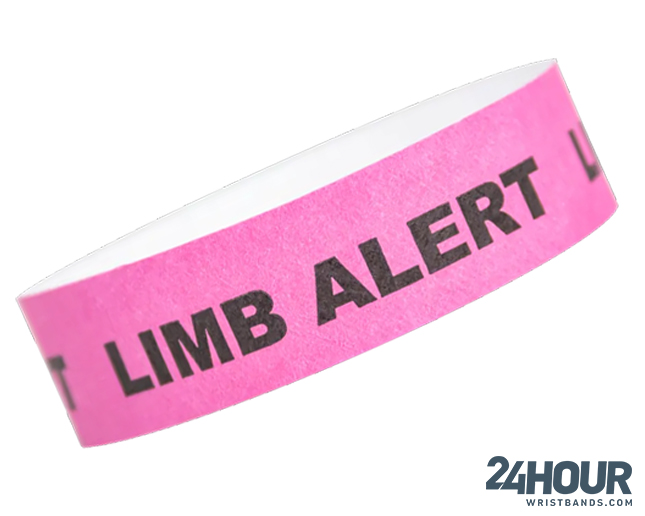 When a patient wears a pink wristband, it means they have a restricted limb or an extremity that needs to be treated carefully. The aim behind this is to steer clear of doing medical operations like measuring blood pressure, drawing blood, or starting an IV in an area where the patient could possibly suffer harm or injury.
Purple Hospital Wristbands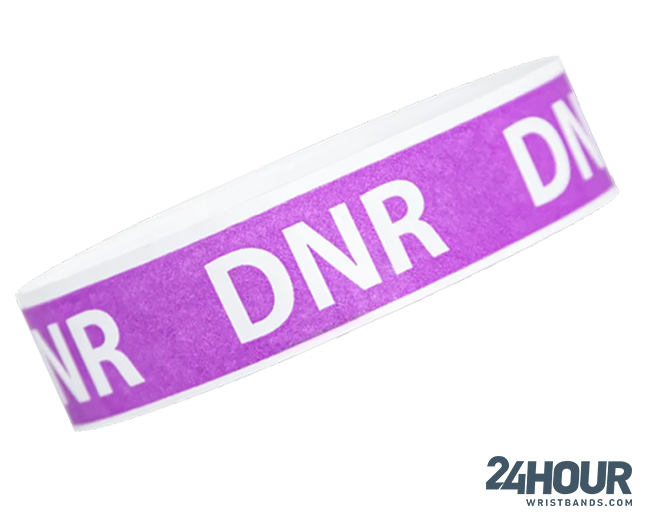 The idea of using a purple band as the official signal for a patient who is DNR was pushed, but individuals still disagree with it and it is still a contentious issue. Given persistent concerns, it appears that this hospital wristband color is the least frequently utilized in practice.
End Note
The fact that wristbands are very reasonably priced and simple to customize is only one of the numerous reasons why businesses and groups value them. Custom awareness wristbands can be created using a range of customizing choices. The amount, material, color, message, size, and design are the main factors to think about when customizing your awareness wristbands.
A variety of wristband materials are available, including silicone, cloth, vinyl, Tyvek, and paper. Every substance can serve a variety of functions. However, silicone is the substance that is most frequently used to make awareness wristbands.
Social media's widespread use has made it simpler than ever to spread awareness of various causes. It is also now simpler than ever to commemorate and promote this awareness thanks to modern technologies. Occasionally, certain causes are commemorated for a full day, week, or even several months.
Our team at 24hourwristbands.com frequently collaborates with clients organizing awareness campaigns of all sorts. Including assisting you in locating the ideal wristbands for your campaign, we are pleased to support you in any way we can. For further information, contact us right away or post a message below.