Because of a greater public understanding of the issue, most individuals now support the LGBT community. Do you want to rally to their defense and stand with them? If so, it is advised that you use LGBT silicone bracelets to reach as many people as possible with your message.
No matter how much progress has been made, communities and individuals are still subjected to verbal and sexual harassment, abuse, and discrimination. The LGBT (Lesbian, Gay, Bisexual, and Transgender) community is one such party that is struggling to remain alive and establish its identity.
Even though they do not blame it, the members of this community are mistreated for who they are. Sad to say, many of them take their own life as a result of this harassment.
Every promotional item used to assist the LGBT community has rainbow colors since they have emerged as a common symbol for gay rights. Continue reading this post for tips on how to celebrate Pride Month to the best of your ability if you plan on giving back.
We can assist you by offering LGBT silicone bracelets at just affordable prices.
What Is Pride Month?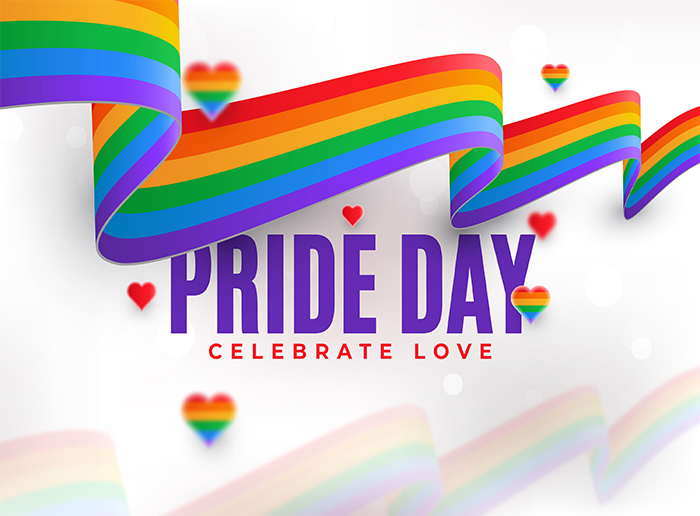 An annual celebration known as Pride Month is held in many cities all over the world. It honors the LGBTQ+ community and offers a platform for the ongoing battle for equality and the rejection of bigotry. Every person has the freedom to, and LGBTQ+ individuals are also humans.
Therefore, they merit equal rights and a society that allows people to be who they are and live their lives.
Given this reality, June is designated as LGBT Pride Month. To remember the Stonewall riots that took place in Manhattan in 1969, this month is observed. The Gay Liberation Movement in the United States reached its peak during these riots.
Originally, "Gay Pride Day" was commemorated on the last Sunday in June, but it has since expanded into a month-long celebration.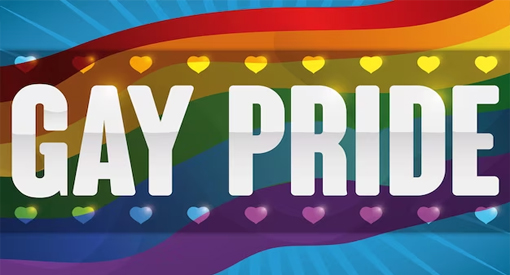 It aims to honor The "Stonewall Riots" and acknowledge the fight of LGBTQ+ people for equality. Several activities are happening all across the world during this particular month. Many customers and members of the LGBTQ+ community frequented the Stonewall Inn, a homosexual pub in New York City.
Police raids at the Stonewall Inn in the early morning hours of June 28, 1969, led to various protests from the LGBTQ+ community. It is said that these protests made a significant contribution to the LGBTQ+ rights movement and the struggle in the United States.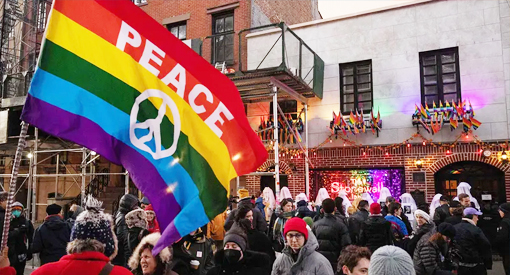 Additionally, several pride events are planned to commemorate this month and give the affected population a sense of inclusion in the wider world. This occasion ranges from barbecue to concert to pride march to workshops.
Celebrate Pride Month to Make a Statement With June being devoted entirely to supporting the LGBTQ community, we hope to have motivated you to seize this chance to create the best-customized pride attire to wear your identity out in the open.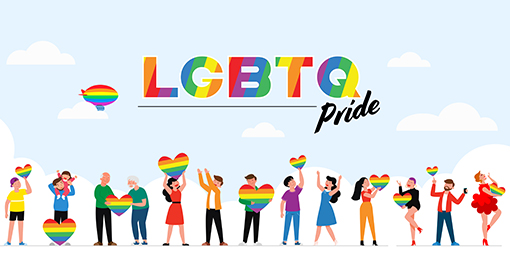 On these occasions, people from all across the world take part, assisting others in understanding the contribution that these individuals have made to their societies. These activities are made extremely successful by the usage of promotional materials like gay pride embossed bracelets, lesbian couple bracelets, pride t-shirts, ribbons, pride flags, etc. But the most common are custom silicone bracelets.
Rainbow For Pride Month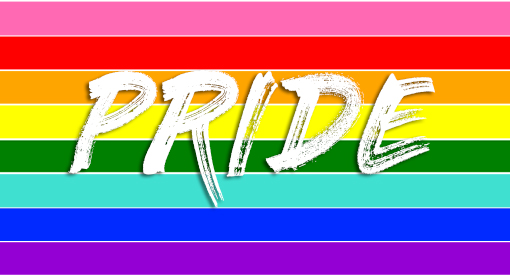 The rainbow pride flag, which is now widely recognized as the icon for the LGBTQ+ community, serves as Pride's official symbol. Gilbert Baker, a gay rights activist, created it for the first time in 1978, and it immediately gained popularity as a Pride festival symbol. In some depictions of the Pride flag, symbolic words are inscribed over the colors: life, healing, sunlight, nature, serendipity, and spirit.
Cyndi Lauper's song, "True Colors," declares, "Your true colors are beautiful, like a rainbow." Other versions also incorporate things like magic, sexuality, diversity, and inclusivity. Throughout the whole month of June, when most Pride-related events take place, the rainbow pride flag may be seen flying everywhere.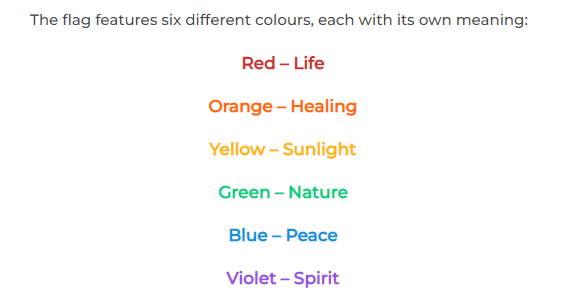 Today, rainbows are among the most popular symbols used to draw attention to the LGBTQ+ community and Pride celebrations around the globe. In addition to being seen on flags, you may frequently see numerous important structures lit up in rainbow designs at this time.
Why Pride Wristbands Are Important?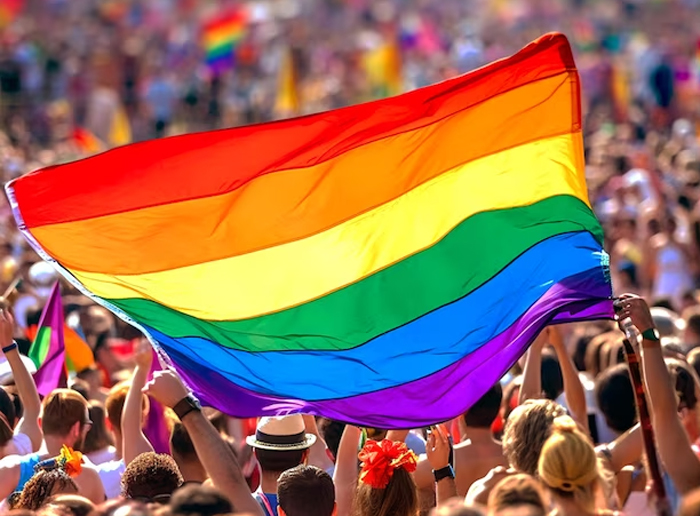 Gay Pride wristbands' capacity to raise awareness and foster acceptance is another crucial factor. People can express their support for the LGBTQ+ community by wearing a pride bracelet. This can encourage people to be more welcoming and open-minded and assist in tearing down barriers and preconceptions.
Wearing a wristband can also spark a dialogue, allowing people to share their stories and inform other friends about the LGBTQ+ community. For those who may not have previously had the chance to learn about or contact the LGBTQ+ community, this has the potential to have a very significant influence.
Wearing a pride bracelet can also operate as a call to action, reminding people that there is still work to be done to achieve complete equality and acceptance for all LGBTQ+ community members. Gay Pride silicone bracelets serve as a significant representation of love, acceptance, and development.
They are an effective way for people to connect with others who understand their problems and experiences, and they also assist in raising awareness and acceptance.
Silicone Wristbands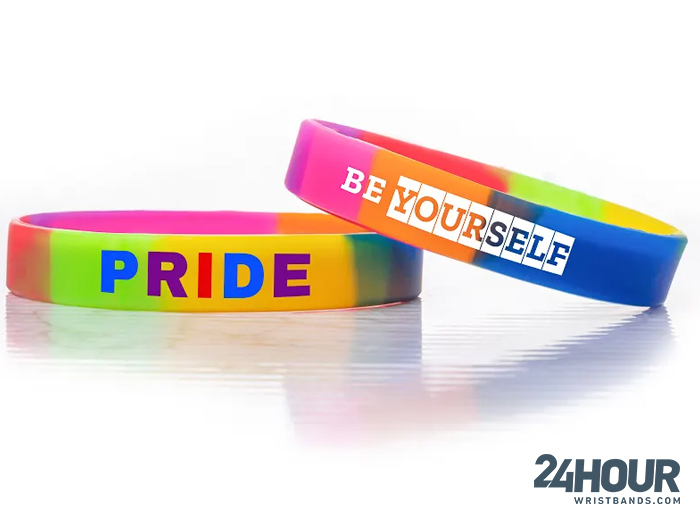 are a well-liked choice for occasions like pride. They would make the ideal promotional item to raise awareness or money for LGBTQ+ charities because they are also well-liked by charities. Wristbands are affordable, come in practically any color—including rainbow—and can be printed or embossed.
Add the fact that wristbands are proudly worn in conspicuous or other places, and you've got a great way to express and stand your support while simultaneously marketing your company.
The Various Pride Wristband Styles To Show Community Support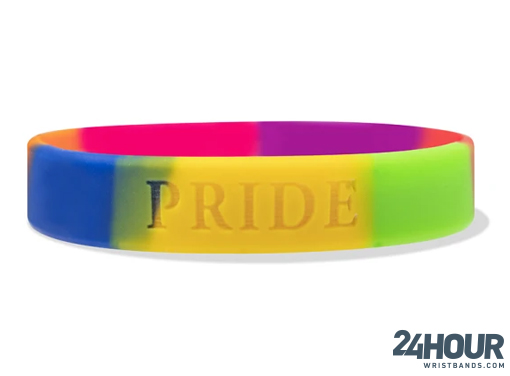 Silicone bracelets with your logo and messaging visible on the front make excellent self-expression tools on pride month. But does the layout of your silicone bracelets maximize their exposure and impact?
Customized-printed wristbands have been explored before, however, in this post, we concentrate more on the aesthetics of silicone bracelets. We provide the following advice to assist you in turning your concept into an excellent June pride events wristband.
Simple is Best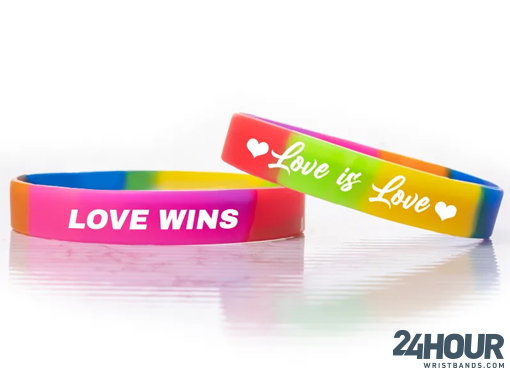 Keep the design of silicone bracelets facile for the best visibility. Don't overly combine words and logos. When text is added on top of a picture, the design may appear cluttered, making it challenging for your personnel to read the bracelet from a distance. Thus, even if the final design may be stunning, it can undermine the wristbands' intended function.
Do Not Use Small or Thin Fonts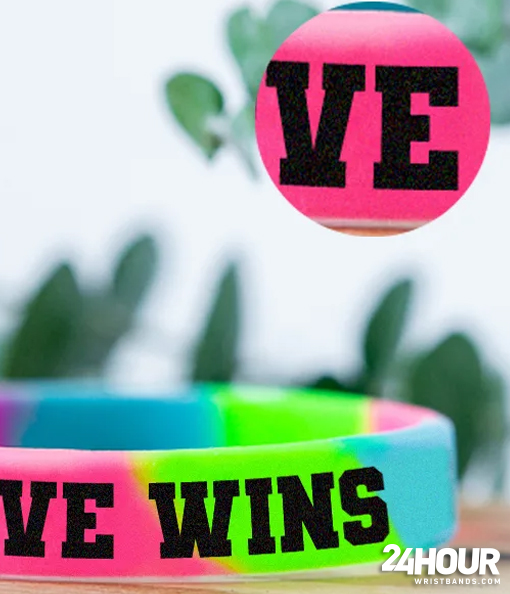 When printed, a computer-generated text might not always look exactly as it does on screen. First, there are restrictions on how small and thin the text may be while still being readable. Second, printers can only print so finely due to hardware limitations. In general, stay away from employing fonts with a point size of 6 or less because little text on a bracelet is difficult to read.
Because the threads used to weave the bracelets are several pixels thick, font size and thickness are particularly important. In general, cursive and script typefaces should be avoided since they have incredibly small lines that resemble handwriting. Instead, to make yours visible from a distance, choose a thick Sans Serif font like the one on this pride month bracelet.
Avoid Images of Web Quality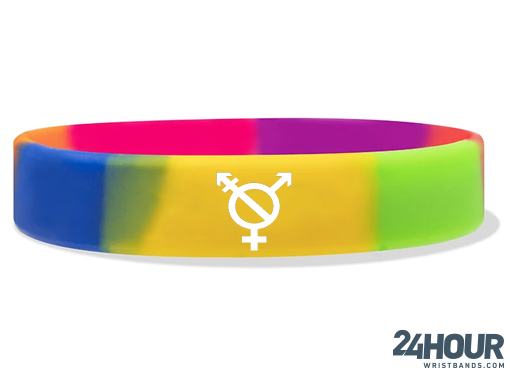 Make sure the pictures or graphics you intend to use on your pride month bracelet have a resolution of at least 300 dpi. In general, refrain from utilizing web-based graphics or any program's built-in clip art. Web images often have 72 dpi, which is much lower than the advised 300. Although a raw image is not necessary, there is never too much detail.
Employ Templates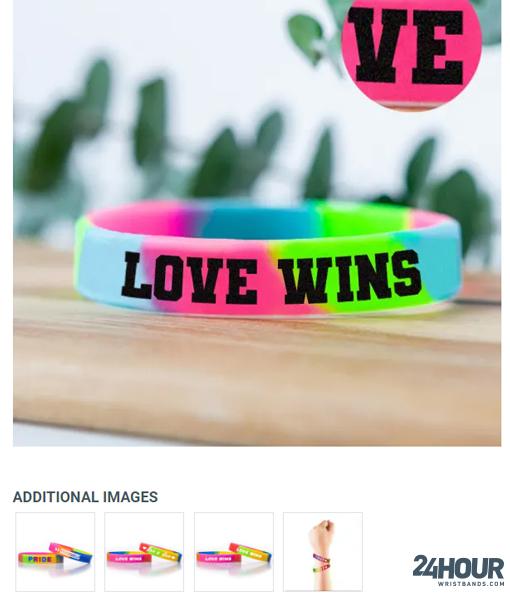 Unsure about the best way to apply your brand or design to a rainbow pride month bracelet? To help you create the ideal customized rainbow pride month bracelet, we offer rainbow pride month bracelet templates for download. The imprint locations on the templates are indicated, allowing you to determine whether your design will fit on the rainbow pride month bracelet.
Custom Pride Wristbands Style: A Ways To Support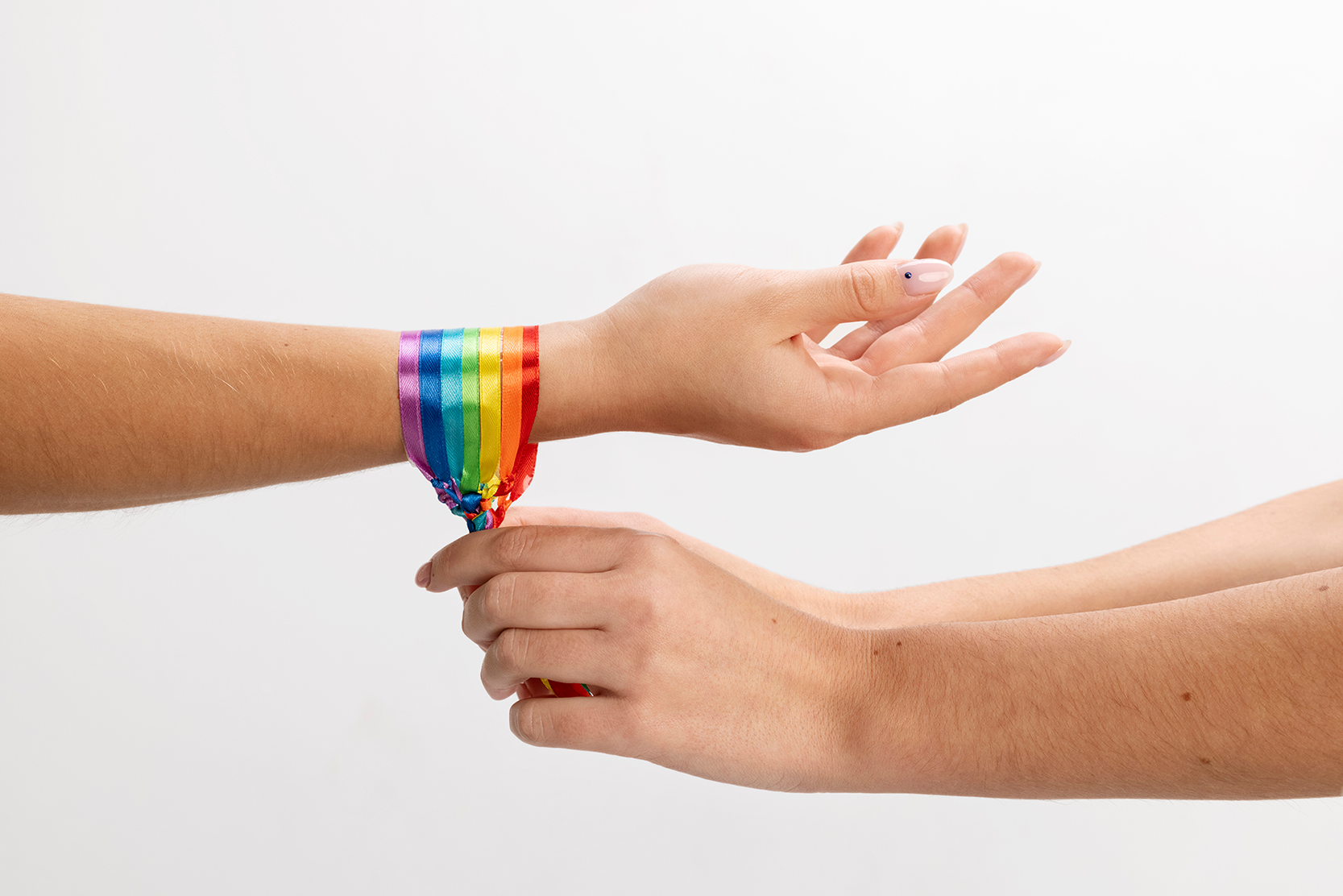 For LGBTQ+ people, Pride Month is a significant event. It's a moment to celebrate uniqueness, unite as a community, and have vital conversations about problems that affect people's daily lives. But pride isn't just recognized in June, it can be observed all year round in a variety of ways.
Although Pride Month may not be a customary time for gift-giving, the Pride Month gifts in our roundup can encourage you to go shopping. After all, Pride is a month full of awareness, celebrations, and parades for the LGBTQ+ community, and you want to demonstrate your support. Even if you are not a member of their group, this article offers a few ideas for providing your friends with genuine Pride support that they will like.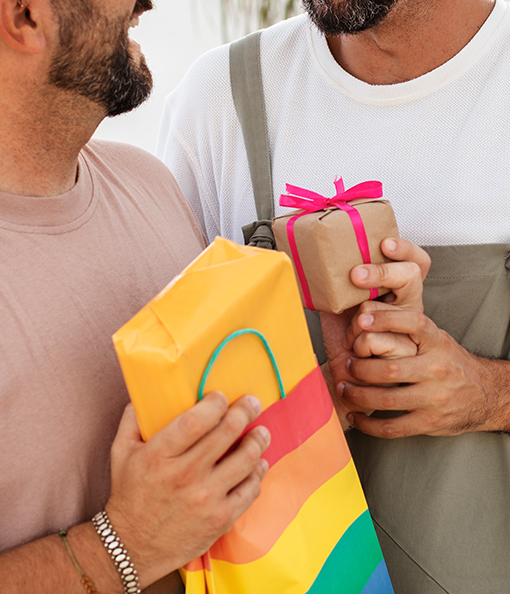 Today, Pride celebrations are open to everyone who identifies sexually in a way other than the gender binary. But you'll also notice outsiders entering the group. It's possible to see supporters from beyond the LGBTQ+ community taking part in the celebrations.
Don't worry if you can't make it to a Pride celebration this year but still want to support the community. You can still show your support for LGBTQ+ persons in a variety of ways. The following are some ways that you can support Pride Month by wearing a rainbow wristband.
Wear Your Pride and Share The Love Bracelets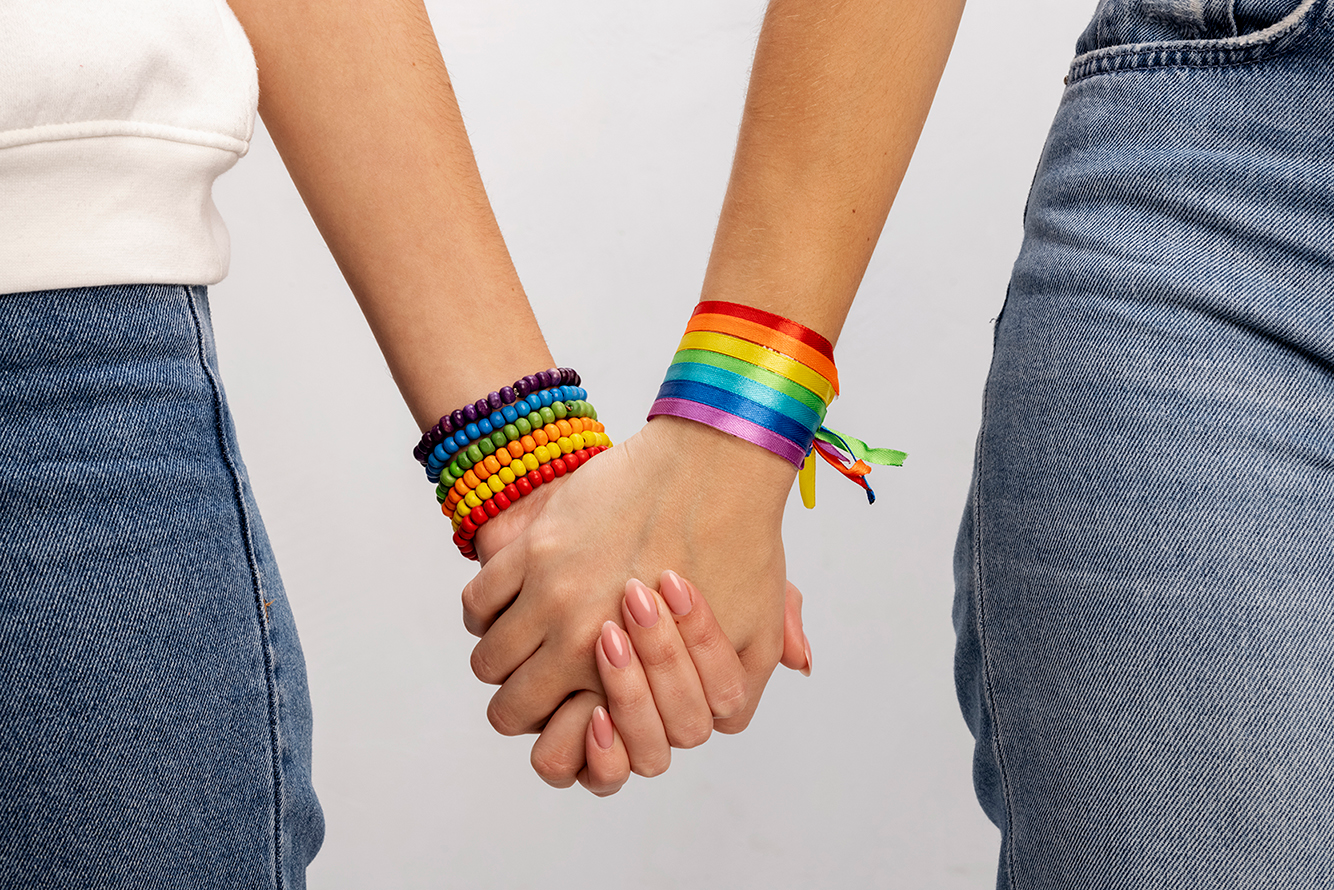 Pride shouldn't only last for one month. It needs to be honored each day. To show your pride and convey your love, wear one of these inspiring wristbands. If you believe that everyone has the right to love and be who they are, then this LGBTQ+ bracelet is the perfect accessory for showing support.
By selecting one of our customize Pride bracelets as your LGBTQ+ present, you convey the idea that love is love. Whether you're a part of the movement or you have a connection to someone who is, wearing this wristband is a great way to show your support.
The custom Pride wristbands collection seeks to spread good words and upbeat feelings while uniting people through love and getting rid of negativity. The message on these bracelets is that hate has no place in this world and that love overcomes all obstacles. You not only serve this expanding market by doing this, but you also support equality and celebrate diversity.
Be Gay and Keep Calm Bracelets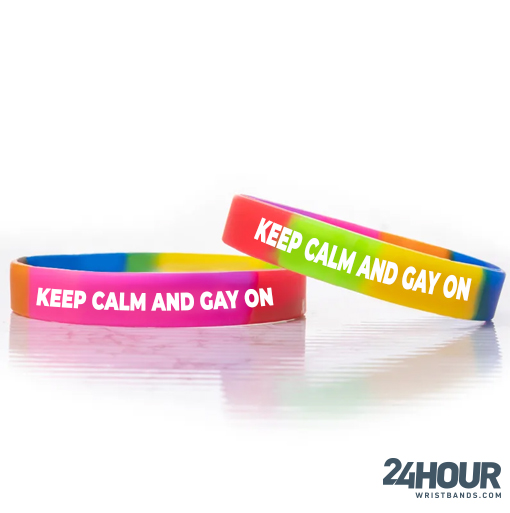 Pride Month, which begins in June and honors the LGBTQ+ community and their struggle for equality, begins that month. Regardless of sexual orientation or gender identity, this month is all about celebrating the advancements made in securing rights for everyone. It is also a chance to consider how much work still needs to be done to build an inclusive society. We should indeed maintain our composure in the face of difference, live in a spirit of inclusivity, and be in awe of the diversity of the human race.
These custom Be Gay and Keep Calm bracelets are a fantastic way to express your pride and make a statement. The encouraging phrase "Keep Calm and Gay On" is printed on the sturdy silicone material that they are manufactured of. You can choose the color that best suits your style because they are available in several shades. So take advantage of Pride Month to express your support for the LGBTQ+ society and make a statement through custom rainbow bracelets.
A Prideful Salute Rainbow Wristband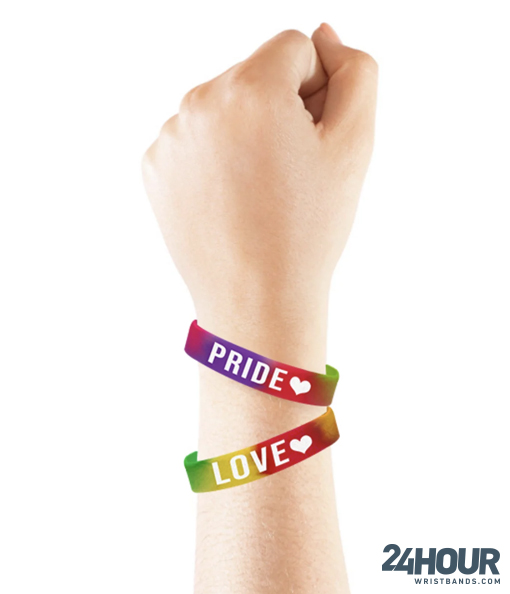 Pride Month is significant because it serves as a reminder of the obstacles that still need to be overcome as well as the progress that has been made in the battle for freedom. This is an opportunity for us to come together as a group to encourage those who have sacrificed much to improve our society.
This Pride Month, let's raise a glass to all those who have worked so hard to ensure that we can live openly and without fear of discrimination. Salutes of pride. There are many ways to celebrate this unique time with those close to you, whether you want to go to a parade, concert, or festival for pride, host your own party, or simply wear the colors of the rainbow that represent pride.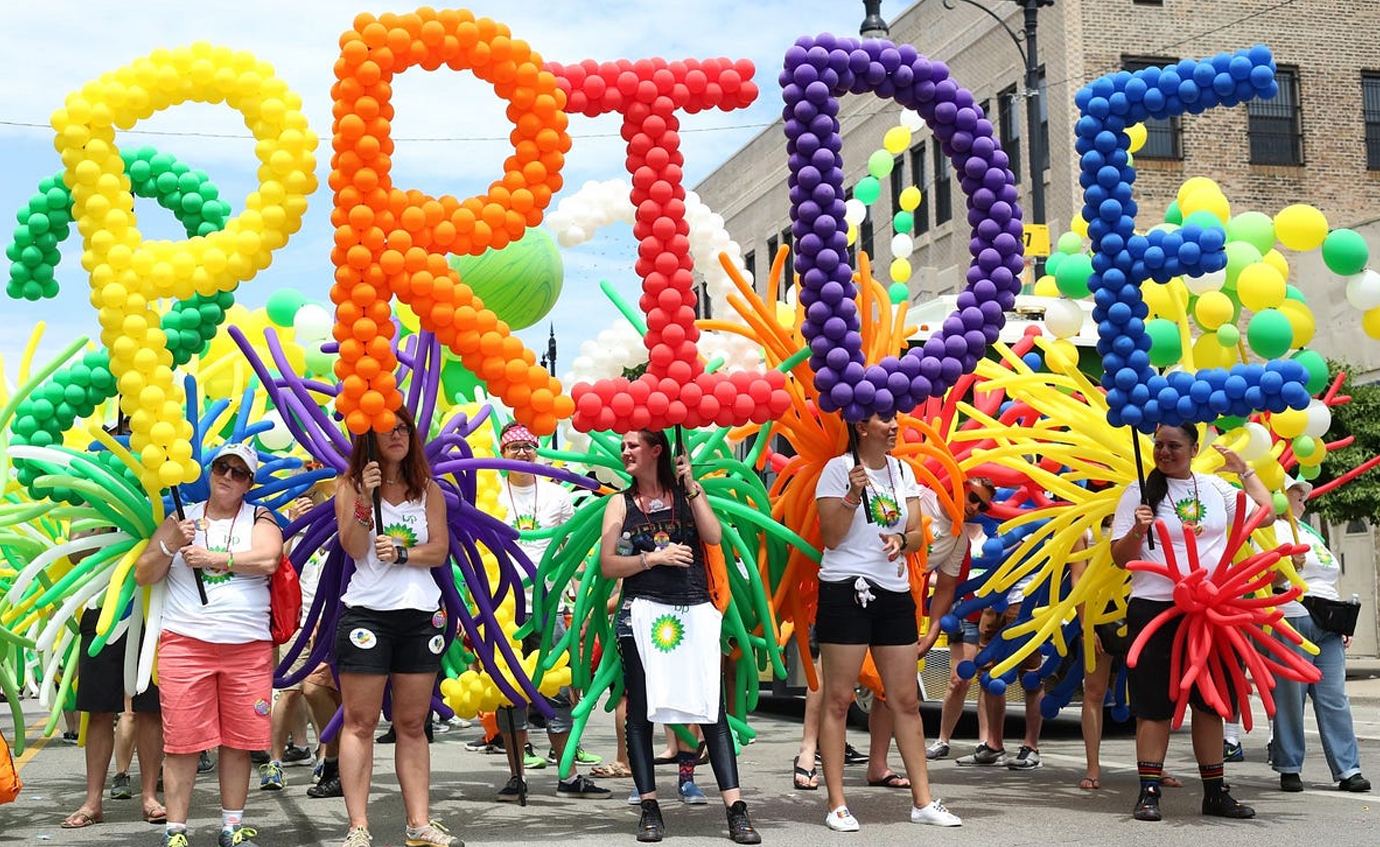 For individuals who want to express their hope, support, compassion, and solidarity, 24hourwristbands.com has introduced its new customization of Prideful Salute Wristbands this year. These custom wristbands commemorate the history and diversity of the LGBTQ+ people by using brilliant colors and deep statements. You may display your pride and convey what it means to be an ally by wearing these custom rainbow awareness bracelets. So join us in celebrating our uniqueness throughout Pride Month!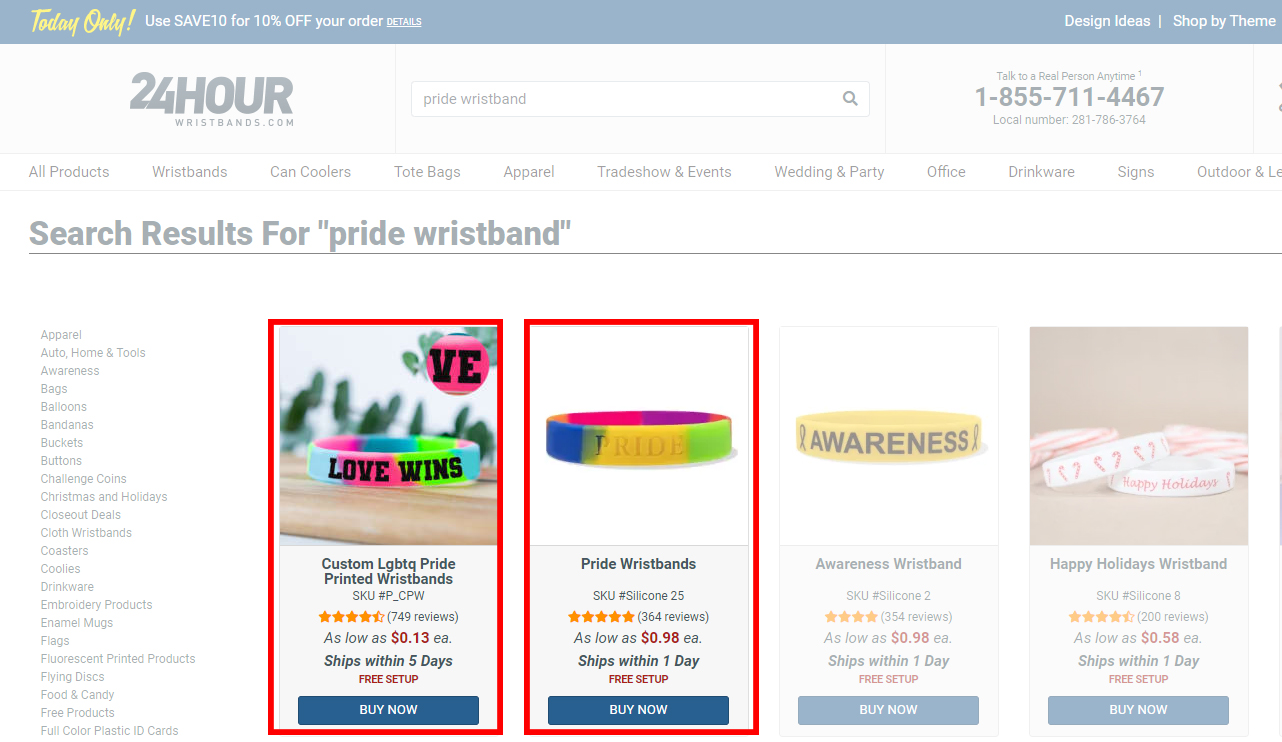 Love Wins Rainbow Wristbands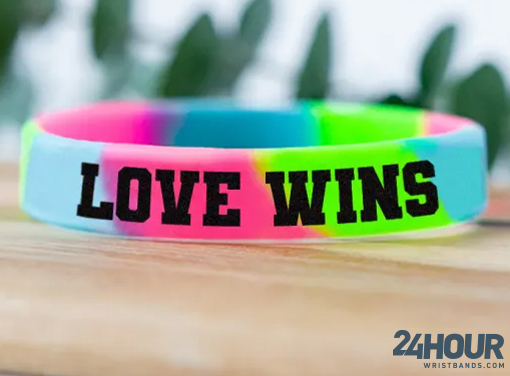 The LGBTQ+ people celebrate and are honored during June. It's a time to celebrate the advances in acceptance and sameness, but it's also a time to acknowledge that more work has to be done. Let's pause for a moment during this Pride Month to reflect on the reason we fight for love: Love Wins.
This Love Wins Rainbow bracelet stands for equality, acceptance, and love. Wearing this accessory will remind us of how far we've come in terms of inclusivity and acceptance for all. The Love Wins Wristband serves as a straightforward reminder that regardless of ethnicity, gender identity, or sexual orientation, we are all members of the same human family.
This Pride Month, let's band together to demonstrate our support for one another and recognize the difference that makes us special. Simply create and upload your favorite pictures of you and your partner and personalize your bracelet with a pride slogan or the date that you two first met.
Proud To Be Different Rainbow Wristband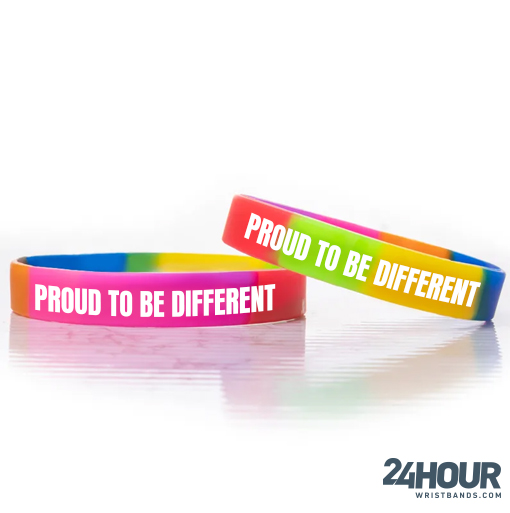 Recognizing that being different is something to be proud of is crucial as we look to the future. We ought to celebrate and draw strength from our differences. By being more knowledgeable about the world of LGBTQ+ people and their history, standing up for their rights, and acknowledging that everyone deserves respect regardless of who they are or who they love, in celebrating Pride Month awareness. Let's all seize this chance to band together in support of one another and display our pride in being different.
Wearing rainbow bracelets that read "Proud To Be Different" is one way to demonstrate your support. Each of these wristbands' various colors and designs stands for a particular aspect of the LGBTQ+ population. They are a great way to indicate that you are proud of who you are and that you stand in solidarity. During Pride Awareness Month, wearing these amazing Proud To Be Different rainbow bracelets is a simple way to create and represent to let everyone know that you support them.
Born This Way Pride Wristband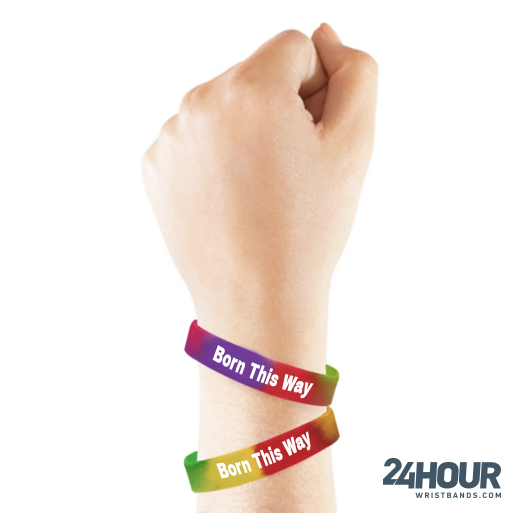 This month serves as a reminder of the strides we have made toward establishing a welcoming and inclusive society for everyone. We must not lose sight of the fact that there are still people or even one of our friends who are not accepted for who they are, and that things were not always this way. No of their sexual orientation or gender identity, everyone ought to be able to live with pride and respect. The Born This Way quote serves as an inspiring reminder of what we can achieve when we band together in unity and acceptance.
Our website has made special merchandise available to celebrate this noteworthy month and show our gratitude. The Born This Way Wristband is one of these items, serving as a reminder to everyone that we should embrace our variety. The wristbands are ideal for any event because they are available in a wide range of shades and designs. We support LGBTQIA+ people and raise awareness of the value of inclusiveness by wearing these wristbands.
I Will Not Conceal My Pride Wristband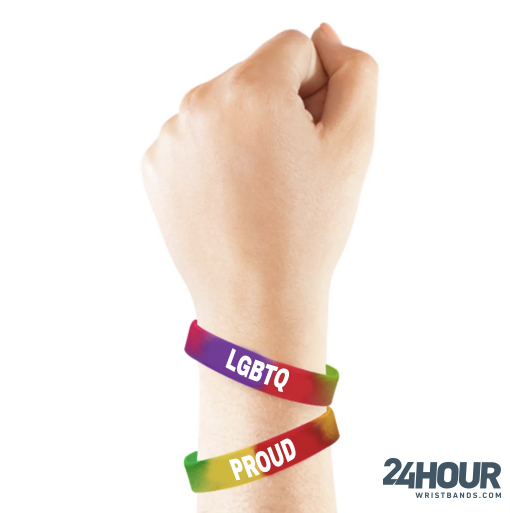 A moment to honor those who are LGBTQ+ and acknowledge their achievements and hardships. This month offers us a chance to take stock of how far we've come in the battle for freedom and to celebrate who we are. It's time for us to spread awareness and unite as people, share our stories, and effect change for the better. It's crucial that we, as members of the LGBTQ+ parties, don't hide our pride this month. We must be outspoken and proud of who we are and the values we uphold, including respect for all.
Many of us or even millions of people wore wristbands that read "I will not conceal my pride" to demonstrate our support. These awareness handmade bracelets serve as a reminder to always be confident in who we are and to never conceal who we truly are. Additionally, they contribute to raising awareness of the value of accepting and embracing everyone, regardless of their sexual orientation or gender identity. Wearing these bracelets is a fantastic way to promote and represent the LGBTQ+ parties not just during Pride Month but all year long.
Tips: Choosing the Right Color Theme for Your Pride Wristbands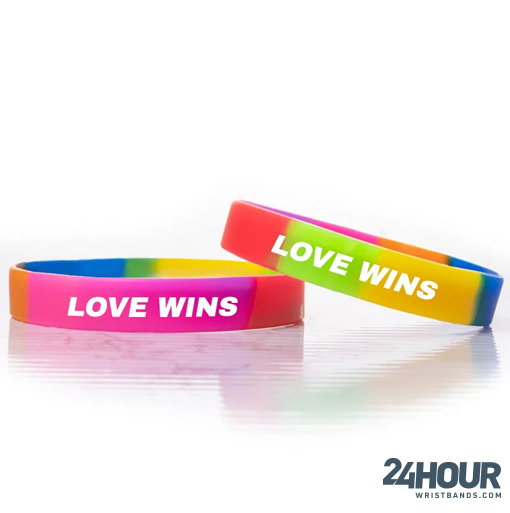 The LGBTQ+ population is recognized and honored throughout Pride Month. Custom wristbands make it simpler than ever to show your allegiance to the cause. On the other hand, how do you pick the ideal color scheme for your Pride wristbands? Making ensuring that your colors accurately convey your message and speaking out in a crowd is crucial. You can create a striking design that displays your pride by using the ideal color combinations!
You can make a striking design that displays your pride by using the ideal color combinations! The Pride Month flag's official colors are violet, red, green, and blue. Why are these colors? The colors represent in for the LGBT rainbow flag.
Choosing the color scheme that will best express your pride might be challenging because there are so many different colors and designs available. You can choose from traditional rainbow-inspired colors to more subdued but equally brilliant tones to find something that matches your taste and best conveys your pride.
Are you ready to begin collecting Pride wristbands? If so, have a look at these few example colors and be ready to have a blast within a rainbow arm.
Bright Colors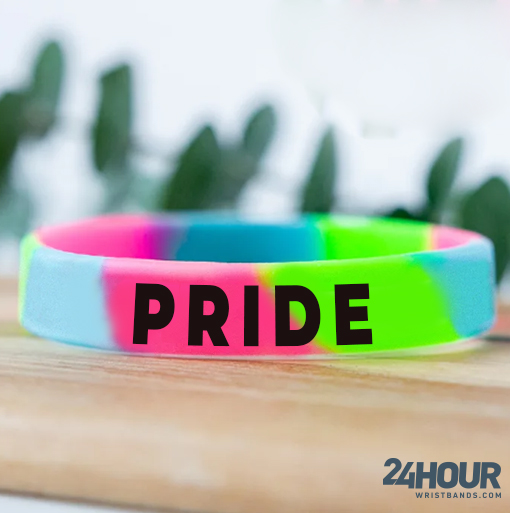 The best way to convey your most enthusiastic feelings is through the use of bright colors. They're excellent for activities like parades or gatherings that could call for a lot of vigor and excitement.
Rainbow-Inspired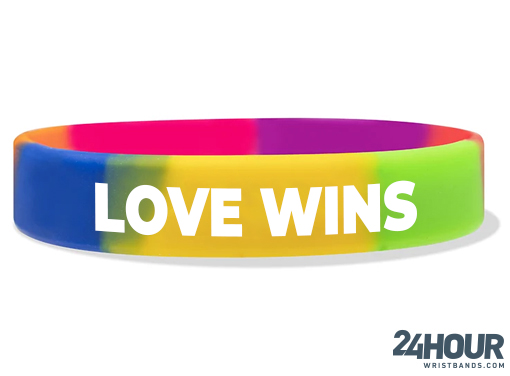 These colors have been accepted by LGBTQ+ individuals for years, so they will certainly convey your pride in a fashionable way. You may maintain a sophisticated look while yet letting everyone know that you are a part of the rainbow tribe by using pinks, jewel tones, and pastels.
Pink-Inspired Color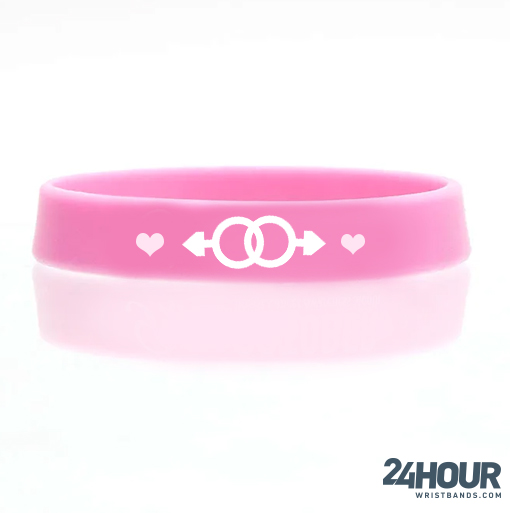 One of the most recognizable symbols of Pride Month is the color pink. The people of LGBTQ+ people is powerfully represented by it, and it serves as a visible reminder that everyone deserves to be welcomed for who they are.
People can use the color pink to indicate their support for a more accepting society and their solidarity with LGBTQ+ individuals during Pride Month. Pink also connotes optimism, joy, and love, all of which are necessary for fostering an environment that is safe for everyone, regardless of their sexual orientation or gender identity.
Purple-Inspired Color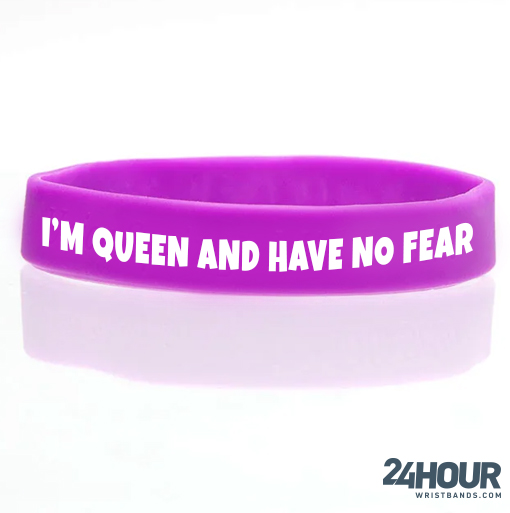 Purple has come to represent the people who are LGBTQ+. The vivid color stands for inclusiveness, diversity, and acceptance. It serves as a reminder that all people, regardless of their sexual orientation or gender identity, should be treated with respect.
Since activists began donning purple armbands during rallies in the 1970s, the color purple has been associated with expressing support for LGBTQ+ rights. In recent years, it has developed into a potent representation of social togetherness and an essential component of Pride festivities all around the globe.
Various LGBTQIA+ Wristbands Color Are Represented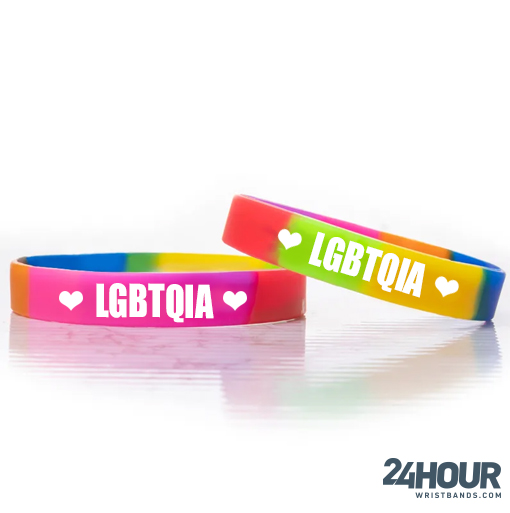 The traditional rainbow color is usually the first thing that comes to mind when we think about Pride Month. However, a lot of people are unaware that the diverse queer society is represented by a variety of other identifiers as well as the colors.
While many members of the LGBTQIA+ people identify with the rainbow's all-encompassing colors, each party in addition to Pride Flag has its own wristband to signify the distinct contributions and experiences it has made to the larger society. The various bracelet colors and what they stands for are listed below.
The Gilbert Baker Pride Bracelets Color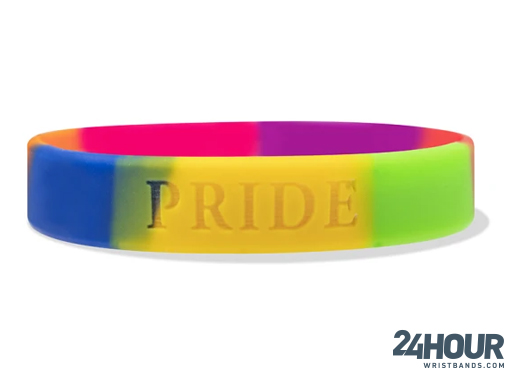 At the request of Harvey Milk, the first openly gay elected politician in California, Gilbert Baker developed the original rainbow pride colors in 1978. Gilbert chooses the rainbow because it stands for hope.
Pink symbolizes sexual activity, Red represents life, Orange healing, Yellow light, Green nature, Turquoise magic, Blue balance, and Violet soul.
Queer People Bracelets Color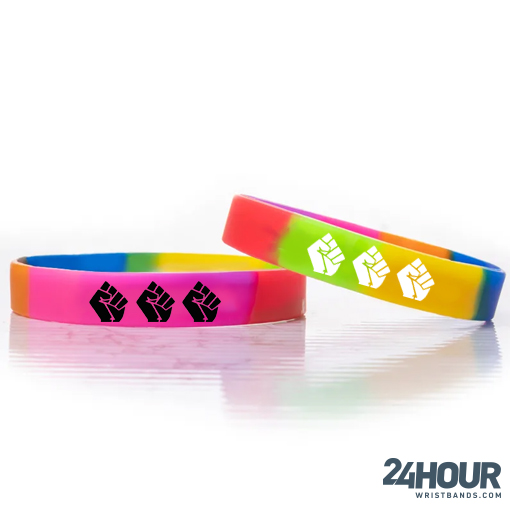 The bracelet's color, which stands in support of the Black Lives Matter (BLM) movement, depicts the intersections of the Black and queer communities despite the fact that its creator is unknown.
Transgender Bracelets Color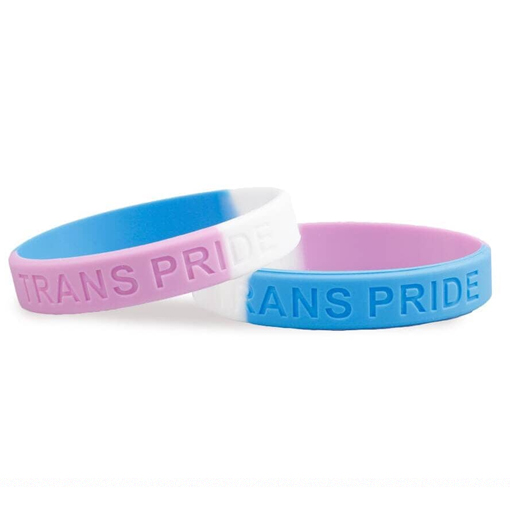 According to Pride, a website devoted to queer pop culture and entertainment, Monica Helms created the color in 1999. The pattern on the color was designed in such a way that no matter how you use the color, it would always be accurate.
White denotes persons who are transgender, have no gender identity, or are gender-neutral. Blue denotes boys. Pink denotes girls.
Bisexual Bracelets Color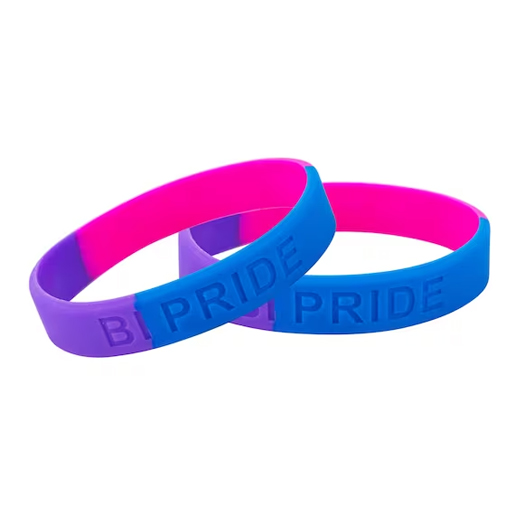 Bisexuality can take many different forms, thus the colors on these bracelets are designed to represent the various sorts of attraction that might occur. According to Pride, the color's designer, Michael Page, sought to make something that bisexual people could identify with.
Lesbian Bracelets Color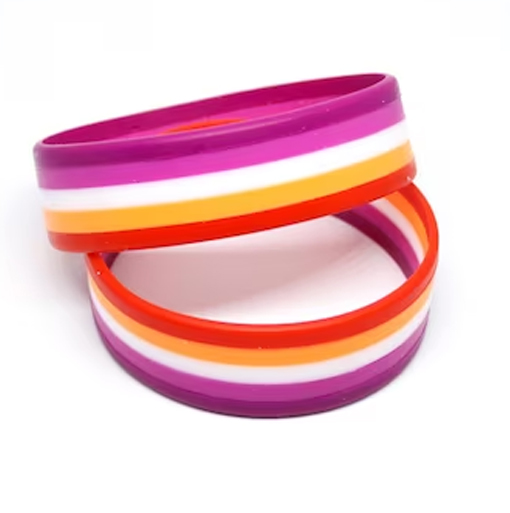 This color's original design featured a red lipstick kiss mark, however over time, this iteration was phased out and a new one with orange stripes was unveiled to reflect those who identify as gender nonconforming.
Dark pink: femininity; Middle pink: love and sex; Light pink: serenity and peace; Dark pink: gender nonconformity; Mid orange: independence; Light orange: unity; White: particular links to women.
Nonbinary Bracelets Color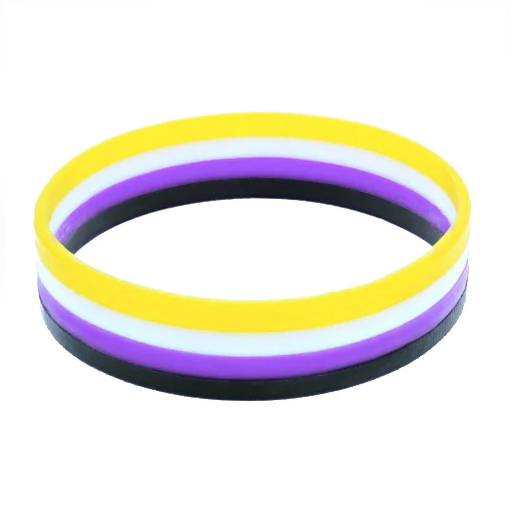 The nonbinary color, which Kye Rowan invented in 2014, stands for those who identify as neither men nor women and are nonbinary.
Purple: symbolizes genders that are a blend of male and female; Black: represents people who are agender; Yellow: represents genders outside of the gender binary; White: represents people who identify with many or all genders.
Asexual Bracelets Color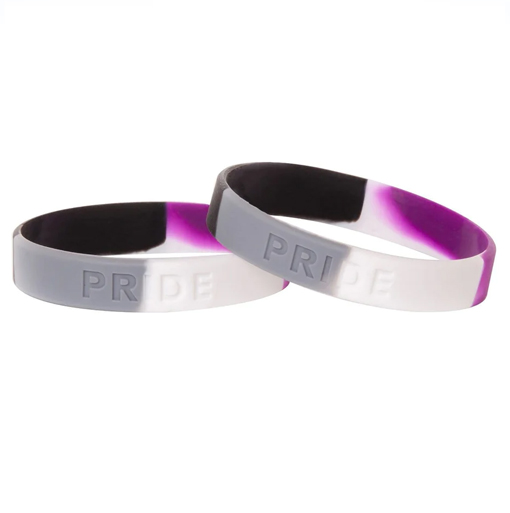 According to the Asexuality Club, being asexual means having no sexual interest. Asexual people rarely, or under specific circumstances, or if there is a deep emotional connection, experience sexual attraction.
White stands for sexuality, Gray for gray asexuality and demisexuality, Purple for society, and Black for overall asexuality.
End Note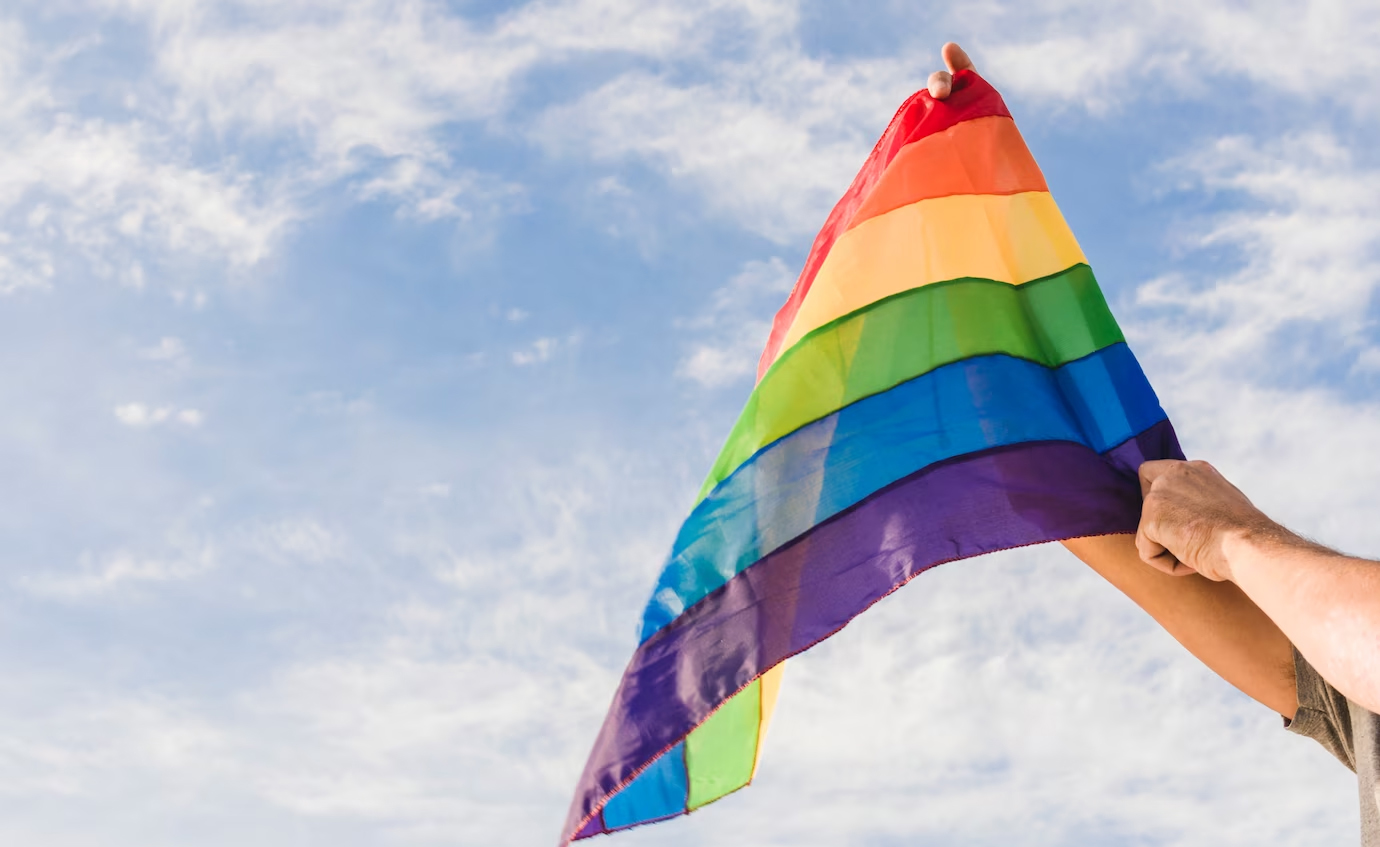 It's critical to keep in mind that the fight for LGBTQ+ rights is far from ending as Pride Month draws to a conclusion. Even if there has been improvement in the last few years, acceptance and equality still need improvement. This month should be used to think back on how far we have gone and how far we still have to go. Let's celebrate our differences this month and make a commitment to building a more welcoming world for all.
Custom bracelets are a useful item for everyone. Additionally, it is a green choice for customers who want to use less non-recyclable products. To draw in more LGBTQ+ customers, restaurants, bars, and other gathering places need pride bracelets.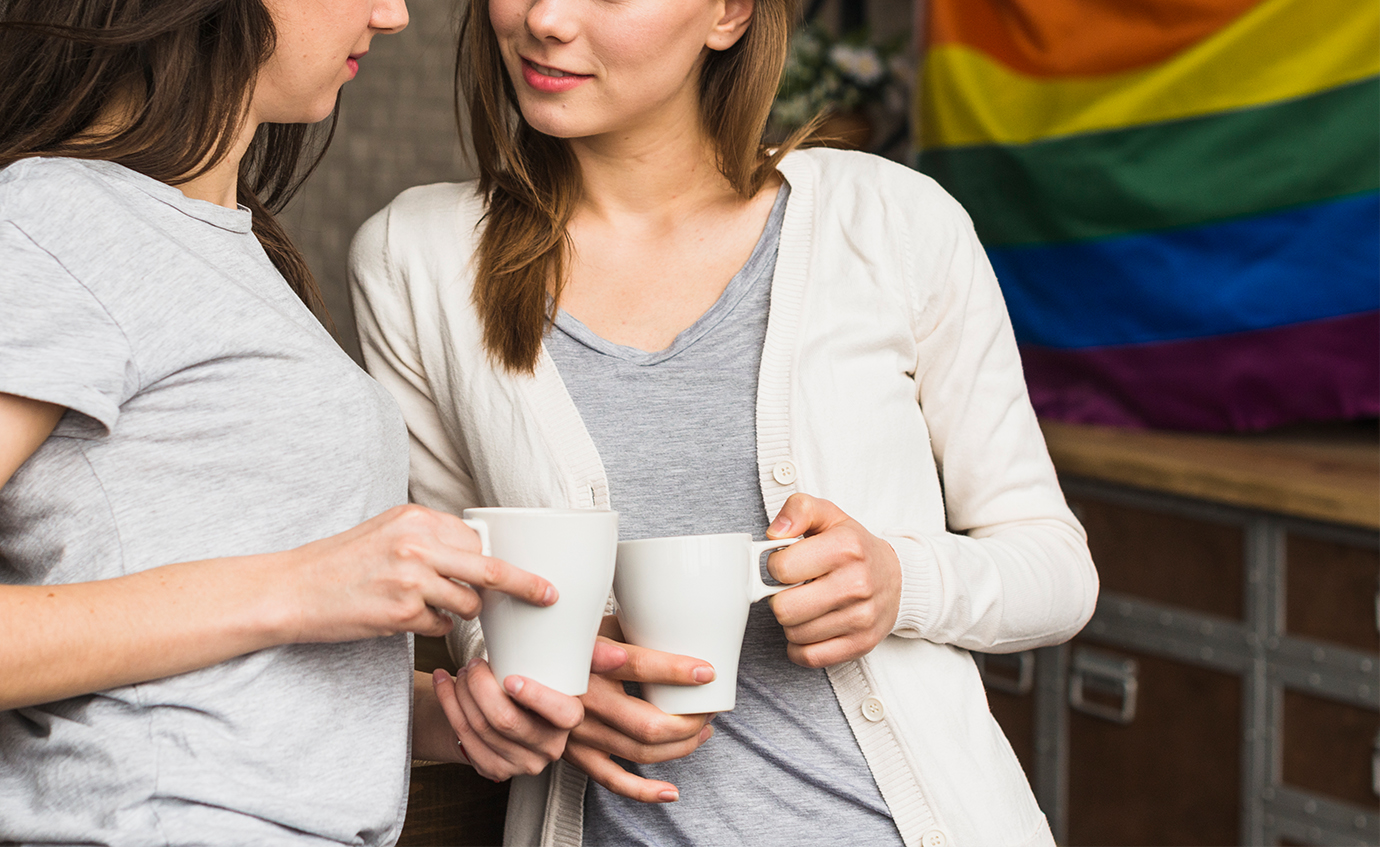 The bracelets with messages can help for-profit businesses leverage their brand, market their services, advertise, and more by employing them as low-cost fundraising ideas.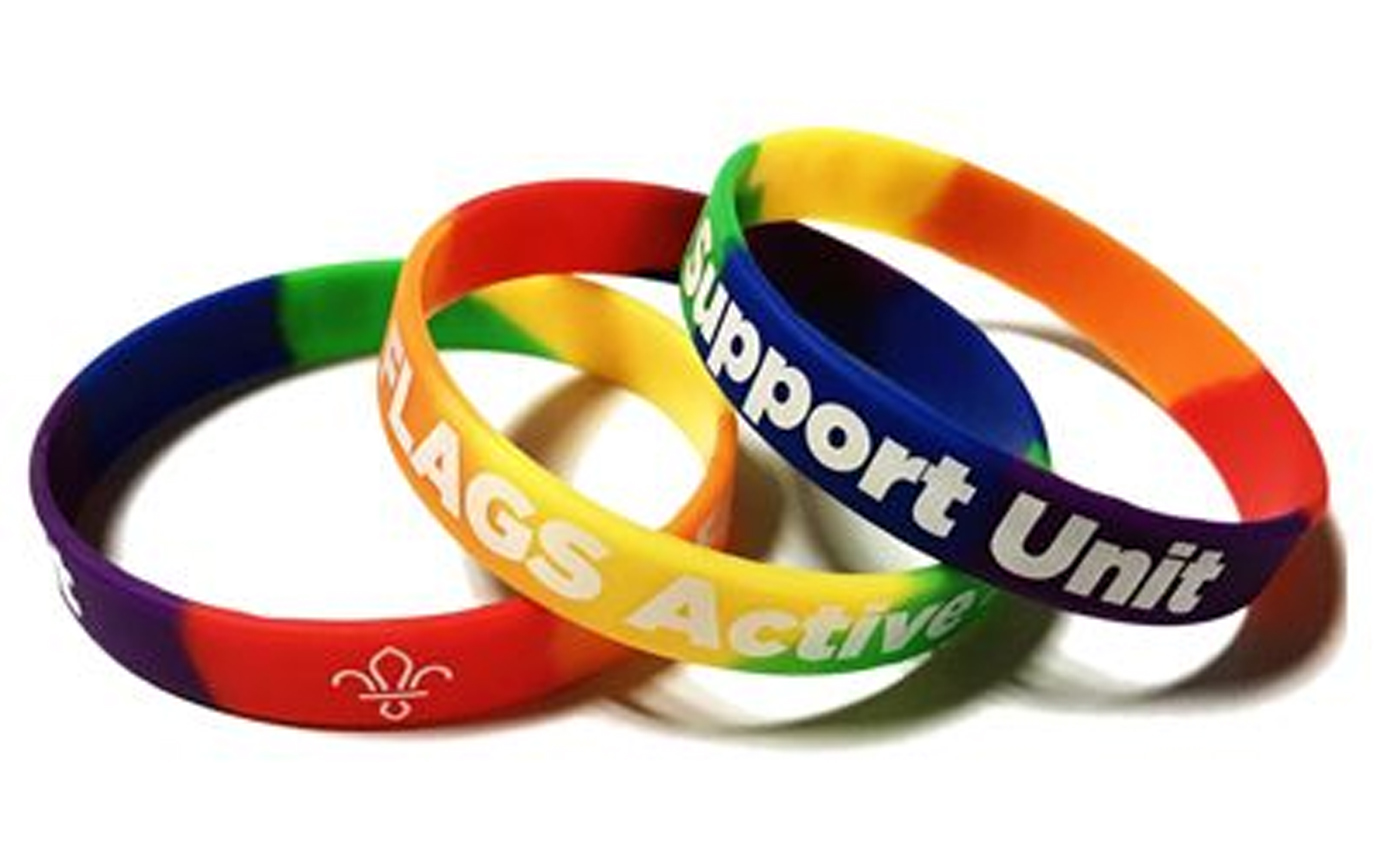 Our band maker makes it simple for you to design one that stands out, whether it's for an occasion, a cause, or just for fun. No prior knowledge of graphics or design is required! This manual will show the process and provide step-by-step instructions that will walk you through the procedure if you need help at any time.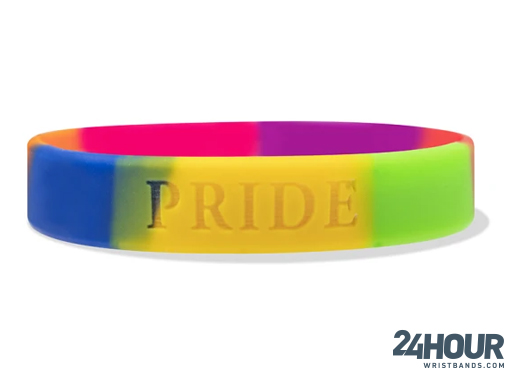 Our bands are crafted from premium materials and are available in a range of eye-catching hues, making them ideal for all events. Shop our array of Pride Wristbands today to mark Pride Month or just to show your support. Contact us for more services!