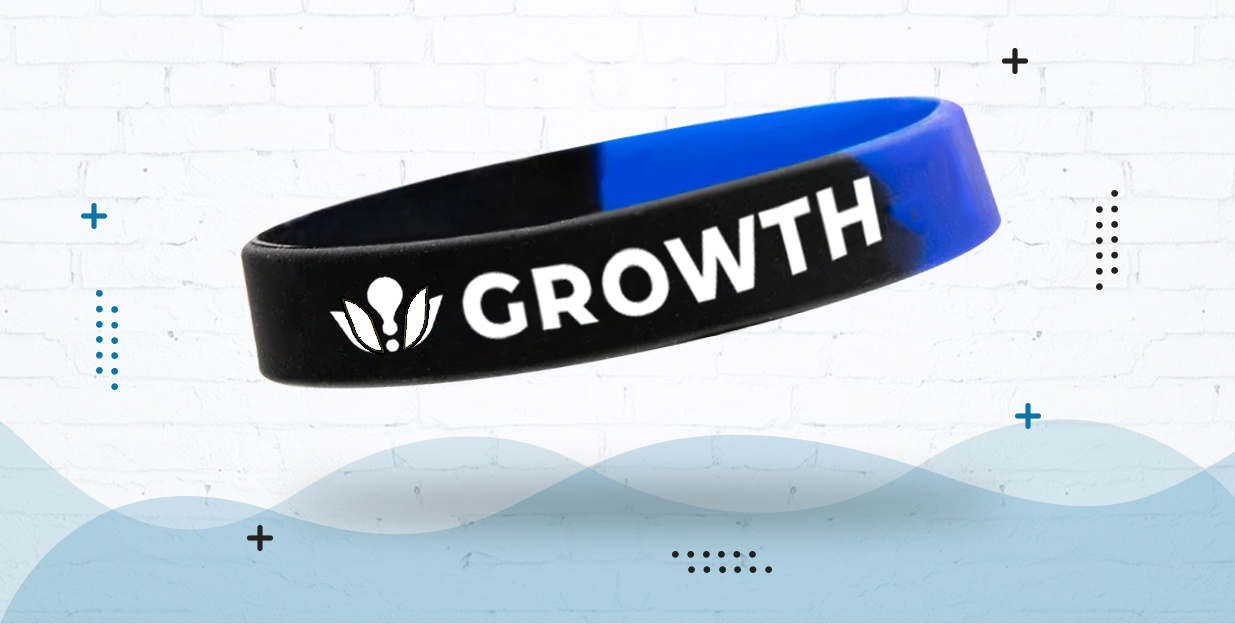 Branding tools have changed dramatically with the advancement of technology. Brands now rely more on digital branding than product branding. For masses and small budget campaigns, sports wristbands can be a great tool to utilize.
If positioned correctly, a athletic wristbands can become a clothing accessory. This makes the branding campaign more environmentally friendly and durable. People can keep wearing their wristbands weeks after the event ends. Unlike flyers or brochures wristbands are less likely to be littered all around the venue.
Sport wristbands can add value to your branding campaign in the following ways:
Brand Visibility: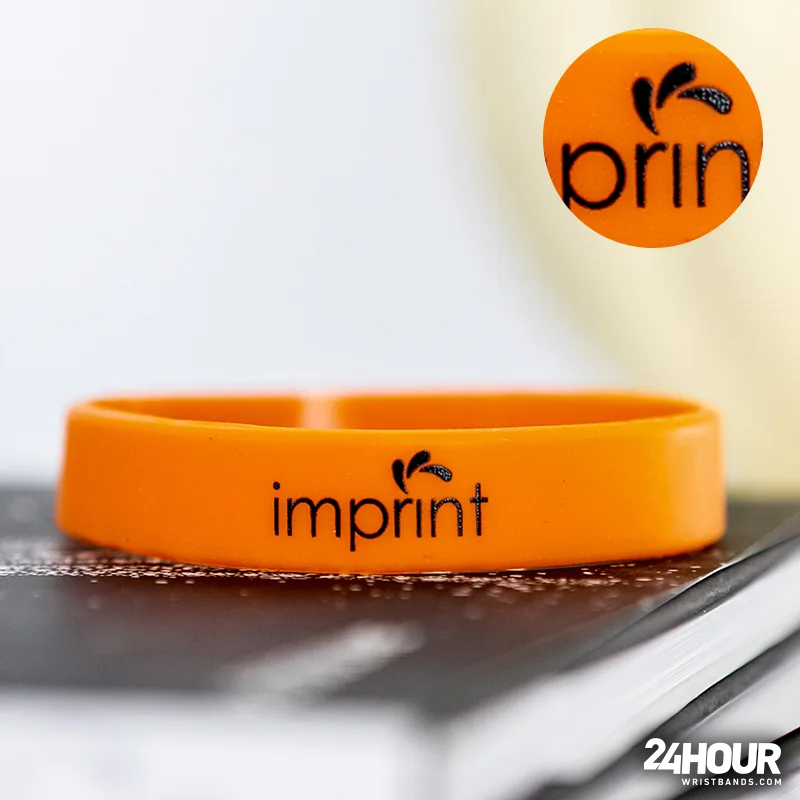 Sports wristbands convey different messages. They help create a space for your brand. If catered to the target audience with proper colors, fonts and graphics that match the event or venue, athletic wristbands can become highest quality advertisements and overall increase the visibility for your brand.
Brand Association: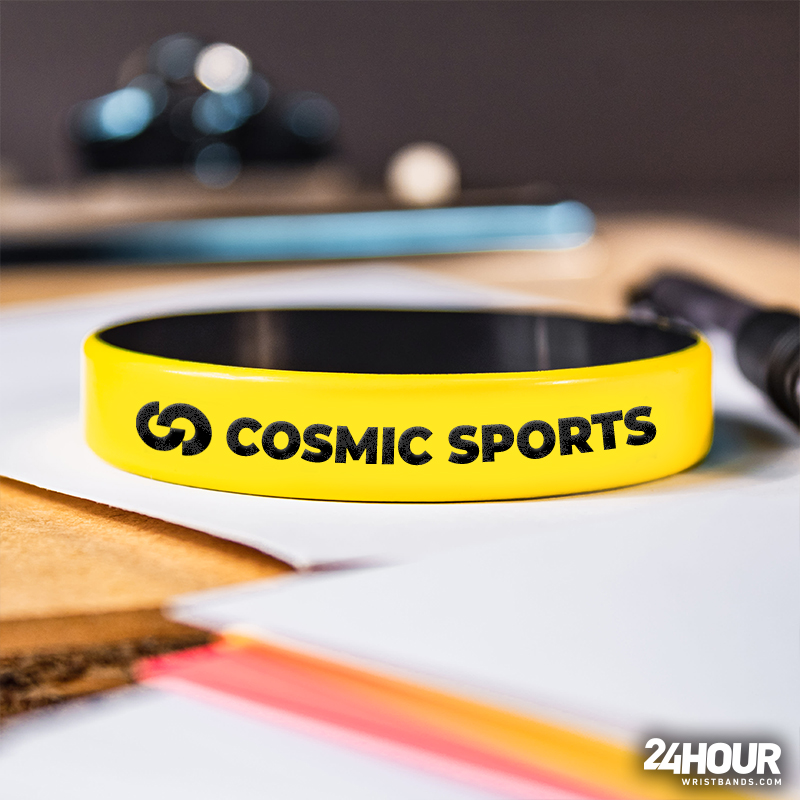 Associating your brand with sports and an active lifestyle through wristbands can help create a positive brand image.  Sponsorships are huge in the sporting world, and wristbands provide an effective way for brands to reinforce their brand and messaging.  Companies can customize their athletic wristbands with event logos to not only add a bit of flair, but also enhance branding opportunities.  The logo or promotion printed on the guest's wristband is visible every time they sip from the beverage in their hand.
Fan Engagement: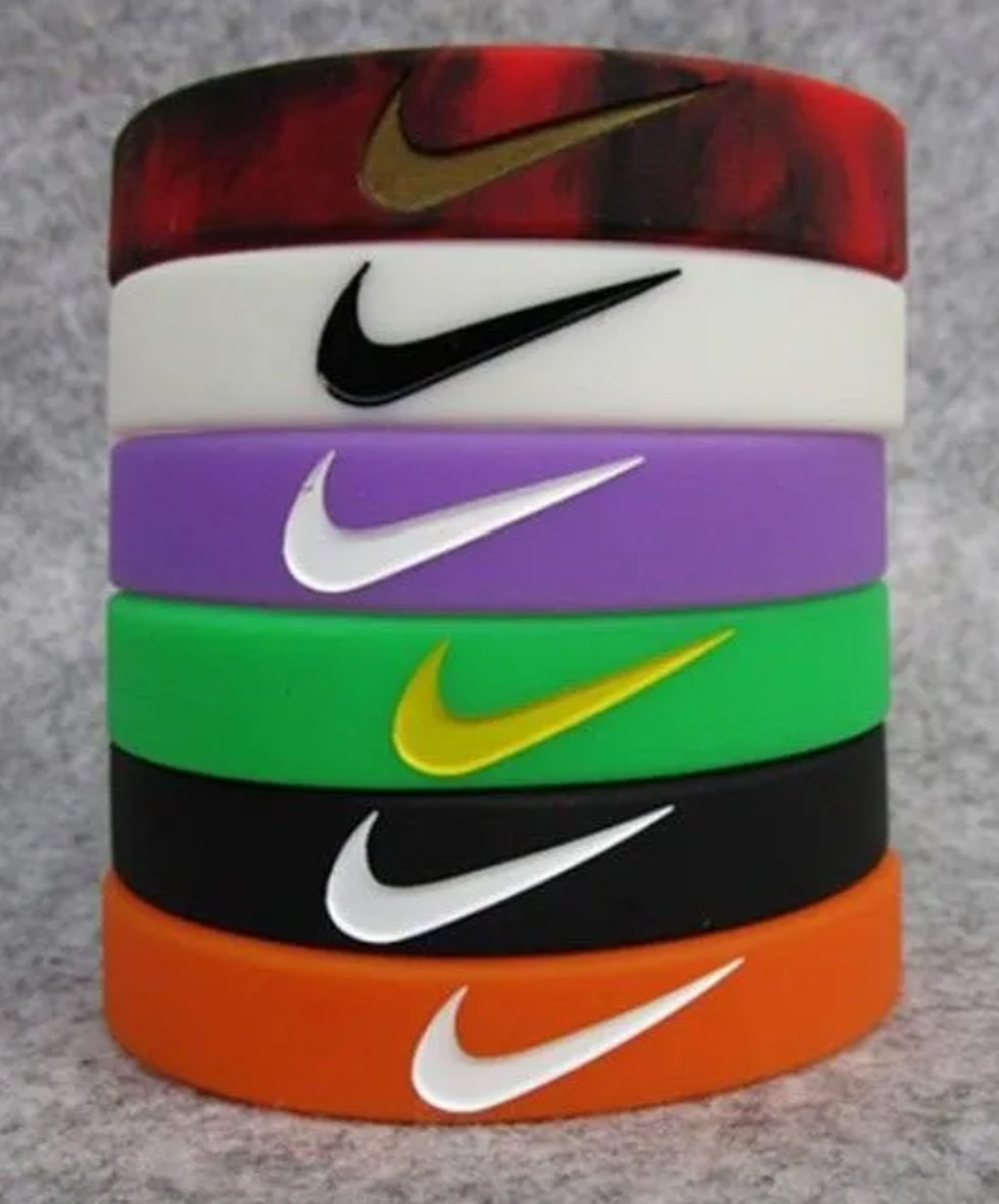 Sports wristbands can be customized to feature team colors, logos, and slogans, making them ideal for like basketball, tennis, football teams etc. Sports wristbands can offer an affordable way for fans to show support for their favorite team. Fans will be willing to purchase their team's bracelets at a higher price. Distributing branded wristbands to fans creates a sense of unity, team spirit, and support. Fans are more likely to wear and display sports wristbands during games or events, fostering a strong sense of community and enhancing the overall fan experience.
Promotional Giveaways and Merchandise:
At sporting events, trade exhibits, or social gatherings, sports wristbands/bracelets can be distributed as promotional freebies. They are useful, affordable products that individuals may wear and preserve as mementos. You can also sell branded wristbands as products to increase money while promoting your business.
Social Media Exposure: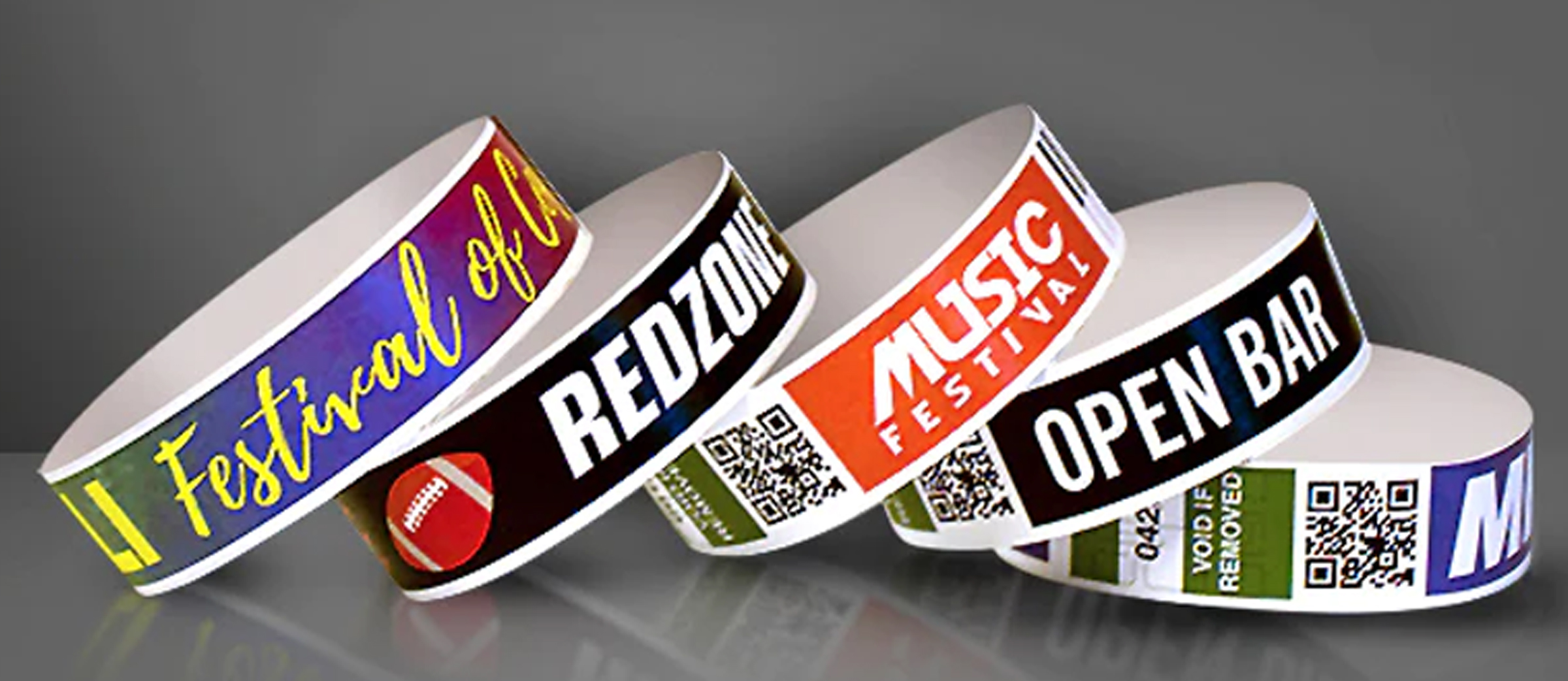 In today's digital age, people often share their experiences on social media. Sports wristbands are a great way to include social media.  By adding a URL or QR code to your wristband, you may encourage fans to "check in" on social media platforms, which will improve the number of "likes" and "followers" on your pages.  Word-of-mouth advertising is quite powerful, and since some racing fans keep their sports wristbands after the event, they serve as excellent conversation starters and mini-billboards. Encouraging individuals to wear your wristbands during sports activities, for example throughout basketball, tennis or football season, can lead to user-generated content, such as photos or videos, featuring your brand. This content can be shared across various social media platforms, extending your brand's reach and increasing exposure.
Sponsorship Opportunities: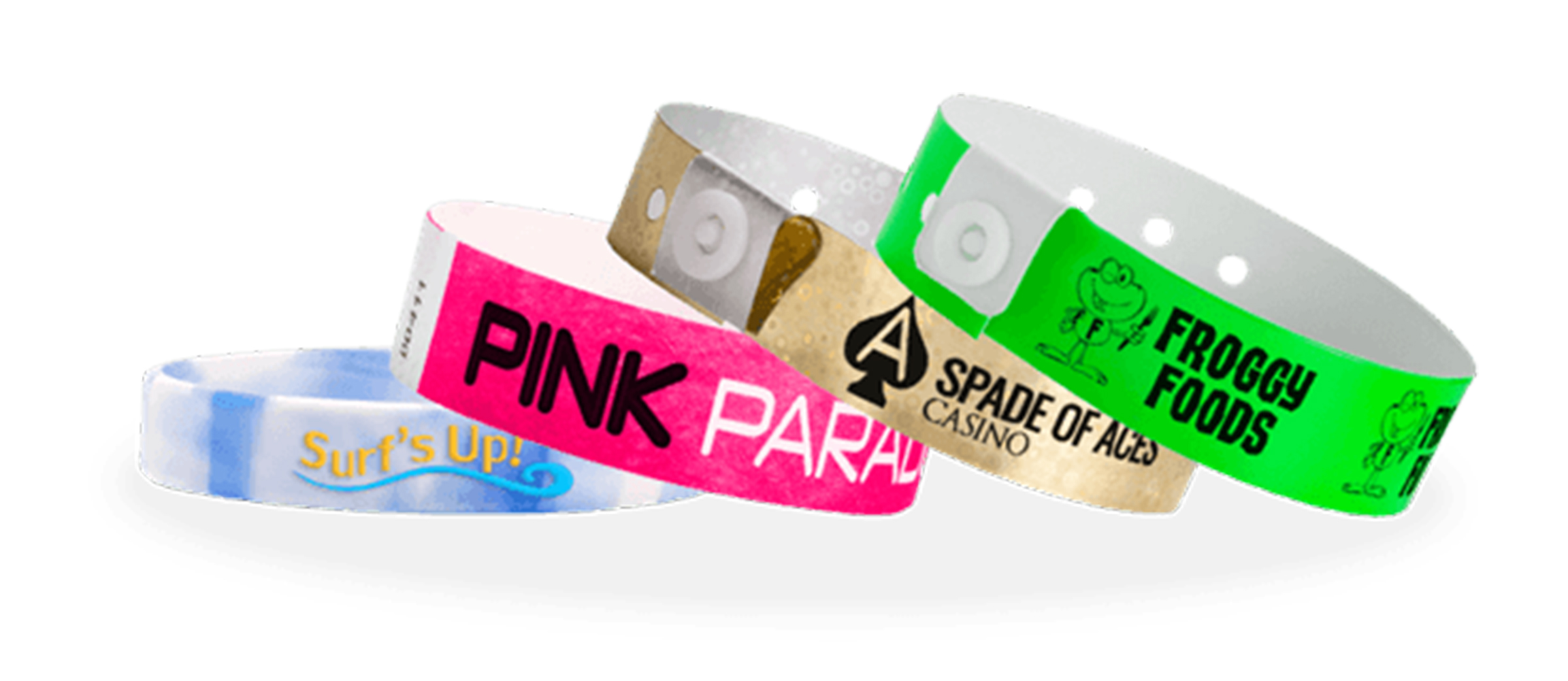 Sports wristbands can be an excellent way to support local sports teams or events as a sponsor. By providing branded wristbands to participants, you showcase your support while simultaneously promoting your brand. This sponsorship association can enhance brand reputation, foster goodwill, and create networking opportunities with other sponsors and participants.
Choosing your sports wristband:
Choose a Band Style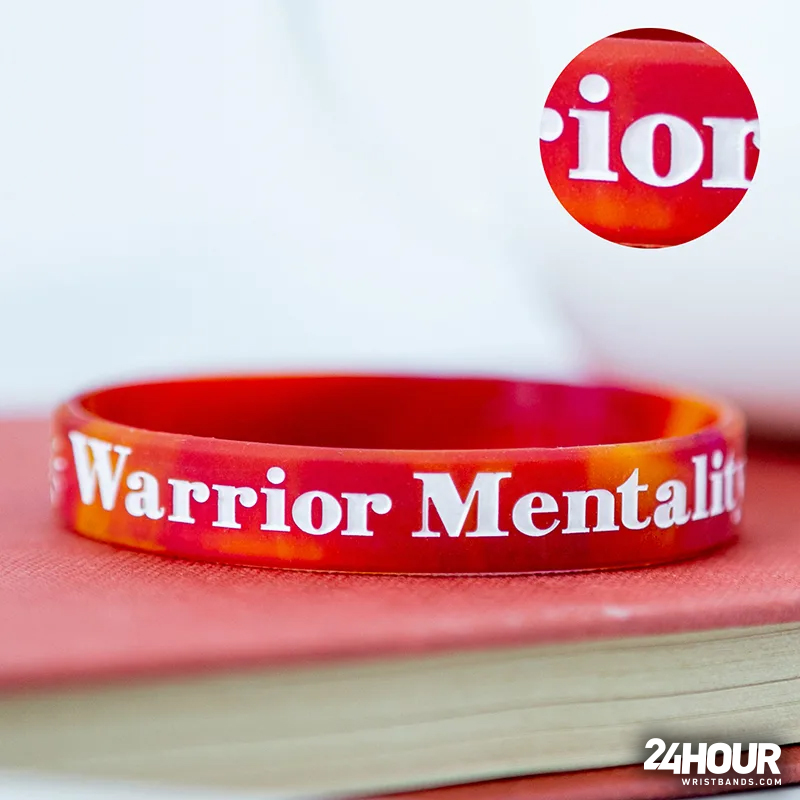 Utilize our online configurator to make the ideal sport wristband for your sports team right away. Start by deciding on a band style. We provide the following band designs:
Debossed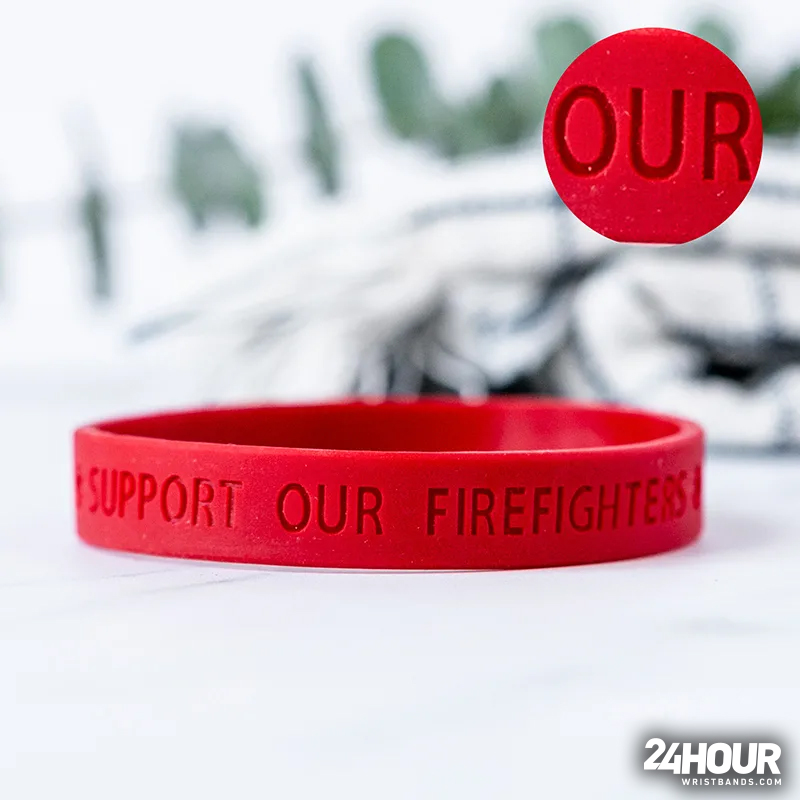 The Debossed Wristbands are made with engraved lettering where your personalized messages are etched in a deep cut effect into the silicone using the imprint mold.
You have the option of choosing from our embellished solid, segmented, or swirled debossed bands!
Get yours here: https://24hourwristbands.com/shop/products/debossed-wristbands
Printed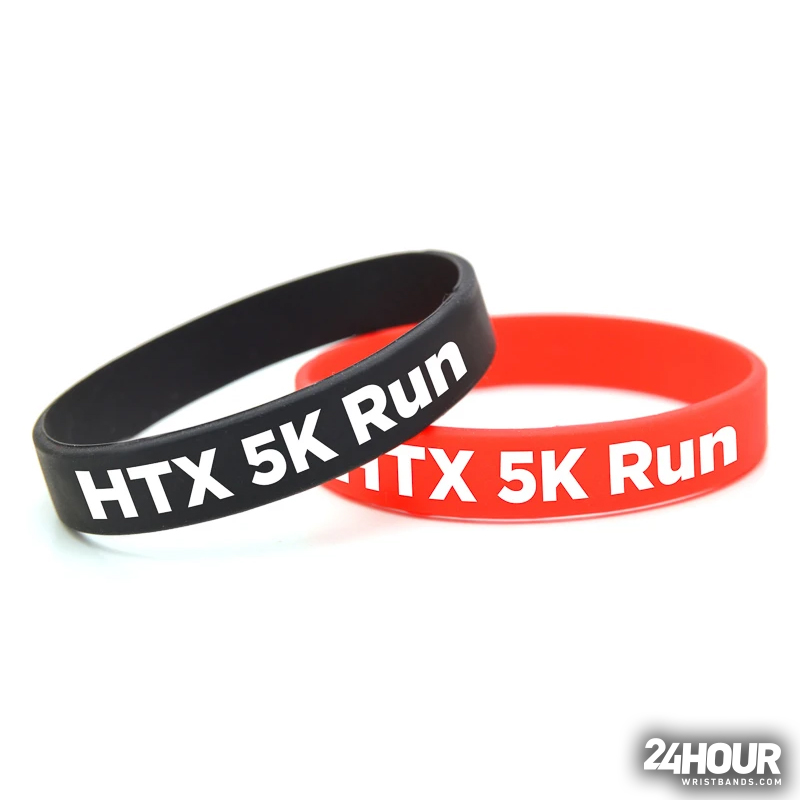 Made from 100% medical grade silicone (non-toxic and non-allergenic), the Printed Wristbands are produced with silk screen printing technology.
For a sleek and comprehensive look, your message and artwork will be silk-screened and smoothly printed directly on the top layer of the wristbands.
All artwork and text will be the same as the Imprint Color chosen for the front and back message options.
Get yours here: https://24hourwristbands.com/shop/products/printed-wristbands
Ink-Injected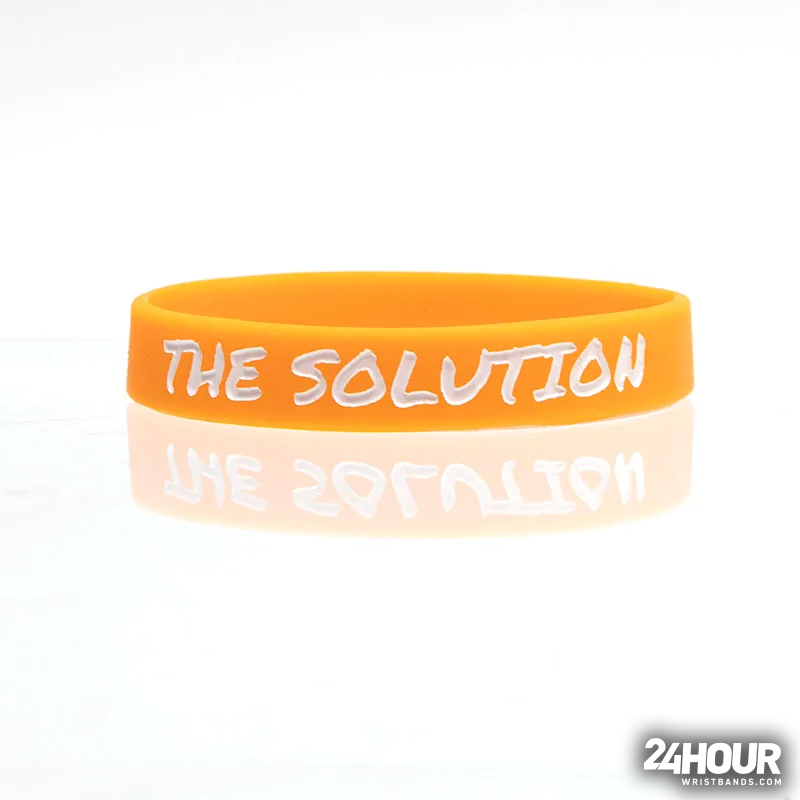 If you want long lasting accessories, our engraved and color filled Ink Injected Wristbands are the ideal choice.
Similar to our Debossed wristbands by having texts and artwork are engraved on, these wristbands are injected with ink.
This ink-injecting design helps protect the design of the wristbands from wear and tear in the long run.
To get an aesthetic contrast, we suggest that you choose dark imprint colors to be injected in the light color wristbands and vice versa.
Our wristbands provide more contrast than light imprint colors on light-colored bands or dark imprint colors on dark colored bands.
Get yours here: https://24hourwristbands.com/shop/products/ink-injected-wristbands
Color-Coated
Being great promotional items, our Color Coat Wristbands have double layered design to make them colorful, vibrant, and noticeable.
There is one colored layer on the inside of the bands and another colored layer on the outside of the bands.
As the outer part of the bands are color coated with ink, the original color of the wristbands shows through it when they are engraved.
This method creates an impressive contrast and shows the texts more brightly.
Get yours here: https://24hourwristbands.com/shop/products/color-coat-wristbands 
Choose Your Size and Color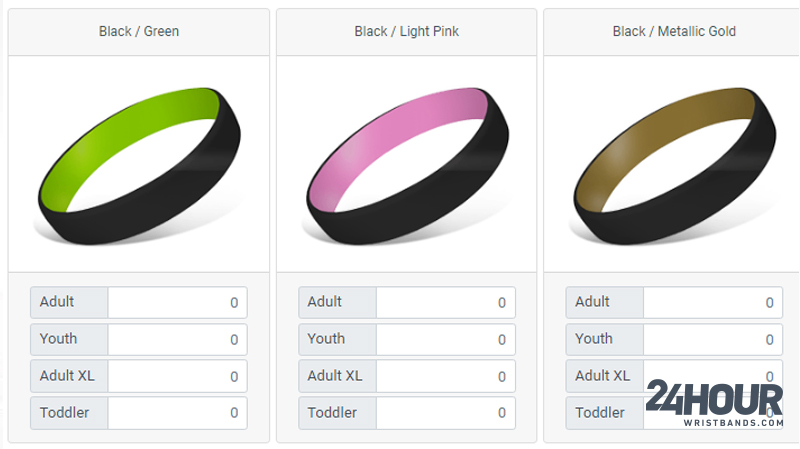 Our sizes range is: Adult, Youth, Adult XL and Toddler. You can order each size individually. We also offer individual bagging. Next, choose the colors from our solid, segmented and swirled band options. You can customize your color if you want to.
Add Text and Graphics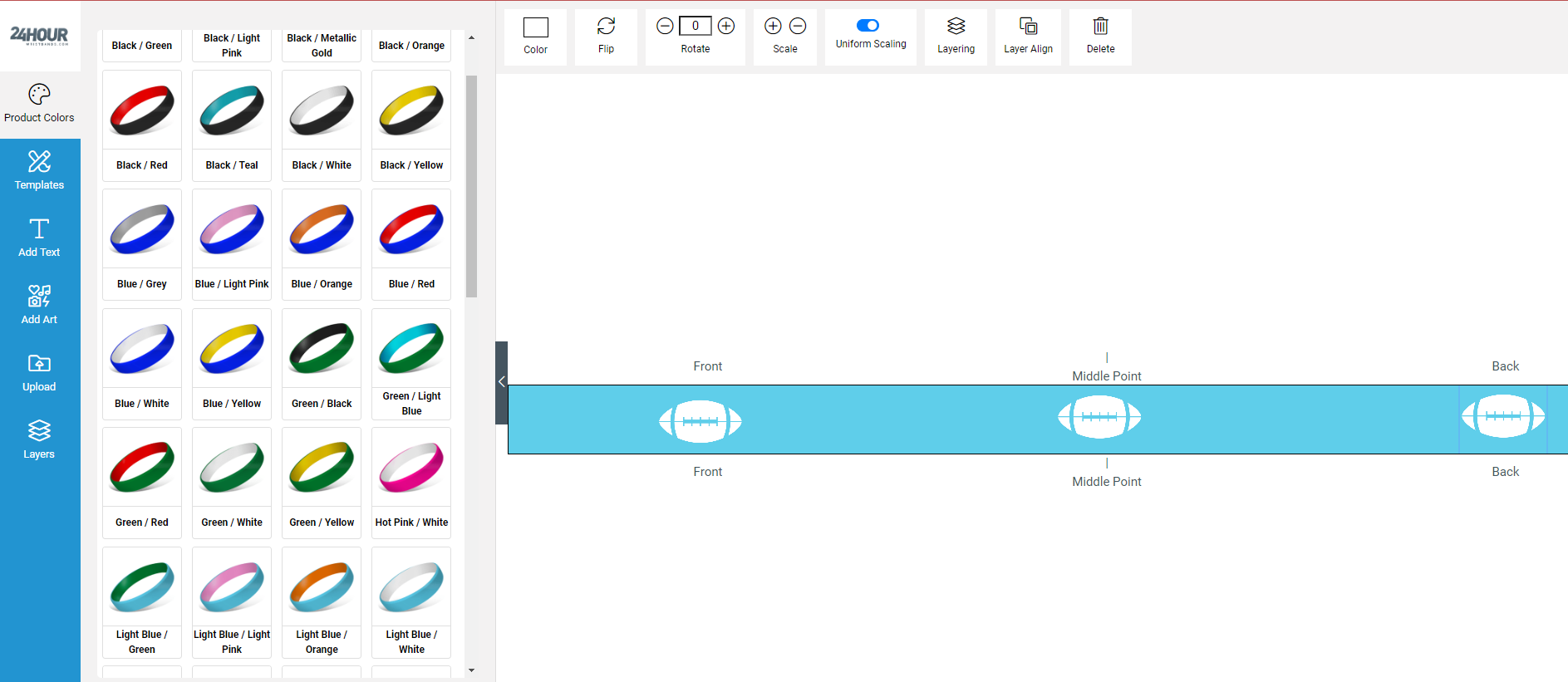 If a sports wristband couldn't be personalized in a fun way, it wouldn't be complete. You can use anything-from your logo to your tagline, the possibilities are endless! We also provide some free clipart for some generic designs. You can choose from those as well.
End Note:
To enhance their impact, design your wristbands with flair and include your brand's colors, logos, slogans, or hashtags. Additionally, think about collaborating with prominent athletes or sports figures who can support and advertise your wristbands, enhancing the effectiveness in your branding campaign. It is also important to take note of the shipping time required for each wristband, specially the customized sports wristbands; as the products need to be ready before your campaign begins.