Venues can simply confirm entrance to their concerts, music festivals, and parties thanks to concert wristbands. We provide cost effective Tyvek wristbands, plastic/vinyl wristbands, and cloth wristbands, which are frequently utilized at music events. Concerts, bars, nightclubs, and lounges may all use our wristbands with ease, they can be personalized in a few easy steps and are produced from the best materials available.
Types Of Concert Wristbands

With personalized event wristbands, you can easily and affordably take charge of your event. 24hourwristbands.com offers large quantities of wristbands, all of which may be entirely personalized to your exact requirements. Additionally, we do not offer paper wristbands for concert events because they fall short of the high standards set by our array of premium wristbands. Browse the assortment of customizable wristband goods on offer:
Plastic Wristbands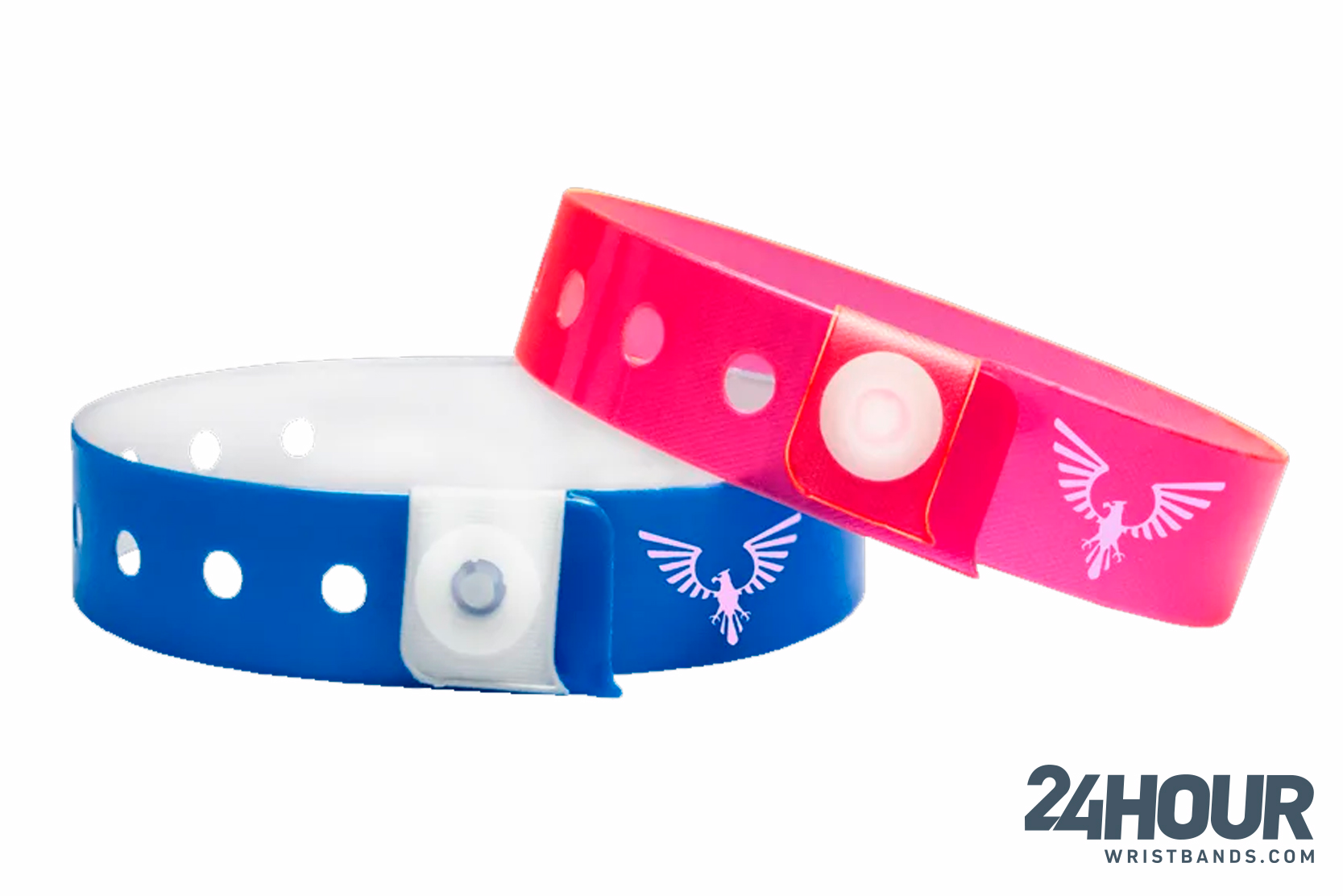 Plastic concert wristbands also known as Vinyl are usually found at music events and other events spanning many days. These plastic or vinyl concert wristbands feature a secure locking snap that prevents them from being transferred or resold. To remove the plastic wristbands, they must be safely cut with scissors.
The concert plastic wristbands that have a secure locking snap keeps the band from accidentally coming off the wrist and are neither stretch nor tear resistant. They come in both small and broader styles. These bands, which have a tri-layer vinyl composition and can suit any wrist size, can last up to two weeks.
Tyvek Wristbands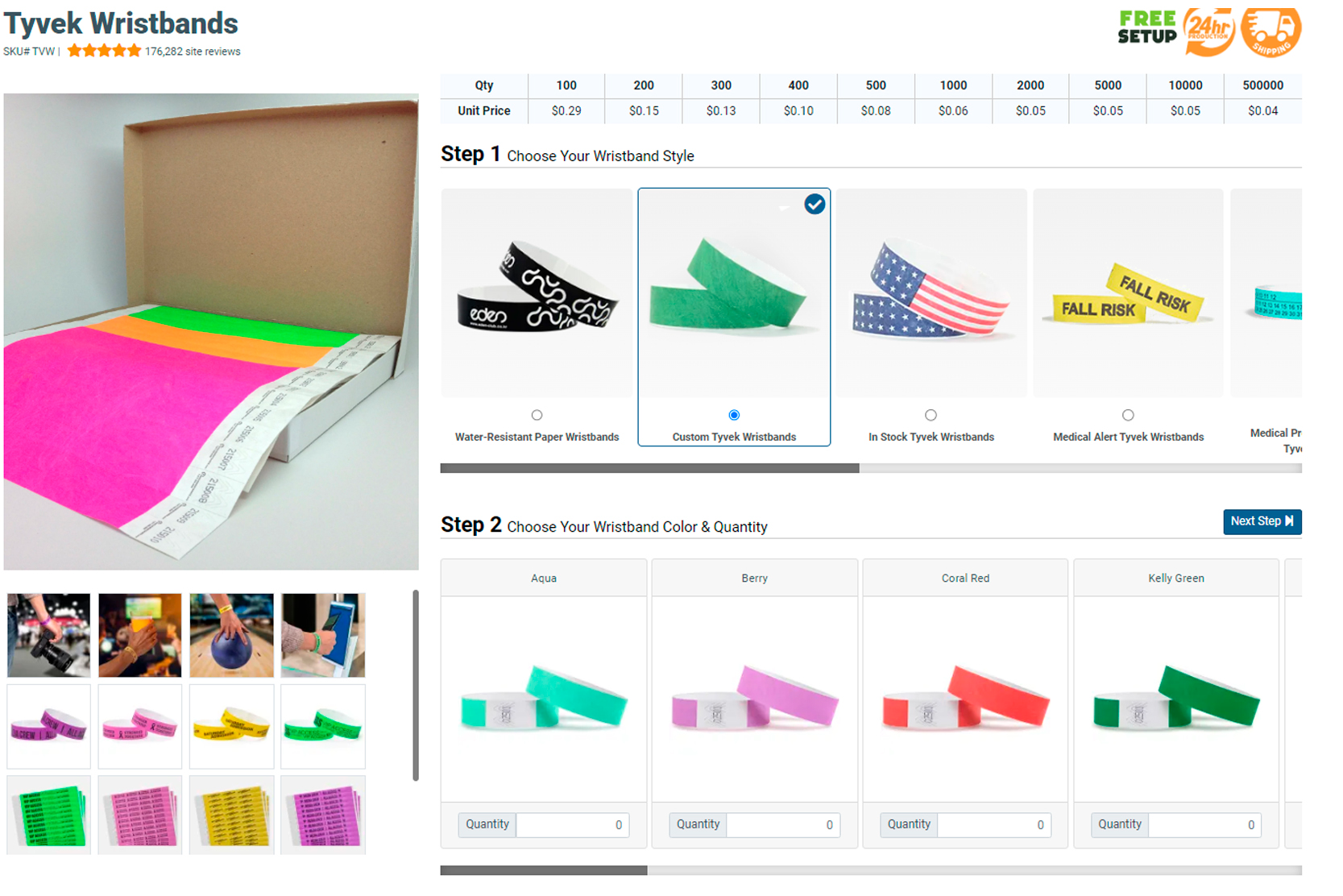 Tyvek wristbands are commonly the best option for you if you're organizing a single concert or short-term use. These wrist-bands are commonly used both indoors and outdoors and are advised for events lasting up to 48 hours or short-term events. They have a strong adhesive that keeps your bands from unintentionally coming off and a tear-resistant, and water-resistant. Tyvek wristbands are completely recyclable, which is a wonderful added benefit.
The industry standard for wristband material is now Tyvek wristbands. Additionally, 24hourwristbands.com offers a Tyvek wristband version that leaves no trace. Tyvek wristbands version offers an inexpensive way to validate admission at a concert.
Cloth Wristbands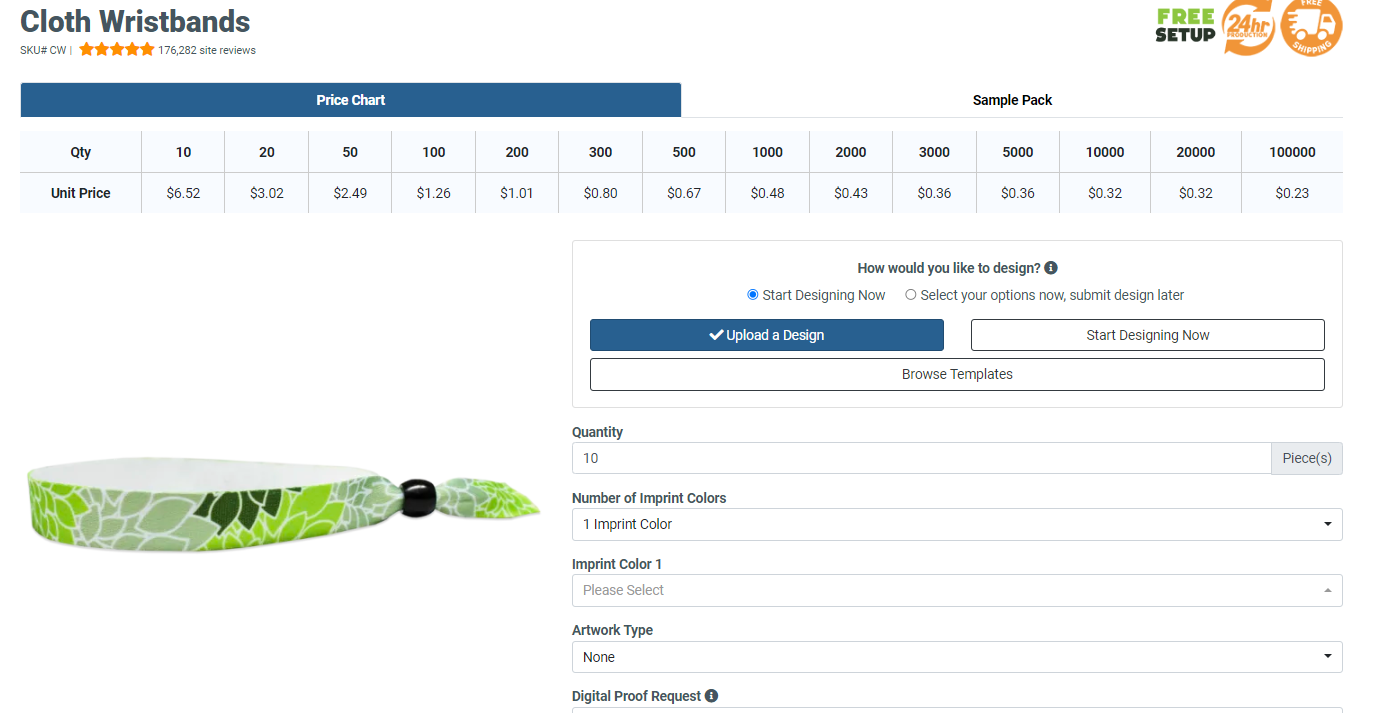 Guests frequently choose to take cloth wristbands from their wrists and keep them as mementos, setting them apart from the other two options. For concert events and music events, cloth wristbands are frequently chosen as the preferable accessory. They are adaptable, durable, and comfy.
Customize Concert Wristbands Waterproof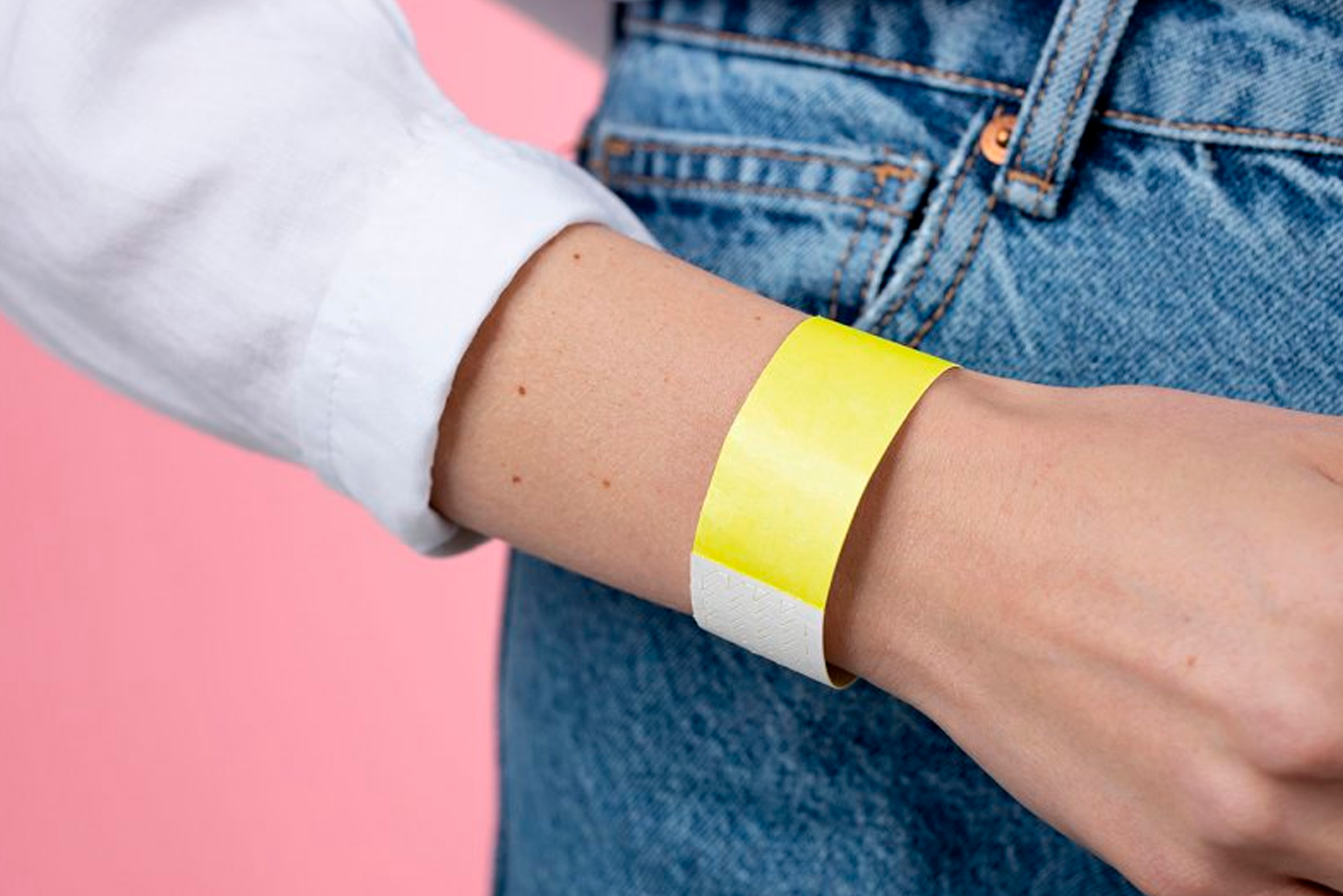 We provide you with the resources to create customize concert wristbands specific to your event. Select your preferred size and material first, then click Customize. Then, just adhere to these easy procedures to make your stunning design. Kindly be aware that these procedures are only applicable for designing concert wristbands from Tyvek and plastic.
First Step: View & Select Colors

Choose a preview color for your concert wristband to start. You can better visualize your design and select colors using this. Colors and numbers will be chosen later. Make sure to preview color then select Next.
Second Step: Insert Text

To create new text and font. Here, you can add any text you like and customize the font and text size on your concert wristband. Click Next Step to add graphics when you're ready.
Third Step: Graphics

Then select Add Graphics. You can use our free-to-use clipart from our library or upload your own graphics here. To choose a graphic or upload one from your device, click Change. You can now visualize your wristband design in this phase.
Fourth Step: Approval

Please take one last look at the design of your concert wristband before we begin customizing your concert wristbands. Approve the order, select quantities, and choose your colors if you're happy.
You can easily make wristbands that complement your brand and add value for concertgoers in just a matter of steps.
Benefits of Using Custom Wristbands for Your Concert Wristbands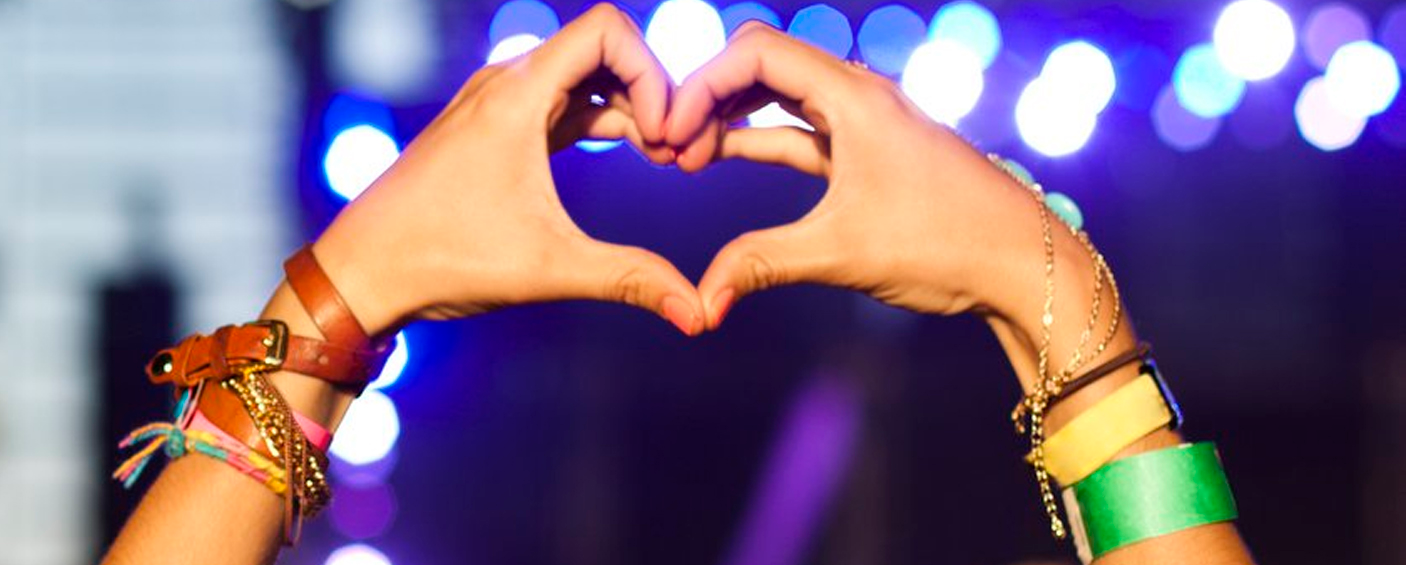 Are you preparing large-scale concerts events? The most popular method of managing admission and visitors is unquestionably wristbands. This post will go over the many benefits of giving your guests personalized concerts wristbands as well as the various types of wristbands you may select.
Customized printed wristbands come in a wide range of styles and customization choices. With the use of concert wristbands, venues are able to quickly validate admission to their concerts, music festivals, and other events. Additionally, there are a variety of benefits available to event planners who provide them to their visitors. Some of them are as follows:
Guest Control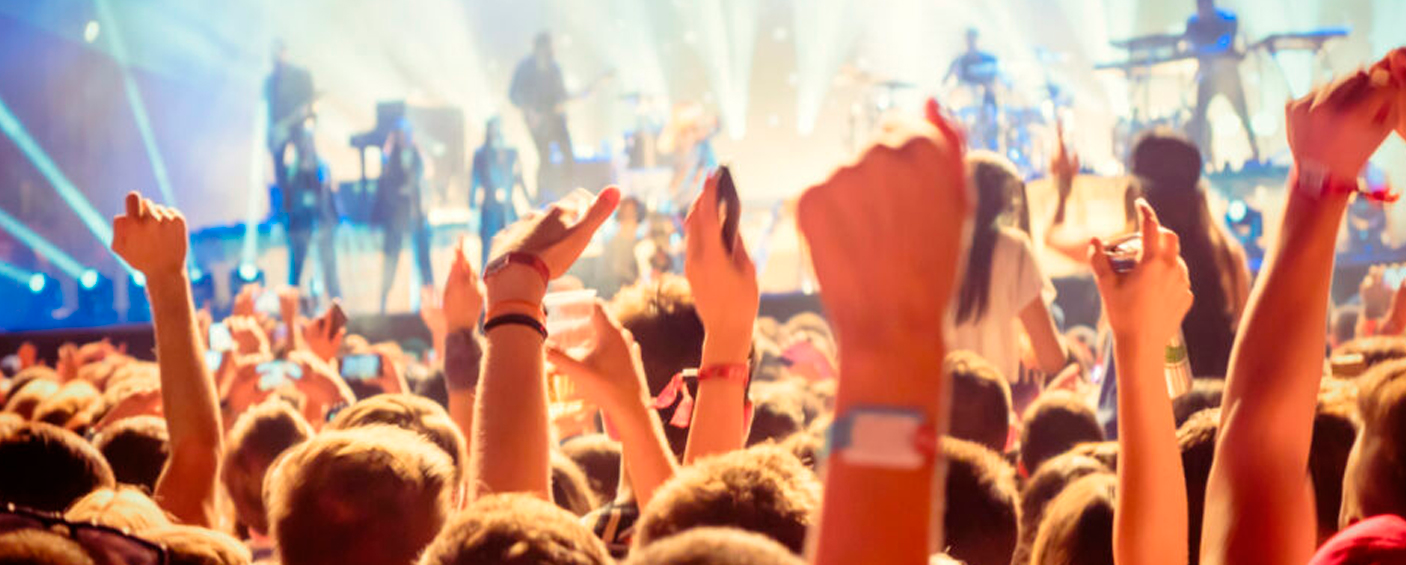 It can be difficult to sort when there are many guests at an indoors event. Who has access to the backstage area? Who is permitted to drink alcohol? What distinguishes individuals with weekend passes from those with day passes? The most effective technique is to provide various customized wristbands to your customers or guests.
It's simple for your security detail to recognize an attendee's level of access by giving them a variety of color options. The option to print images, text, and barcodes on customizable wristbands will make it even simpler for your personnel to locate where your guests should be. It allows concert venues to find out who paid for tickets. The majority of waterparks employ them as a practical means of determining whether visitors have paid the daily entry charge.
Fewer Waits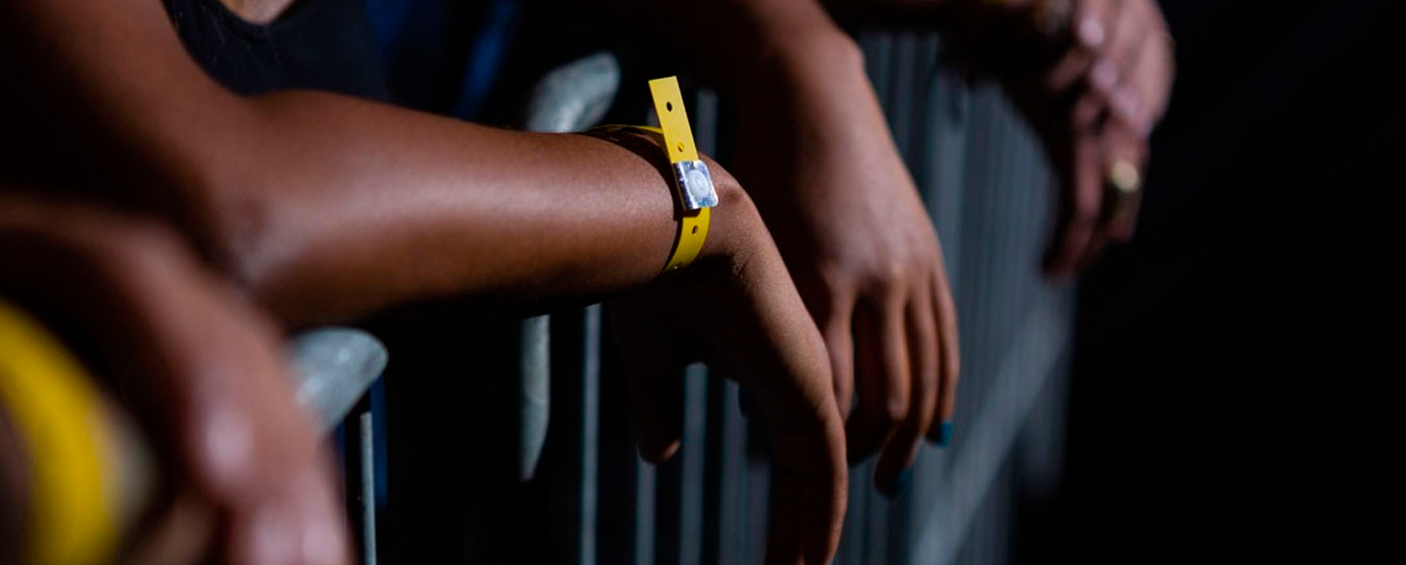 Regular admission tickets are appropriate in many situations, but they might be problematic in others. The ticket may get misplaced, crumpled up, or simply be lost when patrons must show proof of backstage permission or age. Longer queues, bottlenecking, and angry customers are the only effects of looking for tickets.
It can take less than a second to identify oneself and the level of security by the quick flash of a wristband. This makes it incredibly easy for your guests to roam around and get past event staff.
The Ability To Endure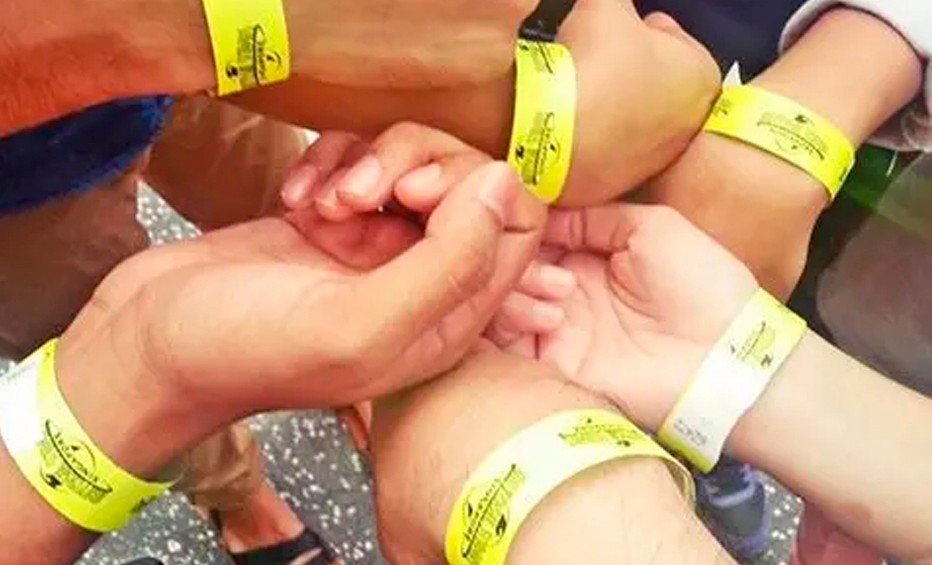 Some of any event planner's biggest concerns are party crashers and inclement weather at your event. Never fear that one of your visitors will take off their wristband and give it to a friend outside. For instance, Tyvek wristbands are durable, lightweight, waterproof, and entirely events lasting.
Due to a sequence of slits designed to shred tamper evidence across the adhesive region, these wristbands are almost tamper-proof. Any attempt to remove the wristband will damage the adhesive region as soon as the adhesion takes hold. Waterproof Tyvek wristbands materials will maintain their sturdiness and integrity when it starts to rain.
Protection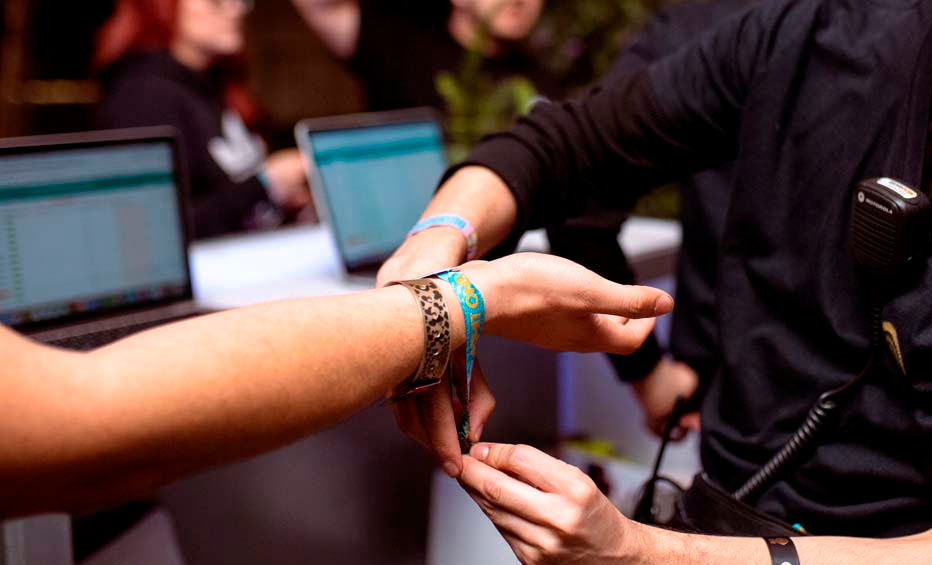 Wrist-bands made to order offer outstanding security at the event. Plastic wristbands can only be removed by cutting them off with scissors, but Tyvek and Vinyl wristbands are tear-resistant and have tamper-resistant glue. If you choose the appropriate wristband, you won't have to be concerned about people taking off their wristbands and passing them to someone else.
End Note
At 24hourwristbands.com, we design high-quality concert wristbands that are personalized for your event, whether they be made of vinyl, fabric, or Tyvek. We can assist you with creating your concert bands, no matter how big or small and in quantities, with the support of our brilliant art workers and highly skilled sales team. Even better, you can use our hassle-free custom wristband online design tool to produce a wristband that perfectly suits the requirements of your event.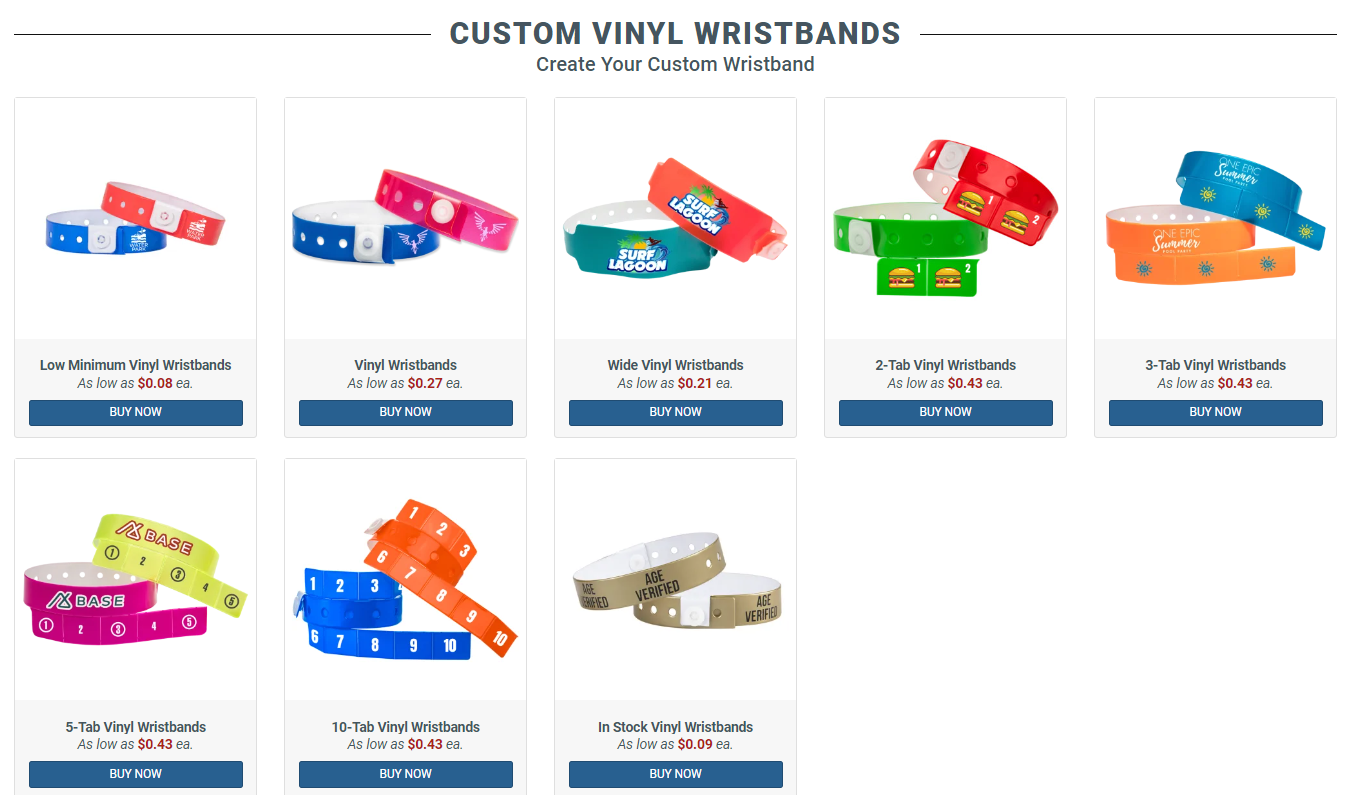 You can add a variety of secure elements to your concert-style wristbands to help avoid pass-backs and counterfeiting and significantly shorten line times. The fact that cashless concerts band lessen the possibility of money being misplaced or stolen during an event gives your attendees additional piece of mind.
An event planner can get all the personalized band options they may need at 24hourwristbands.com. Contact us right away or leave a note below for more information on how personalized wristbands may help your event go well.