The smallest details often make the biggest impact when organizing fall events. Personalized napkins have the capacity to turn your ordinary event into extraordinary; despite seeming like a small detail for any occasion. 
Custom fall napkins are the perfect way to add a personal touch to your occasion. Whether it is a dinner napkin or a luncheon napkin, one of the first items guests look for at a table setting are napkins. They are not only practical to clean drops and spills, catch crumbs, but also highlights your personal style and uniqueness. 
Beyond aesthetics, custom napkins serve a practical purpose. They provide guests with a convenient way to clean hands and mouths during meals, ensuring a comfortable dining experience. Customized luncheon napkins make this functional aspect of your event more visually appealing.
Personalized napkins or custom luncheon napkins can help you set the tone and ambiance for your occasion in a subtle manner. The design, color, quality and the prints convey a certain message to the guests whether it's a fall wedding, corporate program, birthday celebration or a simple Thanksgiving dinner party. 
Coordinating your fall napkins with the overall décor and color scheme of your event can elevate the visual appeal. Luncheon napkins can complement tablecloths, centerpieces, and other decorations, creating a harmonious and visually pleasing setting.
Autumn events often celebrate themes like harvest festivals, Halloween, Thanksgiving, or autumn in general. Customized napkins can be designed to match these themes, featuring images of pumpkins, leaves, or other fall-related elements. This thematic consistency adds to the festive ambiance.
Here are some ideas to effectively use personalized fall napkins for different occasions: 
Thanksgiving Dinner: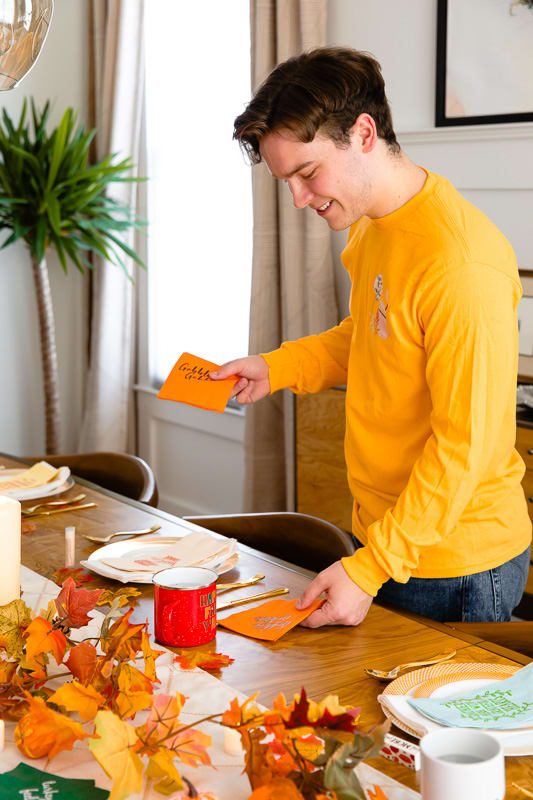 Customize your paper napkins with the names of your guests or a special Thanksgiving message.

Choose napkin colors that reflect the warm, earthy tones of the season, such as orange, burgundy, or deep brown.

Use foil printing to add a touch of elegance to your napkins. Consider gold or copper foil for a luxurious look.

Decorate your napkins with harvest-themed designs like pumpkins, leaves, acorns, or turkeys.
Our Recommendation: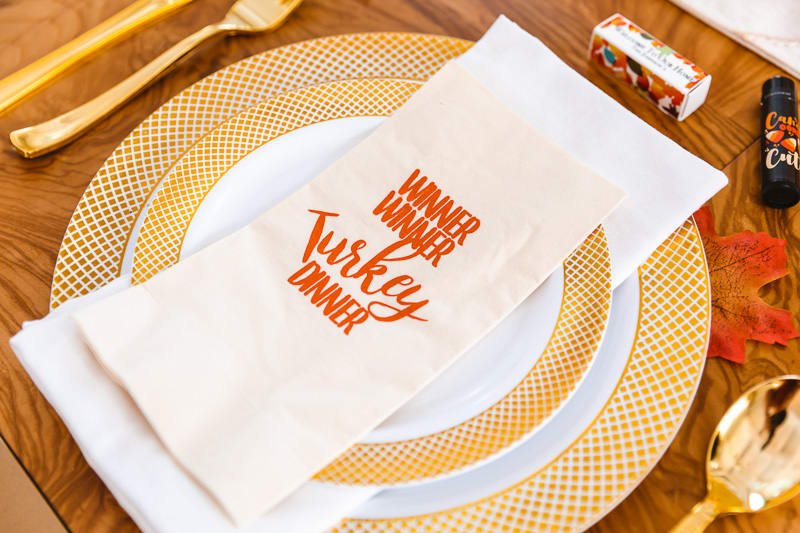 We recommend our Dinner Napkins for hosting Thanksgiving dinner parties. Our dinner napkins are ideal for elegant dinner parties to keep drips and drops off your guests. These paper napkins will add a sophisticated vibe to your table settings and keep your event tidy. They come with attractive, professional-looking folding. They are also made from 2-ply paper and super absorbent. These paper napkins are disposable which makes cleaning chores easy. You can print either the square or diagonal printable area with any design, motif or text to your preference. 
Halloween Party:
Customize napkins with Halloween-themed designs like ghosts, witches, bats, or jack-o'-lanterns.

Opt for black or dark purple collection of napkins to create a spooky ambiance.

Add foil accents to highlight specific elements in your design, like the eyes of a black cat or the outline of a haunted house.

Include fun or eerie messages on your napkins, such as "Trick or Treat" or "Boo!"
Our Recommendation: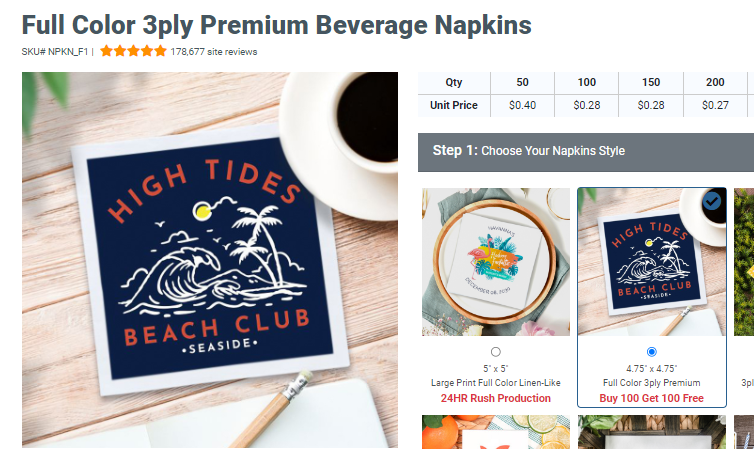 We recommend our Full Color 3ply Premium Beverage Napkins for your upcoming Halloween party. Made from sturdy 3ply paper, they have a soft composition that will soak up spills and stains easily. You can Customize them by adding your brand logos, graphics, and catchy slogans to turn them into party souvenirs or advertising mediums. The full color print can add a wow factor to your party and elevate your spooky ambiance. 
Fall Wedding: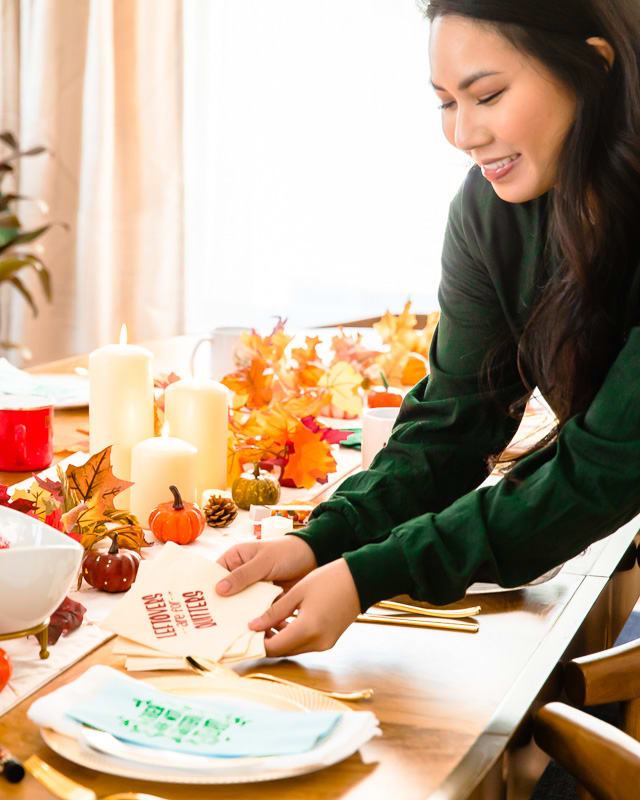 Personalize your napkins with the couple's initials or a special monogram.

Use metallic foil to add a touch of sophistication to your wedding napkins. Silver or rose gold foil can work well.

Incorporate autumn motifs, such as intertwined leaves or intertwined hearts with fall elements like acorns or pinecones.

Match the napkin color to your wedding color scheme, which may include deep reds, oranges, or rustic browns.
Our Recommendation: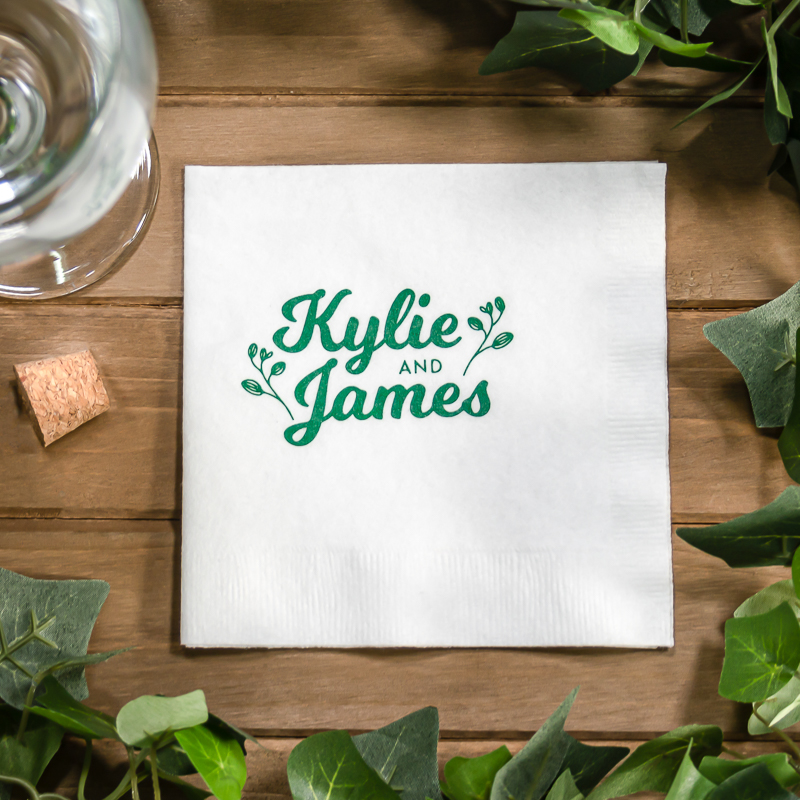 We recommend our Airlaid Linen-Like Dinner Napkins that will give your wedding table settings a rich and soft personal touch. They can be turned into souvenirs that guests can take home. They have a smooth linen-like texture that adds an attractive touch to your table setting.
These plush napkins can be delicately personalized with your artworks, logos, dates, or congratulations messages to help celebrate your big day.
Fall Baby Shower: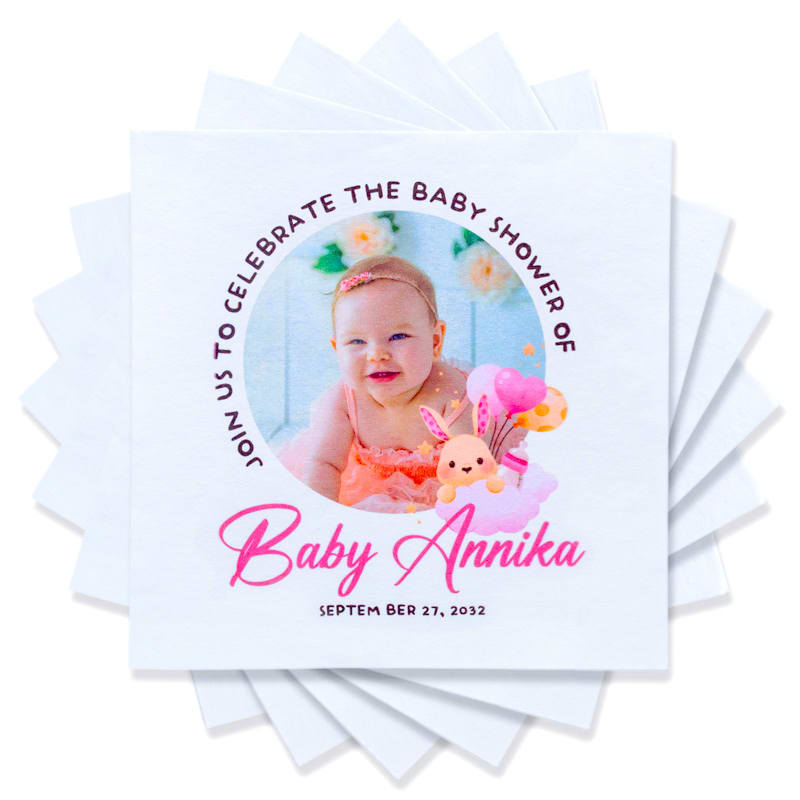 Customize napkins with autumn-themed baby designs, like pumpkins, storks, or baby animals in autumn settings.

Incorporate harvest colors in a softer way by using pastel versions of traditional fall shades.

If it's a gender reveal party, use napkins with gender-specific colors and designs to build excitement.
Our Recommendation: 
To host baby showers during autumn, we recommend our 2ply Foil Stamped Beverage Napkins. Make your baby shower luxurious, stylish and graceful with our foiled napkins. The high-quality metallic foil napkins are made of 2 ply paper and are foil-stamped through letterpress machines using heat and pressure. The foil stamped beverage napkins will clean up drops and drink spills and jazz up any table setting. You can do all kinds of customization to match your event. The shimmer of the napkins create a sharp and solid look for your table setting. 
Fall Birthday Party: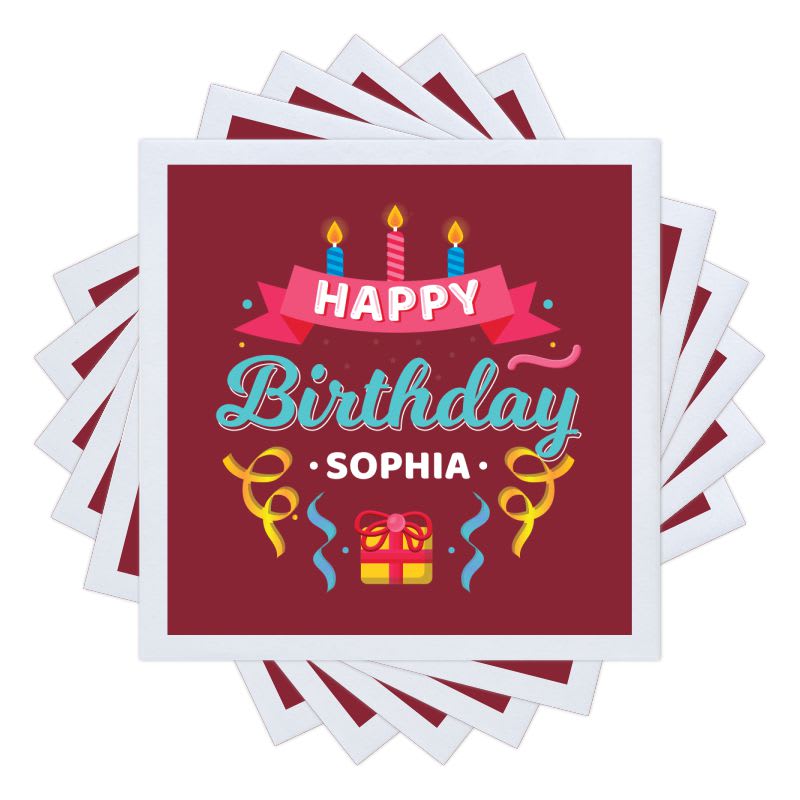 Customize luncheon napkins with the birthday person's age and harvest-themed graphics and accessories.

Use vibrant and fun autumn colors like bright oranges, yellows, and greens.

Include a birthday message or the name of the guest of honor.
Our Recommendation: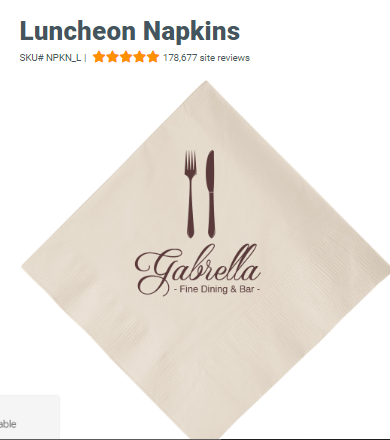 We recommend our Luncheon Napkins for to celebrate birthday events during autumn. Between small beverage napkins and large dinner napkins, these luncheon napkins are the best economical choice. These 2-ply napkins are sturdy as well as disposable. The cleanup after the celebration  will be super easy due to the high absorbent quality of these napkins. Especially if the birthday is being hosted for a young child or teenager. You can customize these napkins with any personal monogram, text, quote, facts about the birthday person or get a print according to an autumn birthday party theme. 
Corporate Events:
Print company logos, slogans, or event names on the napkins to reinforce branding.

Choose napkin colors that align with your corporate identity.

Add foil accents for a touch of sophistication.
Our Recommendation: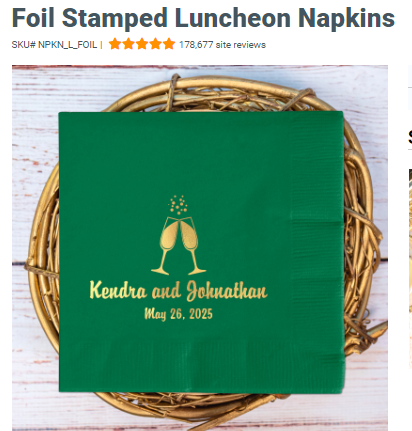 We recommend our Foil Stamped Luncheon Napkins for hosting any harvest season corporate event. They are one of the most affordable to create brand engagement of the open bar at corporate parties. Absorbent and soft to use, our luncheon napkins provide the right amount of elegance in any corporate luncheon as well. There are over 10 napkin styles to choose from. So, you can easily pick a color that resonates with your brand as well as celebrates autumn. Much stronger than their single ply counterpart, these luncheon napkins are made of 2ply paper. The napkins may be disposable, but they can take more load than regular napkins.
End Note: 
Whichever fall event or occasion you plan to celebrate, personalized napkins express your attention to detail and creativity. They may seem like a last minute detail during the party planning, but they contribute to the overall ambiance, personalization, and memorability of the occasion, making them a valuable addition to your event planning checklist.
Consider shipping timings and order your customized printed or foiled napkins well in advance of your autumn event to ensure they arrive on time. These napkins can serve as both functional items and decorative elements, enhancing the overall atmosphere and leaving a lasting impression on your guests.
24hourwristbands.com offers variety of category of napkins at different range of selling prices. For ready stock napkins, we also provide rushed shipping services. Our sales and marketing team can help you celebrate your upcoming autumn event in style. Order now!