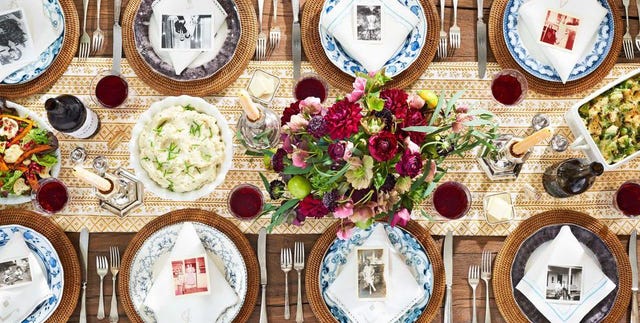 Introduction
Many of us are already making menu plans and gathering ideas for our Thanksgiving table spreads as the holiday draws near. Why not add personalized table linens, dinner napkins, matchboxes, coasters, and mason jars to your dining table decor this year to elevate it to the next level? In this post, we'll look at how these little touches may have a significant influence on your Thanksgiving meal and make it memorable and chic for you and your guests.
The Significance of Well-Set Thanksgiving Table Settings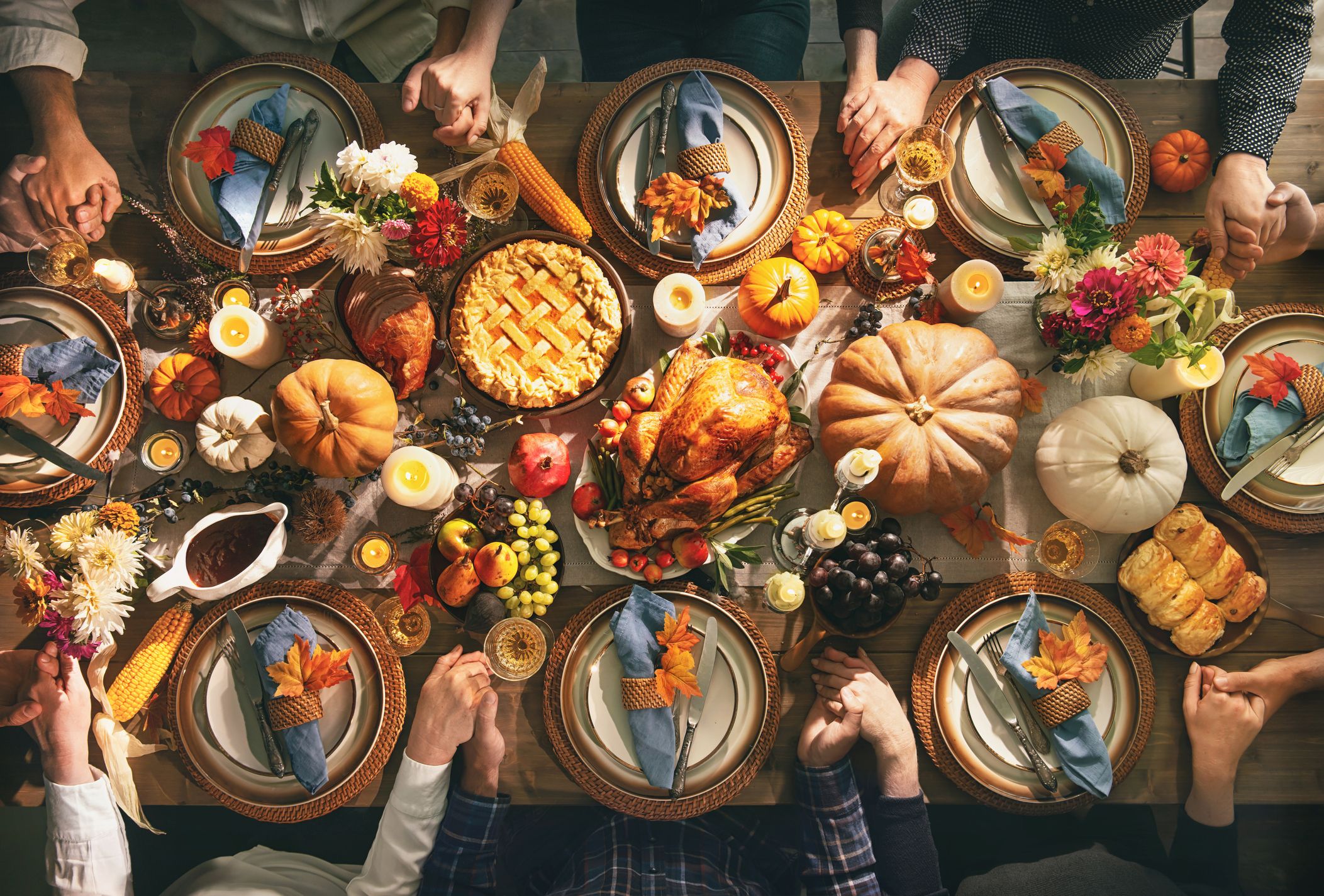 A long-standing custom of Thanksgiving is for family and friends to get together and share gratitude for all the blessings in their lives. The arrangements for the Thanksgiving table are one of the main features of this occasion.
Add wicker and driftwood, as well as watery shades of blue and green, to your table. To make your linens and soft colors stand out, incorporate splashes of gold or silver. For a coastal holiday feel, combine traditional Thanksgiving elements with nautical motifs; however, you can still concentrate on natural elements and texture for the best fall tabletop addition.
Even though it can seem like a minor thing, a nicely arranged holiday table can enhance the entire meal experience and make everyone feel welcome. Gather materials for the centerpiece in your backyard. Sculptural twigs and branches transmit a natural beauty that is appropriate for the season and offers an unexpected alternative to flowers.
The blue and white Thanksgiving table can be used year-round. Thanksgiving doesn't have to be dull at a little round table. Don't use white linens; instead, go all out with vibrant colors. Here, the use of mustard and teal creates a unique ambiance for a private Thanksgiving dinner in your own backyard.
Because of how popular that is, you can keep the rest of the table settings simple with mini pumpkins and turkey plates. Along the center of the table, alternate hurricanes (you may also use tall brass candlesticks or pillars) while incorporating apple bowls, eucalyptus branches, cinnamon sticks, and little glass votives. Simply chop off the tops of your pumpkins, whether they are traditional orange or classic white, and use them as attractive planters along with your floral arrangements. Put a lush centerpiece full of blooms that tie your color scheme together as the finishing touch to your Thanksgiving table setting.
This article will discuss the relevance of attractive Thanksgiving table arrangements and how they enhance the celebration's overall ambiance.
How Custom Items Can Elevate The Dining Experience
More than just the cuisine may be done to improve the dining experience. It entails establishing a warm environment that perfectly reflects the spirit of a celebration or occasion. Using personalized objects like table linens, matchboxes, coasters, and mason jars is one way to accomplish this.
These distinctive, classy, and artistic touches add a special touch to any dining environment. In this post, we'll look at how special touches may enhance and genuinely personalize the eating experience.
Custom Dinner Napkins: Adding Elegance and Individuality
Adding a personalized dinner napkin to your table setting can give a touch of class and personality to this holiday of gathering and celebration. These minor particulars, whether you decide to have your napkin monogrammed with initials or choose custom designs that match your personality, may make a significant difference. Custom dinner linens not only improve the overall appearance of your inviting table but also demonstrate your attention to detail and consideration for your guests.
Prepare for visitors to drop by for the holiday party with this Thanksgiving monogrammed napkin. These Thanksgiving custom napkin lend elegance to the Thanksgiving table settings for any fall event or Thanksgiving feast with their colorful autumn tone. These personalized linens can be used to clean up spills or as decorative, disposable custom dinner napkins for a sophisticated Thanksgiving table setting. For your Thanksgiving dinner, we offer a selection of linens, including air-laid linen-like buffet guest napkins, dinner foil-stamped napkins, and custom dinner napkins with personalized printing.
Decorations are perhaps the most inventive methods to get people in the mood for a party, regardless of the type of event or the time of day! What simpler way to keep your home tidy and festive over the holidays than with something as simple as monogrammed table linen? Sincerely, it is that simple! Our custom tablecloths are perfect for your table runner and will make the event better right away, especially on the impending Thanksgiving day.
Our monogrammed table linen complements your delicate wine glasses and plates while also adding chicness to your Thanksgiving table runner and enhancing the ambiance of the holiday dinner. Additionally, for a touch of elegance, try serving cocktails or mocktails in copper mugs or using copper napkin rings and flatware. You may add personalized greetings, decorate your napkins with unusual shapes and colors, or pretty much add natural materials.
We provide a large selection of personalized table linen for several events, including formal, informal, family, intimate, holiday, business, and more. The products listed below provide examples of the various types of personalized dinner table linen that we sell on our website.
Why Custom Dinner Napkins Are a Great Addition for Thanksgiving Centerpieces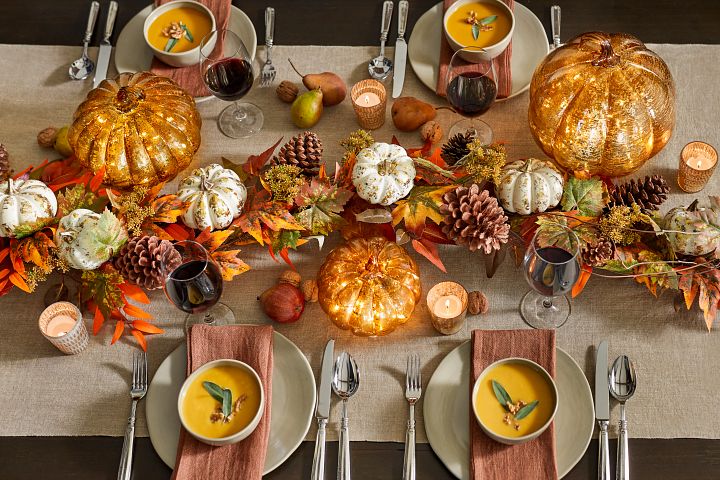 Every little thing counts when it comes to making your Thanksgiving gathering feel cozy and welcoming. Custom dinner napkins can add a touch of class and refinement to the atmosphere of your Thanksgiving table setting. Your Thanksgiving dinner will have an eye-catching centerpiece that will look better overall if you use table linen with imprinted monograms, customized patterns, or rich colors that go with your decor.
The conversation at your Thanksgiving gathering might be sparked by a well-made custom dinner napkin. Think about writing inspiring and pertinent phrases, intriguing trivia, or perplexing questions on the table linen. This can lead to interesting conversations and encourage interaction among your guests, making for an experience that goes beyond the excellent Thanksgiving meal.
Customized dinner table linen is not only attractive but also useful. By selecting high-quality table napkins for your Thanksgiving tablescape, you can be confident that they will last and be able to handle any spills that may happen during Thanksgiving events. Additionally, they take little time or effort to clean up after use or discard, saving you time and energy.
Personalized with Monograms or Thanksgiving Motifs
Knowing the benefits of custom table linen, the next decision is between monograms and Thanksgiving-themed designs. Let's examine each choice more closely:
Monograms
Napkins with a monogram are a classic choice. The napkins have custom initials or names printed on them. Monograms are a versatile investment since they have a timeless appeal and may be utilized for occasions other than Thanksgiving. They make guests feel respected and cherished while adding a sense of refinement to any table spread or Thanksgiving table setting.
Thanksgiving Motifs
Thanksgiving-themed napkins are a great option for those looking for a more thematic approach to festive inspiration. Think of cornucopias, mini pumpkins, or fall leaves. These themes perfectly capture the spirit of the time of year and immediately arouse feelings of warmth and gratitude. Napkins with a Thanksgiving theme can contribute to a festive feel that goes well with your rustic tablescape or any Thanksgiving table setting decor.
Choosing the Right Color Scheme
Think about the theme: Decide on the overall look or theme of your Thanksgiving celebration first. Do you want to look traditional, rustic, or modern? Your color options will be reduced as a result.
Contrast and Balance: For added visual interest using vibrant colors, try combining warm and cool tones or complementing colors and different shades. To create a pleasing color palette, balance is essential.
Take into account your tablecloth and décor. Pay attention to the colors and designs of your tablecloth as well as other décor components. Your personalized tablecloths should enhance rather than contrast the overall style of your centerpiece.
Personalize with Accent Colors: Incorporate accent colors that go well with your primary autumnal color to give your Thanksgiving table setting a splash of color. Napkin rings, table centerpieces, and accessories can all be used to achieve this. Use pink and gold accents in place of the more conventional orange if you want a more beautiful and bright Thanksgiving table-setting festive decor.
Expert Advice: Which Color Designs Suit Your Thanksgiving Table?
Consider the overall atmosphere you want to create when selecting the color palette for your custom table napkin. Let's evaluate several options and their results: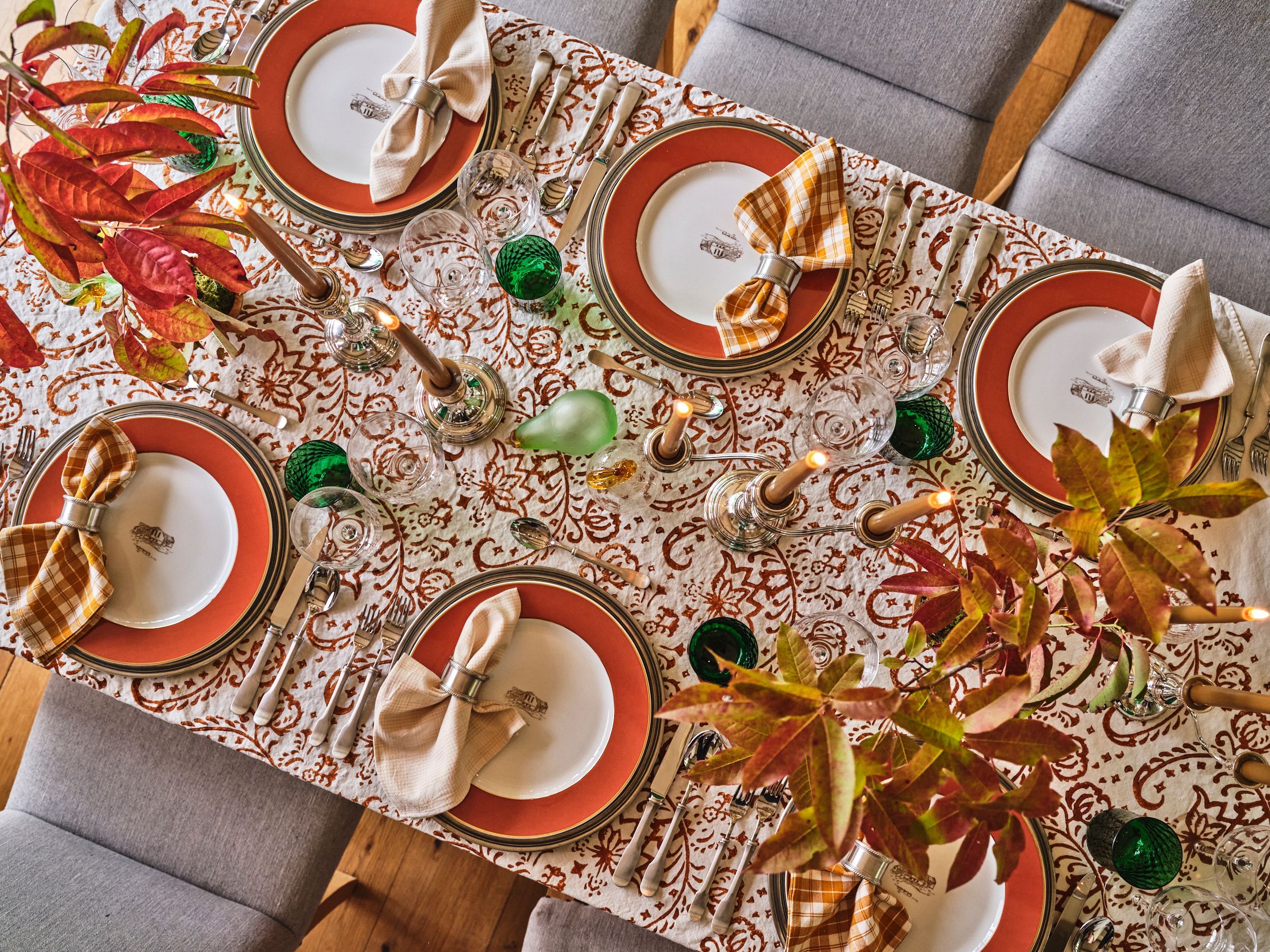 Traditional Elegance: Make your Thanksgiving table timeless and exquisite by choosing a color pattern that includes rich reds, burgundies, deep purples, and rose gold or golden color. Your table settings will seem more elegant and inviting with this classic pairing.
Rustic Chic: Shades of brown, burnt orange, and olive green are appropriate choices if you want to create a homey, rustic atmosphere. The warm and welcoming feeling evoked by these earthy tones is reminiscent of the autumnal season.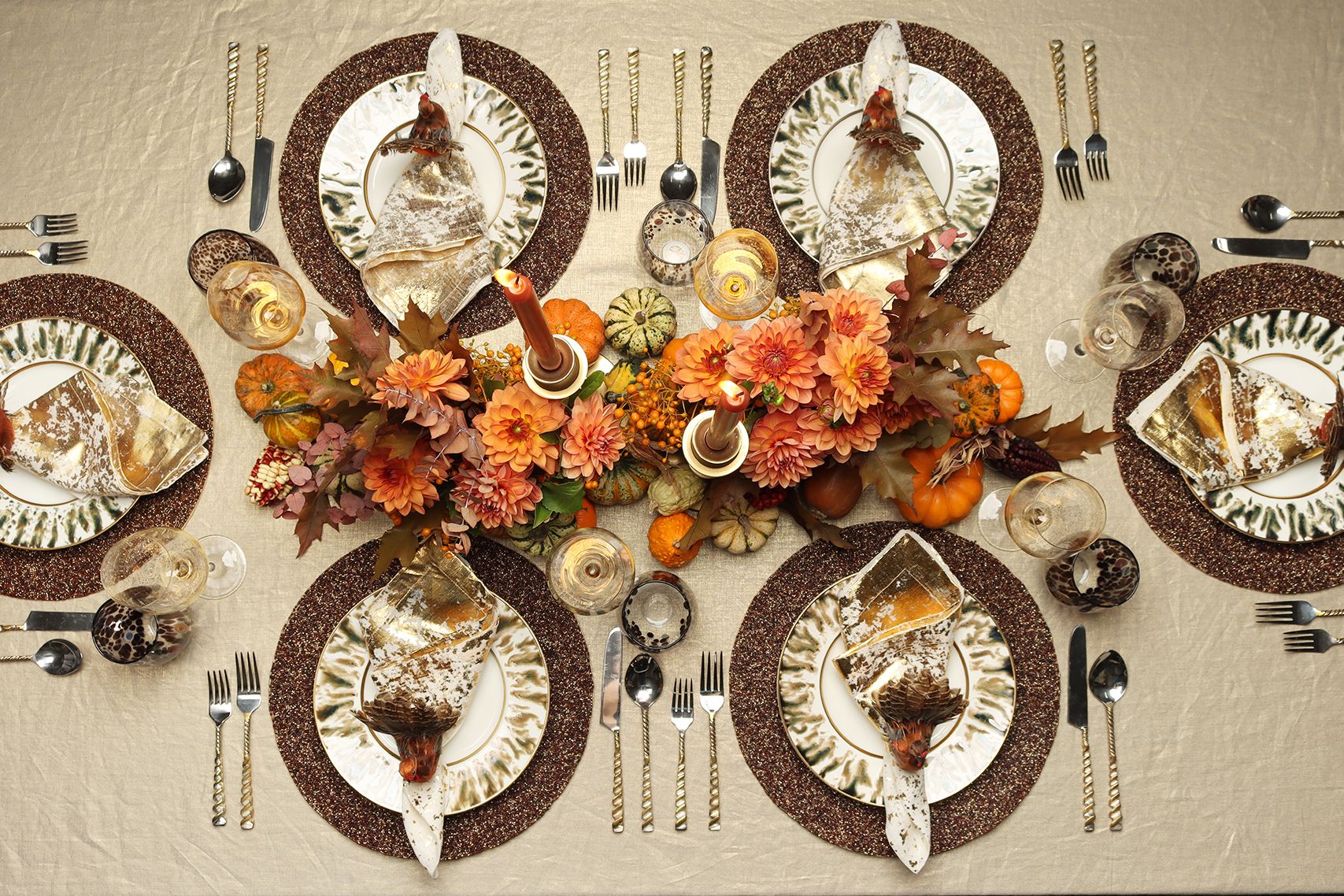 Modern Simplicity: Choose a monochromatic color strategy with cream or gray tones for a sleek and modern appearance. Your tableware and furnishings may take center stage with this modern, minimalist style.
Vibrant Harvest: Employ shades of orange, yellow, and green to embrace the rich colors of the harvest season. Your Thanksgiving table setting will feel fun and celebratory with this vibrant color palette.
Most people used a variety of flowers such as roses, dahlias, and hydrangeas, as well as white pumpkins, a few sprigs, and fall foliage on the centerpiece, along with layers of apple-toned candles and simple white plates of different shapes, to create this magnificent assemblage of warm, rich tones and vivid colors.
No matter the color theme you go on, make sure that the linens match the colors effectively. To give your table setting depth and visual intrigue, think about experimenting with various colors and design ideas.
Matchboxes: Functional Yet Stylish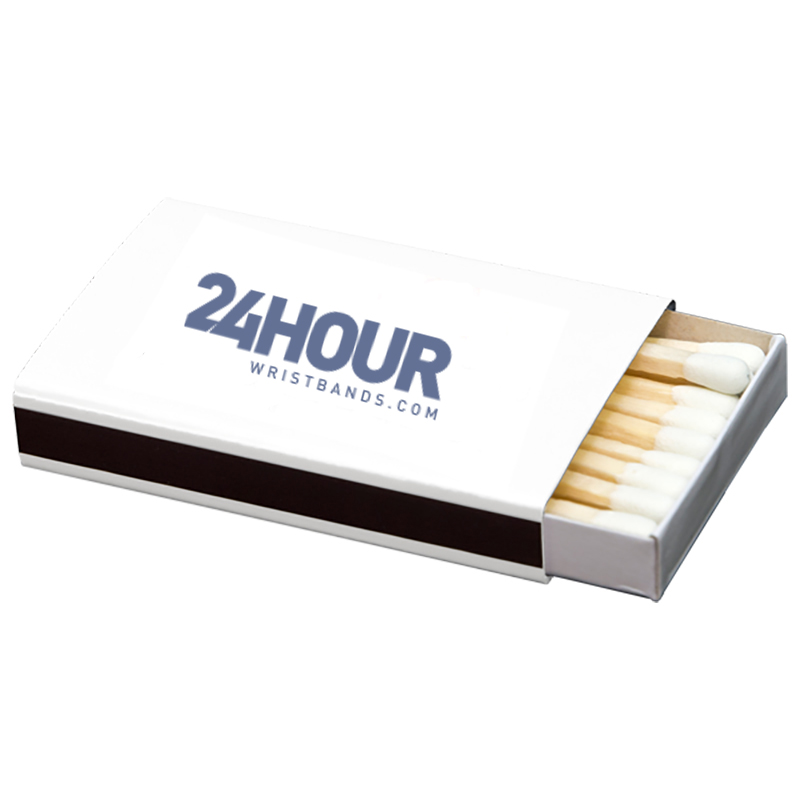 It's crucial to consider practicality along with beauty when choosing Thanksgiving table decorations. Custom matchboxes enhance your table setting with a dash of flair in addition to their practical uses. Think of your guests using a personalized matchbox to light a candle. These little touches not only improve the atmosphere overall but also demonstrate how dedicated you are to creating a seamless and pleasurable dining experience.
Including personalized matchboxes in your dining experience offers the dual goal of being functional and artistic. Matchboxes that have been personalized with names, dates, or elaborate designs become talking points. They give visitors a chance to interact and engage with one another by encouraging story-telling and memory-sharing at the table. These made-to-order objects add to the overall mood of the eating area by acting as both practical and decorative features.
Designing Matchboxes with Thanksgiving-Inspired Artwork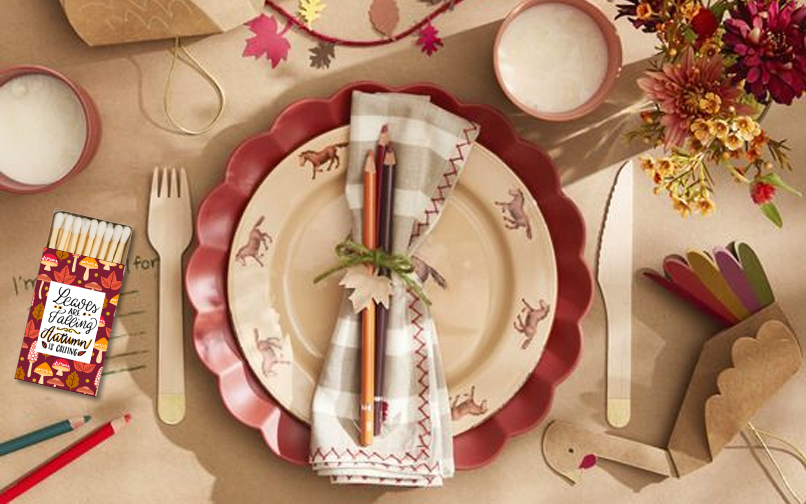 Every small detail, including the Thanksgiving table decor and arrangements, matters as we get our homes ready for this great occasion. The matchbox is a frequently forgotten yet crucial component. The skill of creating matchboxes with artwork evoking Thanksgiving will be discussed in this article, which will help you decorate your Thanksgiving table setting with even more warmth and charm.
How to Make a Visual Feast
The options are unlimited when it comes to making matchboxes for table settings. You can opt to stick to tradition and include typical feast decorations like pumpkins, cornucopias, and fall foliage. Alternatively, you might adopt a more modern strategy and experiment with bold colors, cutting-edge artwork, and unique phrases of appreciation.
Focusing on the Details
Making matchboxes with artwork inspired by Thanksgiving requires more than just sticking a picture on a box. It involves paying close attention to the little things and putting together a cohesive visual experience. Take into account the color theme you intend to employ; warm earth tones like oranges, browns, and yellows can conjure images of a comforting, autumnal ambiance. To ensure a unified appearance, incorporate other components of your table setting, such as the tablecloth or centerpiece, into the design.
Customized Elements
Your matchbox design can emphasize the fact that Thanksgiving is a holiday for close relationships. Think about including unique elements like each guest's name or initials or a brief note of appreciation in each matchbox. This not only adds a nice touch but also gives your guests something special and unforgettable to take home.
Dedicated Design
You might be debating whether to use our user-friendly online customization tool or contact our experienced designer now that you've been motivated to design your matchboxes. The decision ultimately comes down to your budget, time limits, and creative abilities because all solutions offer advantages.
It's important to recognize the role matchboxes have in Thanksgiving table settings. You can enhance the beauty and sentiment of your gathering by decorating matchboxes with Thanksgiving-themed artwork. Let your imagination shine and build matchboxes that will be a visual treat and treasured keepsake for years to come, whether you use our online customization tool or decide to ask for help from our professional designer.
Mason Jars: Versatile and Charming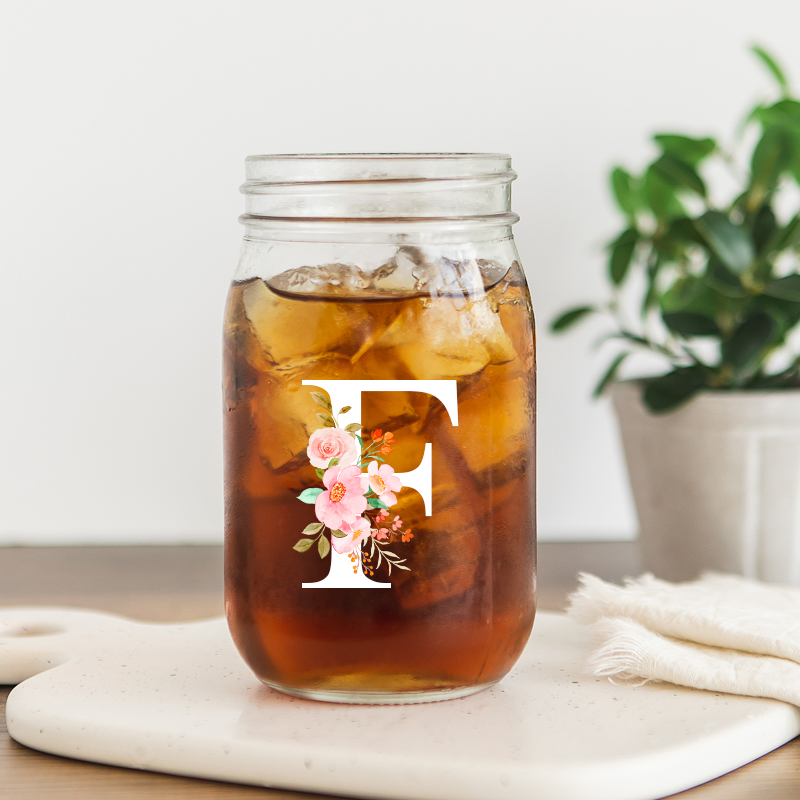 Mason jars are a useful complement to any table presentation and have grown to be a mainstay of contemporary farmhouse design. These adorable glass jars can be used in a variety of ways, including as a rustic flower vase, to contain candles or flatware, and as an alternative to small glass votives. You can add a touch of rustic appeal and simplicity to your table decor by using mason jars. To further amplify the festive ambiance, think about wrapping them in twine or ribbon or even painting them in fall colors.
Adding Charm to the Table with Custom Mason Jars
Mason jars have a classic, rustic appearance that instantly brings coziness and charm to any environment. They are an adaptable option for numerous events owing to their classic design and clear glass, which let them complement a wide range of themes and styles. Mason jars may easily fit into your vision and improve the overall appearance of your table spread, whether you're striving for a classic feast design or a more modern vibe.
Versatility at its Best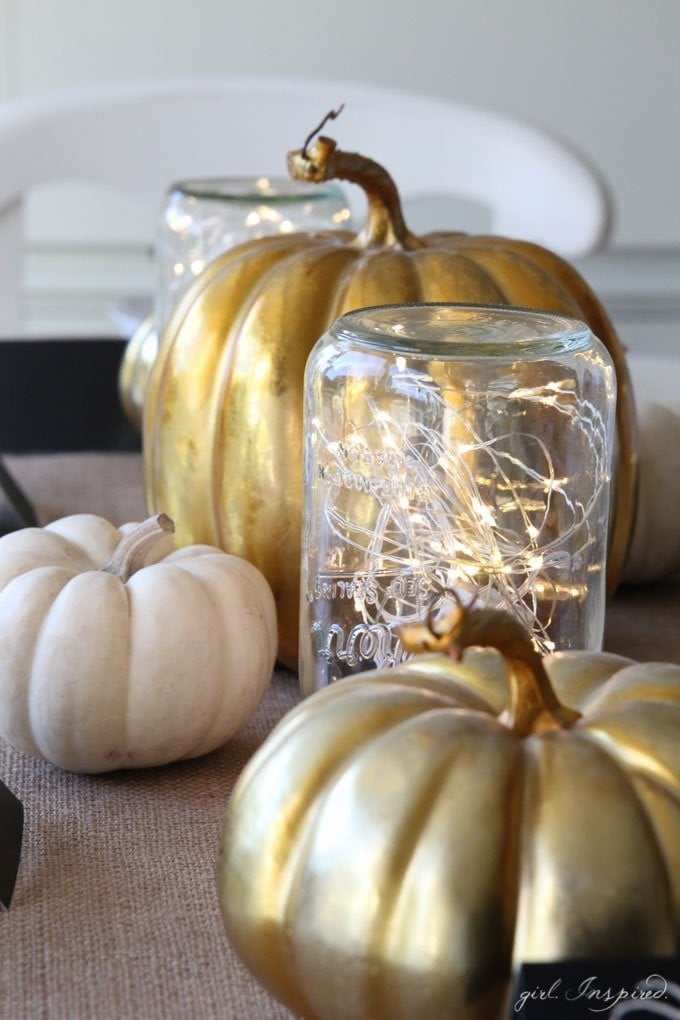 Mason jars are a great choice for your harvest table setup because of their versatility. These jars are a useful and effective option because they can be used for a variety of tasks. The following are some imaginative ways to use mason jars in your feast décor:
Centerpiece
Use mason jars as your vase to hold seasonal flowers, branches, or even tiny pumpkins and gourds to create gorgeous centerpieces. To add a touch of natural beauty, group them or arrange them on a table.
Put candles inside your mason jars to make them attractive candle holders. For your gratitude dinner, this simple yet powerful idea may quickly create a warm and welcoming ambiance.
Utensil Holders
Organize your table setting by utilizing mason jars to house your cutlery set. For an extra touch of sophistication, fill them with wrapped linens, cutlery, or even little decorative accents.
Dessert Containers
By putting individual dessert food portions in mason jars, you may get creative with your dessert display at your centerpiece. These jars are the ideal display for your sweet confections, from apple crisp to pumpkin pie.
Customizing Your Mason Jars With 24hourwristbands.com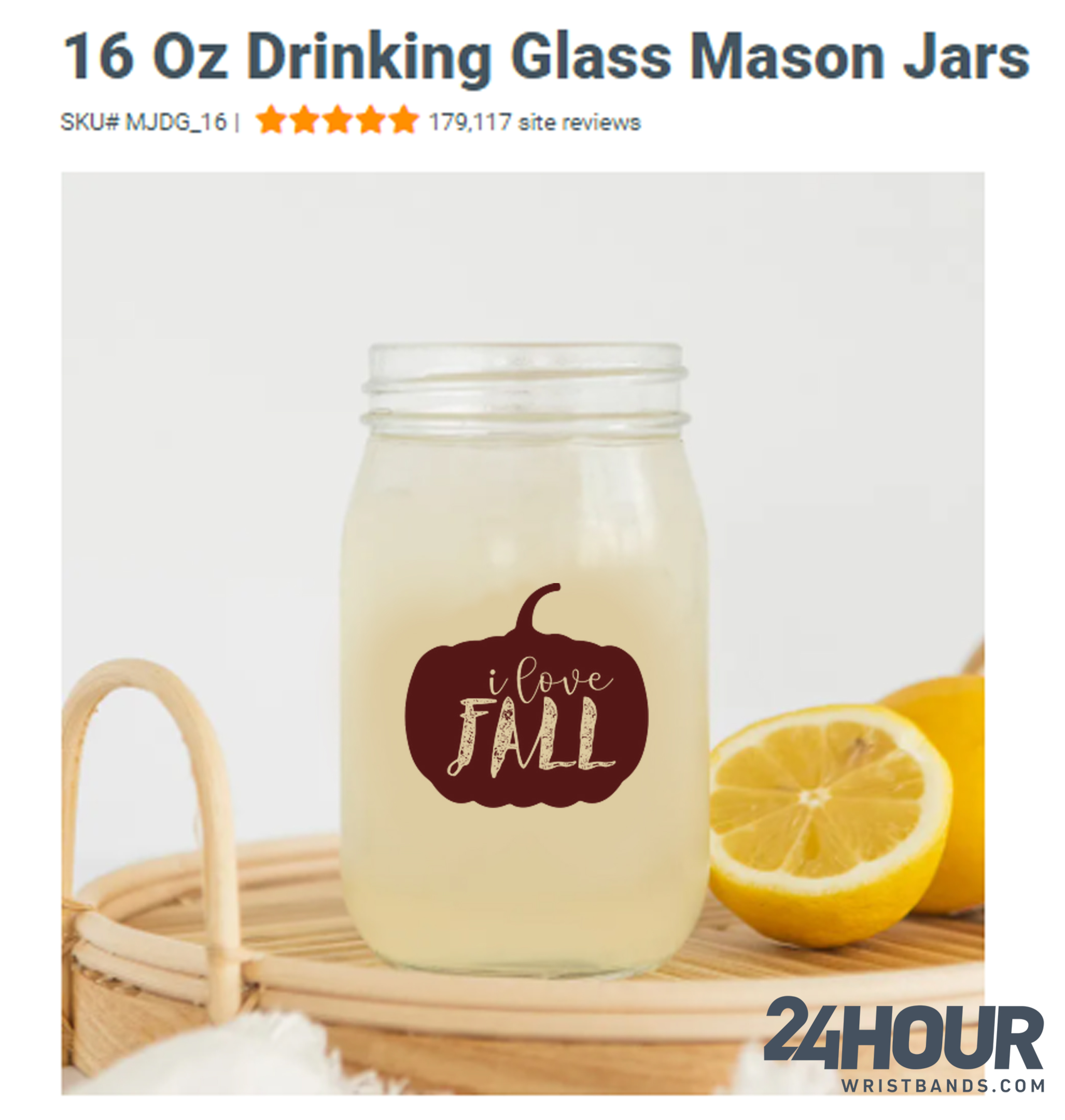 Mason jars are among the things that 24hourwristbands.com, a reputable supplier of personalized goods, offers. You may realize your vision using our user-friendly online design tool and our many customization possibilities. 24hourwristbands.com has you covered, whether you want to highlight a family name, a personalized message, or a festive design.
With the help of 24hourwristbands.com, you can personalize your mason jars so that each visitor feels valued and special. Here are some suggestions to get you going:
Festive Quotes and Sayings
To promote appreciation and introspection, write motivational festive phrases and sayings on your mason jars. Words like "Grateful," "Thankful," and "Blessed" are perfect for encapsulating the holiday's spirit and can be coupled with illustrations of pumpkins, leaves, and turkeys to create a cohesive design.
Family Names and Monograms
By adding your family name or a monogram to the mason jars, you can completely personalize your festive table decorations. This unique touch will not only foster a sense of identity but also produce a priceless memento that may be used for many years.
Festive Designs and Patterns
Decorate your mason jars with seasonal patterns and designs that capture the spirit of the season. Think about including enduring themes like cornucopias, pilgrim caps, or autumnal foliage. Your visitors will be delighted by these decorative accents, which also improve the atmosphere at your table.
Custom Coasters: Classy and Innovative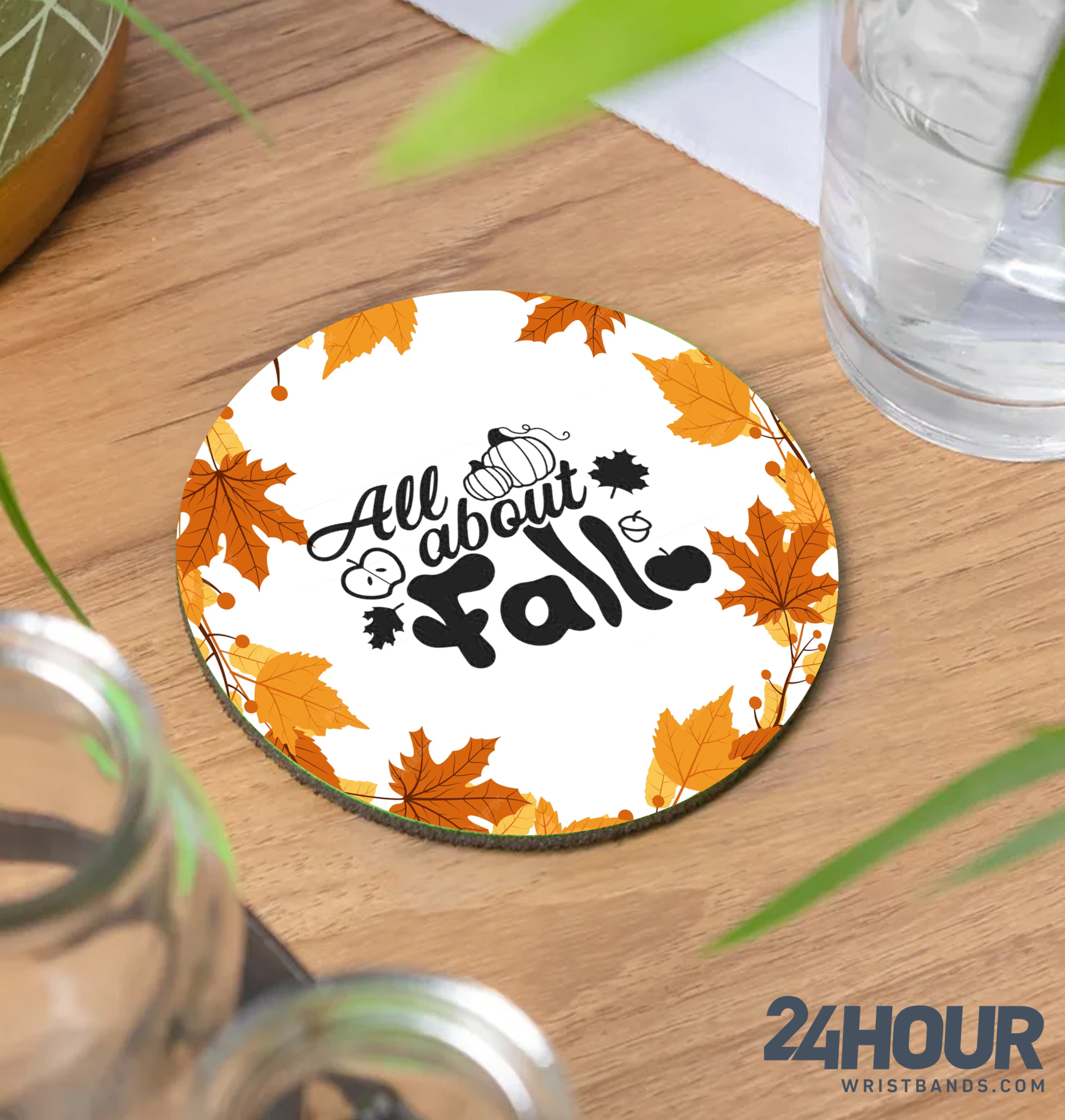 Utilizing custom coasters, which are a staple of parties of all sorts, is one of the most simple methods to spread your message to friends, family, and that special someone. You might not be neglecting the value of coasters at the events you host, but you might be underestimating how you could make use of customized coasters. After you've prepared the spread for the event you're hosting, add personalized coasters for later occasions to complete your decorative touches.
There are several ways you can use customized coasters for thankfulness. Ask your visitors (family, friends, and neighbors) what they are thankful for this year before the event. Have your party coasters customized with their comments after that. You may even consider having coasters manufactured especially for the feast to inform your guests about the holiday's history. Coasters, which protect tabletop surfaces from moisture damage brought on by liquids, are fully recyclable, unlike many other party favors or decorations, and they help protect your home, place of business or rented space.
Benefits of Using Custom Coasters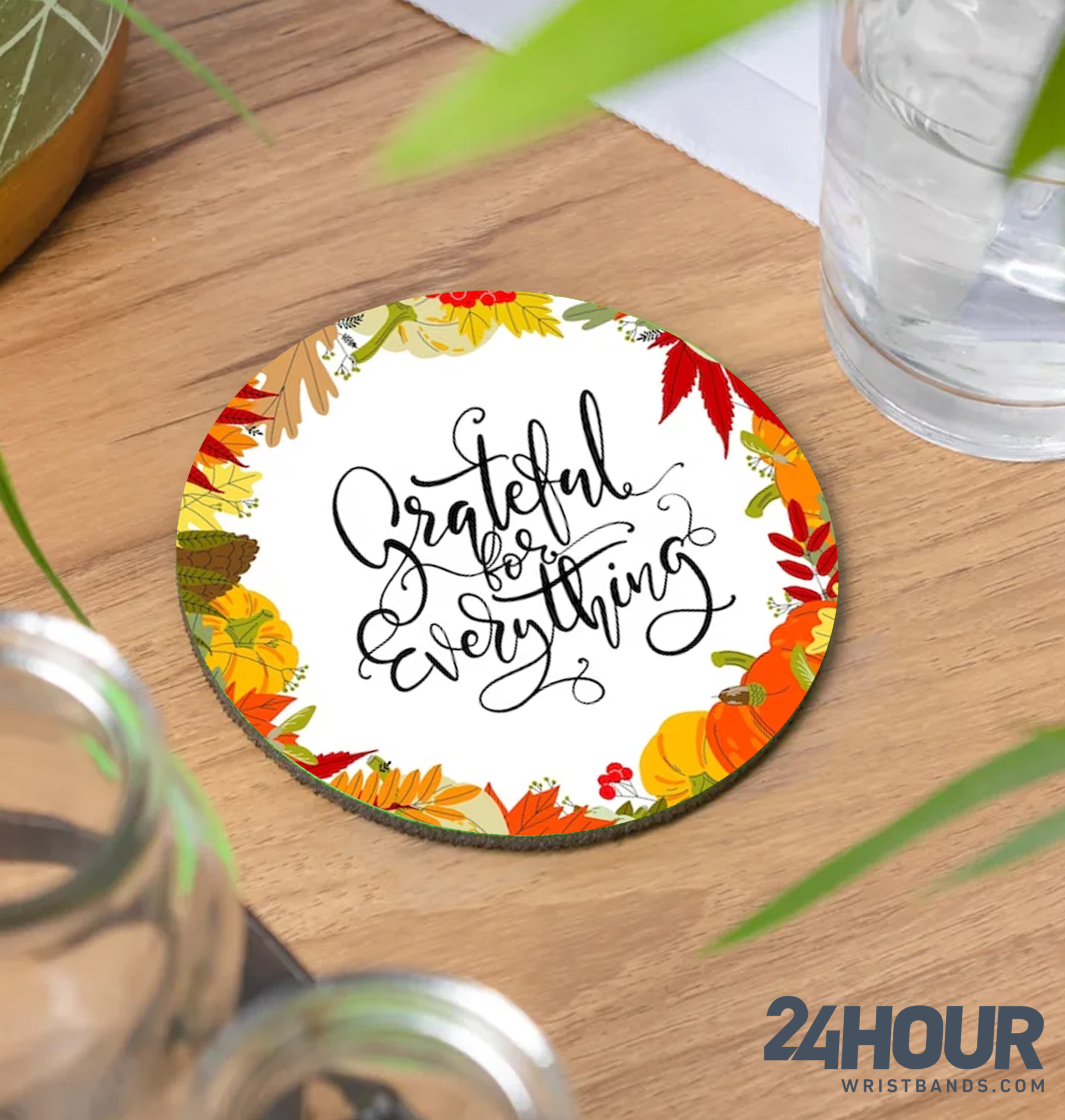 Use custom coasters as a special and useful addition. Alongside protecting your table from beverage spills, custom coaster ideas give you the chance to express your creativity and sense of style. The advantages of employing custom coasters for your festive centerpiece will be discussed in this article.
The Experience of Custom Coasters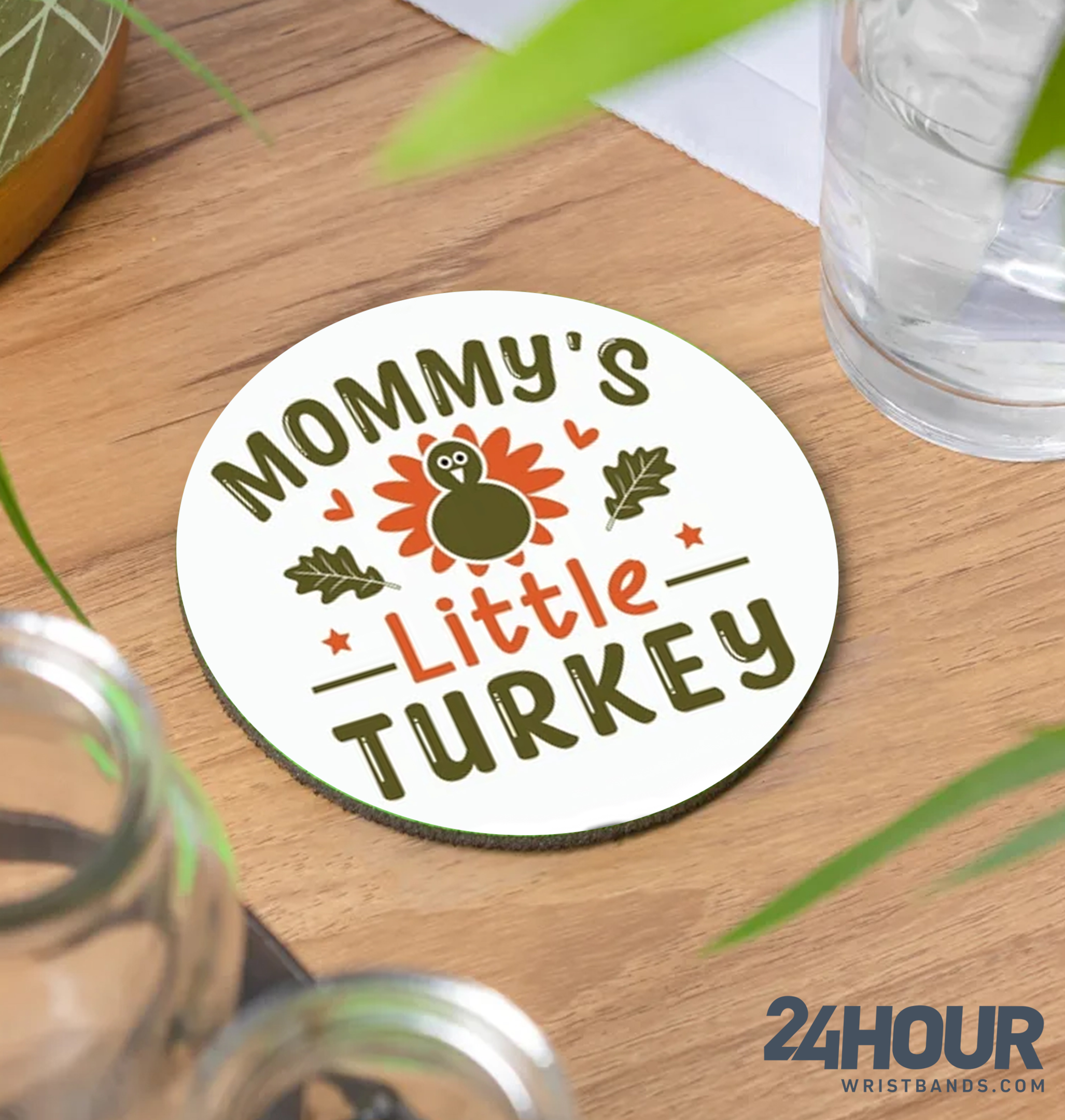 The attention to detail that went into decorating the table will surely catch guests' attention when they come for a turkey dinner. Custom coasters give you the chance to make a lasting impression on your visitors. Custom coasters can be made with anything you choose to suit your style and make your guests feel special, from monogrammed initials to festive artwork or even custom messages.
Expertise in Design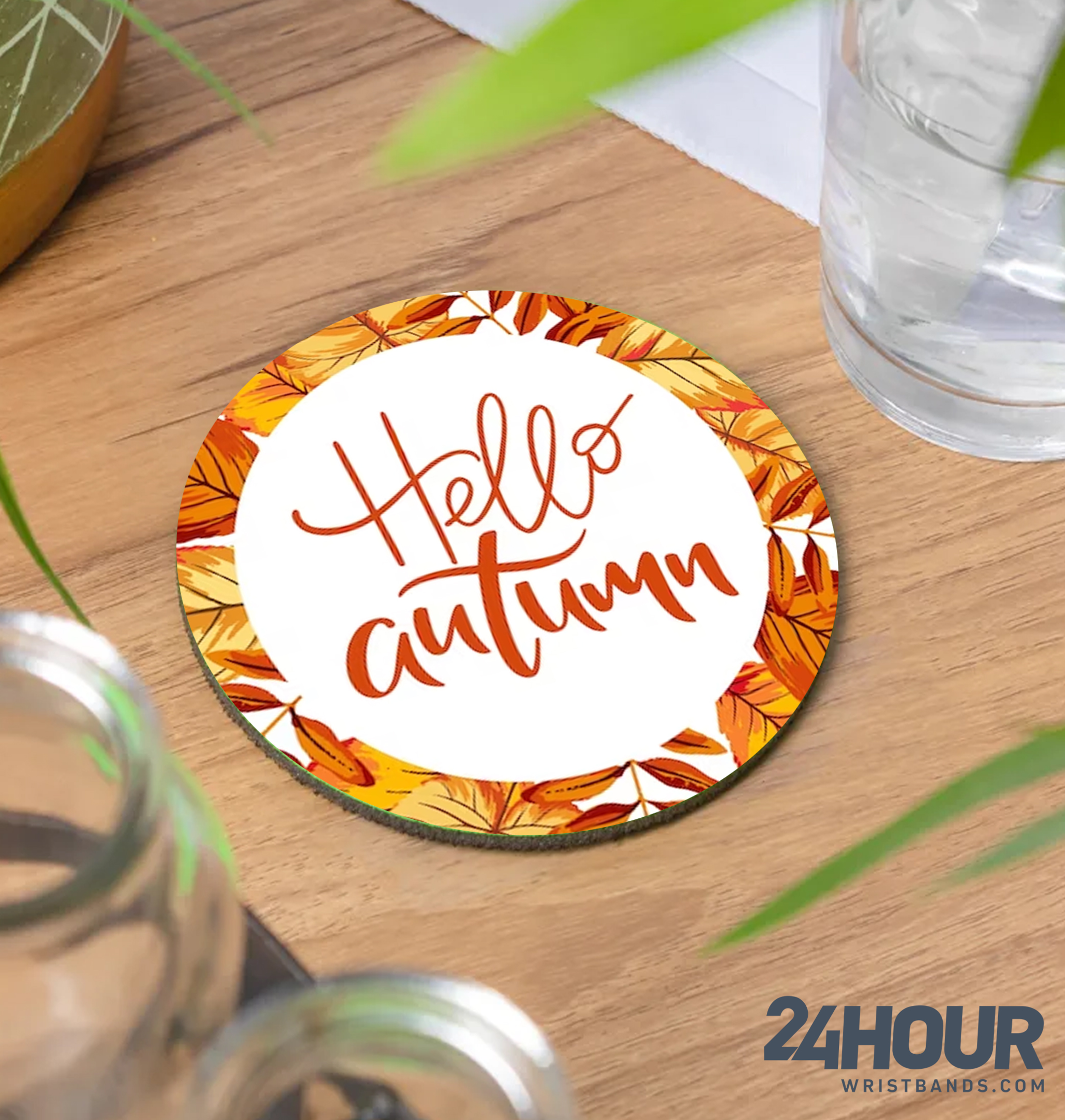 When it comes to design, custom coasters offer countless options. With personalized options, you can select the ideal design to go with your autumn theme, whether you like a traditional and elegant appearance or a more whimsical and playful one. You can choose from seasonal themes like autumn leaves or turkeys, or you can personalize the coasters with images of your loved ones or sayings that express the importance of sharing and being thankful.
Authority in Customization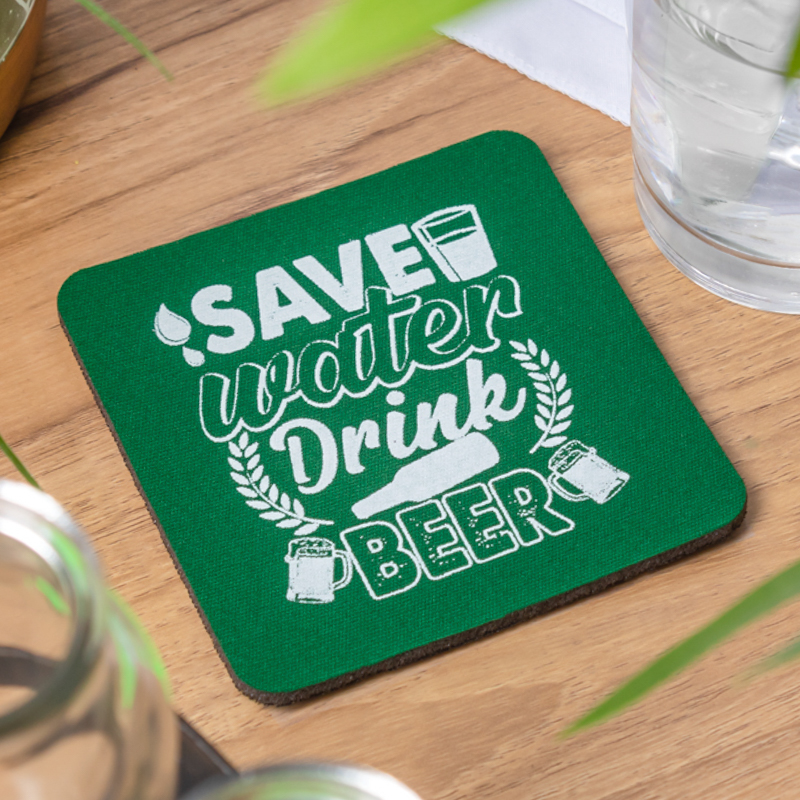 The freedom and control offered by custom coasters in modification is one of their main advantages. Custom coasters, as opposed to generic ones, give you the freedom to pick the materials, shape, size, and overall appearance. For a rich look and feel, you can use premium materials like pulpboard, paper, foam, ceramics, or cork. If sustainability is important to you, however, you should choose eco-friendly options. To add a special touch and fun to your table setting, try out different coaster shape ideas like hearts, rectangles, squares, or circles.
Table Protection and Practicality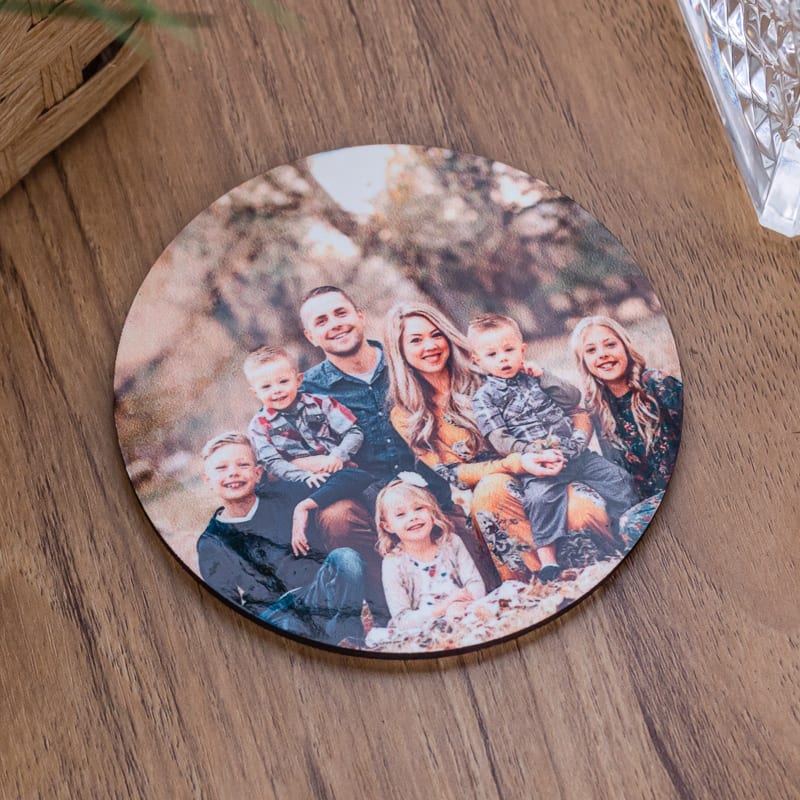 Custom coasters serve the crucial purpose of shielding your table from potential damage brought on by hot or wet drinkware, in addition to their visual appeal. Custom coasters are a must-have for your table setting at gratitude festivities since hot drinks and iced cocktails are frequently served. Custom coasters prevent unsightly watermarks or heat spots on your lovely tablecloth or hardwood table surface by providing a specified area for placing drinks.
Conclusion
A beautifully decorated Thanksgiving table offers more than just eye candy. It creates the ideal environment for a joyful, uplifting, and enduring get-together. Every little thing, from the choice of tableware to the considerate addition of personal touches, adds to the atmosphere. So this Thanksgiving, put some consideration into your table arrangement and provide a lovely setting for your family's special times of thankfulness and togetherness.
Contact Us Today
Take your table setting to the next level this Thanksgiving by adding personalized items that showcase your personal style and give your guests a unique experience. These customized products, like monogrammed napkins, mason jars, and coasters, will give your event a sense of class, coziness, and individuality. Contact us right away to talk about your customization possibilities and let us work with you to design a genuinely special Thanksgiving table spread that will make your guests appreciative and impressed.