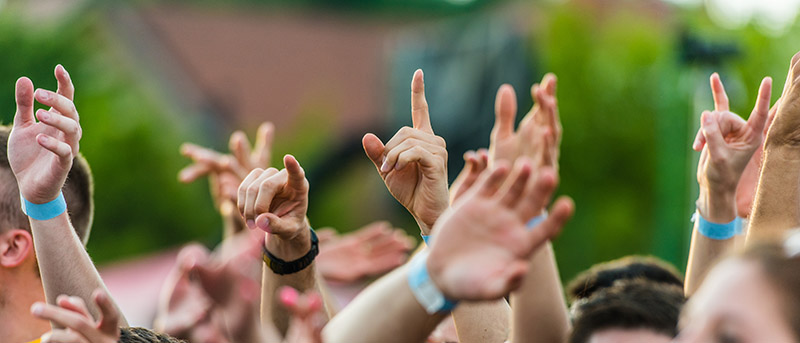 There are many various forms, sizes, and reasons for events. Corporate events like trade exhibitions and conferences as well as community events like concerts, festivals, and sporting events are some of the most popular examples. Whatever the goal, there is usually a lot of effort involved in the event's preparation, coordination, and execution.
Even though event custom bracelets are likely to appear to be minor in the larger scheme of things, the opposite is actually true. Regardless of the type and style of party or occasion you are organizing, wristbands for special events can be a useful tool that can provide advantages.
Everything from security and accessibility to price identification and prices can be facilitated with event wristbands.
Event planning can be a stressful process that often leaves concerns for security. One of the best ways to manage the event smoothly is to create custom bracelets online, or customize them for special event. No matter what type of event, plastic wristbands can be a simple and effective way to advertise the event and control access.
It is also very affordable. Compared to traditional ticketing systems, plastic bands are more durable and provide a more efficient way to identify patrons. Colored wristbands can also be used as a souvenir from the event and help promote and support the company even after the event.
Custom bracelets also more difficult to replicate, so the chances of ticketing fraud is less. With RFID or LED wristbands, organizers can gain valuable insights to consumer behavior, preferences and further optimize the event for success.
The advertising aspect of customized bands is an additional benefit that enhances all of the other benefits. You can create a distinctive, eye-catching personalized event that will help you build some brand recognition that will stay long after the event is finished by having your company logo printed or custom artwork on the wristband. This works particularly well for musical events because attendees will keep the wristband as a great souvenir from the day they saw their favorite performer, and your branding will be there to serve as a constant reminder of your business.
Whether you're organizing festivals, fairs, corporate events, nightclub and bar events, hotel events, camping events, charity and awareness events or parties, 24hourwristbands.com offers you the highest quality, custom bracelets with adhesive closure, that we guarantee are just right for your event. We can even offer day shipping for rush orders for wristbands that we guarantee are available in stock.
We can assist you in creating your special event bands in any volume with the assistance of our experienced artists and sales team. You can even use our hassle-free custom wristband online design tool to manufacture the perfect wristband for your program.
In this article, we will look into different events and the type of wristbands or bracelets each event requires, how each of the bands can be customized to optimize and promote the function further.
Bars & Nightclubs:

Different color coded wristbands at bars can allow easy access control, verify ages, and identify patrons at a glance. At a busy bar or club, the staff already have a difficult time taking and delivering drink orders as it is. By implementing bar wrist bands the staff can not worry about the patron's identity and focus on delivering their orders.  Different colored wrist bands can also help streamline drink orders.
Custom tyvek bands are widely employed at festivals to distinguish between various levels of entry and for age checks in nightclubs. Nightclubs occasionally rely on them for events like music festivals or concerts or special performances. They are a safe and affordable solution because once connected, it cannot be taken off and used again. These wristbands increase event security because they are sturdy, reasonably priced, and have a dependable adhesive.
Tyvek wristbands are the best option to carry and use at bars and nightclubs. These bands are strong, affordable, and offer a reliable adhesive closure that boosts event security. Tyvek wristbands at 24hourwristbands.com  are high quality wristband that are created with the focus on security, durability, price and usability. They are
Waterproof

Tamper resistant

Color customized

Secure adhesive
So have become the industry standard for access identification wristbands.
You can order your tyvek bands here: https://24hourwristbands.com/shop/products/tyvek-wristbands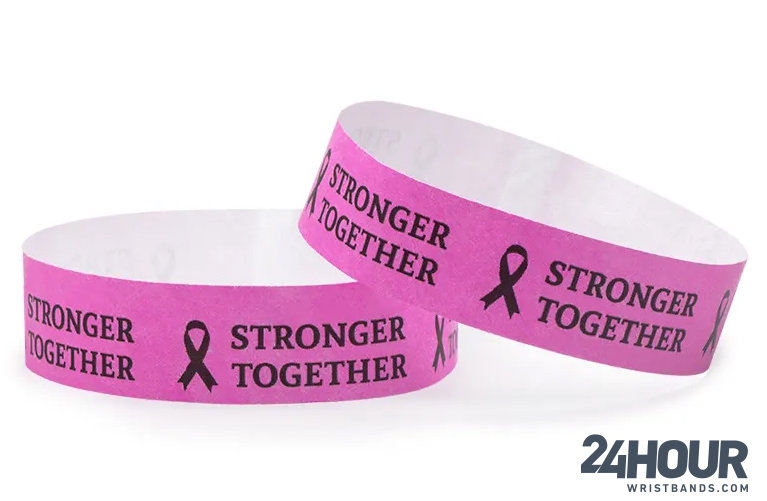 Concerts, fairs and festivals: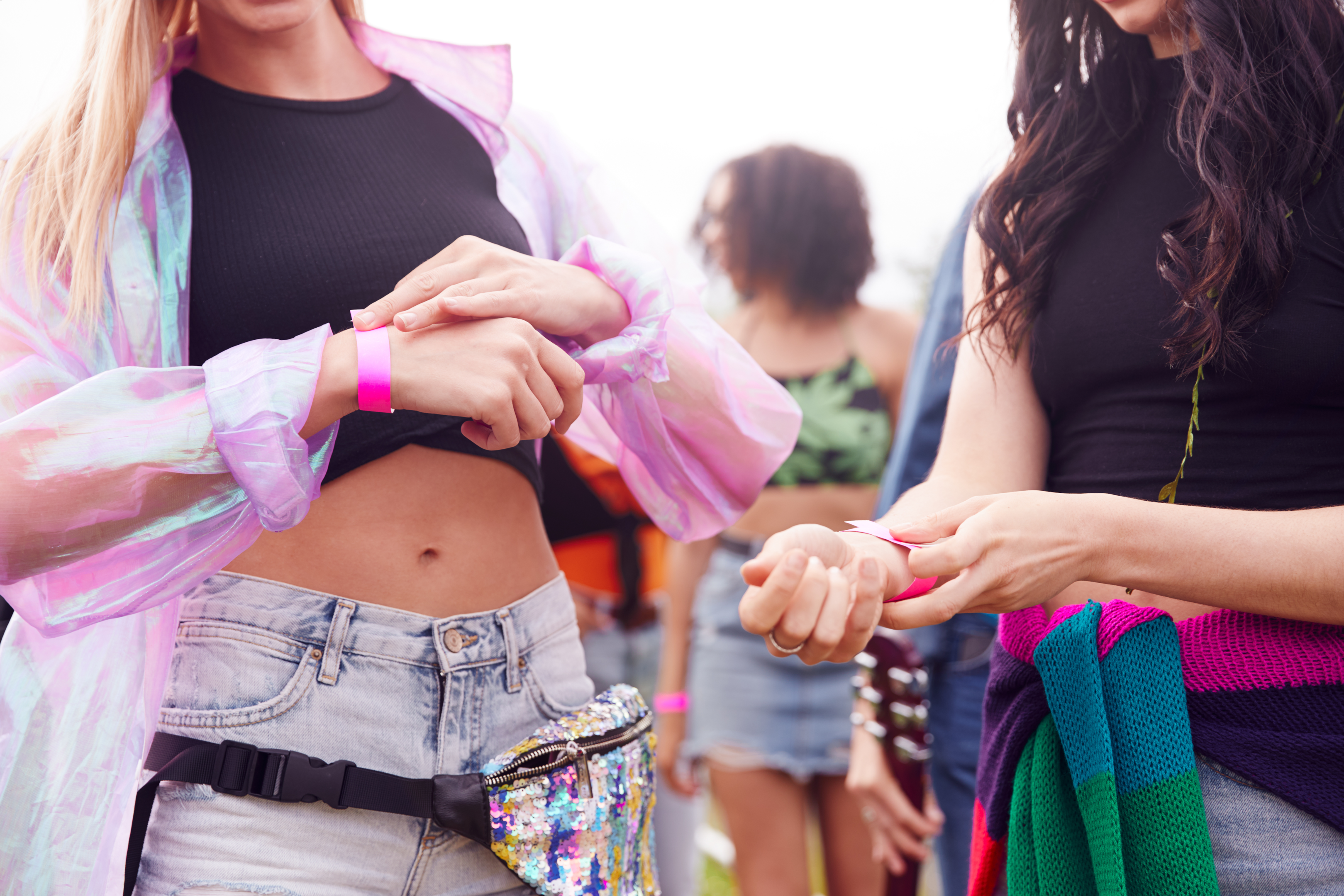 One of the most popular uses of vinyl wristbands are at concerts, fairs and festivals. You can quickly and affordably take control of your event with personalized event wristbands. Due to its resilience to humidity and water, vinyl wristbands are ideal for all kinds of indoor and outdoor activities. Thanks to these features and the tamper-proof, single-use snap closure, they make it simple to identify a participant for a long time.
Wristbands offer an affordable alternative for security at any public event, including concerts and festivals. custom vinyl wristbands are nearly impossible to transfer or sell to any third parties and are normally made for use at events ranging from of one to three days. They are robust and adaptable due to the fact that they cannot be torn or stretched, guaranteeing that identification is always possible from the beginning of the event to the very end.
In many instances, regular admission tickets are sufficient, but they may not be acceptable in others. When attendees are asked to present identification to prove their age or backstage access, the ticket may be misplaced, torn, or simply lost. The only consequences of seeking for tickets are longer lines, bottlenecking of service, and irate consumers.
By the fast flash of a green wristband, it can take less than a second to identify oneself and the level of security. The party guests will find it quite simple to move around and avoid the event workers as a result.
Vinyl, or plastic concert wristbands, are typically seen at multi-day music festivals and other events. These latex free bands have a safe locking snap that keeps them from being given away or sold again. Numerous wristbands are available at 24hourwristbands.com, all of which can be completely customized to meet your precise needs. They are:
Non-stretchable

Cannot be torn

Single snap closure

Non transferable
Therefore are the favorite kind for concert and festival wristbands.
Get yours here: https://24hourwristbands.com/shop/products/vinyl-wristbands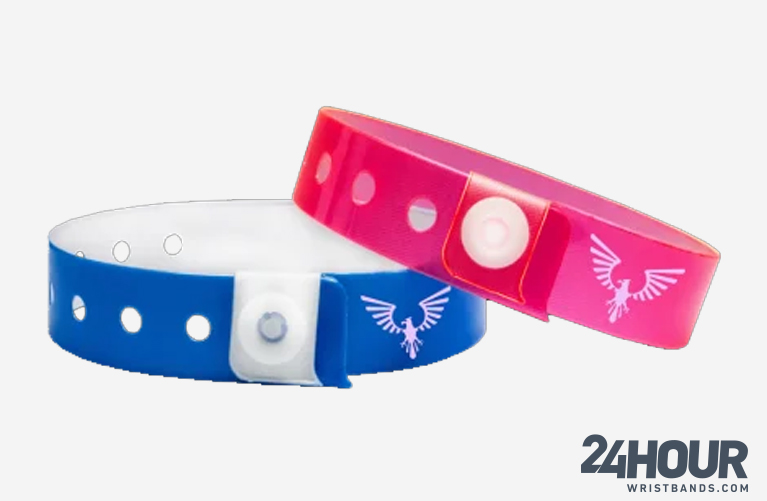 Fundraising and Awareness Campaigns: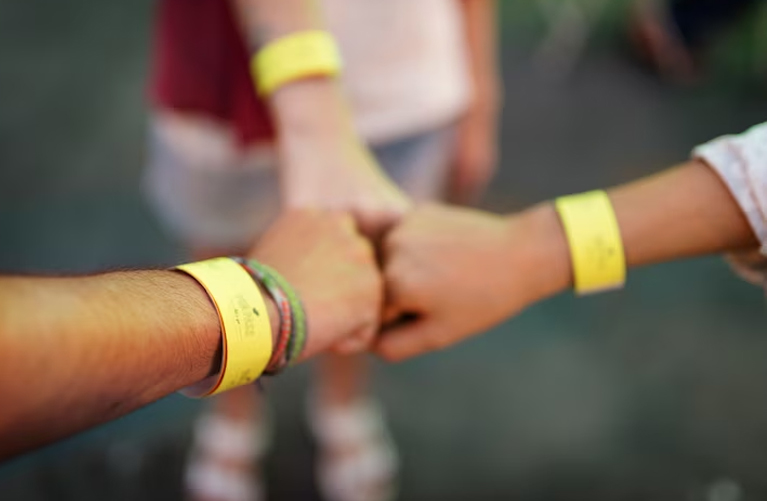 Since many productive non-profit organizations have offered charity and fundraising wristbands to participants to collect money for particular causes and awareness campaigns, they are a tried-and-true method of spreading awareness. Fundraisers can customize a wide variety of styles of wristbands, from awareness bracelets made to be worn every business day during particular months or even the entire year, to one-time use admittance wristbands for tracking participants at fundraising events.
Silicone wristbands are the perfect option for special events like fundraising and to have kids create awareness. They are water and heat resistant, latex free, tamper-proof and easy for kids to wear. Silicone wristbands serve more as a promotional tool for kids than as a straightforward entry method.
These wristbands can continue to be used as a memento long after your event has ended if they are combined with a strong branding approach. Different color options can help distinguish custom product for different levels of patrons or people working in different campaigns.
At 24hourwristbands.com we offer a wide variety of silicon wristbands in different colors. They can be printed, embossed or debossed with your personalized logo or text. Silicon wristbands can be a powerful branding tool if the design and campaigning align. Clients can keep wearing them after the event ends and continue to promote your brand. This can help build a sense of community among the customers. They are:
Easy to wear

Tamper-proof

Good Marketing tool

Souvenir
Hence, Silicon Wristbands are favorite among brands when it comes to hosting fundraising events or creating awareness campaigns.
Get yours here: https://24hourwristbands.com/shop/products/printed-wristbands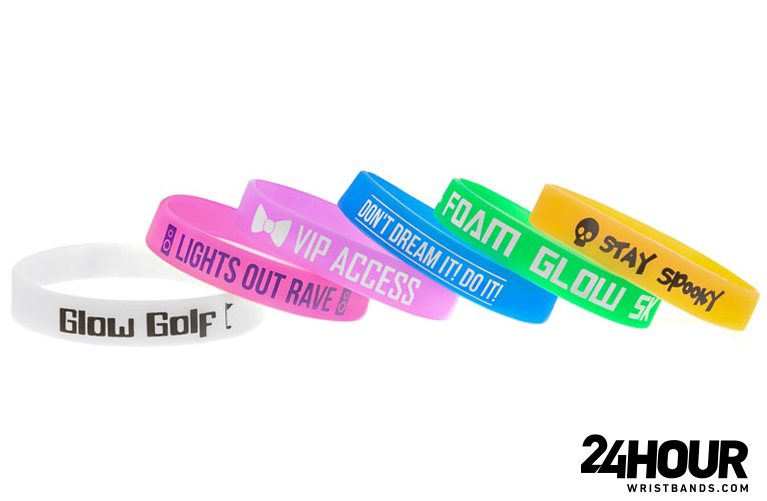 Enhancing Guest Experience:
Fabric wristbands, among different material kinds and styles of bands, look expensive, exclusive and create a fancy image for your brand or service. Cloth wristbands are becoming increasingly popular at hotels and resorts that offer all-inclusive deals. These wristbands make it easy for property staff to improve security, verify guests and create branding.
Cloth wristbands look and feel high-end, so there is a higher chance that people will keep them as souvenirs later on. These wristbands can also be easily converted into a keyring for later use. This allows further branding of the company.
Cloth wristbands at 24hourwristbands.com are ideal for long-term use at outdoor events and conferences, they can also be customized to portray your brand and message according to your preference and style. You may remind your customers what your next party, event and company are all about by purchasing branded fabric wristbands.
If you've invested time, money, and effort into promoting your next party or event as a high-end party or dance party or festival, cloth wristbands will do a much better job of doing so than pre-printed Tyvek bands or silicone bracelets. You can easily feature this custom product as an artwork for your audience.
You have the option of printing or having your custom artwork, text, slogans, and logos woven right into the band. Woven cotton wristbands are excellent for simple, striking designs. Printed fabric wristbands have an infinite number of color combinations and a smooth surface. All of our cloth wristbands come with a small tooth that helps adjust the band on hand. Cloth bands are:
Exclusive

Can be customized

Durable

Water-proof

Good souvenir
So, brands want to use these bands whenever they are hosting an event where they want to enhance the guest experience. Get yours here: https://24hourwristbands.com/shop/products/cloth-wristbands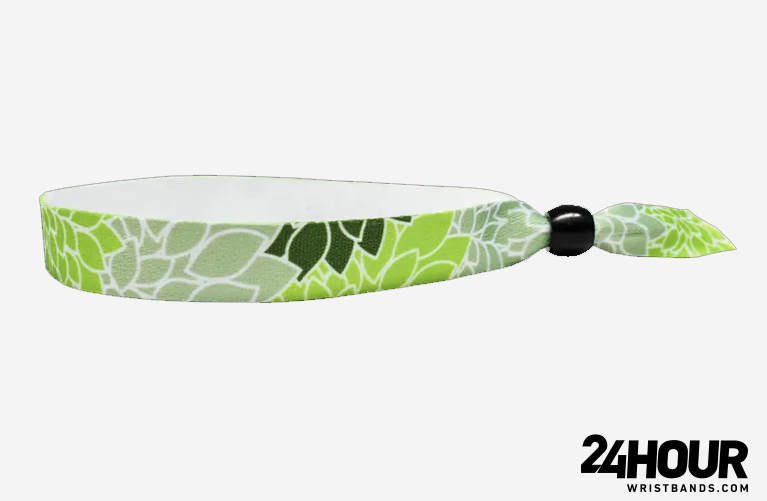 End Note:
Wristbands can be a practical and inexpensive solution for identification, monitoring, awareness, and security for any kind of event that you are organizing. The specific benefits of using custom wristbands will vary depending on your function type, target groups and objectives. Consider these advantages to determine if wristbands align with your event's needs and goals. Plan ahead and order wristbands well in advance to allow for production and shipping time.
We have assisted many clients who were organizing a variety of styles of events with our skilled sales staff, graphic designers, and printers. Use our skill and knowledge to your business day one advantage!
Please get in touch with contact us right away if you have any inquiries about personalized wristbands. We are pleased to assist you in selecting the ideal wristband style for your event.