What Are Wristbands?
Encircling strips known as wristbands are wrapped around the wrist or forearm. The phrase can be used to describe a bracelet-like band that resembles a wristwatch, a cuff, or other portion of a sleeve that covers the wrist, as well as beautiful or practical bands worn on the wrist for a variety of purposes.
Wristbands are frequently used to provide information or grant access to events, much like lanyards or event passes. These event wristbands are made of plastic loops that go around the wrist and are used to identify wearers.
History of Wristbands
The distinctive yellow "Livestrong" rubber wristbands, a universal emblem for overcoming cancer and, in general, living strong, were the first bracelets or wristbands to be brought to America in 2004. While bracelets have a history dating back to 5,000 B.C., wristbands have evolved into a type of modernized jewelry that is perfect for advertising.
Since then, wristbands or bracelets have gained popularity among young people, adults, youth, and children all around the world.
When To Use A Wristband?
The wristbands are used to ensure security, crowd control, and identification of the attendees, making it simple for the security detail to distinguish between people who, for example, have access to the backstage area or those who are underage and aren't permitted to consume alcoholic beverages.
Event wristbands exist in a wide range of shapes, sizes, and functions. The most popular uses include public events like concerts, festivals, outdoor events, and sporting events as well as business events like trade shows and conferences. Regardless of the type of your event, event wristbands are a practical tool that could be advantageous and cost-effective.

Types of Wristbands
Event wristbands have many distinct characteristics and serve a variety of purposes. We could go on and discuss the various types of wristbands such as silicone, Tyvek wristbands, Woven cloth wristbands, neoprene wristbands, vinyl wristbands, and USB wristbands that are available on 24hourwristbands.com.
We'll give you more insight into the benefits of getting custom wristbands for your coming event in this article.
Silicone Wristbands
The most popular choice wristbands are probably made of silicone. Extreme temperatures, chemicals, and UV rays are all resistant to these wristbands as well as all forms of handling. In addition to being reusable, silicone wristbands have the benefit of lasting a very long period looking and waterproof, which are the main difference. The color of this wristband makes it possible to tell individuals apart into various categories. For instance, a green bracelet for VIPs and a blue bracelet for guests. However, it is simply detachable, making it simple to move from one person to another.

Obtain the silicone wristbands offered on our website including Printed Wristbands, Debossed Wristbands, Ink Injected Wristbands, Embossed Wristbands, Embossed Printed Wristbands, Color Coat Wristbands, and Figure Wristbands for your next event.
These silicone wristbands are exceptionally durable, latex-free, and constructed entirely of pure silicone. They may be personalized with text, simple logo, and graphics, and are highly well-liked by clients planning charity events and fundraisers, as well as seasoned event producers with a strong following of patrons and high demand in the market.
Tyvek Wristbands
Due to their lightweight, waterproof, and tear-resistant, Tyvek wristbands and paper wristbands are popular items for gatherings. Additionally, each wristband has a unique number, which helps control and identify individuals. Tyvek wristbands are also anti-fraud, they include a permanent adhesive closure that prevents them from being taken off once they are wrapped around the wrist.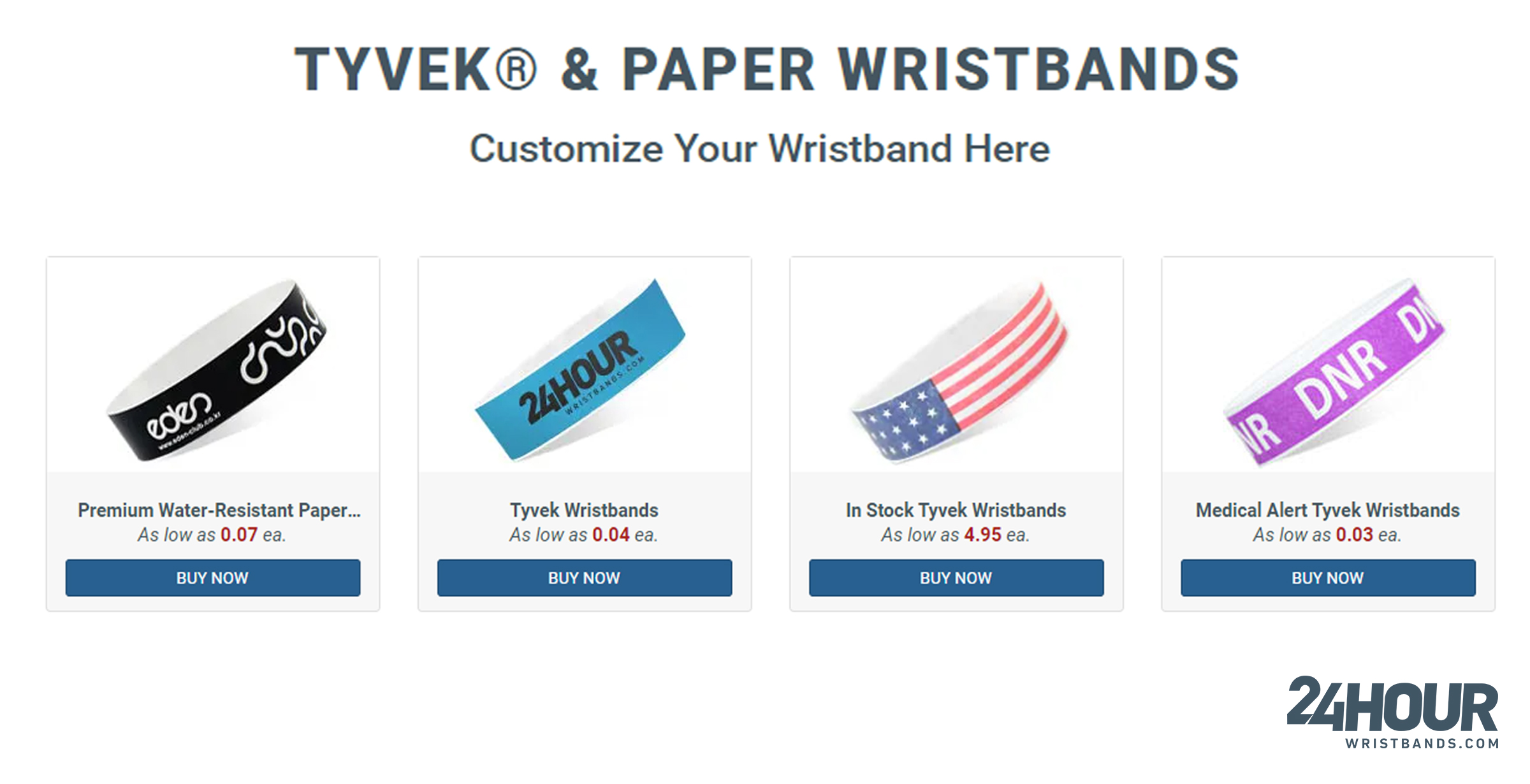 Our personalized Tyvek wristbands are nonwoven wristbands for events that are suitable for short-term use. These are Premium Water-Resistant Paper Wristbands, Custom Tyvek Wristbands, In-Stock Tyvek Wristbands, and Medical Alert Tyvek Wristbands. They have a peel-off adhesive lining for simple and rapid application. Our Tyvek wristbands are durable and sweat-free, can be customized with a selection of colors and patterns, and are available in large orders and sizes. With Clipart or logo, you can personalize your Tyvek wristband. Our Tyvek wristband is difficult to destroy, but once events are over, it is simple to take off with scissors.
The only difference between these printed cloth wristbands and woven cloth is that the bands have a satin finish. This makes the message clearer and gives a better graphic appearance on the bracelet.
Festivals and other events with a lot of brand exposure are ideal venues for woven cloth wristbands. They have a unique look, and longer lifespan because they are constructed of polyester. Woven cloth wristbands are an excellent investment for your event if you don't mind spending a little extra because they are slightly cheaper than other types of bands.
Most companies acquired our Custom Cloth Wristbands, and Woven Cloth Wristbands because they can quickly add specific styles printed and branding to the wristband.
You have the option of having your artwork, taglines, logos, and text printed on the wristband or woven right into it. Our woven cloth wristbands, which come in batches, are perfect for plain, eye-catching designs at the event. On the other hand, our printed cloth wristbands have a satiny-smooth texture that is mirrored on both the front and back of the band and may be personalized with an infinite number of color possibilities.
Neoprene Wristbands
Neoprene, or wetsuit material, makes up the entire material of these personalized wristbands. Stretchy and durable, it provides a great surface for color prints. This colorful neoprene wristband will help your company's information stand out. Therefore, consider utilizing these premium customized wristbands to advertise your future event or campaign.
Our Custom Neoprene Wristbands are ideal to wear at amusement parks and water parks due to their desirable, exchangeable, trendy qualities and comfort level. You may personalize these event bracelets with your phrase or artwork in as many colors as you like by choosing from single-color to full-color imprints.
Additionally, we offer Fluorescent Neon Full Color Cloth Wristbands that have been dye-sublimated for intricate designs. The wristbands are cozy to wear for an extended time due to their soft satin fabric. For securing the fabric wristbands, we offer black plastic one-way locks. Our custom-printed event wristband color transitions will sparkle brightly.
Custom Vinyl Wristbands
Vinyl wristbands are a well-liked substitute for plastic wristbands since they provide comparable customization choices and reliable security measures. For several enterprises, vinyl wristbands have several uses. Because it can be recycled, it is far more affordable to create than plastic wristbands and vinyl substance is thicker than plastic stuff.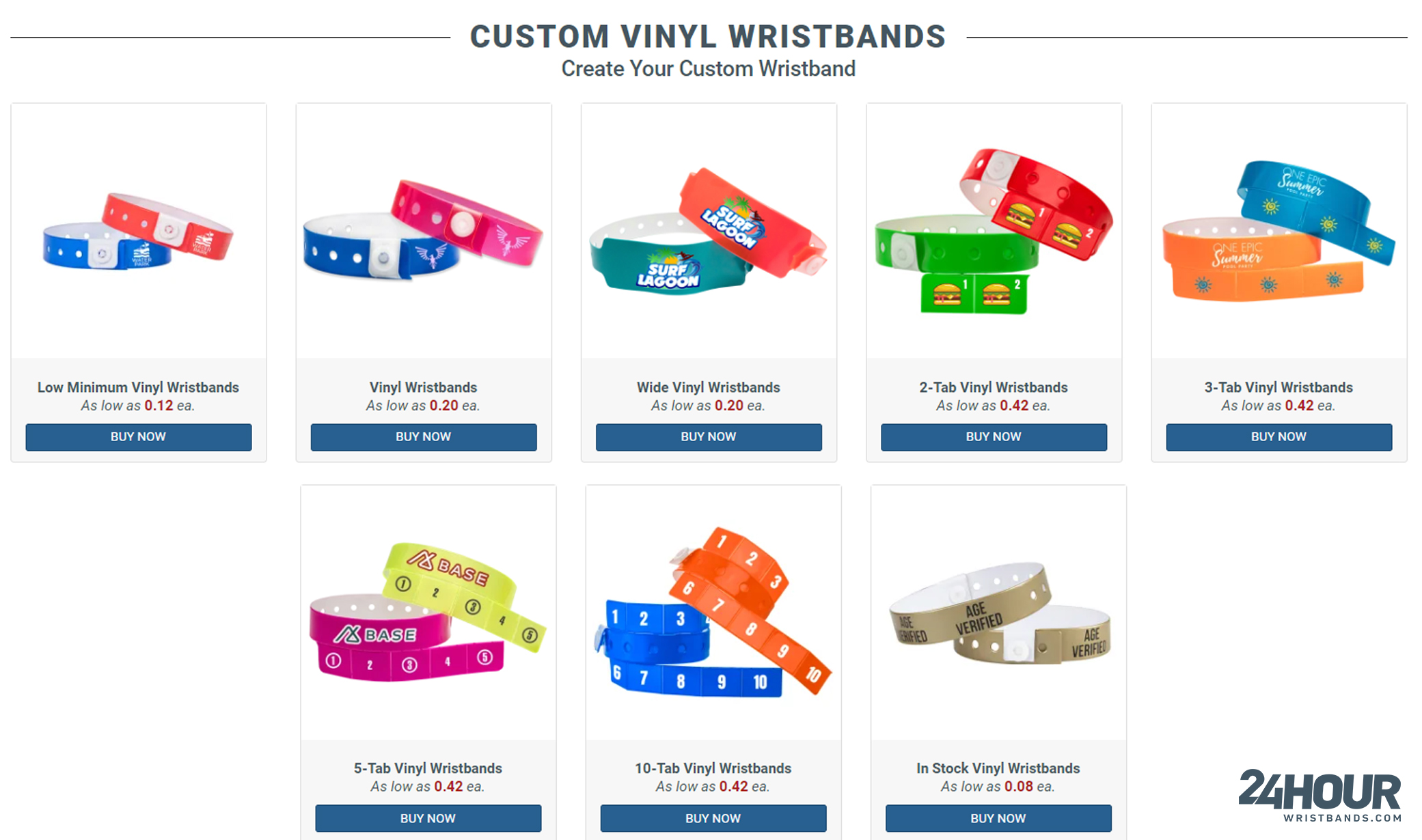 We have a variety of vinyl wristbands that you can choose from on our website. These are Low Minimum Vinyl Wristbands, Regular Solid Vinyl Wristbands, Wide Solid Vinyl Wristbands, 2 Tab Vinyl Wristbands, 3 Tab Vinyl Wristbands, 5 Tab Vinyl Wristbands, 10 Tab Vinyl Wristbands, Medical Alert Regular Vinyl Wristbands, Medical Alert Wide Vinyl Wristbands, and In-Stock Vinyl Wristbands.
Our vinyl wristbands are made of three layers of high-quality PVC (polyvinyl chloride). Our vinyl wristbands have a three-layer design that makes them quite thicker, incredibly strong, waterproof, and flex-resistant compare to plastic wristbands. Additionally, they have an unbreakable plastic sealing snap that is included to prevent transfers.
Custom USB Wristbands
A flash drive or USB wristband is a piece of technology that may be used as a piece of portable memory storage for computer files as well as a fashion accessory. The gadget makes it possible for a person to carry a flash drive without having to hold it or keep it in their pocket.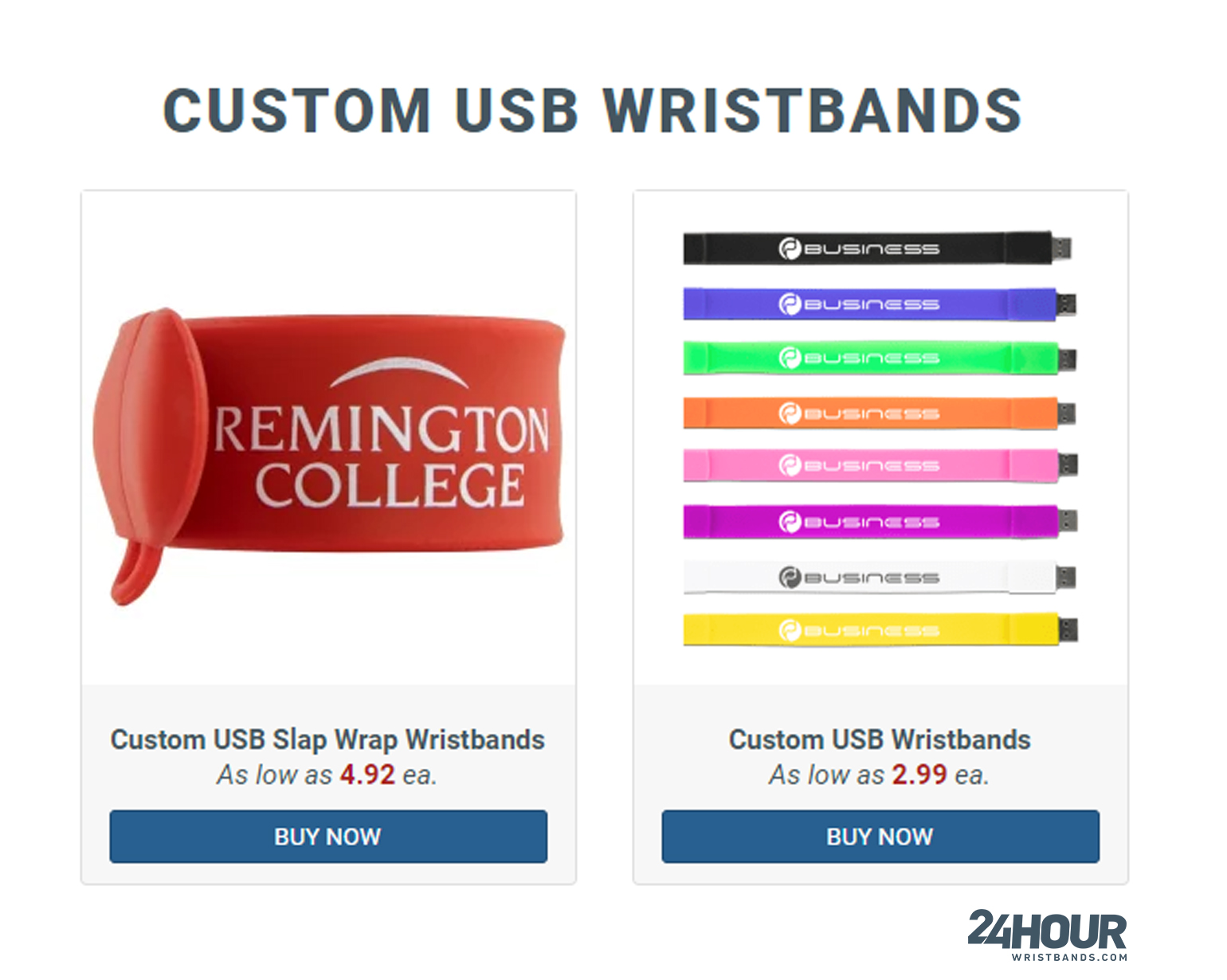 Get one of our Custom USB Slap Wrap Wristbands, and Custom USB Wristbands to bring back fond memories. The inclusion of USBs in these bracelets makes them superior. This bracelet is ideal for corporate gifts because it is an inventive multifunctional gadget.
There are numerous product colors available for USB wristbands. You can either browse our pre-designed templates or upload a complete design. Order today by choosing one of the ten colors we have for our products.
End Note
This concludes our thorough overview of all the event wristband choices you have, from water-resistant to sweat-free durability. Contact us right away if you have any specific questions about any of these bands, personalization, security, or orders.